Benefits of using Python
Simplicity and readability
Python's syntax is designed to be intuitive and easy to read, making it an excellent choice for beginners and experienced developers. This readability ensures businesses can easily maintain and scale their projects without being bogged down in complex code.
Versatility and flexibility
The versatility of this technology is unmatched. Python is great for web applications, data analysis, machine learning, and artificial intelligence. Its wide range of libraries and frameworks means it can be used for virtually any development project. 
Solid community support
Python boasts one of the largest and most active developer communities. This means solid support and a plethora of resources, regular updates, handy tools, and a vast pool of experienced programmers ready to tackle any challenge.
Speed to market
This technology's simplicity and the availability of numerous frameworks indicate that development is quicker. Organizations can get the products or services to market faster and gain a competitive advantage.
Scalability and integration
Python seamlessly integrates with other languages, systems, tools, and platforms, making it perfect for creating scalable and flexible applications. Companies like Instagram and Spotify trust Python for its scalability.
Cost-effective solution
Being an open-source programming language, Python reduces development costs. Additionally, its efficiency and speed mean projects often require less time, translating to further savings.
Robust security features
With frameworks like Django, Python offers built-in safety features to help developers avoid common security mistakes, ensuring your web application or website remains secure against threats.
Ideal for modern development
Python supports modern web development needs, including cloud computing and microservices, making it a future-proof choice for businesses looking to stay ahead of the curve.
Python frameworks
With its versatility and ease of use, Python offers many frameworks that address a wide range of development needs. These frameworks simplify complex tasks, speed up development, and ensure application robustness. Here are some of the top Python frameworks:
Django
A high-level web Python framework that promotes rapid development and clean design. Django's "batteries-included" approach provides developers with built-in tools for many common tasks.
Flask
A micro web framework known for its flexibility and modularity. Flask is a perfect solution for developers who want more control over the components they use.
Pyramid
Designed for flexibility and modularity, Pyramid can be used for both small and large applications. This Python framework allows developers to choose components based on project requirements.
CherryPy
An object-oriented framework that brings the Python programming experience to web development, allowing for creating web applications in a Pythonic way.
What you can build with Python
Python's flexibility and rich ecosystem make it a top choice for a wide array of web and application development projects. Here's a glimpse of what you can achieve with Python:
Content Management Systems (CMS)
Financial and Fintech Platforms
Real-time Web Applications
Scientific and Computational Applications
Machine Learning and AI Platforms
Educational Platforms and e-Learning
Our Python development services
Having a reliable partner to navigate the complexities of web and application development is paramount in today's fast-paced digital landscape. At Droptica, we offer a comprehensive suite of services tailored to your unique needs, ensuring that your projects not only meet but exceed expectations.
Why partner with Droptica?
In the dynamic world of web and application development, Droptica stands as a beacon of reliability, expertise, and innovation. Here's a closer look at what sets us apart:
10 years on the market
A decade in the industry has honed our skills and enriched our understanding of diverse business needs. Our longevity is a testament to our commitment, adaptability, and consistent performance.
80+ team members
Our strength lies in our people. With over 80 dedicated professionals, each an expert in their field, we bring a wealth of knowledge, experience, creativity, and technical skills to the table.
Global clientele experience
Having worked with clients worldwide, we have a deep understanding of global market dynamics, cultural nuances, and regional preferences. This perspective enables us to craft solutions that resonate internationally.
Quality, standards and automation
Our focus on quality, adherence to industry standards, and automation integration ensure we deliver high-quality applications efficiently. Thanks to that, we save time and achieve goals without sacrificing excellence by streamlining various processes and eliminating redundancies.
Comprehensive team roles
Our team isn't just limited to developers. We have QA experts ensuring product quality, DevOps specialists optimizing infrastructure, project managers overseeing seamless execution, and designers breathing life into visions. This holistic approach ensures that every stage of your project is meticulously handled.
Continuous learning
Droptica prioritizes ongoing learning and innovation. We invest in regular training sessions, workshops, and conferences for our team members. This commitment to staying updated with the latest technologies and methodologies ensures that our solutions are forward-thinking, giving our clients a competitive edge in the marketplace.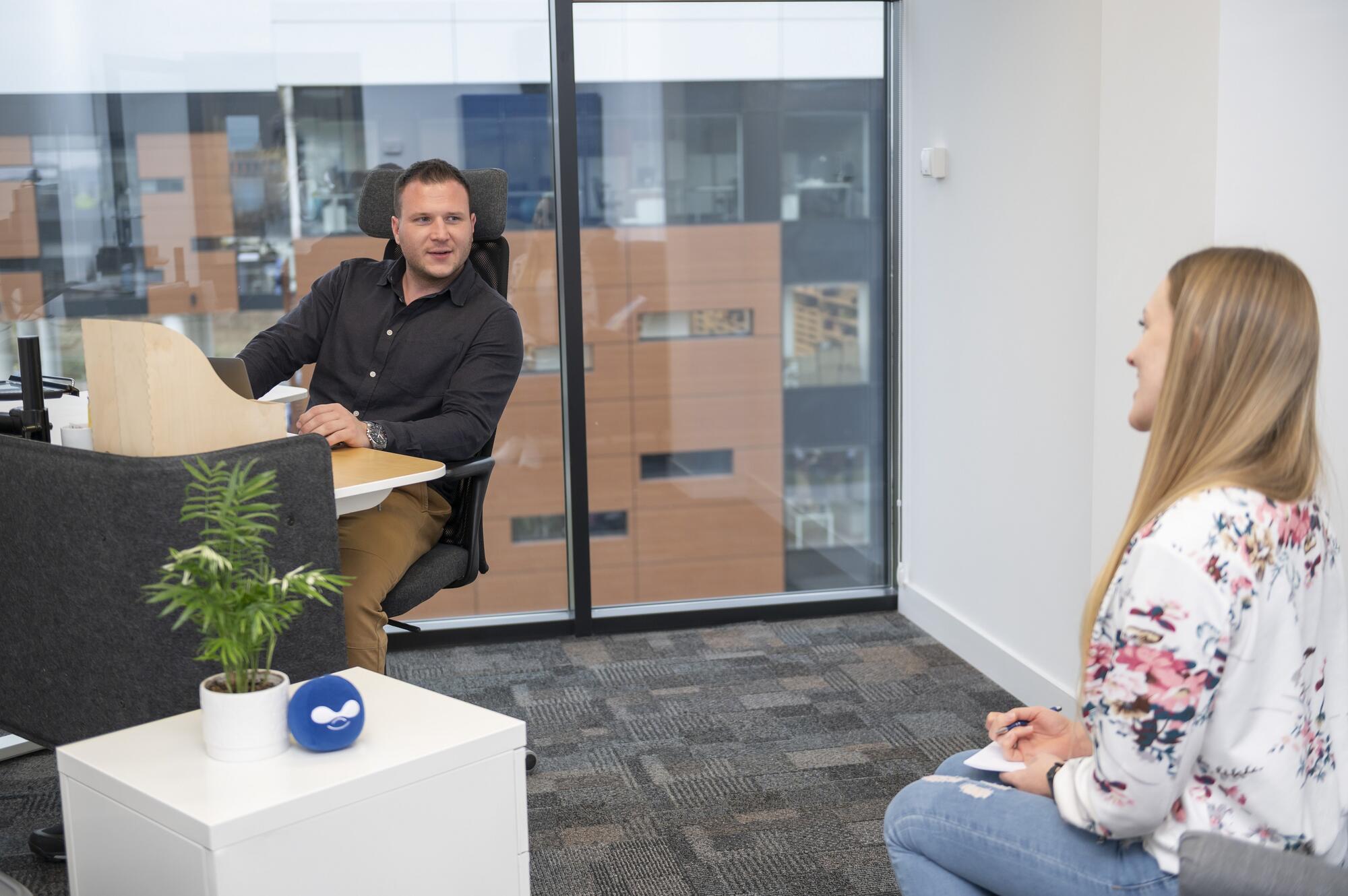 Let's build a Python project together!
In the digital age, having a robust online presence is not just an option - it's a necessity. At Droptica, we combine our expertise, passion, and innovation to bring your visions to life. Whether you're starting from scratch or looking to elevate your existing platforms, our Python developers are here to guide you every step of the way.