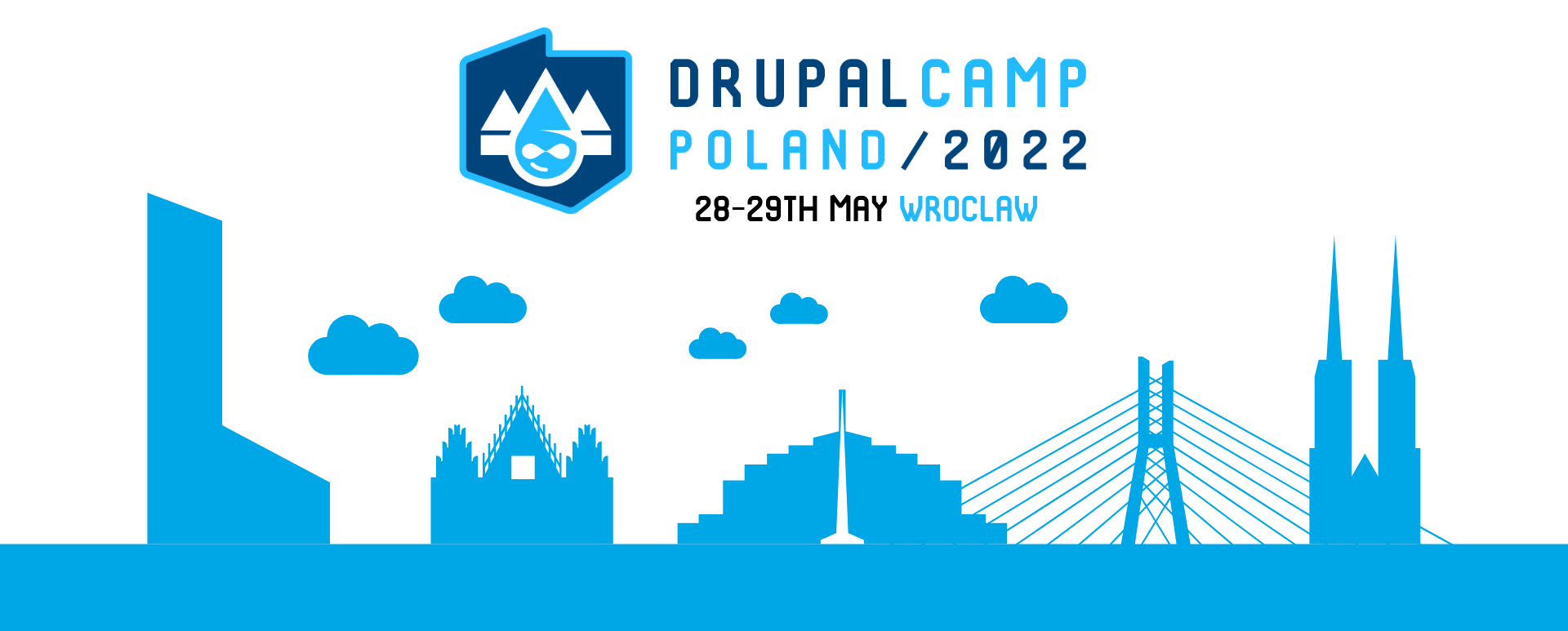 We are delighted that, with the 11th edition of DrupalCamp Poland, we're coming back to the stationary formula. The event will take place on 28-29 May 2022 in Wroclaw at the Scandic hotel. Programming and business topics will be presented by 14 speakers from different countries.
What is DrupalCamp?
Drupal CMS events have been held around the world for many years. Our DrupalCamp is the biggest event of its kind in Poland. We decided to organize it for the first time in 2012 to provide an opportunity to share knowledge about Drupal (and not only). Participants of DrupalCamp Poland are usually programmers, both junior and more experienced developers. However, other specialists can also find something interesting for themselves, as in addition to the developer subjects (concerning Drupal, Symfony, or PHP), the event's program always includes topics concerning website creation (from a business perspective), online marketing and project management.
Sessions at DrupalCamp Poland 2022
Creating a local environment in Drupal, headless CMS based on Drupal, writing automated tests and ideas for your own start-up are just a few of the 16 topics that will be covered during the event. Below we discuss selected sessions from the agenda of DrupalCamp Poland 2022.
A Communications Playbook to Grow your Agency
In this session, Jeffrey A. McGuire will present a model for selling better through building trust among potential customers. Then if you run a small agency or you are a freelancer, the knowledge gained during the presentation will, among other things, allow you to improve your sales flow by creating effective content and increase strategic awareness of your own brand as an expert. This will be Jeffrey's second time as a DrupalCamp Poland speaker.
Creation of a module in Drupal 9 using the REACT library (PL)
When some people hear Drupal, they immediately think modules. What would Drupal be without modules, their development, and the creation of dedicated solutions? Łukasz Chrzanowski will prove that the jQuery library is not the only one used to build tailor-made modules. The speaker will present a simple and fast way to set up a Drupal 9 instance based on Lando, and demonstrate how to configure Webpack and how to use it to install relevant dependencies and libraries, including the React library. Subsequently, Łukasz Chrzanowski will demonstrate how to use it to create a module in Drupal.
CKEditor 5 in Drupal 10: What is there to be excited about?
Autoformat, pasting content directly from Word files, responsiveness, and drag-and-drop functionality. This WYSIWYG framework offers enormous possibilities. CKEditor 5 not only looks better but also performs better, among other aspects with regard to UX or mobile devices. And how can this tool be used in Drupal 10? Wiktor Walc will answer this question. He'll also advise what to do to make the process of moving your Drupal to CKEditor 5 run smoothly.
Migrate API in Drupal (PL)
Sooner or later, almost every developer faces the task of carrying out a data transfer. To do this efficiently, it's worth using Migrate API. Piotr Kamieniecki will reveal how to run migrations provided by Drupal core and how to write your own process plugin. He'll also give advice on what to look out for in the process of migration and how to avoid falling into the traps.
Tracking Digital Marketing Performance In the World Without Cookies
There are many tools to measure marketing KPIs. For a digital campaign to be effective, you need to look at the numbers and customer behavior and modify your actions accordingly. Konstantin Vashkevich will recommend some of the tools and describe good methods. He'll also raise an interesting issue: how to measure the effectiveness of marketing campaigns when there are solutions to block cookies.
DrupalCamp Poland 2022 - not only presentations
In addition to the sessions, there will also be BOF meetings. We're planning 4 slots, during which you'll be able to talk in a less formal way on topics that you can add to the list. It's a great opportunity to share technological (and other) knowledge, meet other professionals from the industry, and establish new contacts. Please familiarize yourself with the list of presentations before submitting your proposal so that your ideas for discussion don't compete thematically with the presentations.
During DrupalCamp, we'll also organize a Game of Drones! As the name suggests, the main award will be a drone, and the competition...we won't disclose any details. We simply invite you to the conference!
And at the end of the first day of our event, there will be an after party! We'll meet at 8 p.m. at Wrocław's Soul Train club cafe at Bogusławskiego 28 street.
How can you join DrupalCamp Poland? Tickets are available on the Eventbrite platform.