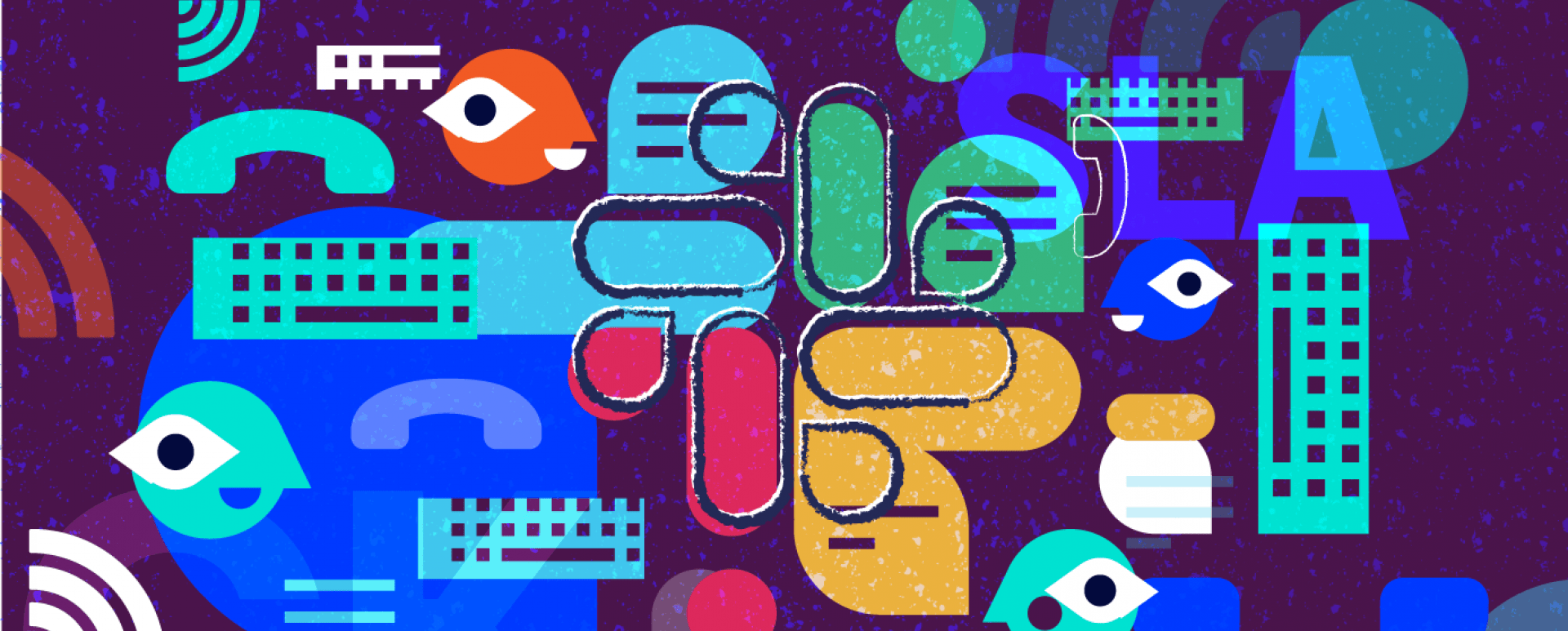 Slack and its 8 superpowers - Increase the chance of success for your Drupal-based project
Slack is an indispensable instant messenger, and we simply cannot even imagine working without it on a daily basis. Here are eight reasons why you should use it while implementing your Drupal-based projects.
1. You can easily communicate with Droptica from anywhere in the world, using nearly any device
By using Slack while working with our team, you can talk to us from anywhere in the world. Slack is available as a web, desktop and mobile application, which you can use on any device you want – a laptop, smartphone or tablet.
What is more, you can use any operating system, be it Linux, Windows, macOS or Android. You can participate in our conversation and communicate effectively with the team even while you're on a train and the fact that the app is mobile means that we can react to your needs really fast.
2. Our reaction time to your messages will be shorter
If you decide to hire us and thus to be provided with a Drupal development service, we will give you access to a guest Slack account and set up a special channel featuring the project name, where you will meet all the people, whose presence is crucial for the implementation of your project. Having everybody on a single channel enables close cooperation and monitoring the progress of works.
In addition, Slack will effectively replace your email account. You will no longer have to remember to CC everybody or think about whether you should send the message to a Project Manager or rather to Drupal Developer.
3. Checking what's been agreed with the Drupal Team several weeks or months ago is much easier than before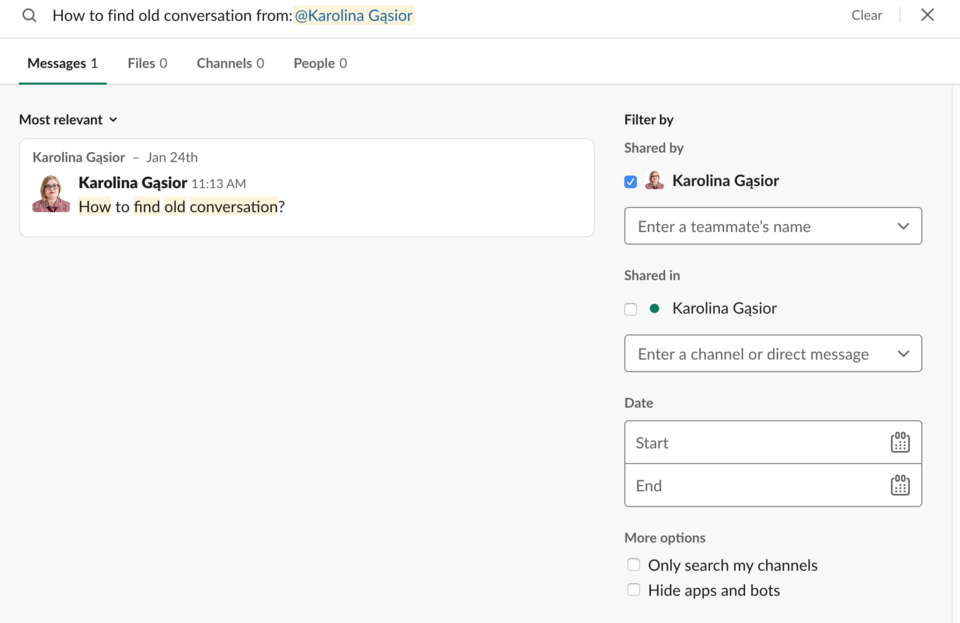 ​​
In the process of working on a Drupal-based project, sometimes you have to go back several months and find some files uploaded a long time ago or some important conversations. In most cases, group chats have terrible search options. If you exchange emails often, finding a single one from half a year ago can be quite a challenge. At Droptica, we don't have such issues.
Slack allows everybody to search conversations for specific keywords or phrases. The built-in search engine enables you to go through the entire workspace, filenames, individual channels or to search for users who used a particular word or phrase.
You can also filter the search results to display messages from private conversations or archive channels. Thanks to this, searching for messages (even very old ones!) is usually not an issue. When you're not sure about some arrangements or agreements, and there's quite a number of them in every Drupal-based website development project, you can definitely count on Slack's built-in search and conversation history.
4. You'll quickly find out if someone is online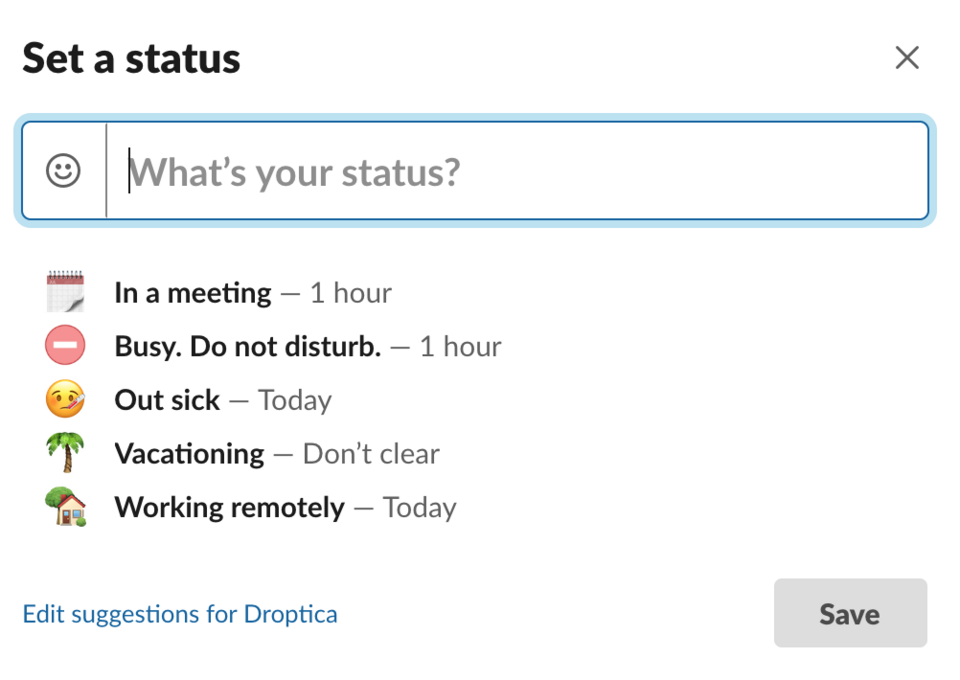 While working with the instant messenger, we use statuses on a daily basis. The default statuses provided by the app are: "In a meeting," "Busy. Do not disturb," "Out sick," "Vacationing," and "Working remotely". Thanks to this feature, you can quickly check the availability of a given person, which is very valuable information. You can also set a custom status.
5. Key information at your fingertips
Slack enables its users to pin the most important messages, using a pin icon, located under the channel title. At our Drupal development agency, this is one of the key features that we use all the time.
When you post an important link or information to the channel, all you need to do is to move your cursor over the text, click the three dots icon and select "Pin to channel".
The message will be then available by clicking the aforementioned pin icon. It doesn't matter if it's a link to your website, a file with SEO guidelines or an estimate – your message won't be lost, and it will be easy to retrieve by any person in a given channel.
6. Slack easily integrates with other applications, including Jira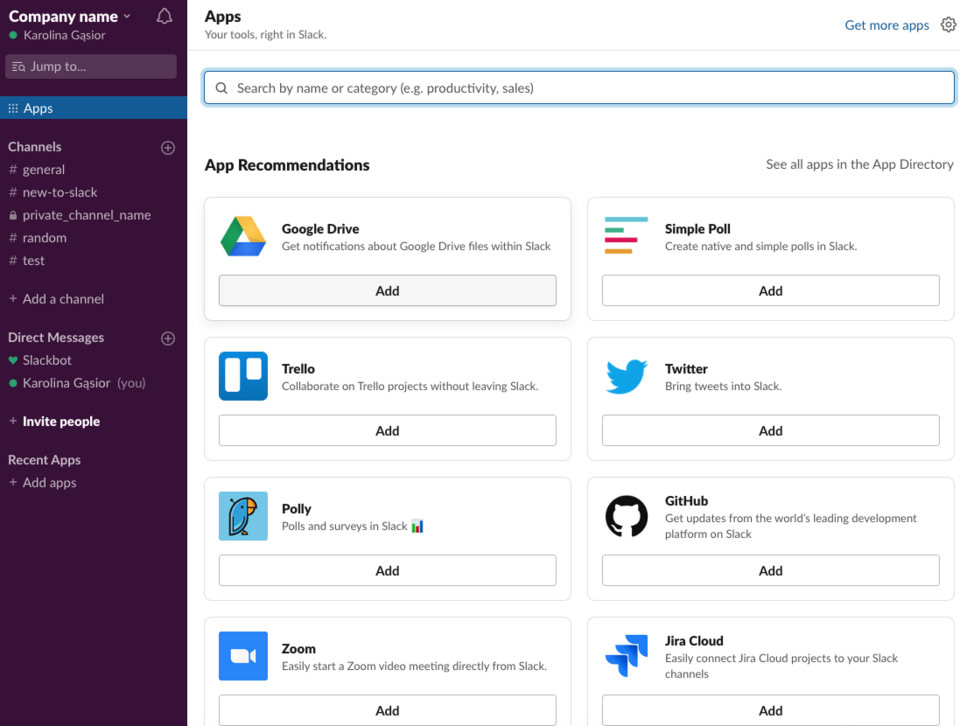 Thanks to its ever-growing popularity, this IM offers a number of integrations with other applications. Some of the best-known ones that Slack can work with include Trello, Jira, GitHub, Bitbucket and SVN.
One of the most common integrations used at Droptica is, of course, the Jira one. Slack offers a very useful feature – a separate channel for notifications concerning a given project in Jira, which allows the users to receive notifications from various systems mentioned above within one application.
7. No need to use additional applications to quickly talk with us or share your screen during a presentation
Thanks to the video chat feature, you can talk to our Drupal Team with one click on the handset icon, which you can find in any channel or any private conversation. More importantly, a call can host more than just two participants.
Sharing your screen with other participants is another useful feature, which makes all kinds of presentations a breeze. This doesn't mean that we don't use Skype or Google Hangout at Droptica – quite the opposite. What we're saying is that in many situations we can easily make do with Slack as a very fast solution.
What's also useful is a feature that enables you to draw on the shared screen – for some reason, our clients find it particularly useful and enjoyable. If you haven't seen it yet, it's like a marker, which allows you to write like on a whiteboard.
8. You can share code snippets in a convenient form
If you are a client who wants our team to join forces with your own developers, you will particularly enjoy this feature. Maybe it's you who likes to talk code with developers – who knows! Slack allows you to share code via Snippets, and you can describe a given snippet with a title and a comment.
The search engine that we already mentioned a while ago enables you to find older Snippets. If you don't need Snippets yourself, you can be sure that it improves our work and significantly contributes to the success of your project.
Conclusions
The role of an instant messenger at Droptica is to support achieving our objectives and ensure effective project management. It enables swift communication, staying in touch regardless of where we are and keeping all the most important information on a common channel.
The vast majority of our clients are happy to use Slack while working with us – it allows us to keep them in the loop when it comes to progress and discuss their requirements without having to send thousands of emails or limiting the communication to just the Project Manager.
Using such a solution helps you stay in touch, so you don't have to worry about the development of your Drupal-based website. Live communication is also very useful in a dynamic working environment – it ensures freedom while improving the flow of information and it's pretty much free of unnecessary formalities.
Apart from that, writing and sending a quick message using an app on your smartphone is much easier than writing an email using the exact same device. Slack is constantly being developed and supported.
You should experience the lively and active communication at Droptica yourself – see why it's worth using Slack while we're developing your Drupal-based website.