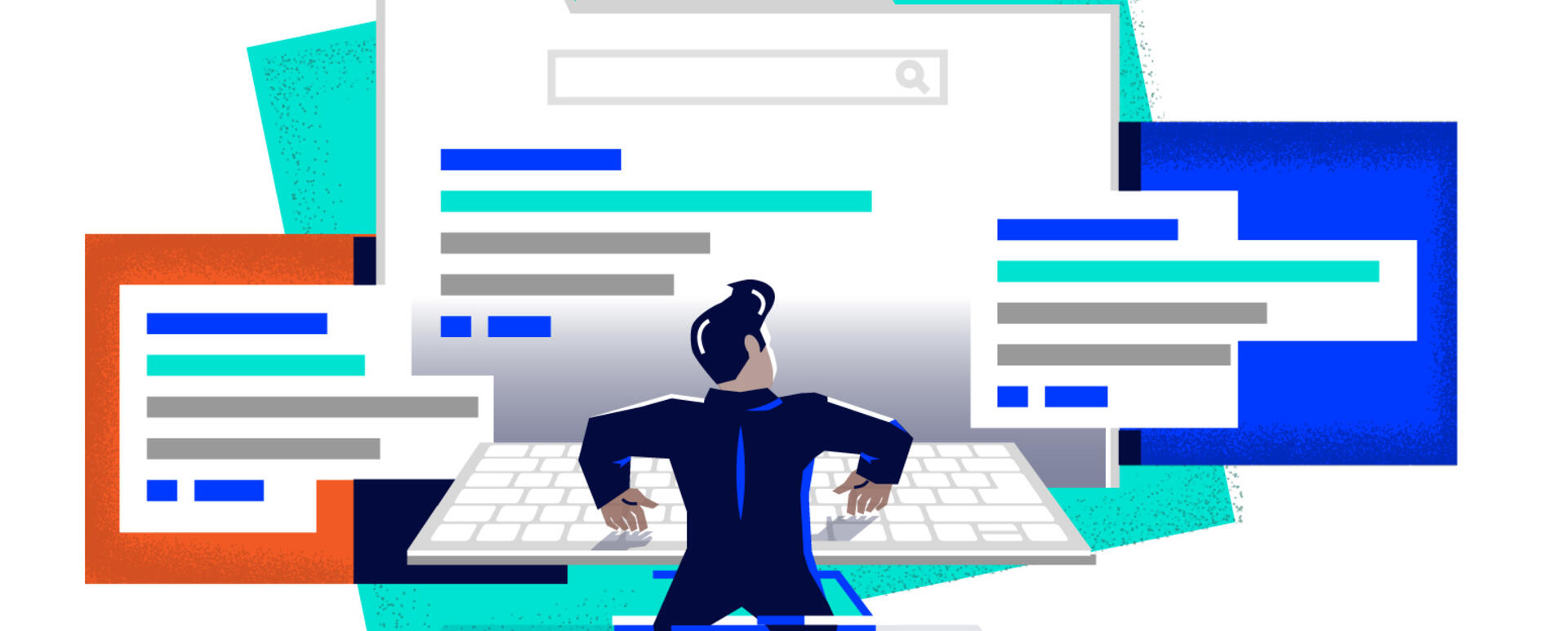 Yoast Real Time SEO plugin
Yoast SEO is a module that has everything you need to make your content visible to search engines. The plug-in that took the WordPress community by storm is slowly getting more and more traction in the Drupal community as well.
What exactly is SEO? SEO is an acronym of Search Engine Optimisation. Basically it means optimising websites for a search engine, which in reality translates into getting your website as high as possible in search results, and thus getting more and more people to visit the website.
Before using the module, it is worth investing some time in getting hang of the basic requirements for SEO, this will make it easier to understand some rules and principles which you should adhere to. There is a lot of more and less useful information on the Internet regarding that subject. There are also many SEO analysers available online, but they only enable you to analyse content that you already have on your website. The module I present today gives you an advantage, because it allows you to check your content during the process of writing the article. I am not going to discuss the recommendations and principles of SEO, which should be used. Instead, the main goal of this article is showing you the benefits of a module that will help you optimise your content.
Setup:
We are going to start by installing the module on our Drupal 8 based website. At the time of writing this article, I have been using the latest available version of the yoast_seo module (8.x-1.3)
The module is available here https://www.drupal.org/project/yoast_seo 
In order to install the Real-time SEO for Drupal module, you first need to add the required modules which are not included in Drupal core – Metatag and Token.

Settings view:
After going to the settings view, you will have access to three sections, namely: 
SITEMAP
CONFIGURE METATAG DEFAULT TEMPLATES 
CONFIGURE REAL-TIME SEO BY BUNDLES

We are going to ignore the top two because they are used for configuring sitemap and metatags. Instead, we are going to focus on the last one because that's exactly where we will be able to play with the module settings. As you can see, there are not many options to choose. The only thing you can set are types of content for which the Yoast widget will be active.
By default, the plug-in should be set to active for all the available options.
Permissions:
In the permission settings, you can assign user roles for managing the module settings, as well as pick users who can use it. We recommend leaving administration to administrators. Additionally, you should enable the plug-in for every user who creates content for your website, because you certainly want your content to be as optimised as possible.

Adding a node, whole page view. Below, under the fields, you can see the Yoast module widget.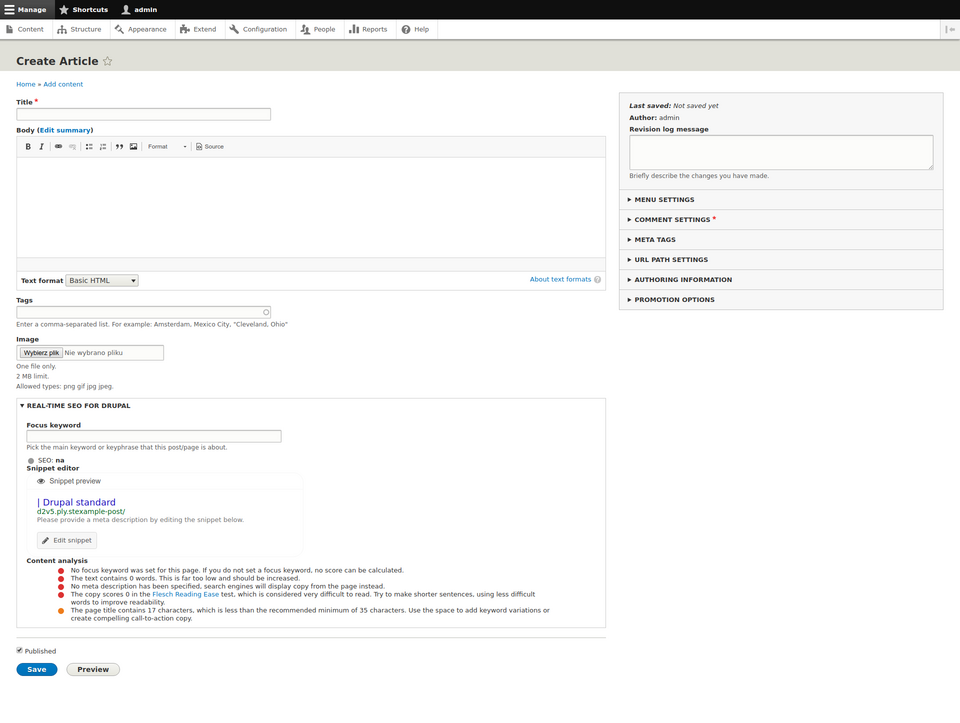 The widget is divided into three main sections:
Focus keyword, where you can check the keywords in your article.
Snippet editor, showing you how your website is seen by Google. It displays the elements such as the title and description.
Content analysis, which analyses the content of your article. Thanks to coloured tags, you will find it easy to see whether your article was written well from the SEO perspective. It also shows you how many words are there in your article.

Note: The plug-in uses Flesch reading content analyser, which currently works properly for English, German and Dutch.
An example article from Droptica blog analysed using Yoast SEO plug-in.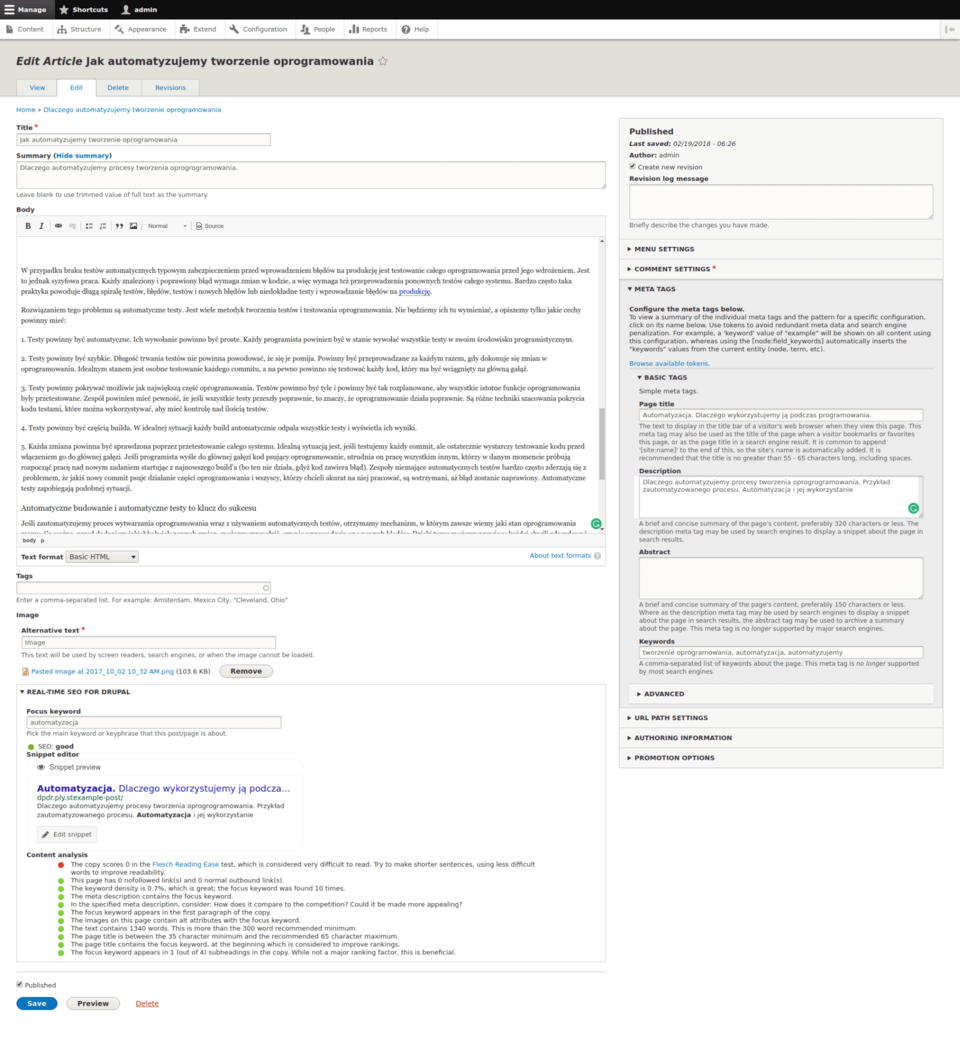 By setting up this simple module, you can make work easier both for yourself, as well as for other people who create or edit the content on your website. After all, when you create something you want to make sure that it is of the highest possible quality and that it reaches as many people as possible. I believe that thanks to the Yoast plug-in, you can achieve that in a simple and clear way. Perhaps thanks to this tool you will understand better how the website is seen by the search engines, and you will be able to make the content attractive not only for your readers but also for robots... since as you probably already know, they're all around us.