6 Reasons Why You Should Upgrade Your Drupal 7 Website To Higher Versions
Did you know that a website on Drupal 7 can carry potential risks in the long run? Due to technological advances and changing security standards, outdated platforms are becoming less effective and more vulnerable. Upgrading to a newer version of Drupal is not just a matter of modern design but, more importantly, security and functionality. Here are some reasons why you should make this decision sooner rather than later.
End of support for Drupal 7 
The evolution of technology brings many benefits but requires constantly adapting to changing realities. One such challenge is the need for software updates to eliminate potential issues and improve website usability. Support and security updates for Drupal 7 are scheduled to end on January 5, 2025. This will be a crucial moment for all website owners running this version of the CMS.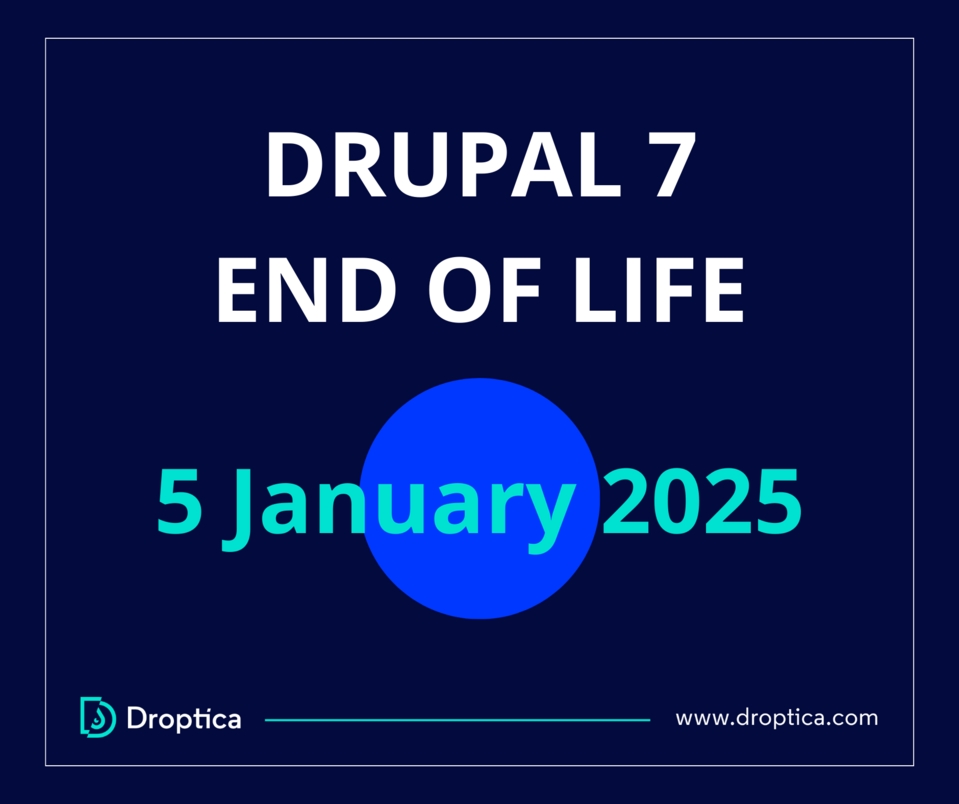 After the Drupal 7 end of life, no potential vulnerability or bug in the software will be fixed by the system's developers. This will increase the risk of hacking attacks and data breaches and make the website less stable or incompatible with new solutions and modules. In addition, web pages running on outdated platforms may encounter performance issues that will directly affect SEO and user experience.
Because of this, owners of Drupal 7 websites should seriously consider migrating them to newer versions (such as Drupal 10). Upgrading the system will make the web page more secure, give it access to new features, improve performance, and provide support for the latest technology standards.
Why do you need to upgrade Drupal 7 website?
Persisting with an outdated software version, which Drupal 7 will soon become, can expose your web page to various problems. There are several key reasons why you should consider migrating to a newer release of the system.
1. Website security
Regular system security updates enhance data safety, minimizing the risk of breaches. Protection against the latest threats and attacks is critical. Your users expect their data to be protected and secure and your website to be accessible at all times. 
Upgrading to higher versions of the system guarantees protection against known software vulnerabilities. Lack of security updates or their late implementation can cause serious threats to your and your customers' data. Attacks can affect the availability of website and the confidentiality and integrity of data. Migrating your web page from Drupal 7 to Drupal 9 or 10 will ensure that it will be supported for a more extended period, and therefore, you'll receive ongoing security updates.
2. Higher system performance
Optimized code in newer versions of Drupal guarantees a faster website. Better performance translates into a more satisfying user experience. Site visitors won't be discouraged by long page load times or slow rendering graphics and flee to competitors' web pages. 
In addition, speeding up the page loading on Drupal will positively affect SEO. Thus, migrating your web page to a higher version can significantly improve the website's performance and online positioning. Higher rankings in search results mean a better situation for your online business than the competition.
3. Drupal community support
The Drupal community is one of the more active communities around the open source solution. Users and developers regularly share knowledge, tools, and best practices with others. As a result, you can count on quick answers to questions and help with website problems.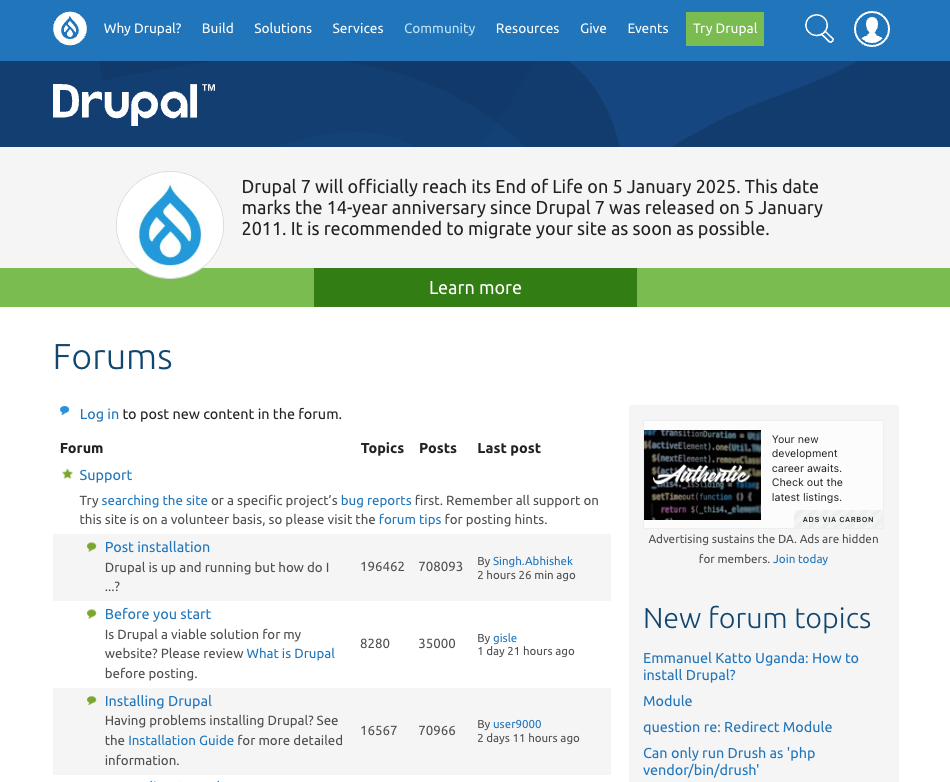 The Drupal community forum offers plenty of practical advice,
source: Drupal.org
The rich database of plugins and modules available on Drupal.org is constantly updated and expanded by experienced users. However, the world is moving forward, and older solutions are losing support, which is also true for Drupal. The community is ceasing to develop a collection of modules and skins for Drupal 7, focusing on newer, future-oriented versions. 
4. New functionalities
Each major Drupal update brings a set of new tools and features. As a result, your website performs better, and developers working on the web page can deliver quality solutions faster. Access to new CMS features, such as Twig, Symfony, and CKEditor 5, for example, can help optimize business processes and user interactions.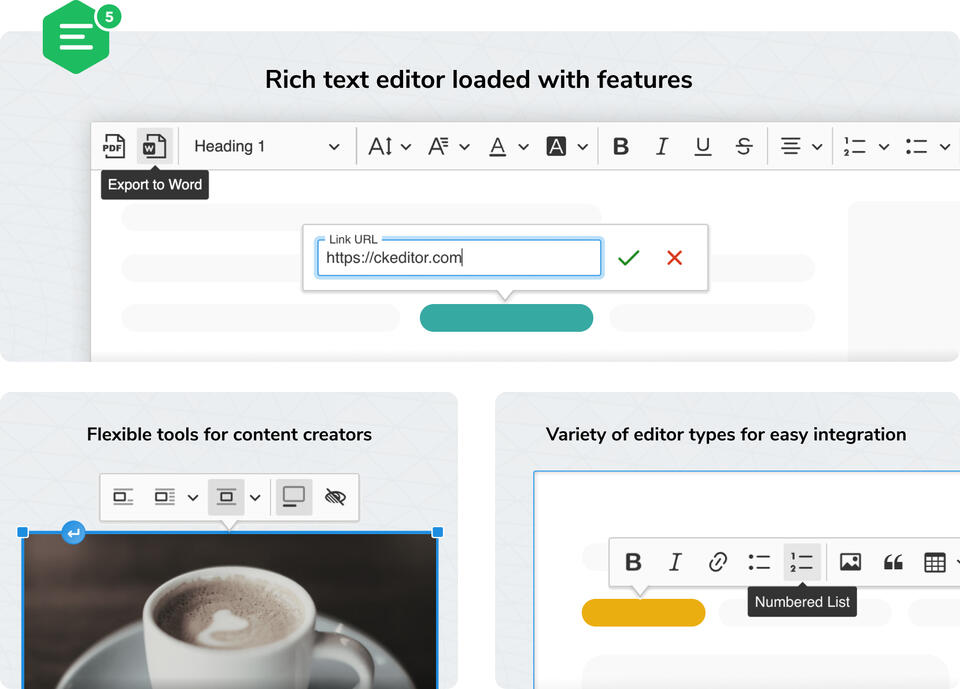 CKEditor 5 is a visual HTML editor available in the latest versions of Drupal,
source: Github.com
Upgrading a website to a higher version is also a good time to adapt it to changing trends in web design. Modern websites significantly differ visually and functionally from 5 or 10 years ago. Nowadays, most web pages are visited mainly on mobile devices, so the design of corporate websites has gone in a more minimalist direction - fewer colors, fewer distractions, and less text, allowing for greater user engagement. 
Suppose you want to present your product or service in an interesting way. In that case, you can also go this way and engage users through visually appealing and interactive landings based, for example, on animations while scrolling the page, videos, or 3D animations. When migrating from Drupal 7 to higher versions, redesigning the website is also recommended for financial reasons. The skin has to be rewritten at this point anyway by introducing the TWIG engine, and it's the programming of the look that costs the most, so you might as well refresh the layout right away.
5. Better compatibility with tools
Upgrades guarantee better compatibility with the latest plugins and extensions. Plugins are slowly abandoning the development of Drupal 7 versions, adding new functionality only to Drupal 9 and 10 versions. Thus, by migrating your website, you can avoid problems and errors associated with outdated add-ons. 
Constant updates to plugins by the Drupal community ensure their continuous improvement. With better compatibility, you can easily customize and expand your website with new features.
6. Longer period of support
Migrating to a newer version will give you longer technical support from the Drupal community and developers. Any technology loses programmatic support over time and thus, as we mentioned earlier, becomes less resistant to hacking attacks and ceases to have the ability to use many modern tools. 
Moving faster to a new version of Drupal will ensure that you enjoy the goodness of the latest technology longer - without worrying about another migration soon. By making this decision more shortly, you'll provide years of peace of mind before Drupal 10 is a thing of the past.
How long does it take to prepare an update of Drupal 7? 
The complexity of Drupal 7 migration depends on the complexity of the website. The process requires careful, individual analysis, and its length will vary depending on project specifications. 
The first step in this process is to conduct a thorough website inventory. You should investigate what Drupal modules and themes are currently being used, what custom solutions have been implemented, and whether any dependencies may affect the upgrade process.
After gathering this information, the scope of work can be assessed, and the time required can be estimated. Sometimes, when the website mainly uses popular modules and doesn't have complex, tailored solutions, the update can go relatively smoothly. However, if the website uses custom extensions or specific modifications have been made to it, the process can be more time-consuming.
The update itself is not the only stage that takes time. It's essential to test the website in different environments and on various devices after completing all the work. Testing will detect any errors or irregularities that may have occurred during the update.
Last but not least is communication with the team or client. Unexpected problems or questions may arise during a Drupal upgrade that requires consultation and, therefore, additional time. For this reason, it's always a good idea to plan extra time margin for any unexpected situations.
While it's impossible to answer how long a Drupal update will take, careful preparation and analysis are key. This will minimize the risk of problems and ensure the entire process runs smoothly.
Why upgrade the Drupal 7 website - summary
Upgrading Drupal 7 to a newer version is a necessity that isn't worth postponing, especially with the impending end of support for this version. System update provides security and performance, access to new features, and the support of an active community. Although the upgrade process can be time-consuming, careful planning and preparation will ensure success and long-term benefits for your website. Entrust Drupal 7 migration to our development team to guarantee your web page's smooth and uninterrupted operation.