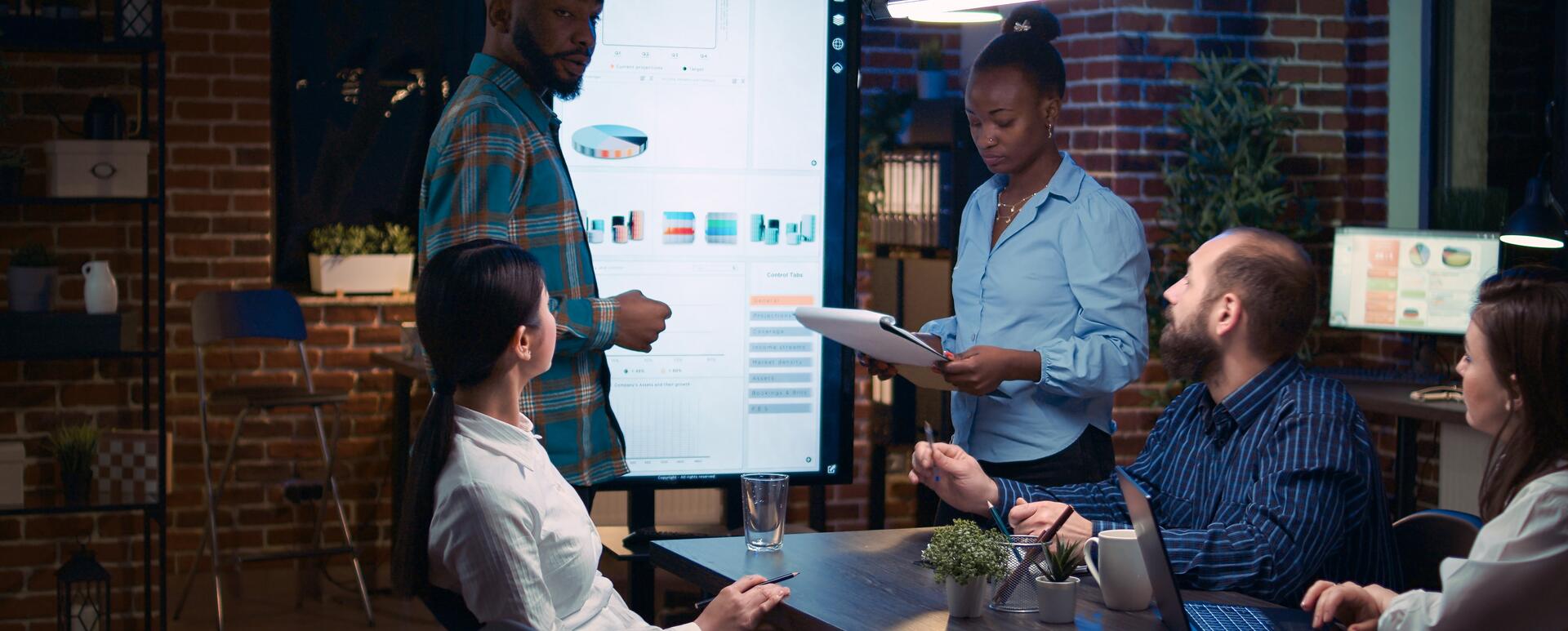 The Best Stock Research Websites - Examples and Interesting Features
Investing is one of the ways to increase your wealth and save money. Taking the first steps in the stock market, however, isn't easy, and neither is doing it professionally. Gaining knowledge and good intuition allow for reducing the risk. There are many interesting tools and websites on the market that aim to provide investors with valuable and useful information. See our list of the best stock market research websites. 
What should a potential investor be interested in?
The stock market isn't a lottery. You can win or lose. It all depends on whether you approach investing with common sense. Professionals know this, which is why they closely follow the latest trends in the financial services industry and use stock market research websites. 
Before you decide to allocate your funds for a particular purpose, define your expectations. Think about how much you want to earn and what risk you can take. Then proceed to analyze the projects you can invest in. The main things to consider are:
Company revenue - check how a company's revenue relates to share value. You want to make sure the company is growing, right?
Profits - revenue is one thing, and profits are another. If a company is struggling with high operating costs, it's possible that it's using an inflexible business model and won't grow dynamically.
Earnings per share (EPS) - what is the profit per share. This way you can find out what earnings are likely.
P/E ratio (attractiveness of the company's shares) - helps to understand how profitable it is to buy specific securities. 
Return on equity (ROE) - indicates how much profit the company has achieved from the contributed equity capital.
This and more information can be found on paid and free stock research websites.
What are stock research websites and what are their functions?
There are tools (applications and websites) available on the market that facilitate investing for individual and business users. Stock analysis websites include free and paid functionalities and information to help investors make investment decisions based on various studies. As many investors in the world, almost as many tactics of making investment decisions. Some rely only on the analysis of numbers, while others closely follow world events and interpret them to understand how they will affect the market. 
The same is true of stock analysis websites. Some differ significantly in the type of presented information and functionalities. Some provide automated recommendations, others equip investors with sophisticated tools that can be used to analyze the data on their own. 
Stock market research websites verify data and provide only proven information, automatically create charts of financial fluctuations, and have integration with a financial API to keep the user informed of market changes. 
What are the functionalities typical of stock market research websites?
Additional functionalities of websites with research useful to investors can include profitability analysis of your current activities, investment recommendations, and even investment management tools. For the convenience of investors, many processes are automated. Users receive alerts so they don't have to watch the stock market all the time. In addition, some stock market research websites put software tools and artificial intelligence-based solutions at users' disposal. Of course, not all functionalities may be equally important to you. Modern platforms allow users to select the options they need to make the right decisions efficiently. 
Best stock research websites - examples
On the web, you can access both paid and free tools with stock market analysis. It's worth trying out both to see which is best suited to your needs. Often you can test the paid functionalities as part of a free trial period.
1. TheStreet
TheStreet is an extensive portal with stock market information available for free, also offering numerous subscriptions, the purchase of which guarantees users access to additional features and materials. 
This web page features short news stories and extended articles created by analysts. Between them, there are financial indices and charts presenting changes on the stock market (elements typical for financial website design).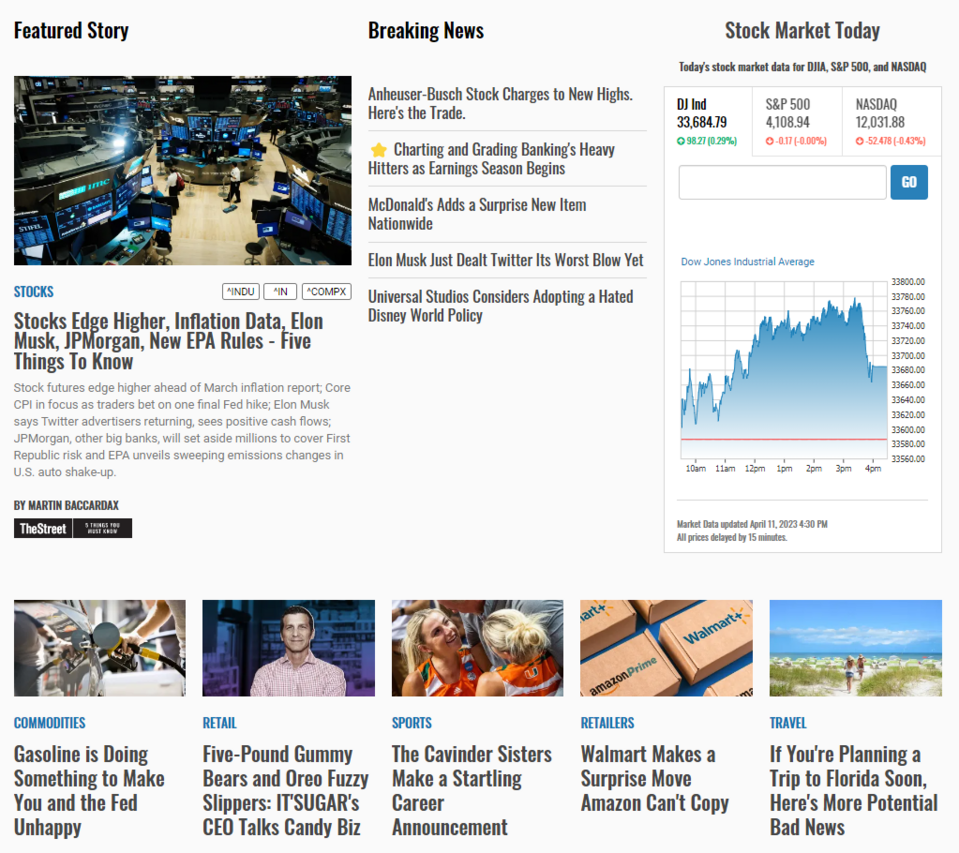 When browsing publicly available material, readers see additional portal features they could use, such as columns with updates from columnists, available only to subscribers. 
TheStreets' free newsletter offer is extensive. After providing an email address and a code sent automatically to that address, readers can get access to various newsletters, such as: 
Winners & Losers - with information on the state of the stock market, 
5 Things You Must Know Before Market Opens - featuring five important pieces of information about the day's stock market, 
Electric Vehicle Checkpoint - providing information on the market of electric vehicle manufacturers,
Lift Off - advice for those investing in tokens, cryptocurrencies, and more. 
Another option might be to purchase one of TheStreets' subscriptions for brokers and investors. With a large number of services, users can choose one that suits their needs. These include, for example:
The Street SMARTS - giving access to additional analysis and content not available to other users, 
Action Alerts Plus (AAP) - user receives tips and educational materials on investing from the team overseeing customers using this subscription. In addition, they receive invitations to monthly conferences and real-time alerts on selling or buying stocks. They also have access to the AAP portfolio around the clock. 
Crypto Investor - is an offer created for investors active in cryptocurrency markets. The portal sends the customer news about what's happening in the cryptocurrency market and Wall Street, as well as access to detailed analysis and guidance from experts in the field of cryptocurrency investing. 
2. WallStreetZen
WallStreetZen is a paid stock research website, however, it offers quite a bit to a user with a basic account as well. This is primarily access to detailed data on hundreds of brands from around the world in the Stock Screener tool. Automatically updated data are collected in clear tables. It's possible to search them using built-in filters and a search engine, or switch between different tables (e.g. Zen Score, price, forecast, earnings, dividends, technicals, etc.). Underneath the tables are instructions to help you use the Stock Screener tool.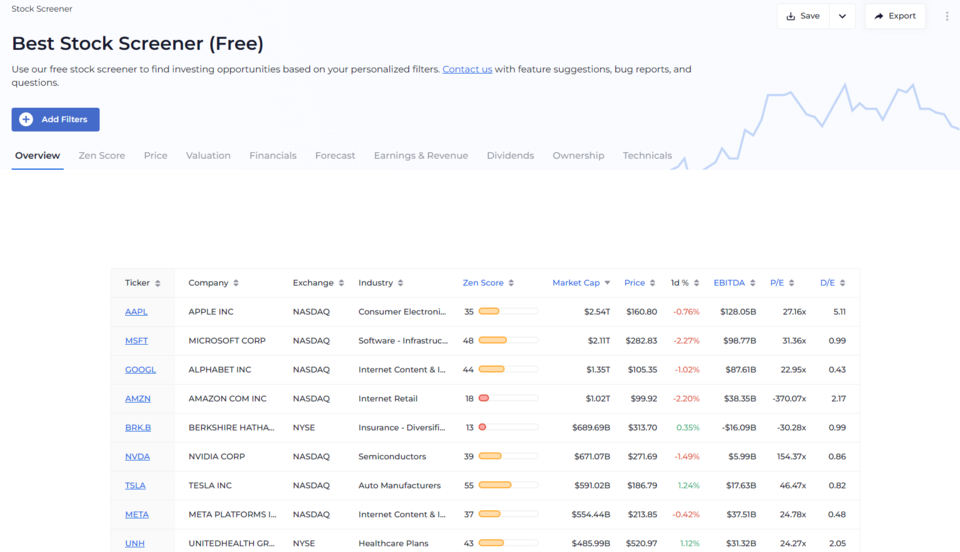 After clicking on a link hidden in a table under the name of a particular company, the user is taken to detailed information about it. There they can find not only the value of the stock and information on its place in the Zen ranking, but also interpretations of the data (marked in green and red for easy understanding) and links to news about the brand. 
In the Stock Ideas section, the investor will find additional statements. Some of them are available only to premium users, who can benefit from forecasts and recommendations from analysts and email information with important data on changes in the companies under observation.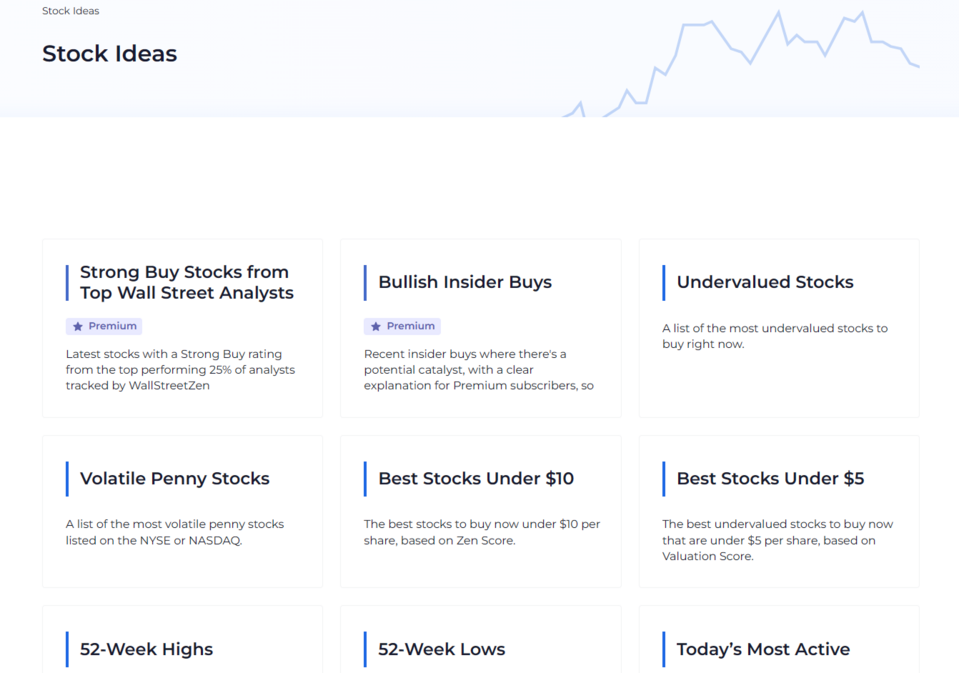 In addition to information about the price movements of specific investments, the premium user will also see an explanation of how real situations in the world affect the decrease or increase in the value of stocks. 
3. Bloomberg
Bloomberg is a website with stock market research, news, financial indices and rankings. Users can subscribe to the paid version of the web page, as well as sign up for the newsletter (the window to the right between the content) to keep up to date with news and interesting information. The subscription applies to the website and mobile application.
In addition to information in the form of podcasts, articles, rankings and financial indices, the portal also uses streaming services and offers live video content. In the paid version, users not only receive unlimited access to published articles and videos, but also all articles published on this website in audio form - so they can get to know them while doing other activities.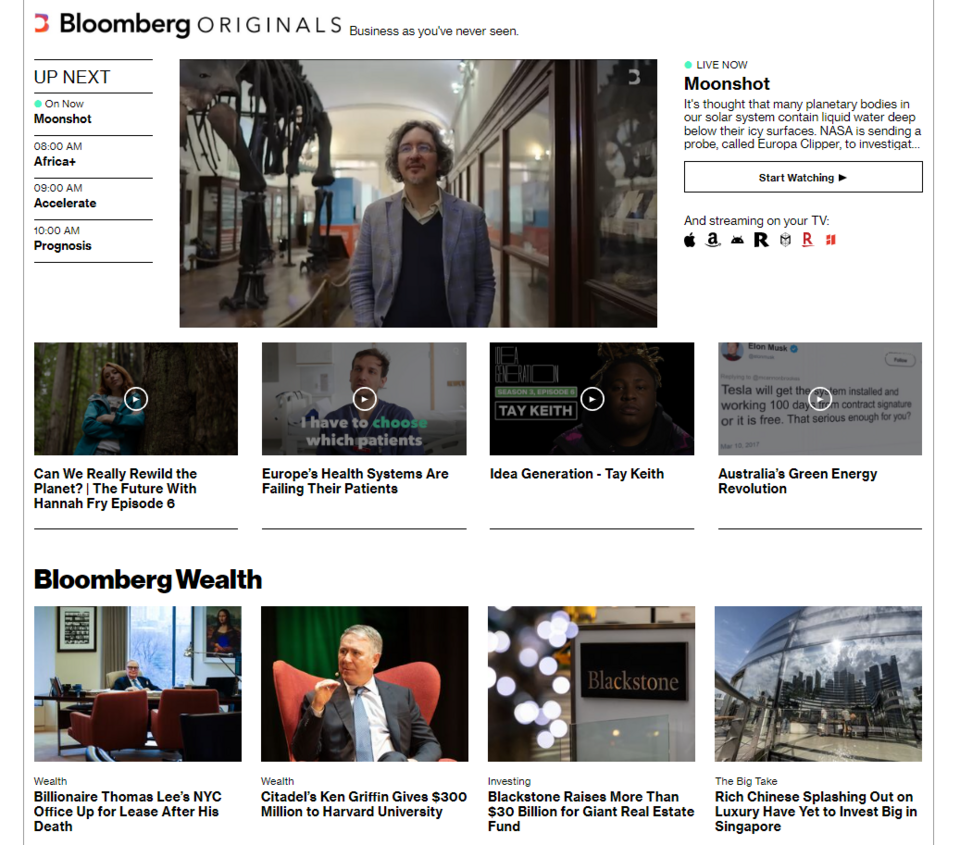 4. Trade Ideas
Trade Ideas is available both as a web application and in a browser, in standard and premium versions (both paid). The application has all the latest features, some of which may not be available in the browser.
The paid version of the website displays full stock quotes with all the basic data (the price of a stock and other indicators showing how its value has changed over the last hour, trading week and the last 52 weeks). It also uses artificial intelligence in the form of an assistant, which the developers have named Holly. This solution analyzes historical data and those processed in real time around the clock. Recommendations made by Holly are influenced not only by information about the value of companies, but also by other data that can be found on social media, blogs and news websites. Holly analyzes the data and simulates deals continuously using complex algorithms to find the best opportunities for the user.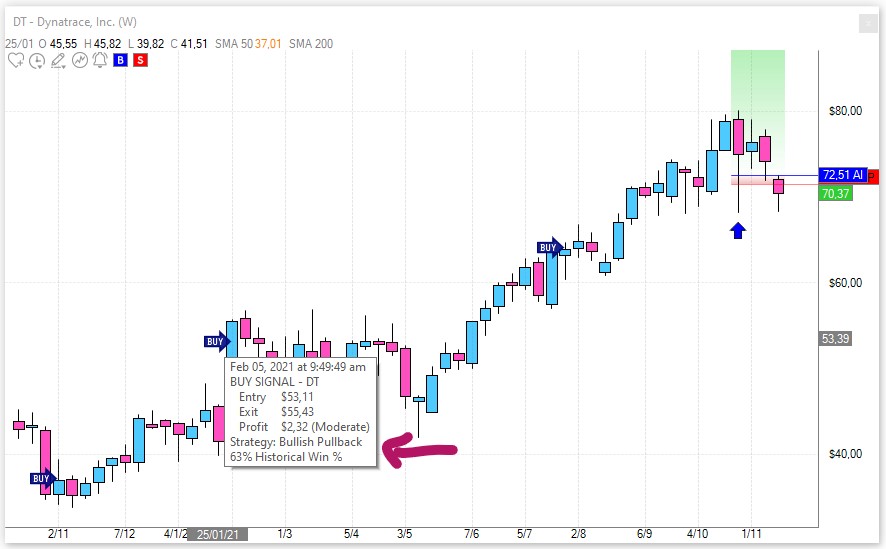 A chart showing the transactions of Holly, an assistant created based on artificial intelligence.
Stock market buying simulations is a special educational service that allows customers to run simulations using various data. This allows them to learn what kind of management of their stocks will bring profits and check what actions are worth taking in specific situations. 
5.TradingView
TradingView is a website with research tools for more advanced users, focusing on independent technical analysis and charting. Although some of the data on the platform (e.g., blog posts and financial indices) is visible to all users, most of the useful functionalities are only available to those who purchase a paid subscription (there are three versions Pro, Pro+ and Premium). All plans allow free 30-day testing of functionality. 
Trading View is well recognized in the fintech industry. The website equips traders with charts, tables, screenshots and heat maps, giving them access to financial data in their preferred forms.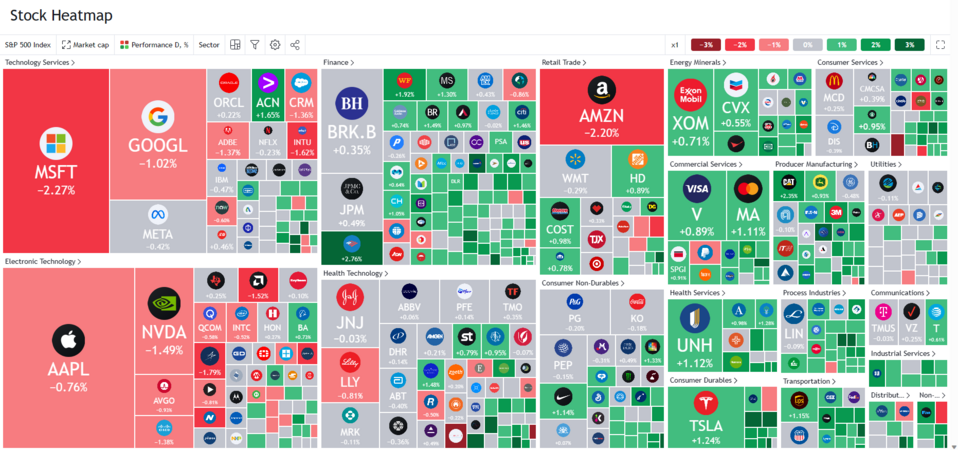 The platform includes hundreds of ready-made studies, more than 50 intelligent data visualization solutions, and a set of tools for in-depth market analysis, covering the most popular trading concepts.
Users receive trade alerts, so they never miss a trade. Those with technical and programming knowledge can use Pine Script™, a tool for writing and sharing custom indicators and strategies.
Best stock research websites - summary
There are tons of stock market research websites and investing education apps. Some of them are strictly informational web pages, while others put a lot of practical solutions at the user's disposal.
We can help you build a functional financial website and integrate various tools that are useful in this industry.