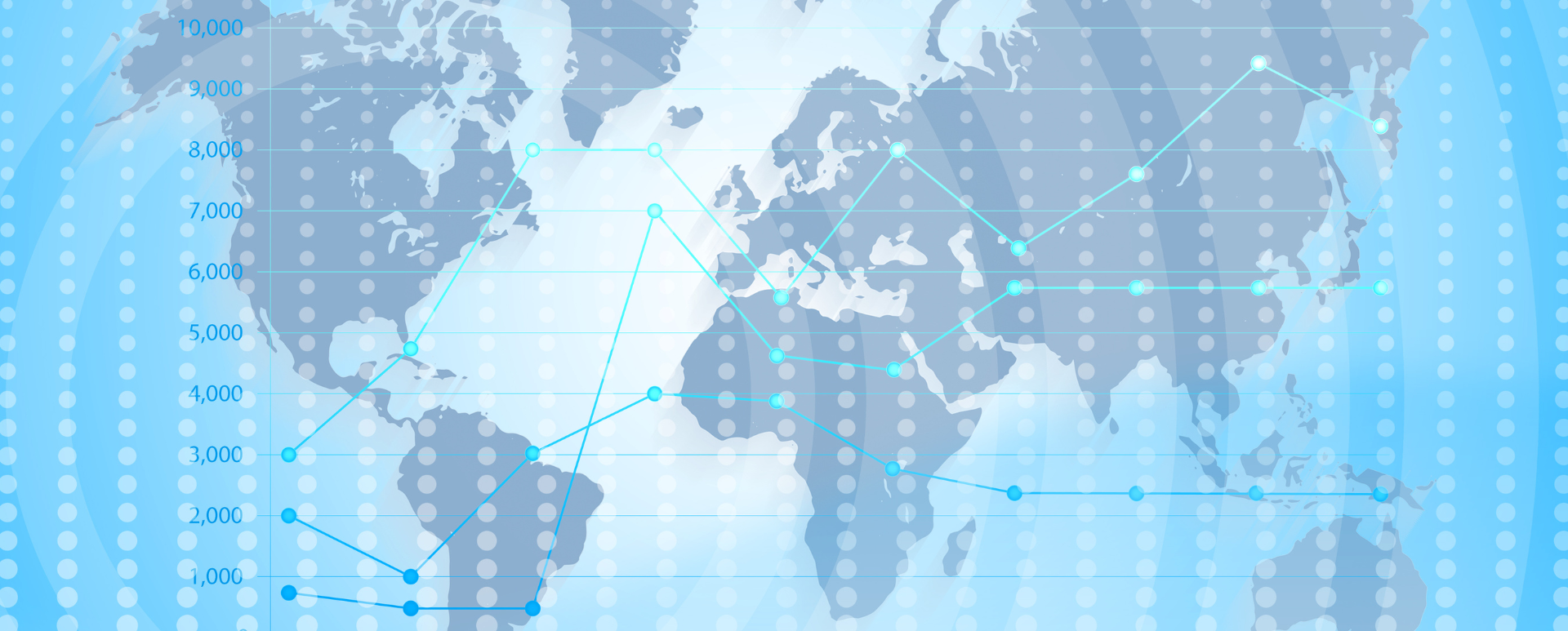 7 Most Important Financial Services Challenges and their Solutions
Companies from the financial sector, like fintech startups and banks or insurance companies, have to face many difficulties. Fortunately, while there are many challenges in the financial services industry, there are also several effective solutions that can help organizations increase their competitiveness and productivity. Read our article to learn how to deal with the problems your finance company may be facing right now.
1. Securing the services against modern types of data breaches
Many business websites and services advertize themselves as being safe and using the latest security systems, but cybercriminals are constantly on the lookout for ways to bypass security measures. The most popular forms of attacks include:
phishing – based on obtaining data by impersonating a certain company or person,
SQL injection – as a result of this attack, a fragment of code written in SQL is entered into a form field, which may allow changing the data in the database or gaining access,
DDoS – is an attack from many places at the same time, which aims to overload all the available resources of a given unit to prevent the operation of a given service on the Internet.
Failure to secure your systems and databases sufficiently may bring many unpleasant consequences. You may lose funds if someone steals your bank account details, face significant financial penalties for customer or employee data being disclosed due to a theft, and have to deal with further individual lawsuits. Expenses are one thing, the other is the loss of your clients' trust and credibility on the market – once lost, these are extremely difficult to regain.
Solution
First of all, in a company offering financial services, the very basis is the implementation and compliance with good cybersecurity practices (regular password changes according to guidelines, not providing access through unsecured communication channels, defining roles and granting limited user rights, etc.). You shouldn't forget about carrying out security audits either. The most important thing is to update the software used to monitor your systems and databases regularly. The companies specializing in creating advanced cybersecurity systems regularly analyze the threats and try to improve their solutions to protect websites and systems against all types of dangers. Follow the trends in the financial industry and use advanced techniques.
2. Adapting services to changing regulations to avoid compliance risk
The regulations for financial services change all the time, so companies must constantly modify their services to stay in line with new standards. The latest challenge is the implementation of open banking. This task results from the publication of the EU Directive PSD2 (Payment Services Directive). Pursuant to PSD2, banks are required to provide access to information on clients' accounts to third-party providers (TPP, e.g. fintech startups).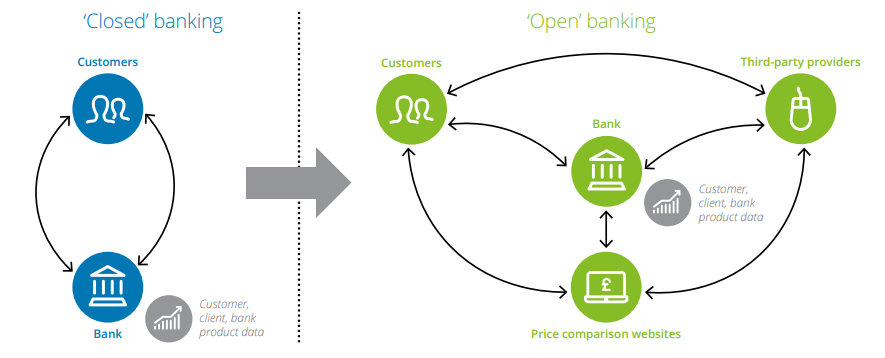 Source: Deloitte report
The emergence of new technologies with potential for the financial sector is also associated with legal difficulties. This is the case with cryptocurrencies, for example – they aren't recognized by most countries as official currencies, and therefore trading them is relatively dangerous as it isn't regulated by law.
Solution
Creating an appropriate strategy that allows you to efficiently deal with changes in regulations is essential. It should use flexible solutions that can be easily and quickly modified in the event of changes in regulations. When creating a strategy, it's also good to use RegTech (Regulation Technology) solutions that help automate the adjustment of the company to the current regulations. In addition, it's worth adopting the most flexible business model – it allows for quick adjustment of the functioning of a financial organization to the changes in the market. This model should include implementation of the latest technologies, such as cloud (increases mobility and improves communication within the company's environment), artificial intelligence (allows you to make decisions based on data, not intuition), and the possibility of using various forms of outsourcing. Remember to keep the code of your digital financial products (applications, systems and websites) simple and clean. This makes it possible to modify them conveniently and quickly when necessary, and also facilitates working with third-party specialists and teams.
3. Increasing the financial services availability
Clients want to have access to financial services at any time and from anywhere in the world. It's worth making sure that, while connected to the Internet, the recipient of your services will be able to use them from almost any device with Internet access. Ensuring high availability of services is even more important now, as many companies are opting for a completely remote or hybrid work model. Such work models mean that the employee must be able to access databases and work tools off-site. Making payments, checking the balance of accounts, or generating reports should be possible at any time. Therefore you need to make sure that the financial services and applications you offer work correctly and efficiently on the devices currently in use. If you fail to rise to this challenge, users will most likely choose the services of your competition offering modern solutions that can be used almost anywhere and anytime.
Solution
The cloud is one of the technologies that allow for providing clients with high availability of financial services. Making an application or database available in cloud makes it possible to access it from any device. This allows working remotely from home or while travelling. Additionally, using the cloud increases the collaboration options. Different documents put in the cloud can be freely edited by many people at the same time and from different places.
More and more financial (and not only) companies are deciding to migrate their databases, applications and business tools to the cloud for the abovementioned reasons. High availability of services improves the operability and competitiveness of a financial organization. If your company has yet to move its data and applications to the cloud, this should be an important item to implement as part of a digital transformation.
4. Improving the customer experience
The Internet is a space where we spend a lot of our time (both at work and off-work). More and more clients choose self-service via the Internet. They don't want to waste time commuting to agencies when the service can be purchased with a few clicks and without the need to leave home.
The companies operating today in the financial services industry need to worry not only about providing clients with effective solutions, but also about their satisfaction with interaction with the website. Browsing a web page or using an application should be fun – simple and intriguing at the same time. Such an effect isn't easy to achieve. A website that's too minimalistic may bore the user, while one that's too complex may overwhelm them. As a result the client will leave your website before deciding to take advantage of the offer.
Solution
One of the most important tasks of the company is to positively distinguish itself from its fintech competitors on the web. You need to create an application or website for your finance company that will attract attention with its originality and user-friendliness. It's good to equip it with elements that are:
useful for a potential client – those that'll help them make decisions (e.g. calculators and comparison engines),
interactive – engaging the user, reacting to their particular activities, e.g. clicking an element,
collecting data – forms, quizzes and surveys will help you in researching client opinions and provide information necessary to personalize the content, while making the user feel listened to.
The website should be responsive – adapted to stationary and mobile devices, and to screens with various resolutions. More and more people are using mobile devices not only to browse content for entertainment, but also for work.
You should also consider implementing a chatbot. This solution will improve communication with clients, which will have a positive impact on their experience, and it will also relieve your customer service department by automating some of the processes.
5. Using big data and implementing artificial intelligence
Big data is a term referring to huge collections of various data, the processing and analysis of which is difficult due to their quantity and form. Artificial intelligence (AI) is a discipline whose goal is to create artificial intelligence (imitating a human, and over time, becoming even more perfect) in machines. Big data and AI basically complement each other. It's thanks to access to unimaginable amounts of data that you can effectively train models and perform detailed analyses.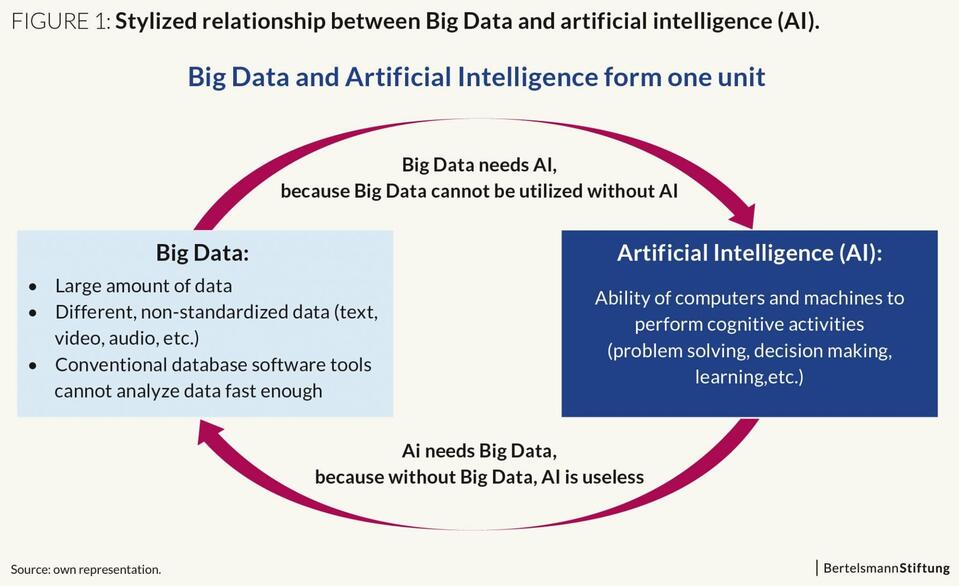 Source: GlobalEurope.eu
However, implementing these two technologies isn't that easy. It requires rebuilding the company's infrastructure and implementing new tools. You should also keep in mind that a company using modern technologies needs specialists skilled in these fields, and this may mean the need to expand the IT department or outsource services. It's also necessary to create new processes, especially those related to ensuring high quality of the data that'll be used in analytics and automation.
Solution
To implement the latest technologies, such as artificial intelligence, it's usually necessary to carry out a digital transformation of the entire organization. The important elements of this process are modernization of software and infrastructure, but also a change in the corporate culture. Digital transformation isn't only about the IT department, but also about the entire organization. It will allow you to increase the efficiency of all departments and teams at your company. It's usually a large investment, and the whole process takes time, but thanks to its implementation the company becomes modern and flexible.
6. Effective advertising of financial institutions with brand safety in mind
In the virtual space, users are constantly attacked by advertizing messages, sometimes very aggressive. This makes them extremely irritable or, the opposite, apathetic and indifferent to advertisements of various brands. As a result of this advertising fatigue, the effectiveness of advertising campaigns diminishes, and financial organisations have to come up with more and more creative methods to promote their services. Ensuring the privacy of message recipients is also a challenge. Targeting methods (presenting the right message to the right group of recipients) use information about the activity of clients on the web, but they are less and less often willing to share their data.
Solution
Fortunately, advertisement publishers are actively looking for more effective targeting methods that don't infringe the privacy of Internet users. One such technique is contextual targeting. It consists of publishing advertisements on the web pages thematically related to the advertised service or the advertisement's contents. An example of such promotion is displaying a mortgage advertisement on an information website concerning home financing. It doesn't require collecting information about the clients themselves but is based on the assumption that a person interested in a certain topic (financing the purchase of real estate) will react positively to advertisements for services and related products (loans, financial consulting, etc.). You can also increase the effectiveness of advertizing without violating the privacy of users too much by regularly building the loyalty of your clients and publishing valuable content. Then the users themselves can become ambassadors of your financial services company.
7. Guaranteeing service personalization
Many brands offer their customers service and product personalization. The ability to adapt the offer to specific needs gives testimony to an important trait of business, which we've mentioned many times on our blog – flexibility. The brands that are able to adapt and meet the expectations of recipients quickly gain their loyalty. Of course, personalization of services and products isn't easy, because it requires not only a functional and well-designed website, but also a good business strategy.
Solution
Service personalization may have several dimensions. You can decide to adjust a given service or product individually, during a conversation between the advisor and the client. Another way is to divide your services into several packages from which the potential buyer will be able to choose the option that best suit their needs. You can also use a modern solution such as recommendation engines. They analyze various data of the users visiting your website and propose services and products best suited to their needs.
Financial services challenges - summary
The numerous challenges of the financial services industry are one of the main reasons why companies in this sector should adopt a flexible business model and ensure an appropriate strategy. Modern and flexible enterprises are those that easily adapt to changes in the market and client needs. Some of the above challenges may become non-existent with the implementation of new technological solutions (e.g. an interactive website), while others require more complex activities (business transformation).