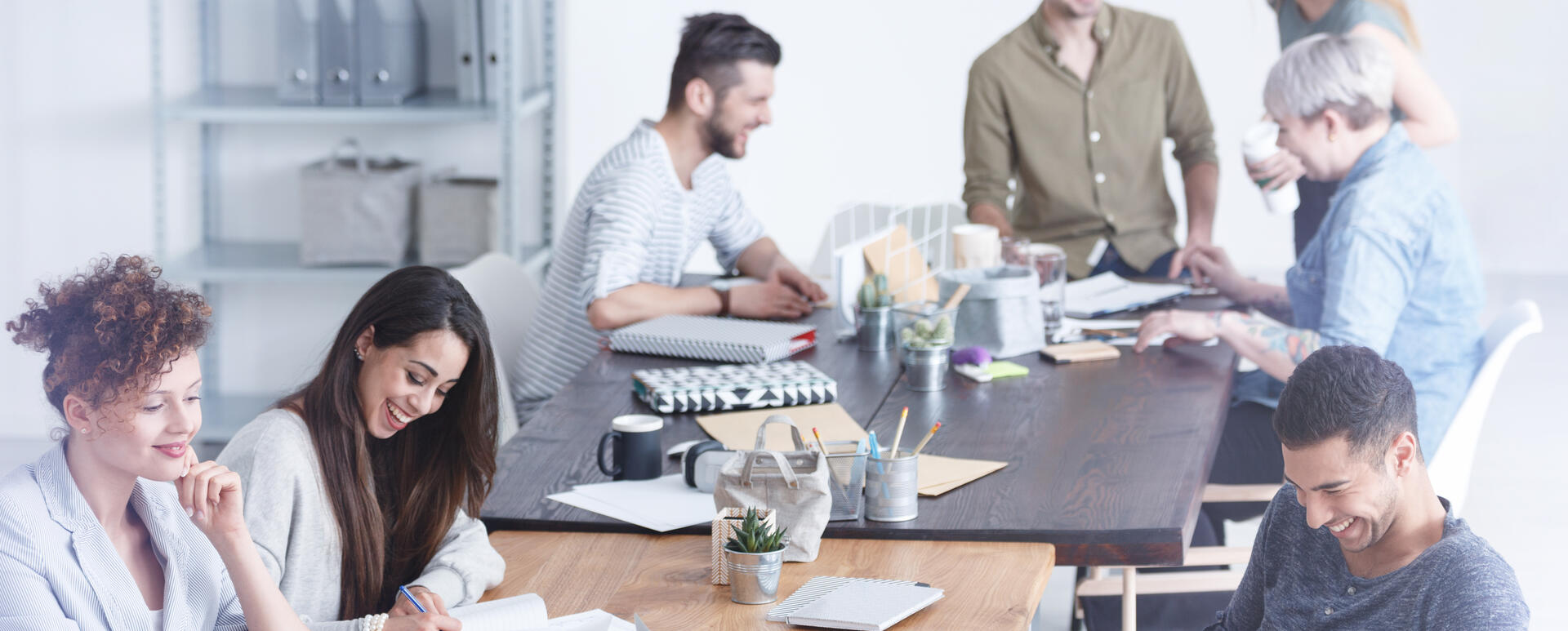 Company Intranet - Why should you Choose Personalized Tools?
Not every company has a tool that's willingly used by its employees. Many organizations buy ready-made solutions for business and simply start using them. However, a newly-implemented intranet doesn't always turn out to be the right tool for a particular organization. The alternative is to create a personalized intranet software that will solve specific problems of your company and grow together with it.
What's a personalized intranet?
Different companies - different processes. You may think that your business isn't much different from the others operating in the same industry, but that's not true. You employ particular specialists, promote a distinct work culture, and operate in accordance with certain processes designed for the needs of your business. That's why you need a personalized intranet. It will be an intranet designed with your company and its distinct challenges in mind. It will be equipped with specific functions that you need to promote your company culture, maintain the high qualifications of employees and standards of customer service.
But how to create such an intranet? Each of your employees has their own specific preferences, tools that they've used so far in order to work more efficiently and easily. However, they don't have access to all of them at work. You can increase their efficiency and job satisfaction by creating an intranet tailored to their needs.
What can be personalized in a company intranet?
While considering the expectations towards your intranet, you should bear in mind the needs of your employees. There are many interesting functionalities thanks to which your team will be happy to use the corporate intranet, e.g. chat, employee profiles designed similar to those in social media, knowledge bases. In addition, it's important that the specialists you hire feel as if the tool was created especially for them.
Personalization of the home page and subpages
Nowadays, a modern intranet can greet an employee by their name after logging-in. Additionally, you can surprise your new employee with a personalized greeting in the form of a pop-up. You can also make different versions of specific subpages for each employee, depending on the department they represent or what their position is, e.g. an HR department employee will see different notifications to a customer service specialist.
On the pages with internal competitions or knowledge bases you can also apply CTAs tailored to the user profile (e.g. a "read again" message next to a link to the article if the given person has previously viewed its content). There are many areas within a company intranet where you can apply content personalization.
Customised messages
A news module is an indispensable tool to strengthen the integration of employees in the organization. Messages are usually displayed on the home page or in a permanent section visible on all subpages. It's good to focus on adjusting them to the needs of the employee, especially if you have company branches at different locations or a complicated internal structure.
You can also use a recommendation system that will recommend the most interesting content to the employees: reports from the company's life, content from internal employee blogs, training systems, social channels – based on their profile (position, interests) and previous activity.
Additional intranet features will speed up the work of your team. Offer your employees the ability to save the featured content to be viewed later. They'll be able to prepare for themselves the valuable materials needed to perform various tasks and return to them quickly. This way, they'll create their own knowledge bases.
Notifications from integrated systems
Companies use numerous applications such as ERP, CRM, and document management systems. Your employee can receive a notification via an intranet each time their supervisor assigns them a new task in the system or marks them in a document that requires their attention. It's an extremely convenient solution, thanks to which all employees will stay up-to-date, without constantly logging-in to various work management systems.
Access to tools facilitating the use of an intranet
Adding interesting functionalities to an intranet solution doesn't have to be expensive if your organization chooses the right technologies. When using Drupal, you have numerous useful intranet modules at your disposal. Some of them increase the security of your information and files, as they allow you to create groups and manage employee permissions. Others are aimed at your experts (e.g. Fivestar), allowing them to express their opinions in polls, or motivating them to develop their skills employing gamification.
Are you wondering what to integrate your corporate intranet with? You can make it more attractive by connecting it to social media or other external applications that will facilitate the work of the editors who create content for your company intranet and of the employees (time tracking tools, calendars, analytical tools) who browse them.
Benefits a personalized intranet brings for the company
A personalized intranet solution allows you to significantly save the time spent on performing everyday tasks – thanks to the access to practical tools, as well as to reduce costs in the future – thanks to the improvement of processes within the organization. A properly adjusted intranet also increases the possibility of stimulating the development of employees by implementing elements of gamification, training courses, the possibility of running a specialized blog, and integrating employees by giving them a way to present their opinions on significant changes taking place within the company (surveys, open discussions).
Safety and higher efficiency
The use of ready-made, open-source software also carries a certain risk of data leakage or a cyber-attack. If you choose a personalized system, the specialists for such solutions will create it taking into account your individual requirements and security standards. They know how to protect your company's documents and information from unauthorized access.
It's good to keep in mind that equipping your employees with appropriate tools by integrating them with an intranet solution positively influences not only their efficiency but also safety. If the necessary applications will be "at hand", the employees will not use untrusted websites and make content available outside the organization in untested applications.
Flexibility and integration
A personalized intranet not only increases your company's performance by integrating multiple tools and platforms but also helps you with building employer brand. By commissioning the creation of a personalized intranet solution, you can indicate to the developers the numerous applications and programs that your employees would have access to from its level.
It's also good to consider the access to the company intranet and some resources from different devices. The flexibility of such a solution results primarily from the ease of its modification and addition of new functionalities. Good applications should change along with the organization at every stage of its development. Equipping the corporate intranet with modern tools shows that the company values innovation.
Scalability and freedom to expand your company intranet in the future
You can't predict the future, but one thing is certain – change. Many companies sometimes make mistakes when planning an intranet. Remember that your business will grow. The emergence of new, more attractive technologies is only a matter of time, so it's good to choose a personalized intranet solution that will be created with future expansions in mind. Your business solution based on a scalable architecture will be easy and simple to modify.
Better internal communication using multiple channels
The circulation of information is of the utmost importance in any company. Therefore, your tailor-made intranet solution can be integrated with communication tools such as Slack or Messenger. You can also add blogging options for employees, create groups, a message board with numerous threads, ability to vote and comment on the content.
Popularization of the company culture and values
You surely want your employees to be guided by the values of your organization. By guiding the narration within your intranet in a certain way, you can actively influence the way your employees perceive the company. You can give them the opportunity to express themselves by introducing personalized polls. Involving employees in co-creating the content in a corporate intranet also increases their sense of belonging. Let them create their own blogs and information materials they can share with others.
Increased productivity and cooperation
Increasing productivity is a difficult task for an employee lacking the right tools. In a personalized intranet, you can give them access to their favourite tools, such as applications for saving interesting pages, text editors, calendars. These facilitations will influence the development of positive user experiences (UX) of the company system, and make them work more willingly, instead of avoiding work and putting it off until later.
Access to a modern intranet also improves cooperation - you can create a space for a collaborative document and process development, file sharing, discussions, arranging video conferences and chatting.
More effective standardization of processes
You can publish in the corporate intranet the tools and document templates that will require your employees to create uniform company documentation. Share model documents, company graphics (such as logos for use in presentations) and instructions. You can also design useful templates that just need to be filled out with data to create a document. Choosing the right text editor is also important and can significantly improve the process of creating reports, contracts and internal company letters.
Summary
A personalized company intranet increases the safety of company resources. Integrating various tools improves the efficiency of employees and their involvement in the life of the organization. It also promotes communication within the team. Such a solution can be easily modified to adapt the company to the ever-changing business conditions. Our experienced team of developers will advise you on the appropriate functionalities for your company. Learn more about creating an intranet system if you need a unique solution for your business.