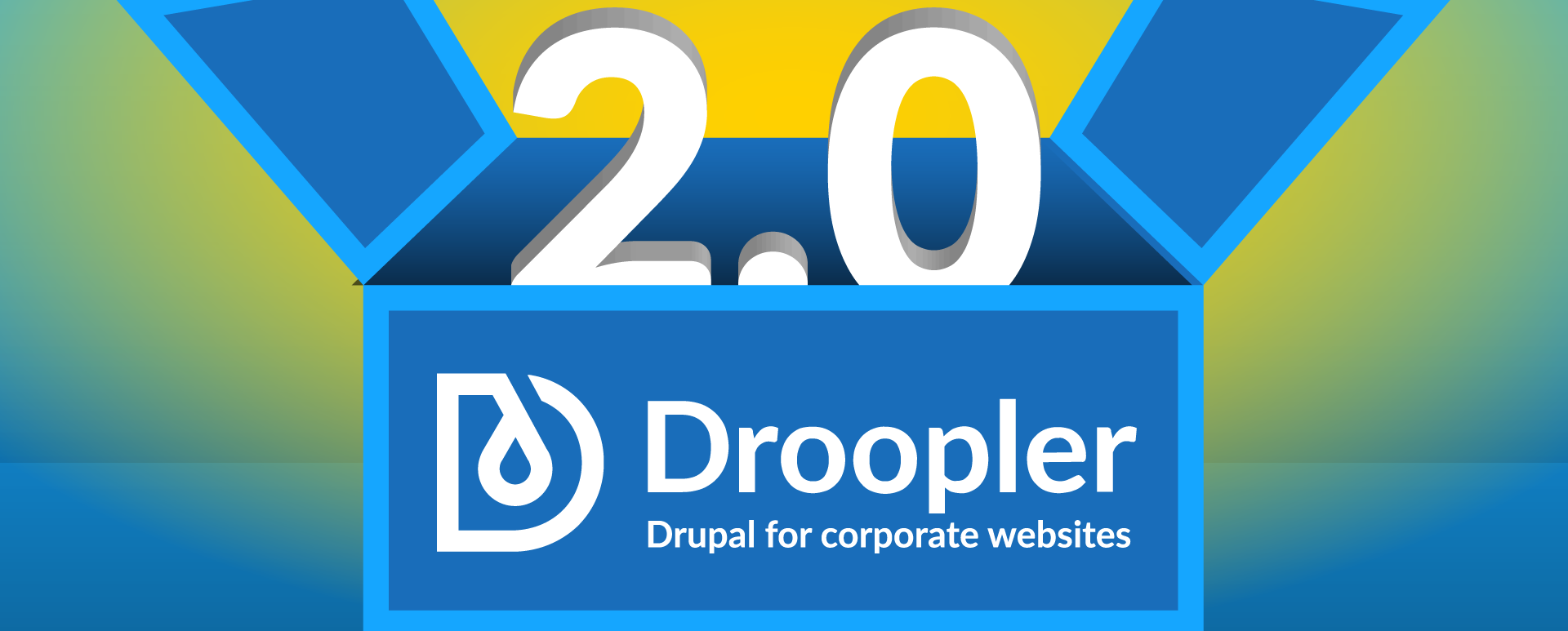 What's new in Droopler 2.0
The new, stable version 2.0 of Droopler – Droptica's Drupal-powered distro is coming soon, offering numerous new features aimed primarily at corporate websites. 
You can already test the new release at demo.droopler.com, you can also install the latest beta version, which is available at drupal.org and github.com. 
Below, you can find a selection of the most important changes.
New demo
Let's start with the most notable and striking change, which can be seen right after setting Droopler up. The new demo presenting Droopler's features is now much more extensive and provides an excellent foundation for you to build your own website. It contains subpages, as well as a full demonstration of the new menu and the footer. You should also take a look at the mobile version of the menu.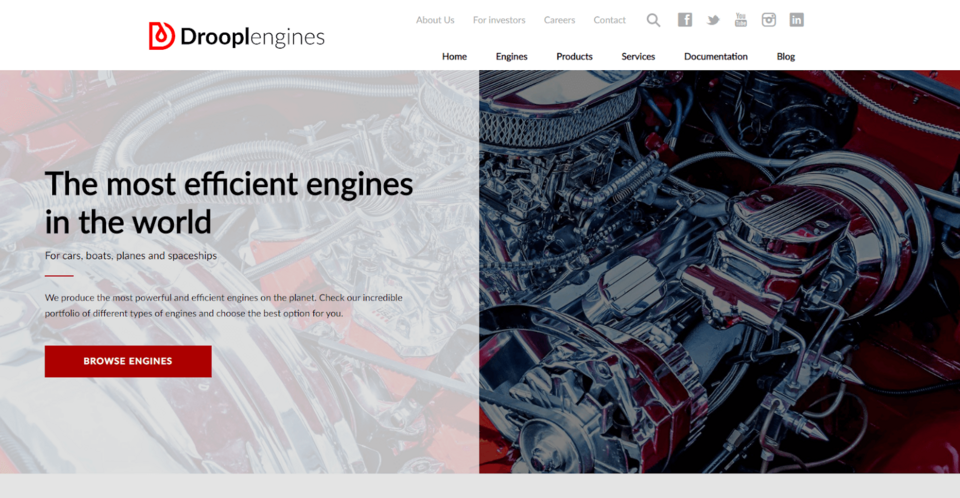 Media and Media Library
2019 brought a very important new feature in Drupal – its version 8.8 introduced the stable Media Library module for managing multimedia on a website, and Droopler 2.0 takes full advantage of its capabilities. We got rid of the previous way of adding photos to paragraphs, which was deemed inconvenient and inflexible. Now, you can add all the media on the website using a special library with reusable elements. What is more, you are no longer limited to static images! Paragraphs can now be illustrated in the background with Vimeo and YouTube videos. Droopler 1.4 users can take advantage of the full migration path to version 2.0, which encompasses converting the "image" type fields to the new solution.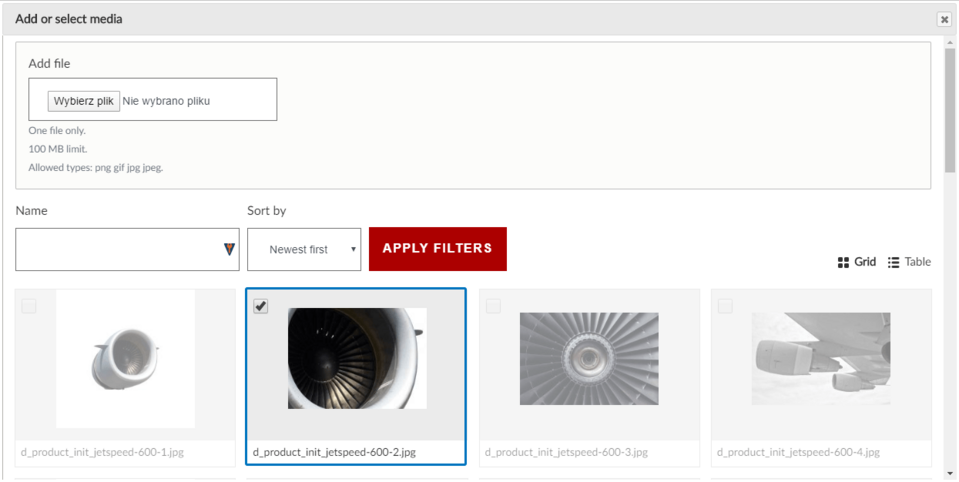 Colours
Version 2.0 brings totally new and more dynamic colour schemes. Of course, if you want, you can stick to the existing colours. Various shades of blue were replaced with deep red, which is better suited to corporate websites. We decided to change both the backgrounds and small accents.
SEO and website performance
We made every effort to ensure that websites powered by Droopler rank as high as possible in search engines. We focused on optimising page loading speed according to Google Page Speed, we also improved accessibility standards. From now on, content editors can have an impact on SEO by changing types of paragraph headings (H1 through H5).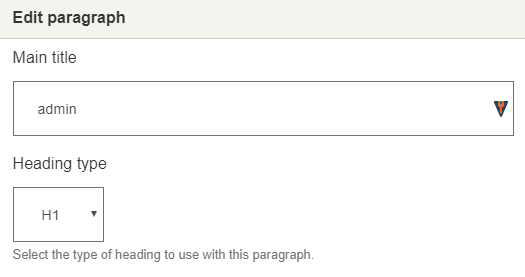 Mega Menu
Droopler 2.0 features a brand-new menu, similar to the features you can find on large corporate websites. You can configure each submenu to be displayed in columns, with graphic elements and different sets of links. The menu is fully compatible with mobile devices. In addition, we introduced another feature, allowing you to use a second menu with less important links. Easily configured social media icons are another important new feature.

New footer
We redesigned the footer – it is now divided into several areas and uses a column model. This approach makes it easier to create pages for large clients, who need it to fit several addresses and key links at the bottom of each page.

Paragraph settings
You are now able to change paragraph settings in Droopler. Using a couple of checkboxes, you can now invert their colours or stretch them to the entire width of the page. Styling individual paragraphs was also made much easier than before. Before, you had to reference them in CSS stylesheets using less-than-convenient IDs. From now on, every paragraph on your website will be able to have its own class, assigned from the editing form.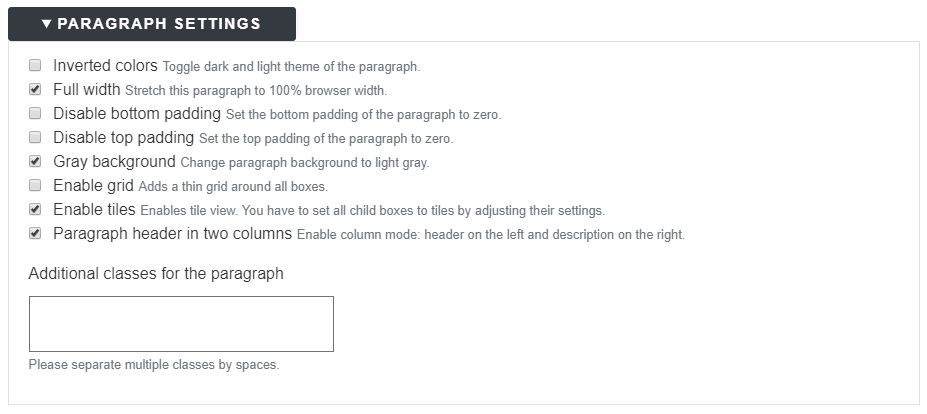 "Reference Content" paragraph
To date, Droopler offered no way to show users the list of the latest blog articles on a single subpage. The new "Reference Content" paragraph adds this feature – and makes it amazingly flexible, since it allows you to change its display settings and select articles, which will remain pinned. The remaining spaces will be filled with articles sorted in descending order, according to the publication date, allowing you to display, for example, two sponsored posts and two latest news posts.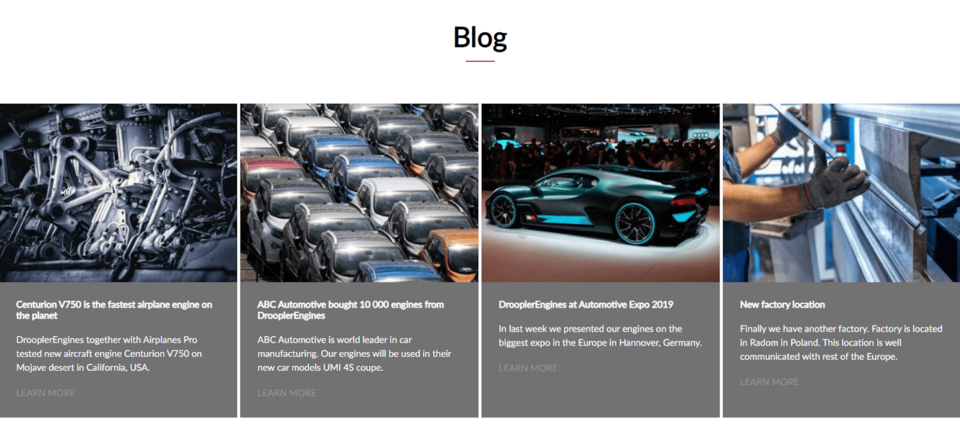 "Side by Side" paragraph
Ever since we started working on our distro, we paid close attention to the needs and behaviours of the users, which is why the subsequent Droopler releases included a variety of useful paragraphs, which divided the page into two columns, enabling users to add text, photos, maps, videos and galleries. However, there were some restrictions, which prevented them from using any combination of these types of content. Droopler 2.0 gets rid of these obstacles by introducing the universal "Side by Side" paragraph. Each of its columns can contain independent elements – as of now, the choices include text with a graphic background and a reference to an entity, for example a product.

Bugfixes
We squashed hundreds of bugs, including those reported by users on GitHub and drupal.org, which allowed us to build an even cleaner and more stable codebase, developed according to the latest standards. Many of Droptica's frontend and backend experts worked on the 2.0 release, and the project repository saw more than 1000 new commits and 180 pull requests. We have improved adding content, in particular the integration with the Geysir module.
Updated libraries and drupal.org compatibility
Until recently, Droopler's architecture was not fully compatible with a slightly outdated distribution building system on drupal.org, which – in some rare cases – led to conflicts and errors when updating the websites. We managed to overcome these issues for the 2.0 release. What is more, we already started working on adapting Droopler to make sure that it is compatible with the upcoming Drupal 9. In addition, we eliminated various bugs, which popped up in connection with various latest Drupal 8 features. All these improvements will lead to greater security and long-term support for your websites.