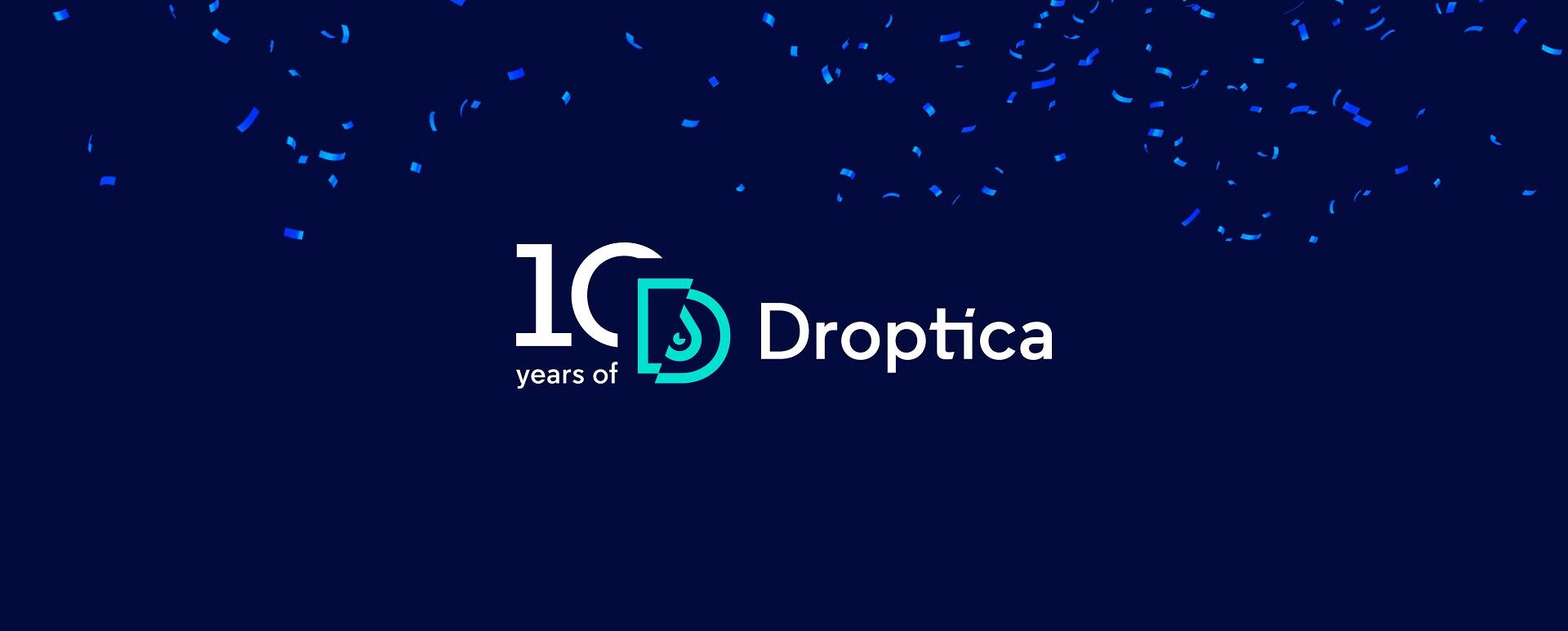 10 Years of Droptica - Memories of the Past, Images of the Present
It's been quite a journey for us! Over the past ten years, we opened four offices in Poland, grew our team to 70+ specialists, developed our skills in Drupal, Symfony, Laravel, and PHP, and successfully delivered numerous projects to our clients. Let's look at how it started and how it's going.
From two Drupal fans to 70+ employees agency
From the very beginning, we've been involved in the Drupal community. In 2011, Grzegorz Bartman, then the owner of a small Drupal agency OpenBIT, took part in the DrupalCamp Berlin. After returning, he reported on the event on his company blog and ended the article with a question: Maybe it's time to organize such an event in Poland?
Grzegorz talked with different people from the local IT and marketing industry and formed a group of organizers of the first DrupalCamp Poland. The event took place in 2012 in Wrocław, and one of its sponsors was Maciej Łukiański, the CEO of a small Drupal agency Advanteo. He also came to the conference as a speaker, and that was how he met Grzegorz Bartman.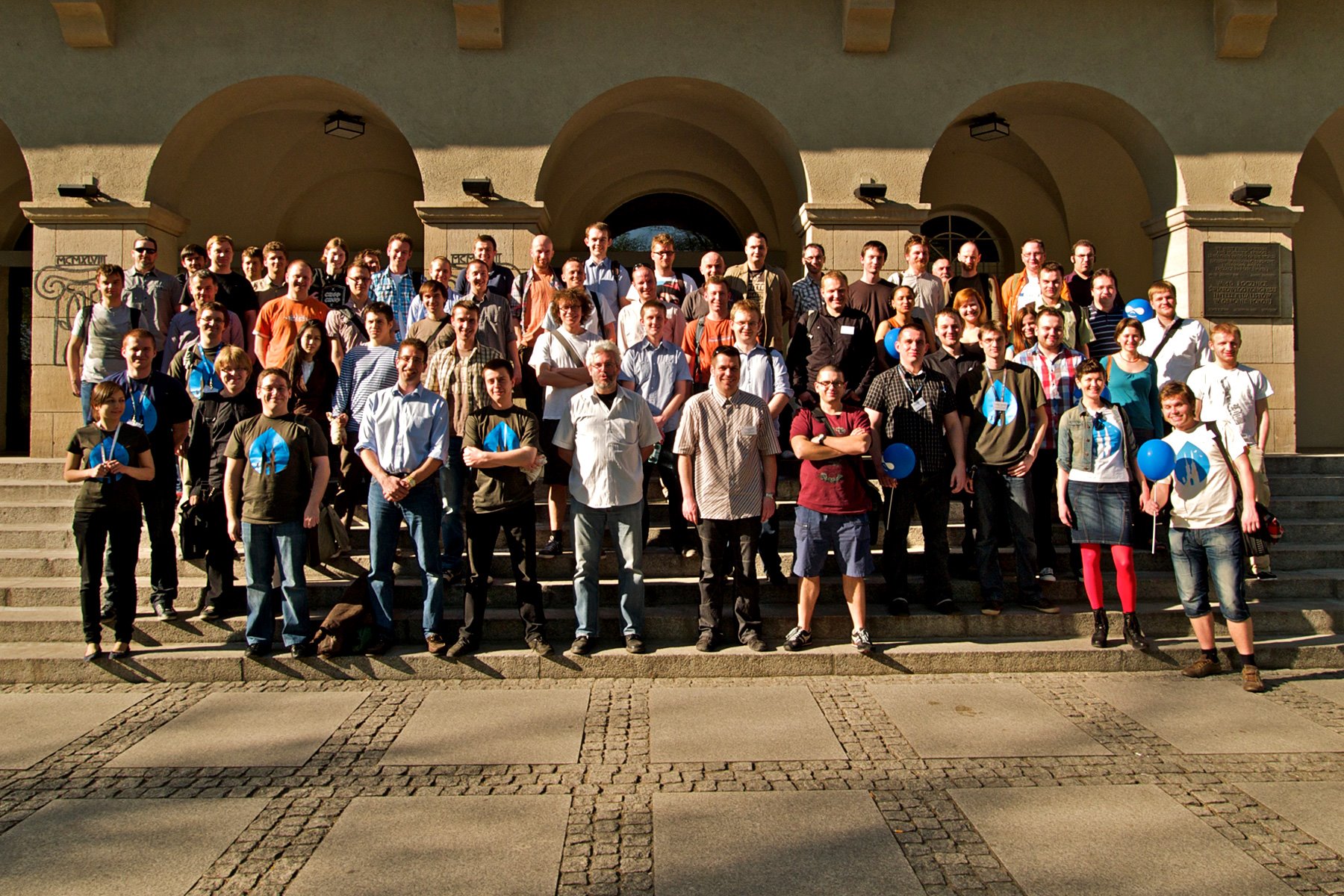 Participants of the first DrupalCamp Poland in 2012.
Later that year, Grzegorz and Maciej heard about four European Drupal companies joining forces and coming as one 140-people agency. That's why they started doing the projects together and talking about their companies merging. They made it a reality on the 4th of February 2013. That was when Droptica was born.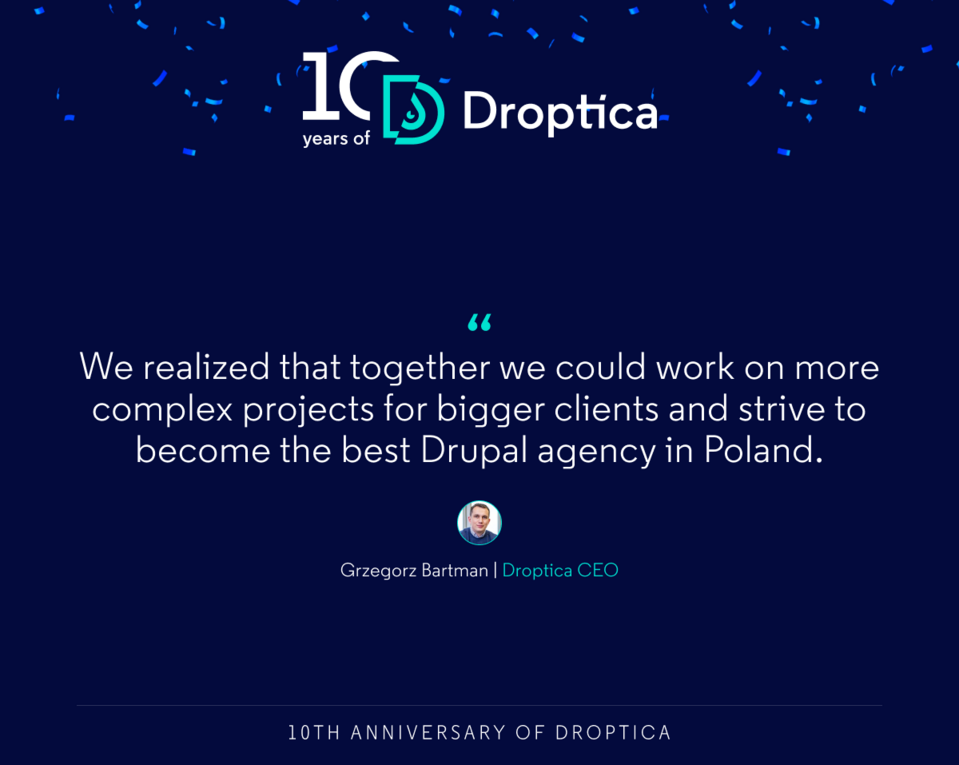 Droptica now
Starting with a handful of developers and two small offices, Droptica has grown to over 70 employees company with offices in Wrocław, Gdańsk, Toruń, and Rzeszów. More than half of the specialists work remotely from different parts of Poland.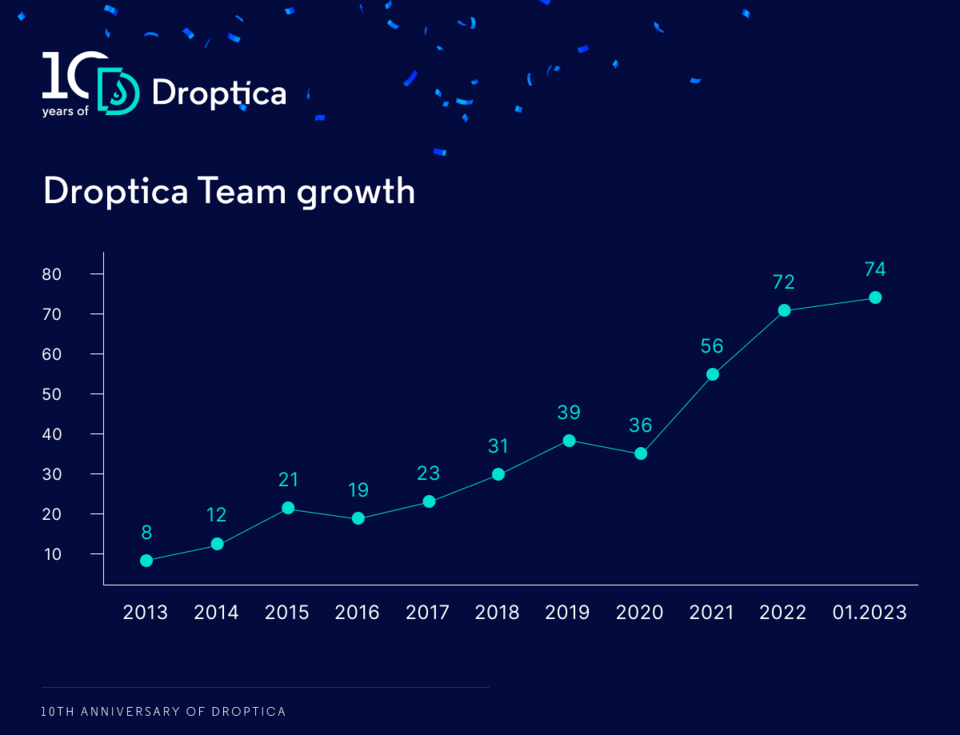 Now, we have on our board not only programmers but also a team of testers, DevOps engineers, project managers, designers, and HR, finance, sales, and marketing specialists. With such a team, we handle more technologies than only Drupal - PHP, Symfony, and Laravel are just some of them.
Due to the company's growth, we're introducing the Service Delivery Units this year. One SDU comprises 20-30 people, including project managers, developers, and testers, managed by the service delivery manager. They will oversee work and manage their unit, support project managers, and allocate specialists to the teams. Such a change will improve both work within the team and cooperation with clients.

Helping other companies grow
For the past ten years, we've been creating websites and other web solutions that help other companies develop their businesses - acquiring new customers, increasing sales of their products or services, and improving internal and external processes. For these purposes, we've built complex Drupal platforms, a multi-vendor marketplace on Sylius, custom CMSes for media and publishing companies, a web application for measuring sports training progress, and conducted headless Drupal implementations.
We've always been open to new challenges. After thoroughly understanding the customer's needs, we've been able to find our way in any field. We've cooperated with financial, media and publishing, ecommerce, non-profit, education, automotive, medical, and legal companies.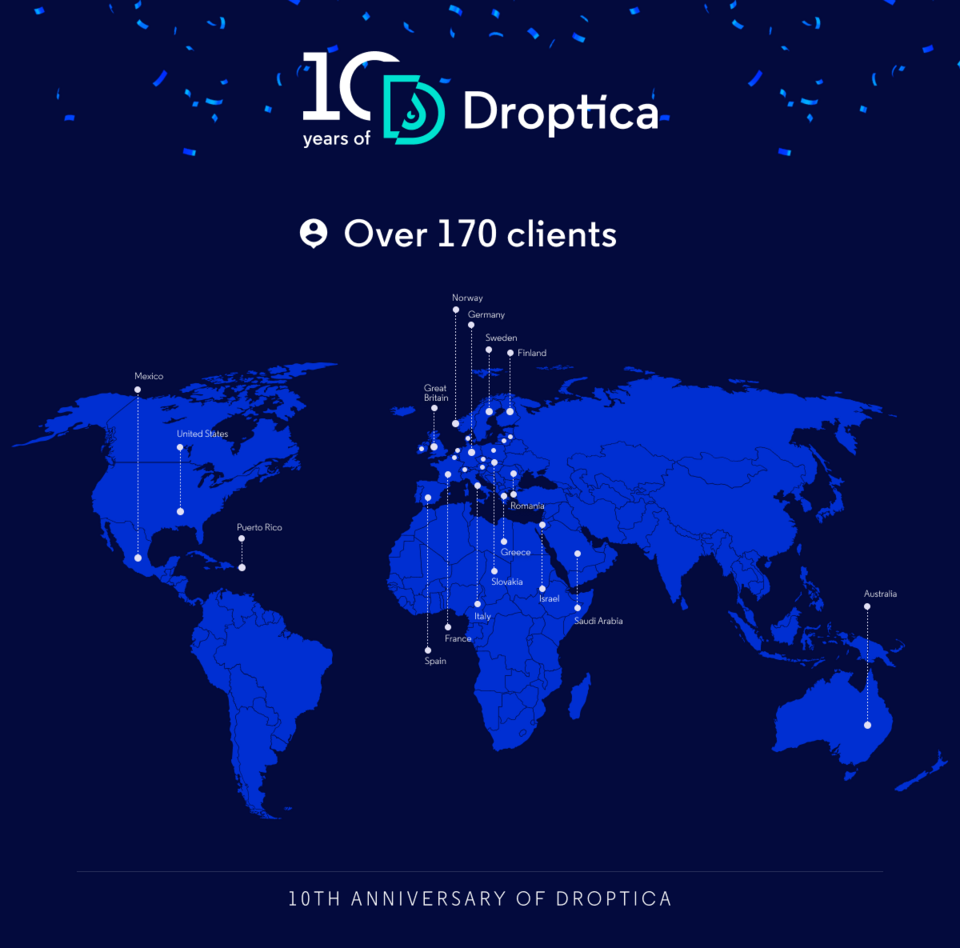 Open source at the heart
We can meet the specific needs of companies from various industries thanks to the open source technologies we usually choose for our projects. Such solutions are very flexible - easy to develop and customize - as their source code is open to the public. This fact also implies that there's no license for this type of software. Additional costs appear only if someone wants professional help to develop and maintain open source system. However, these expenses can be adjusted to the capabilities of a given project or company.
The open source technologies we use are:
PHP - the most popular language for building websites,
Drupal - stable and secure CMS with special features for complex corporate web pages,
Symfony and Laravel - frameworks for websites and applications,
Mautic - feature-rich marketing automation software,
Sylius - ecommerce platform,
Pimcore - system for product information management.
All these solutions have communities of IT professionals from different countries gathered around them that voluntarily develop the systems. Working together on open source technologies benefits both the developers and the clients, who can have better and better software. That's why we've always supported and developed open source solutions and educated others on their possibilities. We've been attending and having presentations at DrupalCon, DrupalCamp, Drupal Business Days, and PHPCon events and at the local PHP meetings (PHPers). What's more, we've been organizing DrupalCamp Poland for over ten years.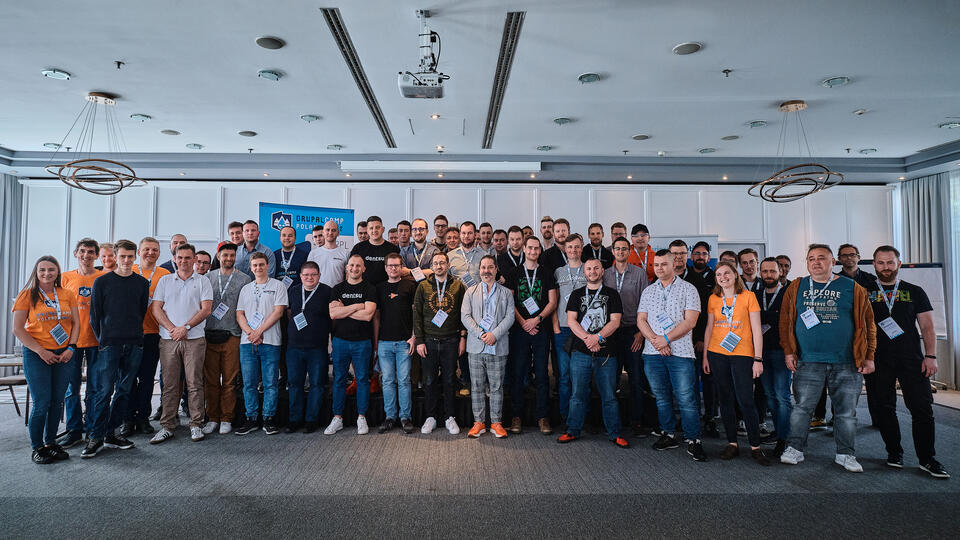 Picture from DrupalCamp Poland in 2022.
We've also created and constantly developed Droopler - Drupal distribution for building corporate websites. It consists of prebuilt elements that can be easily customized to the specific needs, SEO features, and an online store (due to the usage of the Drupal Commerce module).
As an active member of the Drupal community, we've supported over a dozen projects at Drupal.org, like Paragraph View Mode, Backup and Migrate, Popup message, CKEditor, and Geysir.
Knowledge sharing
We've been sharing our knowledge not only inside of the open source communities but also on our blog. We've built quite a knowledge base on Drupal modules, technology, business, project management, and design. We also added some tutorials on our YouTube channel.
Live meetings are another way we use to pass on our knowledge. In 2014, we started free DrupalDay training that we were organizing in different Polish cities and online. This event evolved into the online DevTalks in 2022 to be able to cover more IT-related subjects. For every meeting, our specialists prepare three presentations. There's also time for questions and winning attractive prizes.
And yet another project we created to educate developers (in this case the aspiring ones) is Droptica Academy. It's a training program that introduces people to the IT industry and prepares them to take up the role of PHP Fullstack Developer in the future.
Continuous development and improvement
We've been developing skills of both future developers and our own. We share our knowledge during internal training, e.g., about Docker, Drupal Commerce, or giving and receiving feedback. To confirm our skills, we can later prepare to gain a Drupal or Laravel certificate, which our company fully covers. To prepare for such an exam or expand our knowledge, we can attend external workshops, conferences, and get professional books. This is all possible within a separate training budget that everyone receives.
Over the years, we've seen how new employees could feel lost at the beginning of their journey in the company, so we introduced the roles of mentors and trainers. The first ones help their mentees to set goals regularly, develop skills, and solve ongoing problems. The second ones assist new developers in their journey to learning Drupal.
Unique company culture
There are many things we're proud of after ten years of Droptica's existence. One of them is definitely the company culture we've built and that we strengthen every day, whether we see each other at the office or online.
Remote, hybrid, or on-site work
Over half of us work fully remotely, and Droptica supports it by providing necessary devices and a separate budget for every employee to purchase additional devices (like a docking station). There are also guides on how to set up an ergonomic home office and a Slack channel where we share productivity tips. When someone feels lonely working from home, they can write on the general channel: hey, anyone wants to join me on Zoom for a coffee?
However, if somebody lives nearby locations with our comfortable offices, we encourage them to come to work there from time to time or regularly. In every place, we have professional workstations, different snacks and beverages, and free lunches every Thursday. It's a great way to meet each other, enjoy a meal together, and play table football or ping-pong.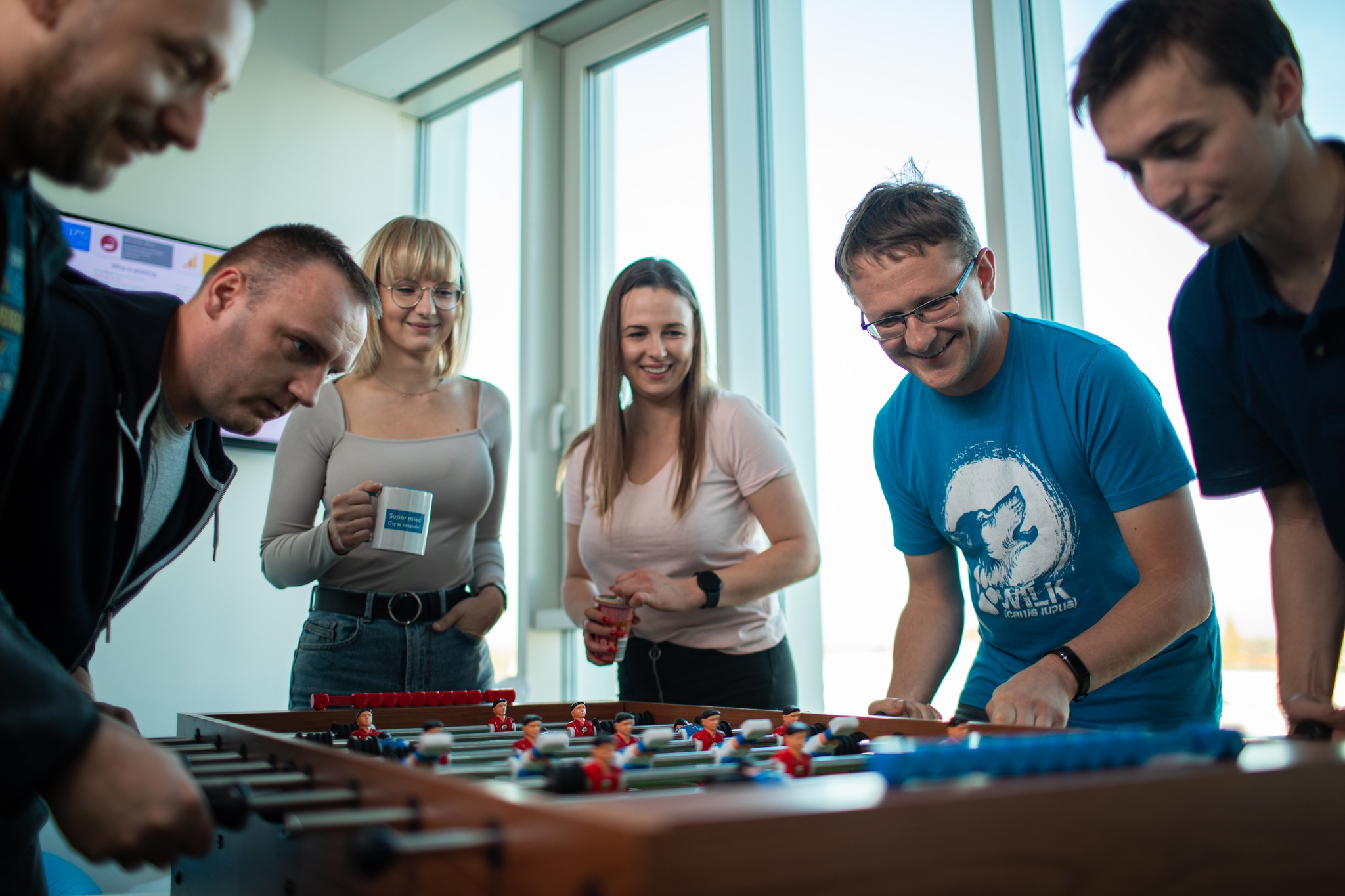 Online habits and celebrations
The fact that we work fully remotely or from offices in different cities doesn't mean we have little contact with each other. Apart from the daily Scrum meetings, over the years, we've created various initiatives that let us stay in touch and build our unique company culture.
We have quite a few channels on our Slack. Besides the ones devoted to particular projects and teams, we have spaces to talk about:
programming - frontend, Drupal, PHP,
technology and electronics - AI, macOS,
hobbies - cars, games, fishing, plants, music.
To take a 5 minutes break from work, we also set a reminder on the general channel every afternoon to add a groaner. No matter if someone publishes or only reads it, it's nice to have this funny moment every day.
When we started rapidly growing, it became harder to know everyone sending messages on Slack. That's why we created the Hello Droptica channel, where one person introduces themselves to the rest of the team every Wednesday. They write about their studies, habits, interests, and favorite emojis, which is a great starting point for a chat.
Apart from talking about everyday project-related topics, we like to say thank you to each other. Appreciating other people's work, commitment, and support is so important to us that we have a special tool for adding kudos in our company intranet. To recognize longer involvement or some particular achievements, we have the Złoty Komit (golden commit) prize we give in every half a year. Anyone can add their candidate to this award with a short explanation of choice. Then we start voting, which is also open to anyone, and finally, we hand in the Złoty Komit award to the winner during an official live gala.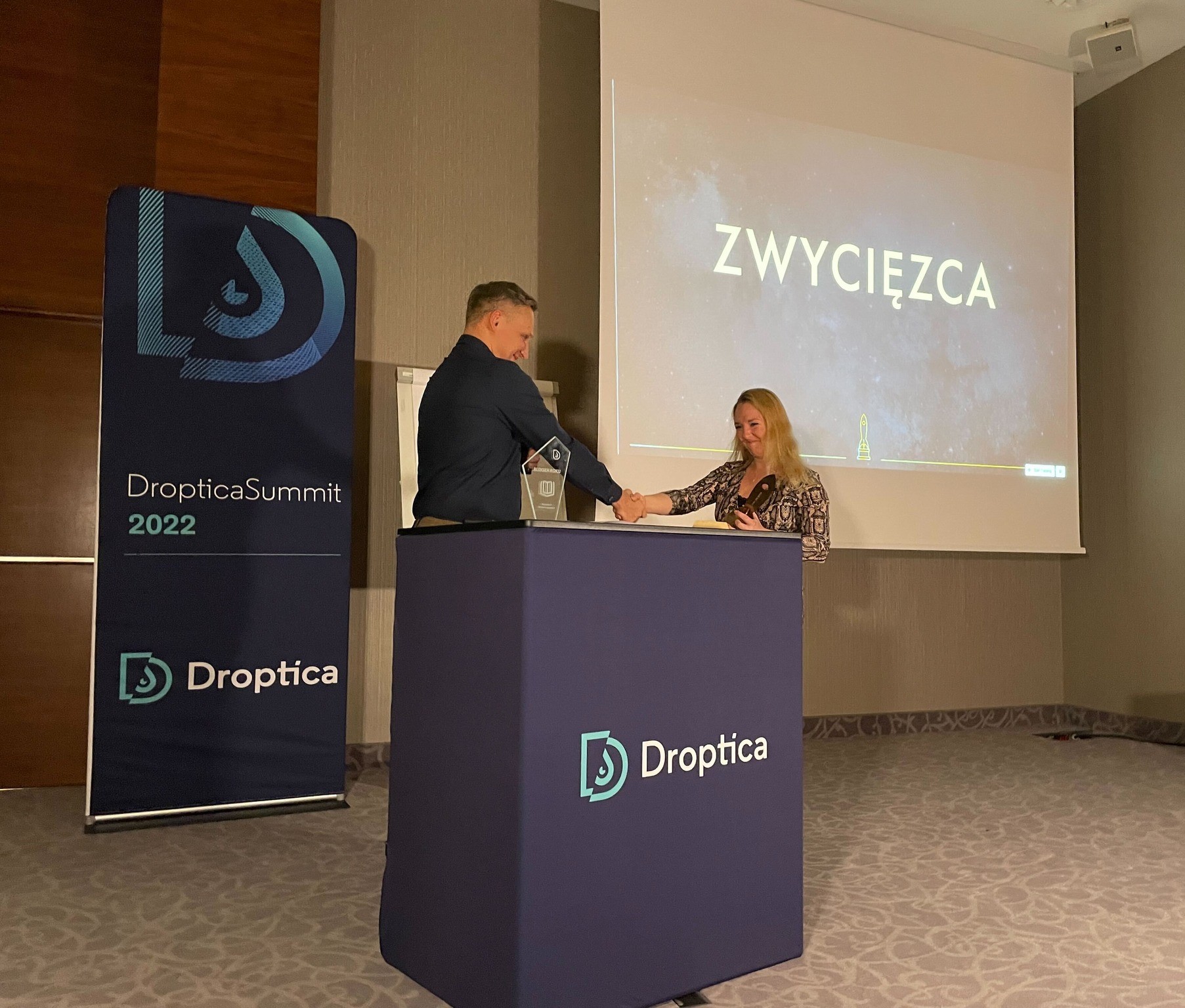 Live meetings
Handing the Złoty Komit award is held during Droptica Summit - our internal live event that takes place every half a year. Besides this gala, we also have a summary of the company's recent activities, technical or soft skills workshops, and the party.
Other occasions to meet each other in person are:
Team-building meetings (in the four cities where we have our offices). We go bowling, climbing, karting, do water sports, or play board games.
A week in another office. It's a paid one-week trip to one of the offices. It's time to work and spend some time together with colleagues from another city.
Conferences. Every year, we attend several IT events in Poland. We give the possibility to sign up for them for a few or a dozen people.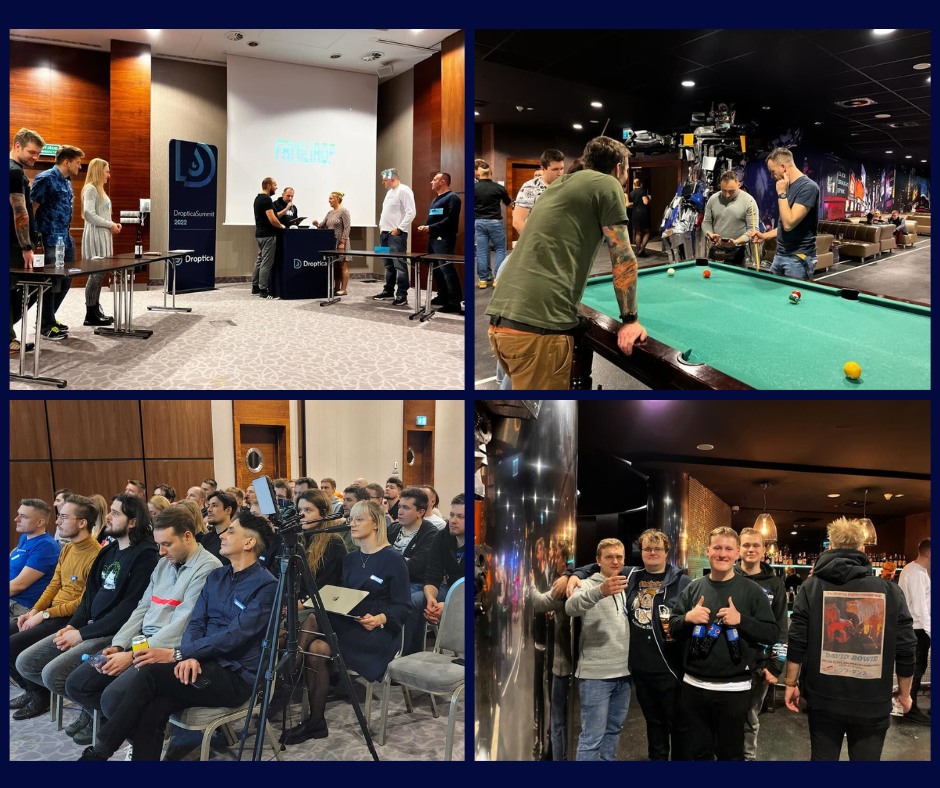 Ready for more years to come
The past ten years were a great time for our company. We've significantly expanded our team, helped many companies grow their businesses, built a strong presence in the Drupal community, learned new technologies, and created a one-of-a-kind company culture.
In the upcoming years, we want to constantly develop Droptica by offering new technologies and dedicated services for selected industries in which we already have experience (such as publishing, manufacturing, and finance). To be ready for even more projects, we plan to have over 100 specialists in our company in 2023.
We hope to have you on board with us as our partner, coworker, or follower. We promise to provide excellent services, knowledge, tips, and tricks for the next ten years and beyond!