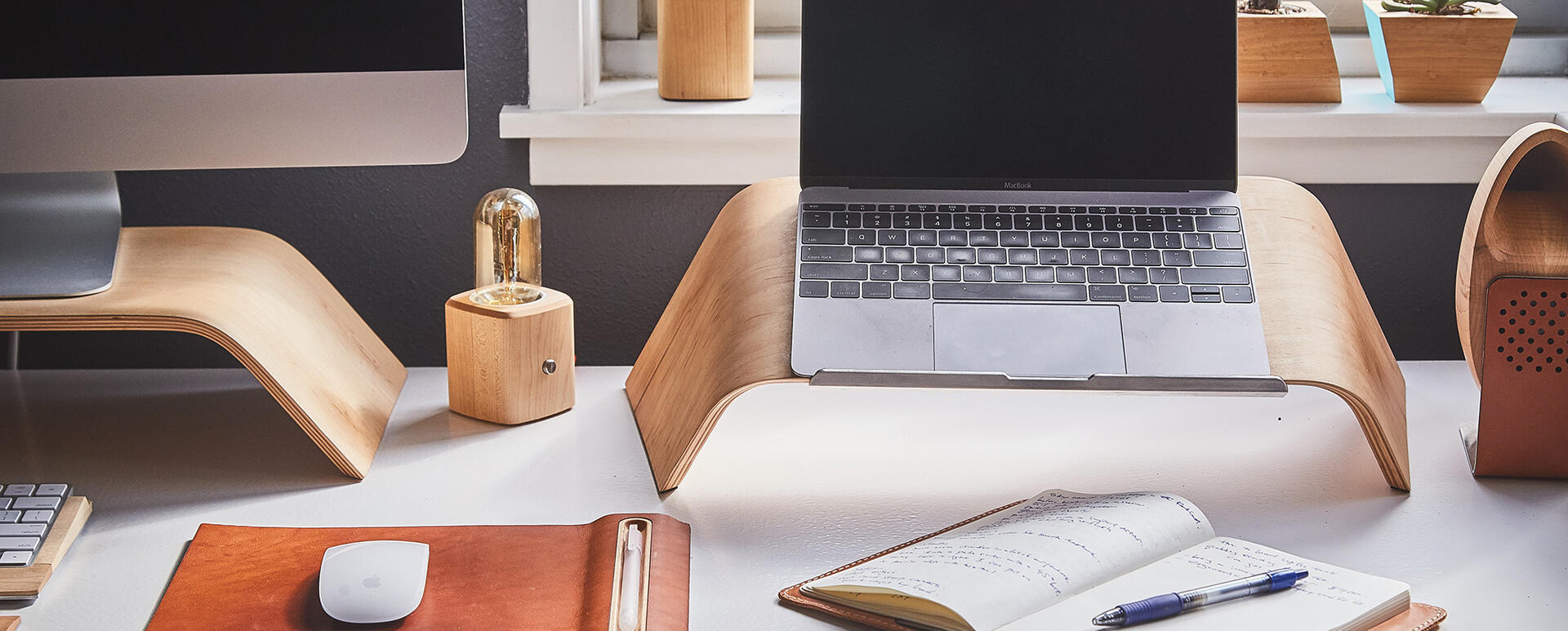 Remote Work in Droptica - Learn How We Do It
Droptica had 2 offices from the first day of operations. Since the beginning, we organized work so that our team of Drupal experts can be effective from any location. Today especially this is clear that remote-first setup benefits us greatly. Let me show you how a typical day in Droptica looks like and what tools we use for remote work.
The benefits and the risks
Remote work is an incredible benefit and a time saver. We are not stuck in traffic, wasting time in public transportation is not necessary. Every day we save hours, which we can use for learning, hobbies or time with family.
Let's not forget however, that working from home requires from us some self-discipline.
Workstation
People often imagine working from home like this: comfy couch, pyjamas, coffee and ineffective lazy work. This, however, has nothing to do with reality. Even if you tried it like this for a moment, you would get discouraged quickly and would decide for yourself that it is better to move from the couch to a desk. 
Working from a couch or a bed is not very comfortable and it is not especially healthy for the spine, and health, as we all know, is very important. It might seem like it would be cool to work form the comfy armchair, but who has tried it, knows that his motivation will dwindle in a couple of days and his state of mind and wellbeing will deteriorate.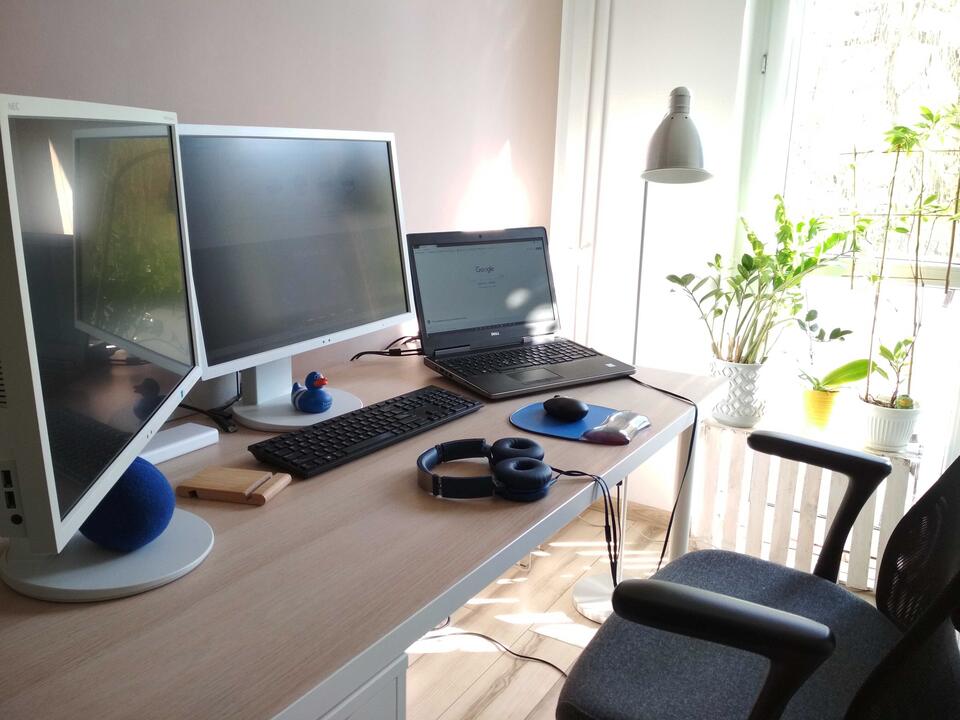 In Droptica we expect every team member to have a home office consisting of a desk. A dedicated laptop is accompanied by at least one monitor (we recommend having 2 and we provide each person with 2). Only in such a setup, work from home begins to be as effective as working in the office.
We know how important it is to have a comfortable and professional workplace. This is why we show you our "home offices" for inspiration - both here and on Instagram. Follow us and check out how we work from home these days.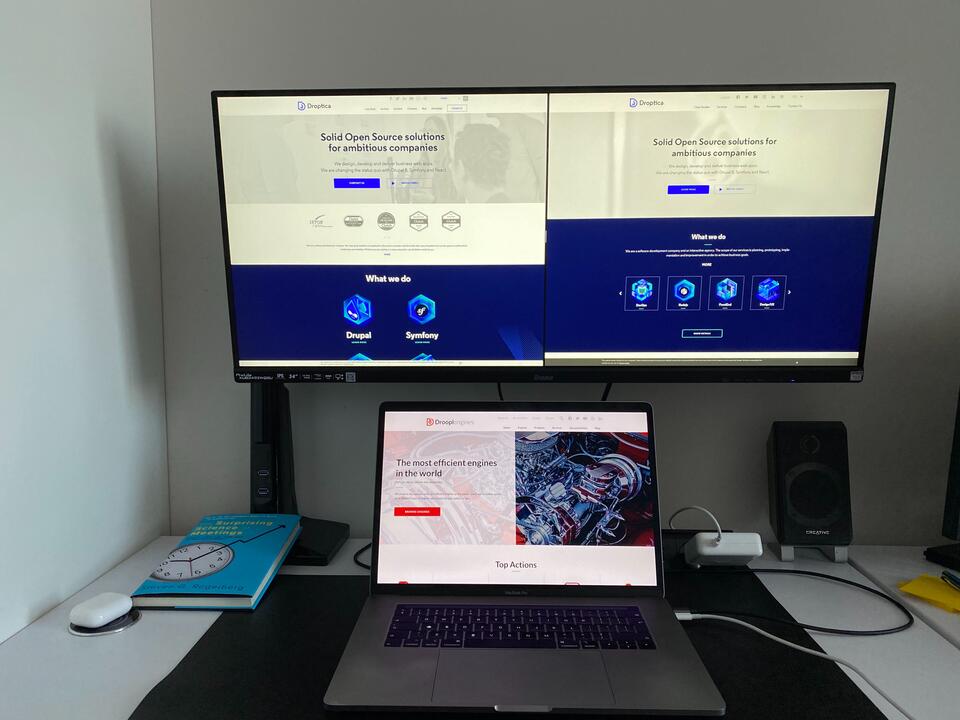 Working in focus
A great benefit of working from home is the ability to focus more. At home, colleagues are not distracting us directly and we can always mute communicators for some time. We can be much more effective than in an open space.
Moving to remote work however requires also following a few rules, which might not be too intuitive when you first do it.
A balance between work and home
Is this even possible? We answer: Yes!
This is probably one of the most important things when it comes to remote work.
Personal time and work time. It makes sense to establish clear working hours. Set up your alarm clock and sit down at the exact time. Work throughout the day till time runs out (eg 8 am till 4 pm). This lets you clearly divide work time and home time.
Changing clothes also helps. Going to work? - dress for work. Remember about this especially if you intend to do video calls. You are at home but you are working. Remember that.
Have clear tasks to accomplish each day. If these are not clearly defined, make a list of your goals for the day for yourself. Then try to accomplish all that you planned to do. This will allow you to motivate yourself if you find yourself slowing down or procrastinating.
For some people having a "work mug" helps. Choose a mug which you will drink coffee from when you are at work and do not use it only during working hours. This additionally helps to separate "work time" from "home time". It also helps employees to understand when you are still working and when you finished.
Communication and relations
Communication and interpersonal relations in a remote environment are not working? Nonsense!
Internal communication in any company is paramount. That is why it is worth to use several tools and not rely only on one. Effective communication positively impacts on many aspects of daily work and is key to achieving company goals.
For many years in Droptica, we effectively manage communication between remote employees and remote clients. It would not be possible without a few tools we use each day.
Jira is our project management software. Here we keep information about realized projects, tasks to do and project milestones. Learn more about how we manage projects. 
Slack is our chosen messenger. It lets us contact each other directly and in group discussions. Additionally, it allows us to do voice and video calls. Another cool feature is the ability to share a view of your screen with other participants which lets you present to them what you are talking about. Learn more about how we use slack. 
Zoom, Google Hangouts, Skype - applications which we use to hold video conferences with clients and online team meetings.
Dropbox, Google Drive - file sharing for teams
Google Docs - team collaboration on text documents, spreadsheets and other types of documents requiring a team effort. This blog post was also first created in a google document.
Github, Bitbucket - version control systems which allow collaboration on code. 
These are the most often used tools which help in our daily remote work. Some of these we have been using for years and some are new. We experiment. For a full list of tools check our a series of blog posts on tools we use. 
Why remote work works in Droptica
We are agile - adaptation, openness and good cooperation with the client as well as mutual respect are our values.
Trust is our key to success - we trust each other to do the work well and we try to live up to our expectations. This is a cardinal rule in any remote work environment and it is with us for many years.
Low employee rotation - thanks to teams working together for a long time, we can offer project continuity and a feeling of togetherness. This directly enhances teams dedication and focus on delivering on deadlines.
Integration - our teams know each other better every day. We organise team night outs and retreats (on hold for now due to lock-downs) which allow us to get to know each other better in private. An integrated team allows everyone to feel better what directly improves work commitment and company results.
Happy clients - clients are a priority for us. Our projects are always on time.

Summary
To sum up, remote work is a great solution which has many upsides but you have to be mindful of the downsides. You can obtain real comfort and avoid monotonous commutes to the office. On the other hand, you can lose precious moments of personal interaction with colleagues. The most important is the end result. For us working in the office or remote is very similar - we still focus on our clients and the clients get the same high-quality service.