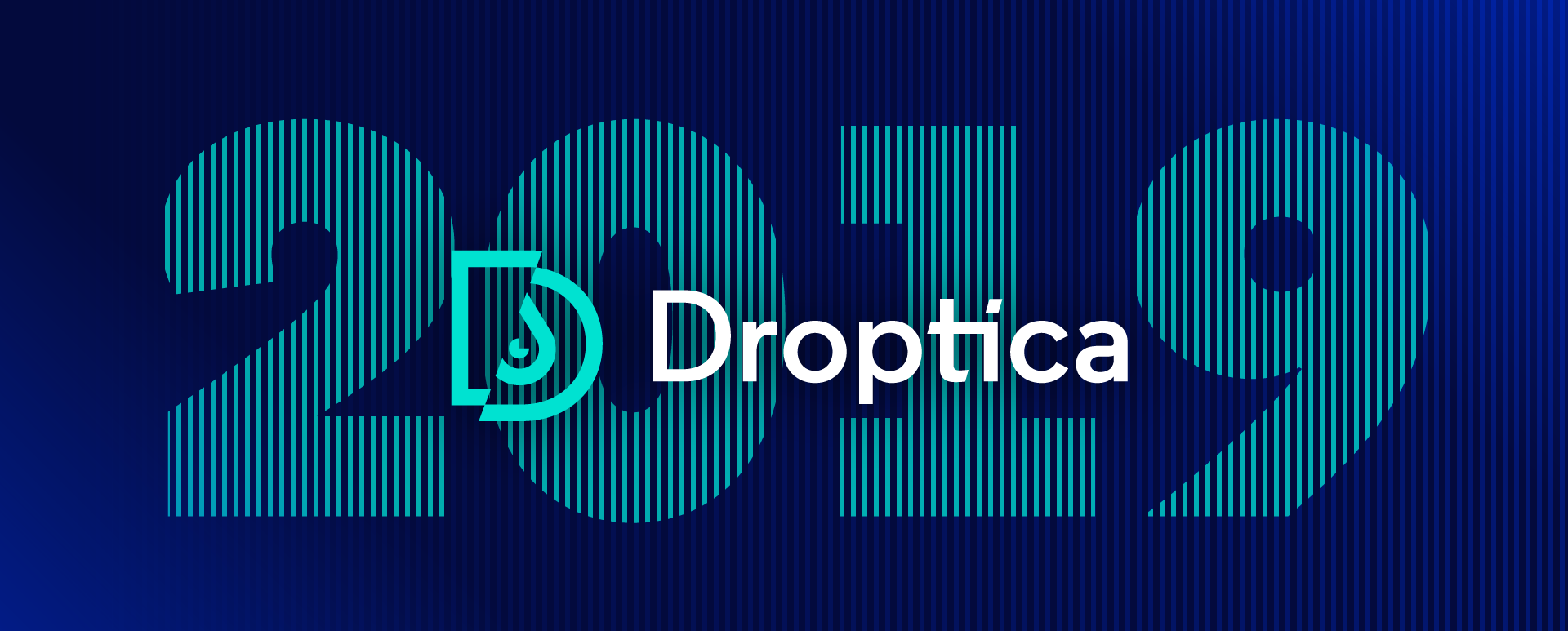 Three hundred and sixty-five days. Six lectures in London, five conferences, four DrupalDays and a DrupalCamp, a new office in Gdańsk, a new location in Toruń, 12 new employees. Take a look and see what 2019 was like at Droptica. 
The year 2019 was busy and challenging, and we definitely believe that it was a success. We are proud of being the largest and best-known Drupal agency dealing with developing and supporting Drupal-based websites in Poland.
Conferences
    • DrupalCamp London 02.03.2019
DrupalCamp London 2019 was one of the key events last year – we are proud to say that the conference organisers accepted six lectures and presentations proposed by our team, and we believe that to be a great success for the company. The participants of the conference could learn from Grzegorz Bartman, Maciej Łukiański and Jarosław Bartman, who were glad to share their knowledge with others. You can read more about DrupalCamp London here.

    • PHPers Day Gdańsk 02.03.2019
An amazing event that we were the main sponsor of. As always, Droptica was eager to share knowledge with the participants, and Tomasz Wodzikowski delivered a presentation on Drupal 8 – Symfony components on steroids. 
    • Linux Session – Sponsor – 6.7.04. 2019
The Linux Session is the largest Polish conference devoted to Open Source solutions, as well as the latest trends in the world of GNU/Linux operating systems. Of course, we had to be there. It was not the first time for our team to represent the company at its stand – we've been attending this event since 2013.
    • PHPers Summit 6-7.09.2019
The event was organised in the Poznań Congress Center building at the Poznań International Fair. The sponsors prepared plenty of attractions for visitors, from bite-sized snacks, through branded gadgets, up to contests with prizes. Our company was a gold sponsor of the event, and every person who visited our stand got a Droptica-branded gadget, as well as a chance to win a quadcopter. 

    • DrupalCon Amsterdam 28-31.10.2019
Of course, there is no way we could miss the largest Drupal-themed meeting in Europe. Maciej Łukiański and Grzegorz Pietrzak went to Amsterdam, where they had an opportunity to talk about various issues concerning the development of Drupal distros, based on their experience with Droopler. An amazing conference, with fantastic people, a big dose of positive energy and new experiences. 
We had the pleasure to take part in one of the largest conferences for PHP developers as its Platinum Sponsor. The event took place in Szczyrk, and according to the organisers' estimates, it attracted 543 participants, and our stand was particularly popular among them. In addition, everybody could try their hand at our game, and three lucky people went home with brand-new drones.
DrupalCamp Poland 2019
DrupalCamp Poland 2019 is a conference organised for the Drupal community and people interested in Drupal. The two-day conference, combined with training workshops took place on 1-2 June 2019 in Wrocław, and it was the 8th DrupalCamp conference in Poland. Droptica was one of the main organisers of the event. For 2020, we hope that the interest in this event will be even bigger than before. Let's meet in Wroclaw! 
DrupalDay 
DrupalDay is a lecture-filled day, available free of charge for everybody willing to discover Drupal 8. The lectures are presented in various cities throughout Poland. Droptica experts support newcomers to the Drupal community and help them get inspired to learn the ins and outs of this system. This year, we went to Wrocław, Rzeszów and Gdańsk. All participants got an opportunity to learn something new, as well as to get to know our company and our team.
Additionally 
DrupalDay UnConference Warsaw 28-09-2019
An unconference is, as the name suggests, not a conference – instead, it is a much more relaxed and less-structured event, with an agenda agreed upon on the spot by the participants, who come to the meeting. Droptica organised its first Unconference on 28 September in Warsaw. The event was well-liked by its participants, so we are definitely going to do it again in 2020. We encourage you to follow the news published at https://www.drupalday.pl The number of participants will be limited.
Certificates
We have 12 developers, who have obtained a total of 25 Acquia certificates, including Acquia Certified Developer - D8, Acquia Certified Front End Specialist - D8, Acquia Certified Site Factory Pro, Acquia Certified Back End Specialist - D8 and Acquia Certified Site Builder - D8.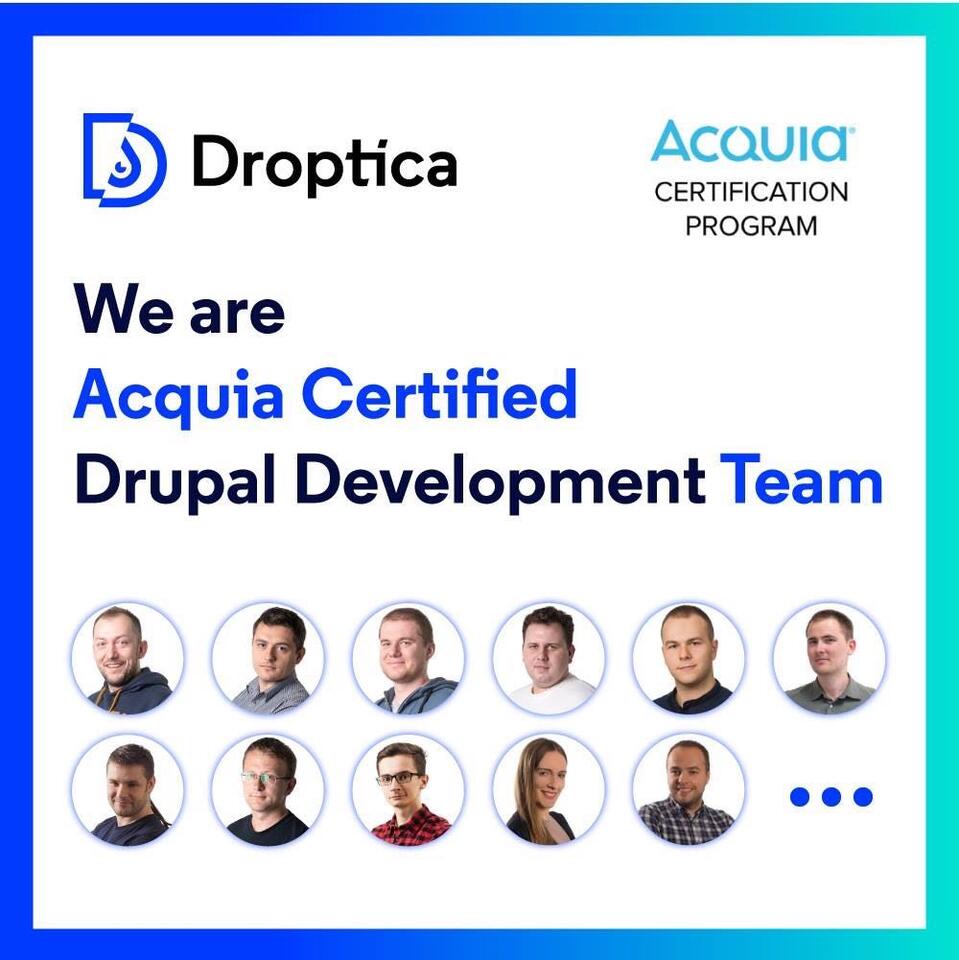 DropticaCon 06-08.12.2019 
Every year, all our employees meet in one place in December to get to know each other better. Droptica staff from Wrocław, Gdańsk, Nieżywięć, Lublin, Rzeszów and Toruń met in Kleszczów. The event offered a ton of great fun, as well as whole days of training sessions. You can see how we spent our weekend in a video below!
Office
Yeah, that's right! We opened a new office in Toruń's Orbita Business Park, which joined Rzeszów, Wrocław and Gdańsk on the list of our offices. 
However, that's not all when it comes to moving. Our new office in Gdańsk is bigger, more modern and well-equipped. The new premises are located in the BCB Business Park building.
In 2019, we focused on growing our company. Getting a new office also meant hiring new staff – in Toruń and other cities. Our teams based in Wrocław, Gdańsk and Rzeszów have also gained new members. As of now, DropticaTeam is made up of 39 people, and throughout the whole of 2019, we hired 12 new employees! 
If you want to join us and see what 2020 has in store for Droptica, apply at https://kariera.droptica.pl/
We wish you all a successful 2020!