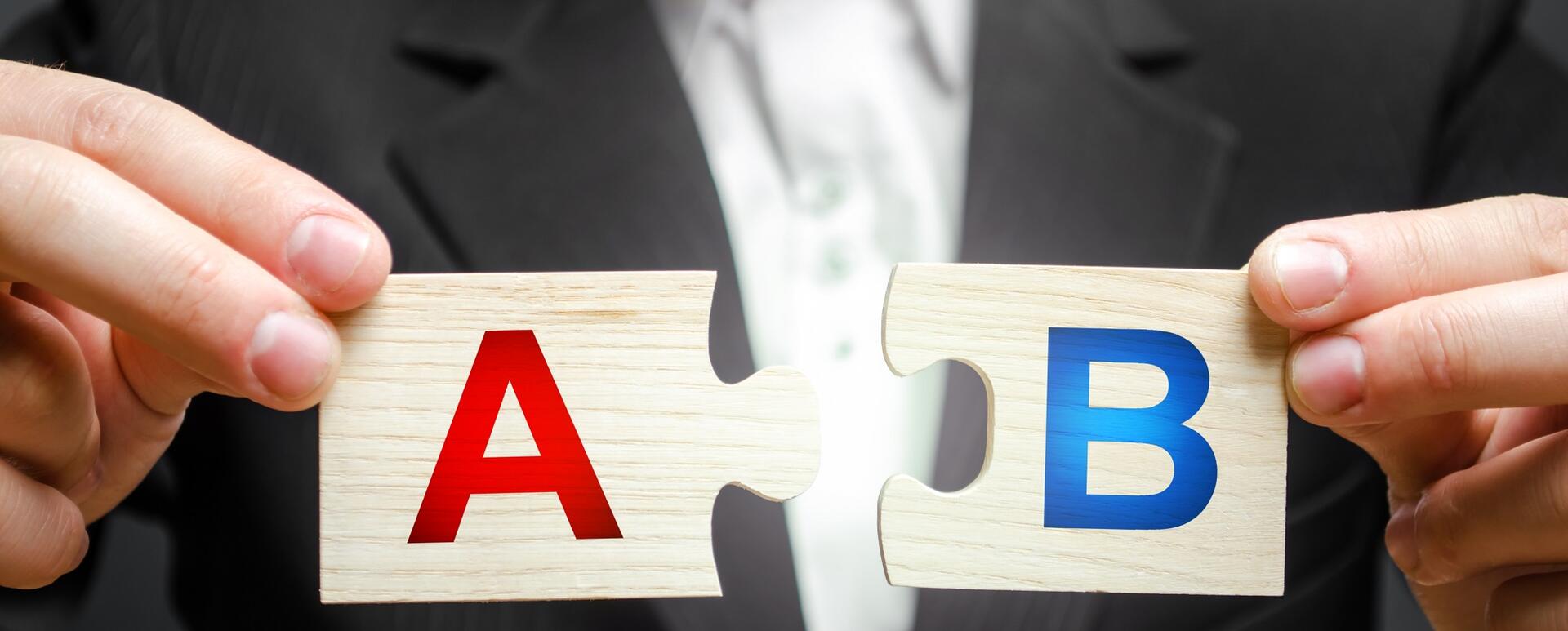 Benefits of A/B Testing, the Elements to Test, and How to Do It
Choosing technology and creating a website design is only part of the job. Even if your intuition tells you that your solution is really good, it's worth testing it before releasing it into the world. You can also perform tests on an existing web page. It's worth doing this regularly because user preferences can change. A/B tests will be helpful here. They allow you to compare two different versions of a website or application and see which is more effective. 
What is A/B testing?
A/B testing is a basic method of optimizing digital products for customer experience and creating a really good design. They consist in comparing a certain number of variants of a given content element on the website (e.g., header, graphics, or CTA color and shape). One version is the control, while the others are its various alternatives. The term A/B testing can therefore be a bit misleading, as it suggests that only two variants of a solution are compared. In reality, however, any number of versions can be considered.
A/B testing is quite common in the online marketing space and is used by marketers to develop effective ads published on social media, websites, or in the browser.
At the same time, it's important to note the very high effectiveness of A/B testing for checking website usability. Conducting tests allows you to make rational business decisions, as they are based on measurable data. There are no restrictions on the industries that can benefit from using A/B testing. They are useful for any business that uses a website in its communications. 
Benefits of A/B testing
Regularly conducting A/B tests on various elements of your website has numerous advantages. We list the most important ones below. 
Ease of testing
Gaining comprehensible feedback as a result of A/B testing is easy because testers set specific goals, e.g., they want to find out how conversion, impressions, or engagement will change when choosing a different option. The results are obvious and unambiguous. Moreover, because they work on relatively small amounts of data, A/B tests don't take much time. Companies can use existing tools to conduct them (such as Optimizely, Convert Experiences, AB Tasty) or create custom solutions. 
Improving user experience and engagement
Comparing different solutions and choosing the best one has a positive impact on user experience (UX) and increases user engagement in interacting with the website. A/B testing gives website developers a chance to select the most engaging content from a test group. By taking care of the customer experience from the very beginning, you build a consistent brand. 
Reduce the bounce rate
If you put a lot of energy into creating engaging content and a great offer for your potential customer, you're bound to feel disappointed at the sight of a high bounce rate. It tells you what part of people who came to your website left without reading the content. Users tend to flee quickly from web pages whose design is archaic and doesn't relate to modern design standards. By analyzing the effectiveness of your website's elements, you can reduce bounce rates. Changing the text in a given section, publishing a different graphic or video, or even changing the style of headings can make a big difference. 
Increase conversions
Sales content creators generally have some experience in properly writing call to action texts and advertising slogans. By combining the creativity of those specialists with the computational power of A/B testing tools, you can more effectively choose the options that will best convince the user to take the action you want. A/B tests allow you to increase conversions, making it easier for your company to meet its business goals. 
Lower shopping cart abandonment rate
Customers abandoning their shopping cart without completing the transaction is a serious problem for online stores. Testing solutions related to website navigation will allow you to simplify the purchasing process. By using A/B tests, you can eliminate some problems with exploring the online store and limit the number of people leaving it as a result of problems with its operation.
Multifunctionality
Not all testing methods are as versatile as A/B testing. Not only can this technique be used in a variety of areas (to verify elements of social media ads, mailings, and websites), it works well for testing many types of content - text, static graphics, video, buttons, etc. Every element, even the smallest, can be thoroughly evaluated and compared so that the final version of the website will be of really high quality.
Risk mitigation
You never quite know how your audience will react to content until you publish it. One-time, comprehensive UX audits of a website are time-consuming and can be costly, not to mention that making improvements may involve a complicated modification of your communication strategy. Performing regular A/B tests and making small changes is easier, significantly reduces the risk of underperformance, and keeps your website's effectiveness high. 
How to do A/B testing? The elements to test
Constant optimization of a business website is essential. There are numerous elements that are worth testing to improve the effectiveness of your website. You can conduct UX A/B testing, checking all or some of these elements.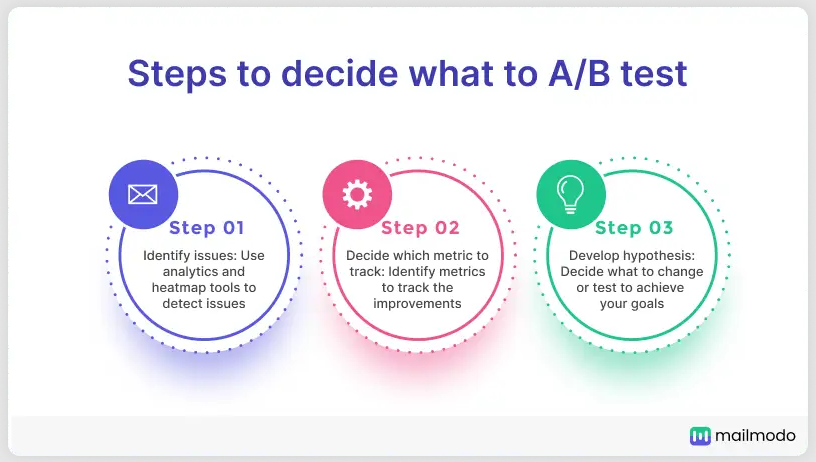 Source: mailmodo
Navigation
The navigation elements are the main menu and any other buttons you place on your website. Exploring your web page should be natural and enjoyable for your visitors. If they can't find the information that's important to them, they're likely to leave it quickly, so it's worth betting on a simple and clear menu. A/B testing will enable you to chart the most intuitive path for users.
A CTA (call to action) is one of the most important buttons for moving from a blog article or landing page to the final destination, where the customer will complete the action the company cares about (fill out a form, make a purchase, etc.). Three elements are key - the shape, color, and size of the button. Through testing, you can find out which variants are most inviting to users and will achieve higher conversions.
Website design
Websites with archaic design, which don't implement modern design standards and don't draw on current web page design trends, discourage the user from reading the content. A/B testing of design allows you to improve the customer experience through visual changes on the website.
The most important design elements include graphics, video, animation, and colors. Contrasts catch the eye and can help draw attention to the most important content presented on the web page. By performing A/B tests, you can verify the effectiveness of your branding. 
Don't forget A/B testing of photos and graphics published on the website. Images and videos carry a certain message to potential customers. Then it's a good idea to test people's reactions to the materials you plan to put on the web page.
Content
Headlines are the first thing that catches a user's eye when they visit a website. These elements largely determine whether or not they will stop for a moment while scrolling through the web page to get a closer look at what you have to share with them. It's worth checking out which headlines are the best attention-getters.
Professional texts that evoke the right emotions will convince the recipient to use your services. Conduct A/B tests to see what style your readers prefer. In addition to lengthy paragraphs, you'll most likely include shorter sections on the web page, such as listing the advantages of your solution or reviews from partners and customer testimonials. These can be presented in multiple forms, such as a carousel or a separate portfolio. A/B testing will allow you to verify which solution suits users best.
Forms
Users mostly don't want to waste time filling out forms. Then it matters that these don't contain many fields and attract the eye. You can check the effectiveness of a form by performing A/B tests. You can also verify where is the best place to put the form on the web page. In addition, it's very important to optimize the number of fields to be filled. The content and appearance of the button motivating user to leave their data is also important.
What mistakes should you avoid when you decide for website testing?
The most important matter is the good planning of A/B tests. A poorly prepared test is worse than no test at all because it misleads the tester about the effectiveness of the verified solutions. 
Some of the most common mistakes include:
Premature termination of testing. The fact that the first tests confirm your assumptions may convince you to end testing in order to speed up work on the website. Resist the temptation and spend enough time on A/B testing to get reliable results.
One-time testing. User needs and expectations change over time. By forgetting this, you may not notice that changes are needed to your website.
Checking too few variants. Comparing a larger number of variants is time-consuming, but sometimes this is the only way you can find out which are the best and will increase the effectiveness of your website the most.
Benefits of A/B testing - summary
A/B tests have high reliability because they are based on real data. They are a common method used in usability testing of digital products, but still not all companies use it. It's worth performing A/B tests regularly to adapt the website to customers' changing expectations over time. These tests have many advantages - first of all, they have a significant impact on the customer's experience and make them engage more strongly with the content. This, in turn, translates into increased time spent on the website and a better conversion rate. 
Conducting tests will help you increase the efficiency of your business. We can help you build the highest quality corporate website by analyzing multiple options and selecting the best solutions.