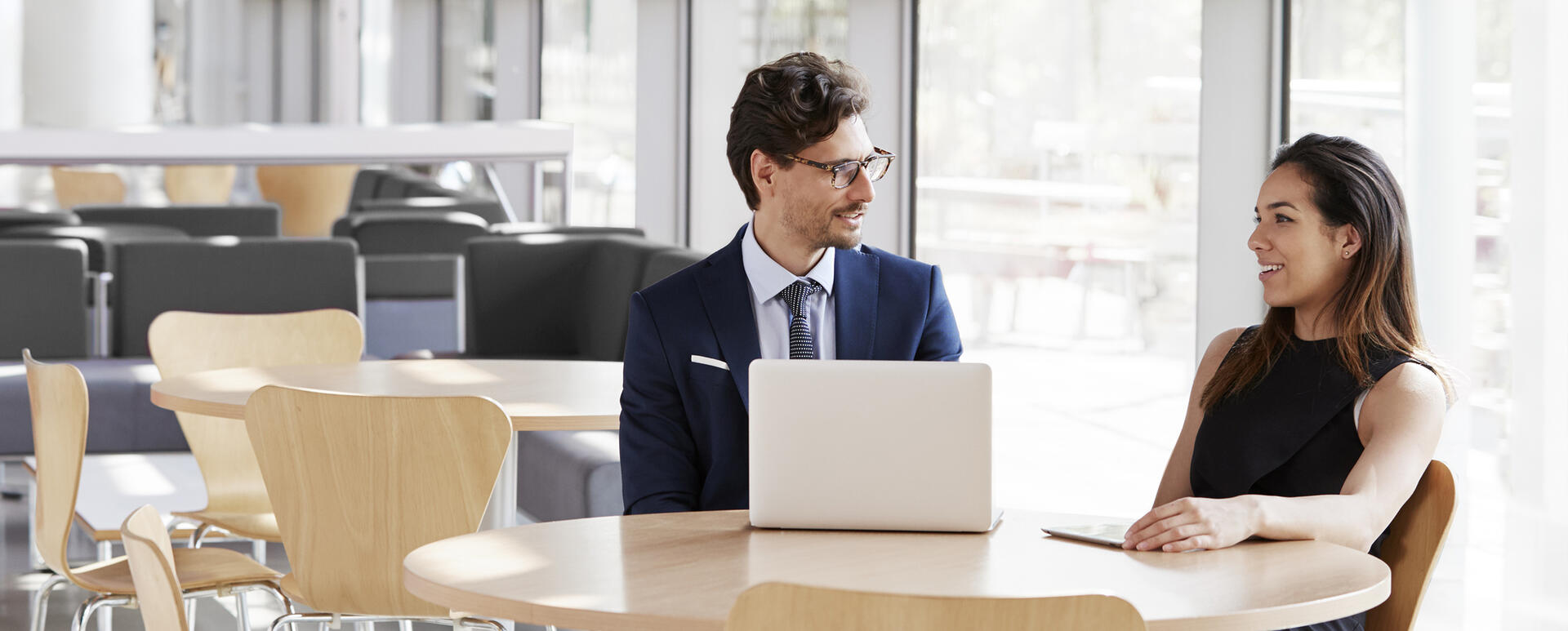 Build your corporate website on Drupal
Corporate websites are often large and packed with many different functionalities. This makes building a website very time-consuming and, consequently, expensive. At Droptica, we have developed a way to build a corporate website on Drupal faster and cheaper. From this article, you will learn how we do it.
Your company's Drupal-based website does not have to be expensive
Drupal-based corporate websites are considered costly solutions. Developing high-quality Drupal websites from scratch using Drupal is labour-intensive, and the first effects of such a process are visible only after a few weeks of development works. Until now, only the largest companies could afford such an expense. 
That is why we decided to introduce ready-made Drupal-based implementation packages to our offer. An implementation package is a set of services and products selected so that they guarantee the client can build a complete high-quality website in a few weeks instead of carrying out a process lasting several months in the traditional model of building a website from scratch.
Each of our packages is based on our own Drupal distribution. We call it Droopler. Just moments after its installation, Droopler gives you powerful options and reduces the time it takes to build a website. By choosing our implementation package, you start with an extensive structure of pages, predefined visual elements and multifunctional menus. All of this is based on a professional technological structure, optimised in terms of SEO and speed of operation.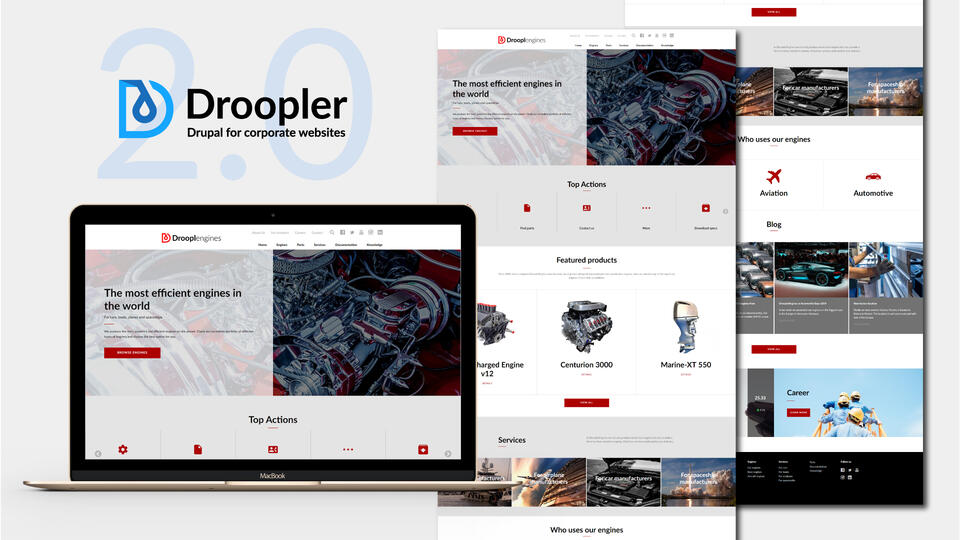 Droopler's strength lies with the wealth of available (at the very start) elements 
Imagine that you can build your website just like you build toys from Lego bricks. You have ready-made parts and you just put them together. You do not have to be an HTML, CSS or PHP specialist. That is how Droopler works. Lego bricks are paragraphs. We have created a dozen or so. In addition, each one of them has several uses. So, you have over 100 different blocks to build every single subpage. These blocks fit together in any configuration and look nice whether you see them on a laptop or a phone.
For example, you can add a paragraph with a photo and a title, a paragraph with content, a paragraph with a gallery, and finally – a paragraph with a contact form. The process of creating such a subpage is very fast and intuitive. After selecting a given element, you just need to add the appropriate content, graphics or photos. 
If after some time or during the creation of the subpage you find that the order of the paragraphs used is incorrect, you can easily change their layout. Such a change requires only a few seconds of work. Droopler's capabilities mean that you can create different variants of every subpage. 
Marketers praise the ability of editing content in Droopler. The system saves them a lot of time. They can focus on effective management of corporate content, and not on solving problems with HTML or CSS.
What kind of a website will be created based on our package?
Droopler's capabilities are best seen live. The system's demo is available at https://demo.droopler.com/
This website shows that Droopler is a powerful tool for building large Drupal websites. The extensive main menu, product subpage, search engine and blog are just some of the basic functions available immediately. 
The demo shows a website of a fictitious company that needs a wide range of functionalities and modules on its website. The broad offer, news section, many types of content blocks, or extensive contact subpage, work perfectly on smartphone and laptop screens. 
Advanced features mean that even a company listed on the stock exchange will find here all the elements necessary to create its perfect website.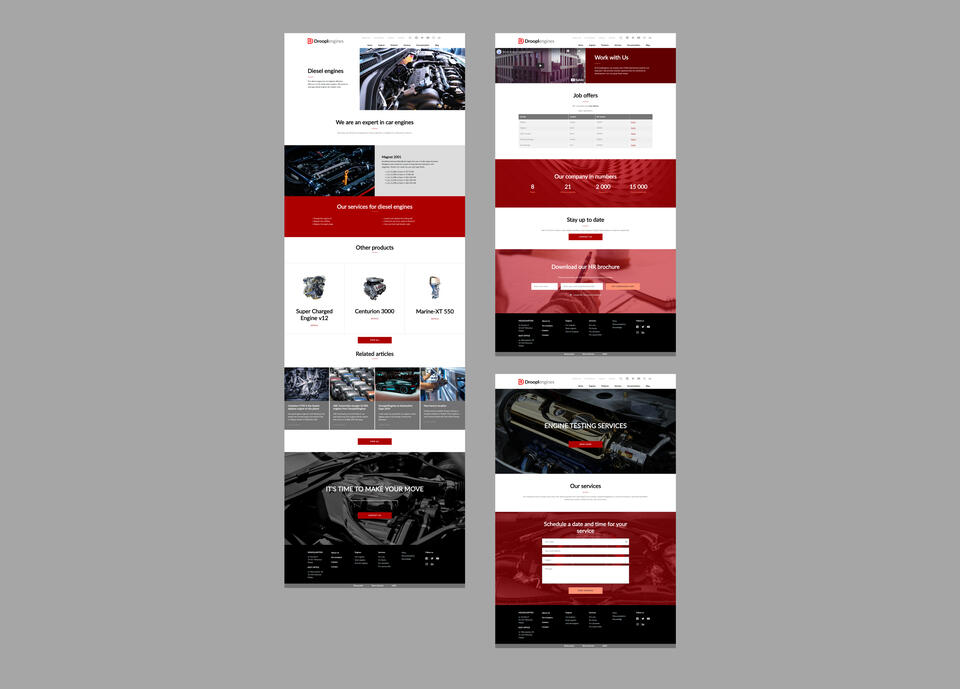 An implementation package is a good basis for a website's growth
Our ready-made implementation packages can be treated as non-expensive website starters, which look good right after the installation. Many small companies will be satisfied with the modern look that Droopler provides from the very first moments of operation – without changing anything in the code.
For medium- and large-sized companies, our Drupal distribution may constitute a great foundation for building unusual and non-standard solutions. 
Saving the costs at the initial stage of creating a website will be attractive for any kind of a business operation. Especially due to the fact that the money saved can be used for non-standard functionalities that are key and distinguishing for a given company.
It is this well-thought-of versatility that makes each of our packages a highest-quality open-source product. 
Droopler is flexible in terms of extension
We thought about the ability to modify Droopler from the very beginning of its development. The structure and nature of our distribution allow you to easily create non-standard and bespoke solutions. 
The developer does not create the code from scratch, but using ready-made elements, he can freely remodel, modify and adapt them to the client's needs. Such an approach saves time and – as a result – money while maintaining high quality.
Drupal will make your company website the best
When you decide to build a company, website based on our experience with Drupal, you can be sure that we offer a product of the highest quality. The solutions we provide as part of our implementation packages are the work of the best world-class developers specialising in Drupal. 
Our experience gained over the years while working with large global companies is responsible for the fact that today we can provide an open-source product of similar quality, available to a wide group of clients. 
You can find the full offer of our implementation packages here.