Droptica's roots date back to 2008 when one of our co-founders opened his first own software house – openBIT. Since then, our main goal is continuous improvement, so that we are able to and deal with more interesting and ambitious projects and provide state of art drupal support and drupal development services It would not be possible without hiring programmers who are able to face the challenges.
Today we are going to show you a recruitment path developed over the course of the years. It is completed by each candidate for a software developer position within the company. Thanks to designing of the recruitment process in such a way, we have complete confidence in the fact that our new recruits will be able to deal with new responsibilities. Our candidates will always have an opportunity to see the company from the inside, visit the offices and meet their colleagues even before they start working. That's how the system allows both sides to become very comfortable before we get to the final decision about hiring someone. After all, this needs to be a joint decision. :)
Everything starts with information
The current and continuously updated list of vacancies is available at:
kariera.droptica.pl website

job listings on the local listing websites
expert portals,
in social media and on industry events
We also encourage our colleagues to spread the word among their friends – this is a really good source of information!
Why are we going for so many channels at once? According to the latest StackOverflow report, 63% of programmers are not actively seeking a new job, but they are constantly open to new offers and propositions. This is a huge number. So, if you feel that recruiters are pestering you on LinkedIn, keep in mind that one of these offers might be a door opening to a new career.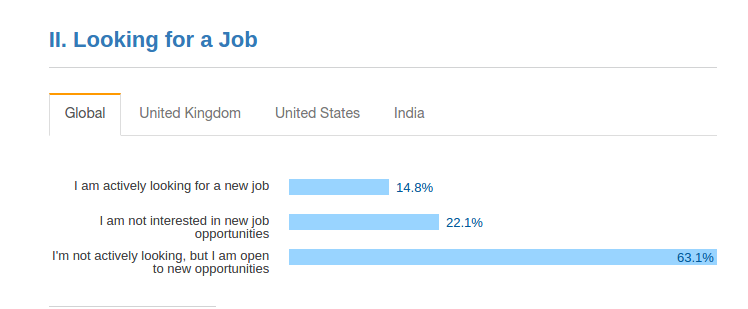 10.10.2018 Update: According to the 2017 report, 59% of programmers are not actively seeking a new job, but they are constantly open to new offers and propositions. The number is lower than in previous years, but still - more than a half is a pretty big part of the whole community. 
When we come across a candidate, it is then time to test their knowledge. 
Using the Moodle e-learning platform, we have prepared two tests with the aim to objectively examine and assess the skills of our candidates. Depending on the position for which a given person applies, they have to complete one or two tests checking their knowledge and attention to detail.
Test 1: A test with multiple-choice questions with only 14 minutes allotted to it. The questions are often tricky, and the time pressure makes it even harder. It is based solely on PHP and primarily checks the ability to understand the code in this language.
It is completed by all candidates and is crucial – as the sole test – in the recruitment for the position of a junior developer.
Test 2: A test consisting of open-ended questions about PHP/Drupal, with a run-time of 1.5 hours. It requires far more than just the basics of Drupal and quite a bit of general knowledge. If you can pass it, you will have no problems with working with us at the office.
The tests are not easy and there are some tricky questions, so before you start, make sure that you have both the time and conditions to complete them peacefully and without interruptions.
Phone call 
All three locations work closely with each other, and we would like our future employees to get along with all members of the team. Therefore, a phone conversation with the head of another office is a required part of the recruitment process. We set it up at a date and time that is suitable to both parties, so you do not have to worry that we will call you during a meeting with your current client or during an exam with a strict professor. :)
The conversation focuses on the company, on our expectations and on things, we can offer in exchange. It allows us to get to know you better and for you, it is an opportunity to learn more about the things that might be of interest to you.
Only for the bold
The most ambitious developers face one more test - this time it is one that is completed remotely. The candidate gets a link to a test repository, along with a list of tasks to be performed (and some hints and tips on how to solve them in order to gain a high score) with six hours to complete the tasks. We consider punctuality to be the most important aspect of this test, followed by the number of successfully completed tasks.
Do you think that you are so good that you will be able to deal with all the issues and work remotely? Let's try! However, first, you might actually want to check the full list of issues you can stumble upon in the test, as well as in daily work.
Requirements:
hook_menu (routeing in Drupal 8)
hook_block_info/view (Drupal 8 plugin)
hook_node_insert/update/...
hook_user_insert/update/... 
hook_entity_insert/update/...
hook_form_alter – hook_init (event subscriber for Drupal 8)
creating custom tables in a module database – creating custom entities
managing custom entities via Views module (with relations, e.g. to a user using the uid column from the table)
Drupal 8: services (https://api.drupal.org/api/drupal/core%21lib%21Drupal.php/function/Drupal%3A%3Aservice/8.2.x)
Rules module – frontend: basic knowledge of CSS and jQuery
Xdebug
Javascript in Drupal (Drupal behaviours)
pre-process functions
Views UI: relations, arguments, creating complex views
hook_views_query_alter
creating Drupal templates, CSS, jQuery
Optional:
Drupal: knowledge of entities used by the module and hooks
Symfony 2 framework
Frontend: SCSS/SASS
jQuery
AngularJS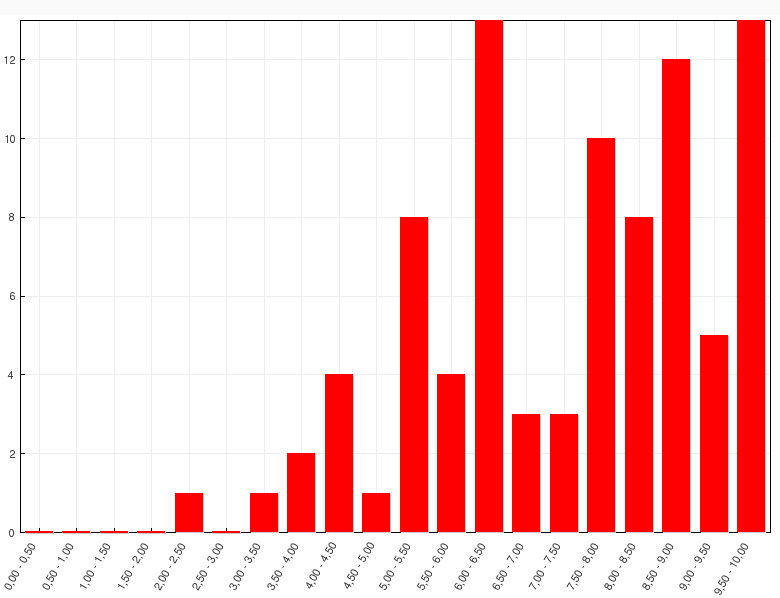 Interview at the office
If the candidate successfully completes all the previous steps of the recruitment process, they will have to come for an interview at the office.
This is a perfect opportunity to take a look at the new workplace – perhaps you will find a familiar face among the employees or the hardware we work with will catch your eye? ;) Take this opportunity and have a look around.
The interview is also a time for final negotiations of the conditions and clearing up all doubts if anyone still has any.
Did you succeed and get hired? Congratulations, welcome to Droptica!
Why do we put so much effort into finding the perfect candidate? 
First and foremost, we do not treat our employees just as a workforce. We are well aware of the fact that everybody has to start somewhere, and our senior colleagues will gladly help the lesser experienced ones with their knowledge, but they will not carry their weight for them.
Second, we are sure that the new hire will feel good in the new team and will gladly come to work every day.
Third, new candidates mean new energy and new ideas. Every person brings in a fresh view on current issues; often they also come with knowledge and skills, which others do not have. In Droptica learning, improvement and experience do not end with the senior developer's position.
Is it worth putting so much effort into joining Droptica?
Of course, there are a lot of benefits!
Salary – competitive and depending mostly on your skill set. Your test results will have a strong bearing on salary negotiations, and since the tests are graded according to an answer sheet, we are sure that the assessment is fair for all candidates.
Relocation support – Gdańsk, Wrocław and Rzeszów are beautiful cities, which apart from great comfort of living, also offer a lot of entertainment and space for spending time after work. You do not live in one of these cities, but you see an opportunity in moving? Let us know and we will help you!
Work – we try our best to make the projects interesting, varied and challenging, as it motivates us all to develop. We gladly work on projects where we can test new solutions or learn how to use a new program – we will teach you too!

Learning – as far as learning is concerned, we also offer a wealth of on-line courses. No limits whatsoever.
Comfort and ergonomics – fast hardware allowing for great mobility, comfortable desks and other amenities allow the daily work to be easy on your health and body.
Meals – we know the value of good coffee, juice, beverages, fruit and snacks at work; that is why we always have them at the office.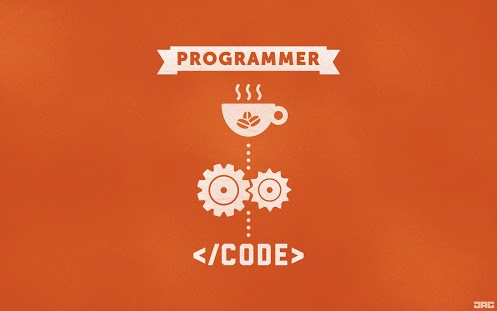 Flexible schedule – need to go to the post office? Do you want to avoid traffic jams? No problem at all!
Hobby and fun – we are constantly expanding our interests and our offices. During a break, you can relax with a PS4 game or try new forms of physical activities during company events.
Conferences and training – we are a part of the international Drupal community and we gladly use all opportunities to meet other Drupal users around the world. Since 2012, we have been organising the DrupalCamp conference in Wrocław, during which you can meet Drupal enthusiasts from Poland and abroad.