What are the Top Web Development Trends in 2022 You Should Know?
The year 2022 started not so long ago. Technology is developing very quickly and it's worth taking a look at what novelties await us in the coming months. Learning more about them will allow you to stay up to date and not be left behind. The following list covers issues from many areas, but all of them have one thing in common – which is web development.
1. Progressive web applications (PWA)
At the beginning of last year, more than half of the Internet traffic was generated by mobile devices. It's a very quickly developing market, and new technologies are coming along with new trends. Thanks to a progressive web application, a web page can also be a mobile application that any user can install on their phone. This brings many benefits for both the user and the website owner, such as:
common code for all platforms (no need to create separate versions for iOs and Android),
offline availability,
simple installation,
fast operation.
2. Artificial intelligence
Chatbots, also called virtual assistants, communicate with website visitors and help them. They're able to interact and answer questions. This technology is already so well-developed that it's often difficult for us to guess whether we're talking with a computer or a person.
This technology can also be used for voice control. Although voice dialing was available many years ago, it didn't work very well. It was the development of artificial intelligence that finally allowed for significant improvement of speech recognition systems. We can see a clear trend and a new wave of products: home appliances and voice assistants like Siri and Alexa. Many web applications are likely to go in this direction as well, in order to be able to offer voice-based navigation.
Artificial intelligence is based on machine learning. This means that a bot learns and develops itself during its work, over time becoming better and better in conducting conversations. The projected annual growth rate for artificial intelligence is 33% by 2027.
3. Internet of Things
The Internet of Things (IoT) is an area that has been developing strongly over the last few years. Thanks to it, we're able to turn on the vacuum cleaner, pull the blinds in the living room or turn off the light - all while being outside the home. Analytical data from devices can now be sent directly to their manufacturers, allowing them to continuously improve their products. It may also enable efficient communication between a device and a website in the future.
4. Dark mode
This term is used to describe a user interface where a dark colour is used as the main background color. It's a complete reversal of the trends that designers have been following for many years. As it turned out, however, this mode has many advantages, such as:
Lower eyestrain. Looking at a bright screen for hours, especially in low-light conditions, tends to strain the eyes.
Increased readability – Dark backgrounds improve the page's contrast making the content clearer and more accessible – especially for the visually impaired.
Energy saving. Brighter backgrounds tend to draw more power, which will drain your phone's battery faster. If you apply a dark theme, users will be able to spend more time on your website.
5. Blockchain
This technology is invariably associated with cryptocurrencies. It's used to send and store information about Internet transactions. However, unlike traditional banking systems, blockchain is decentralized. Therefore, there's no need for a main server or data centers for it to operate. At the same time, it's resistant to data manipulation and hacker attacks. For this reason, many banks have already started to create their own algorithms based on blockchain to improve the security of their own infrastructure and provide better user protection.
However, blockchain can be used for more than payment transactions. This technology offers great opportunities and may completely change the way of communication in the future – between people, as well as between government institutions and banks.
6. Cybersecurity
More and more services are being transferred to the Internet while companies are collecting more and more data about us. The COVID-19 pandemic has only accelerated this trend, and now we're able to carry out most things online – without leaving home. At the same time, there was a 248 percent increase in DDoS attacks. In 2020 alone, there were over 10 million such attacks. This clearly shows that companies have to take more and more care of the security of their data and systems by investing in appropriate IT departments, security audits, and penetration tests.
7. Virtual and augmented reality
Augmented reality adds digital elements to the real world. Virtual reality, on the other hand, creates a completely new world in which it puts the user. A perfect example of the use of this technology on a web page is the website of Spatial, which offers, among other things, virtual conference rooms. A great idea during times of pandemic and remote work.
Source: Spatial.io
This technology is also more and more frequently used in tourism and the real estate industry. Virtual walks are becoming increasingly common, and thanks to the WebAR (web-based augmented reality) technology, which allows you to share AR experiences on the Internet without using an additional application, such a reality may be implemented on your website.
Web development trends in Drupal
The biggest event in the context of this content management system will be the release of Drupal 10 which is planned for June 2022. In the upcoming version, we can expect compatibility with the newer Symfony components (Drupal has been based on this framework since version 8), which will make the created websites more secure and modern. Their appearance, on the other hand, will be improved by the front-end Olivero theme which will become the default Drupal theme, replacing the current Bartik. The default administration theme will also be changed – Claro will replace Seven.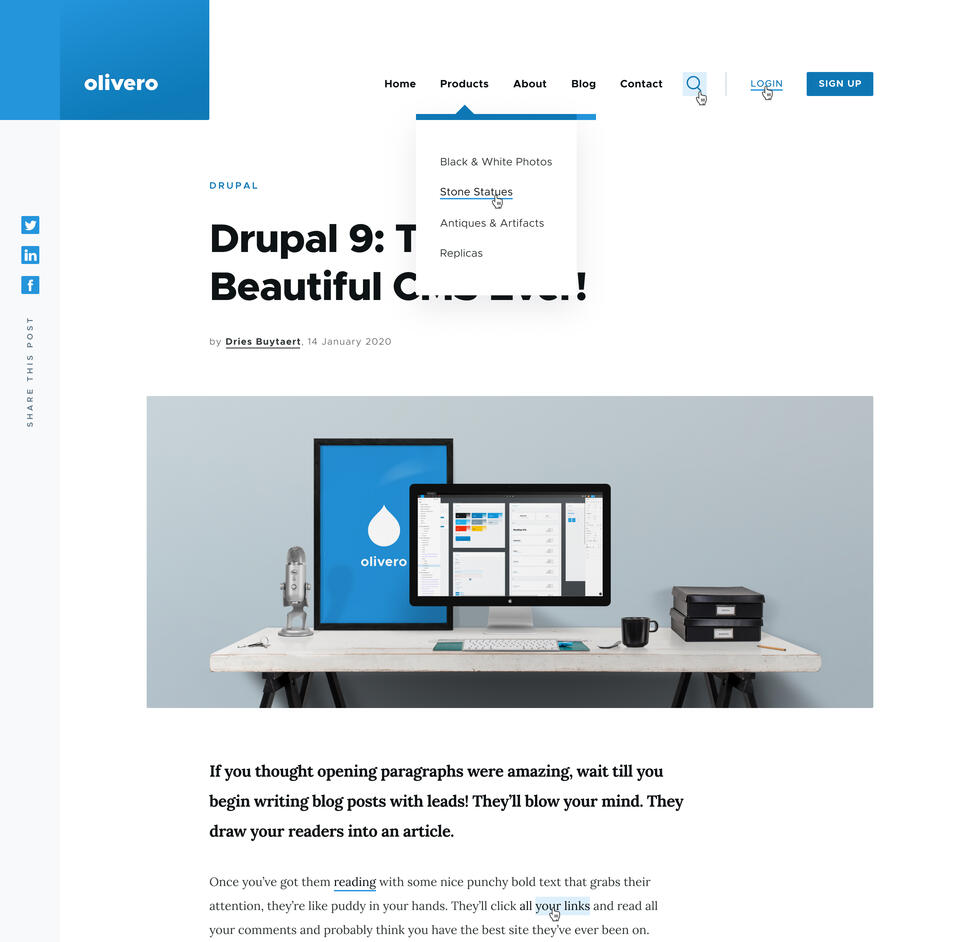 Source: Drupal.org
The creators of Drupal have announced that the new version will also introduce:
an improved Layout Builder – the module that helps with creating web page templates using a user interface,
and support for CKEditor 5 (a visual HMTL editor).
While dealing with Drupal development on a daily basis, we predict the further development of this CMS towards using it for headless solutions. In systems of this type, Drupal acts as a back-end content repository, while the front-end uses other technologies, and the layers communicate with each other through API. What will eventually appear in the context of headless and Drupal in general? We'll find out in the coming months.