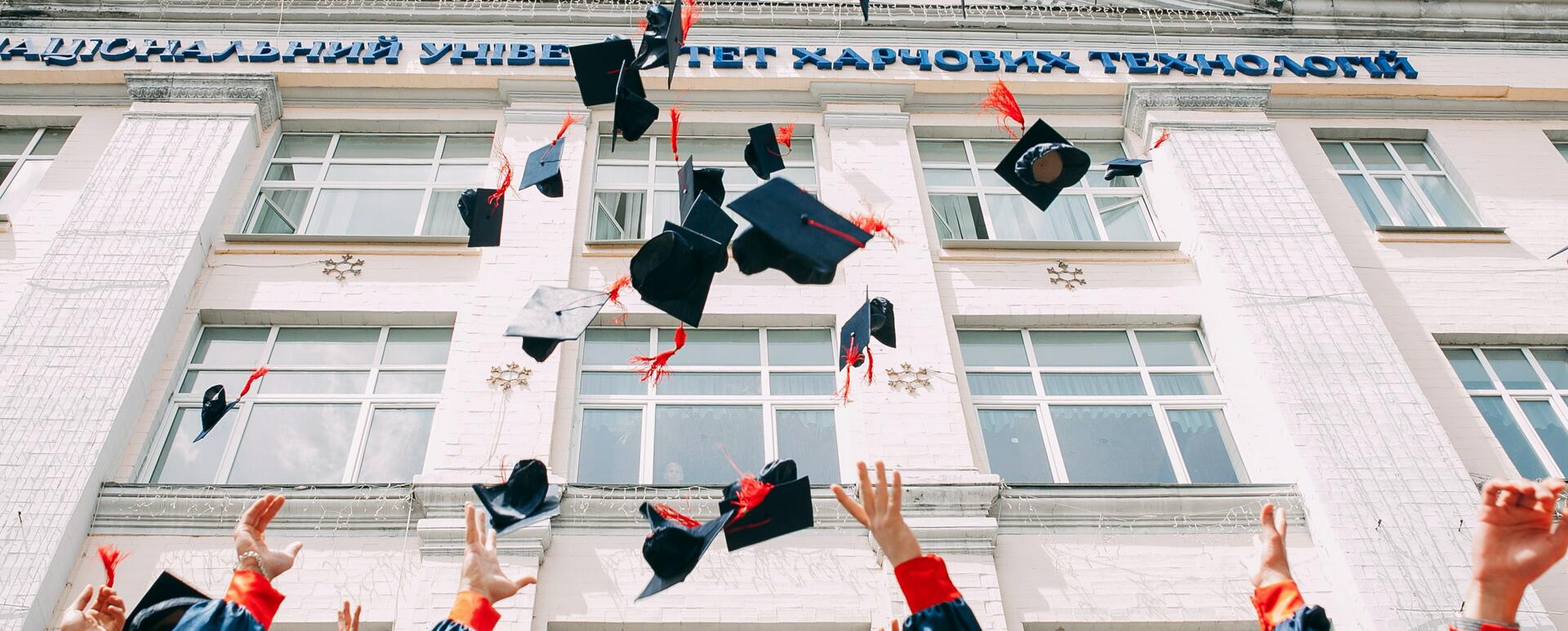 Which Online Learning Platforms are Suitable for Firms and Universities?
Virtual learning has gained popularity in recent years. Today, distance learning is a normal thing - online learning platforms are used not only by educational institutions, but also by enterprises. Without leaving home, we can take part in foreign language lessons, certified training courses or have a good time using online learning platforms with elements of gamification and discover something new.
Why is choosing the right education platform important?
An online learning platform should be a tool regularly used by both new and current employees. It can be used to carry out implementations, develop the skills of your specialists and satisfy their individual hunger for industry knowledge. A page of this type is aimed at improving the education of the people you employ. Therefore, it should have functionalities that'll enable your trainers to convey knowledge more effectively than before.
For many employees, participation in interesting online courses isn't only an obligation, but also an additional benefit. Specialised training courses can be expensive, but participation in additional courses increases the attractiveness of the employee on the labour market and gives the opportunity to receive higher salary. Access to interesting classes on an online learning platform will certainly be appreciated by the candidate in a recruitment process.
Employees willingly browse through interestingly designed corporate intranets full of engaging content. A well-structured training course put on an intuitive education platform may have a similar effect on the employee - stimulate their engagement, provide entertainment, and at the same time allow them to develop their skills. It's worth investing in a solution allowing for teamwork of the team to become more integrated and collaborative.
Advantages of using an online learning tool in the company
Were the training courses at your company conducted in the traditional form of lectures or exercises? This type of training employees has its advantages and disadvantages. The latter are primarily the high costs of organising classes with the trainer and the time that your team has to spend at a group meeting. Conducting regular training courses using an education platform differs from traditional courses due to:
possibility of training all participants without having to physically gather them at the same place and time - they have access to lectures, exercises and quizzes around the clock, from anywhere,
consistent message - every course participant has access to the same content, and in the case of creating a course from scratch, the author builds it based on the established standards for creating materials,
ease of managing the progress of students - you check whether the people covered by the training have acquired the knowledge by conducting tests and quizzes,
lack of expenses related to the travel of trainers and the people participating in the course, catering or accommodation,
saving time - the training can take place at any time; in addition, the materials are available on the platform around the clock.
Using online learning platforms provides the users with access to a large number of courses (various topics, industries, fields). In addition, on such platforms, you can find training courses in various forms - lectures, exercises, quizzes, etc. This way, every student can choose the most interesting and efficient way of learning for them.
How to choose an online learning platform
Choosing a platform with the wrong functionalities may compromise the effectiveness of education and prevent you from efficiently conveying knowledge, so the investment's goal will not be fully achieved. The consequence will be the emergence of additional costs without visible, positive effects of the expenses. There are a few issues to consider when choosing an educational platform for your organisation:
What goal do you want to achieve? Some platforms are designed for those who want to sell courses, while others are better suited to companies and universities that need systems to conduct internal training courses.
Ease of managing the platform. A tool that's too difficult to use will result in the need for a long employee induction or make it necessary to hire an expert to handle it. Involve the future system administrator in the process of selecting the platform – it's them who'll import and test the training course and help you choose the most intuitive and easy-to-use platform.
Effectiveness. The instructor or trainer who knows the difficulties faced by the students and what functionalities are necessary for effective learning should also have a say in choosing the tool. If you have the opportunity to get feedback from representatives of the groups that are going to acquire knowledge using this tool (students, employees, clients), use it.
Type of tool. There are paid and open-source solutions that require implementation and maintenance by an IT team.
On the market, you can find many tools that have been built to provide the user with the availability of many functionalities, but with less attention to the good experience of students. Remember that a large number of functionalities isn't enough to provide the trainees with maximum satisfaction and benefits. Don't start by establishing a list of options provided by your online learning platform. In theory, having a lot of functions is considered an advantage, but in practice, you may find that you're paying for some that you don't use at all. Focus on a few mandatory features that are most important to your company, as well as a few valuable additional ones.
If you're looking for a platform for creating online training courses by yourself, you can include among the basic functionalities:
publication of own training, courses, exercise and exam tests,
making the training courses available to all users,
possibility of direct communication with students (forum, chat with moderation, mailing, email account),
access to reports on learning outcomes and compilation of statistics on participants' data,
generating feedback on the training by the students.
If you're considering choosing a platform with ready-made training courses, pay attention to:
training topics,
course difficulty levels,
possibility of testing the users,
available course forms,
intuitiveness of the platform.
Keep in mind that some systems are created strictly for the education market. It's primarily universities that invest in them, and such a solution may not be suitable for your business goals.
Best online learning platforms
You can find many platforms of this type on the market, differing in prices and functionalities. Some will be more suitable for business, while others – for educational institutions. Some of them also have the features desired by the creators of online training courses.
Moodle
Moodle is an open-source free CMS platform that can be used to build online learning pages, as well as manage all stages of education. This web application is responsive, so it works well on any device and in various search engines.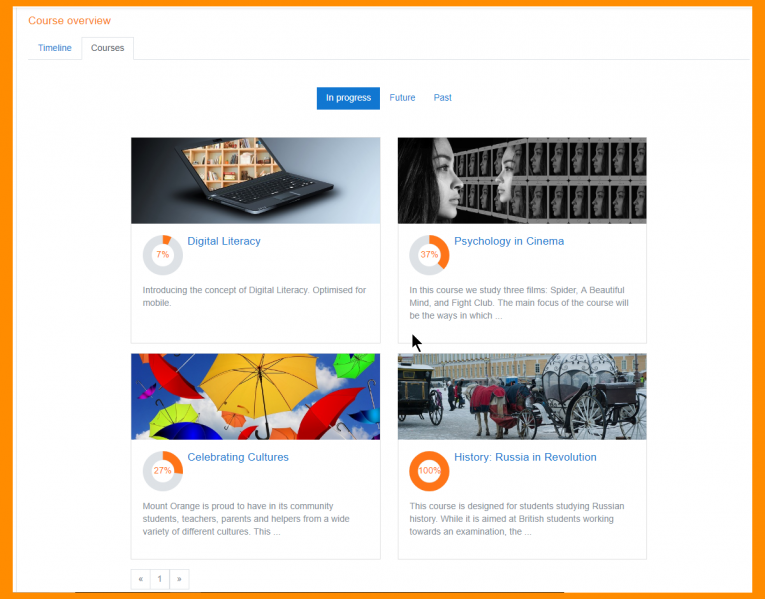 Source: Moodle
According to the Guide2Research 2019/2020 report, Moodle is the third most popular LMS (learning management system) in the USA. This is most likely due to the open-source nature of the software and its high scalability, which makes it a suitable tool for training small groups and large corporate teams. The administration panel of this application can be personalized to make your work more efficient. There is also a built-in calendar at the user's disposal, where they can save group appointments and other events.
Moodle enables collaboration between end users and platform managers. The built-in text editor is easy to use and allows you to add graphic materials to the created courses. The notification system improves the communication with end users - you can quickly inform students about new tasks, messages or deadlines. In addition, Moodle allows for tracking the work and progress of students. This LMS has been translated into 120 different languages. It is also easy to integrate with forums, chats and blogs.
Udemy
Udemy is a platform where you can find courses from almost any field. It also comes as a mobile application, allowing you to learn anywhere and on any device. The selected course is made available to users upon payment of a fee, and the Udemy customer may return to training courses they purchased multiple times. Udemy for Business was created for companies – this option is subscription-based.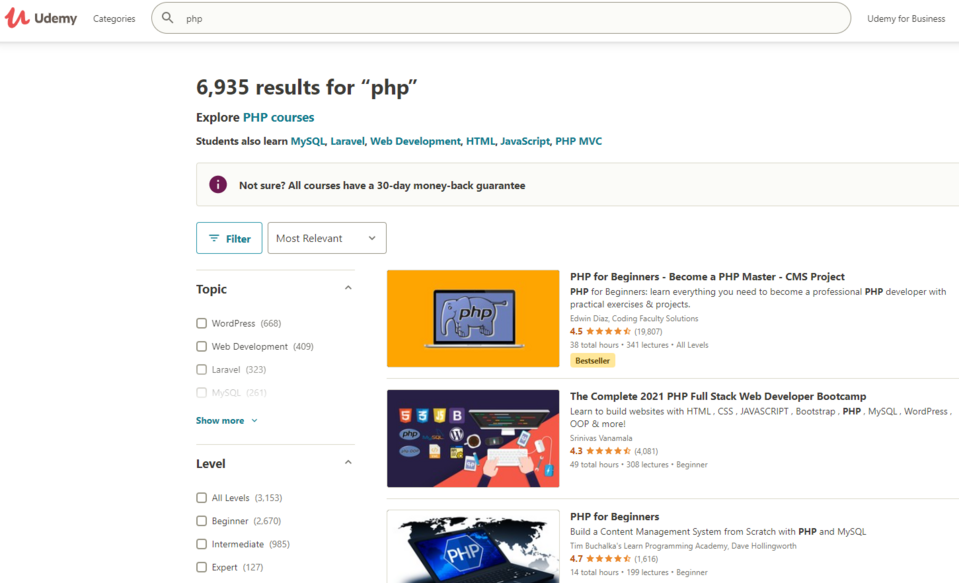 Source: Udemy
The platform is intuitive and easy to use. Students can work in teams. The business version of Udemy can be integrated with CMS systems. The disadvantage of this online learning page is the lack of tests to check the progress of the people participating in the training course. Additionally, frequent purchase of training courses can be quite expensive – especially for smaller companies.
Udemy might appeal to training course creators who are looking for a tool to create and distribute their content. The platform has functionalities that allow creating PDF documents, PowerPoint presentations and courses in other formats. However, the training course author has very limited control over the sales - Udemy charges as much as 50% on the sale of a course, the entrepreneur can't control the price of the course, and doesn't have access to detailed information about the people who buy their training courses. The advantage is access to a large number of potential recipients.
eFront
The multifunctional, paid online learning tool eFront was created with corporations in mind. On this learning platform, the user can find a marketplace with ready-to-use training courses, but they can also create their own courses.
The software can be personalized thanks to numerous options and access to the source code. You can freely add various useful plugins and modify the visual elements of this platform.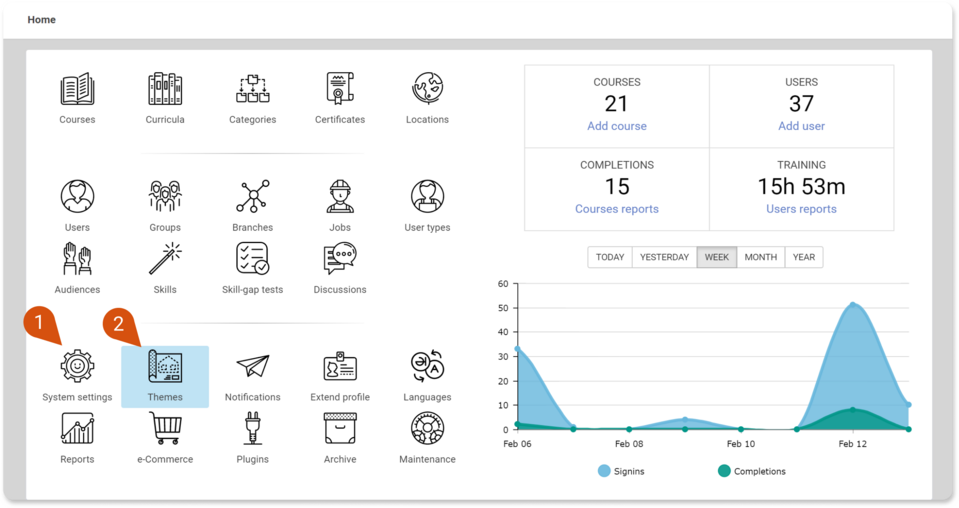 Source: eFront
The application can be used on stationary and mobile devices. In addition to training courses in various forms (eFront allows, for example, organising webinars), authors can also create tests to check the skills of students. These processes are facilitated by the possibility of recycling the content. eFront allows importing materials from a web page and modifying them. It also allows the users to send back the finished tasks in various formats. The administrator simply needs to select the specific requirements.
The organisations using this software can introduce gamification elements to increase user engagement, e.g. by allowing the students to earn points, badges, advance to higher levels and compete. The process of developing skills through eFront courses can be planned by creating a development path. The administrator can define the order in which the users can take the training courses, specify the requirements for taking a given course, and give the students different permissions.
The useful features of the platform include the ability to create surveys and collect opinions on user satisfaction, the availability of tools for reporting and monitoring the progress of the trainees, a built-in internal communication system and e-commerce functionalities that allow the user to sell the courses they create.
Forma
Forma is an open source, free online learning platform for creating and managing your own courses, which can be integrated with the company's or university's intranet. Its responsiveness allows for the courses to be managed by the administrator and completed by the trainee via any device.
On this learning platform, you can put materials in various forms: an online training course, an e-textbook, a video, a webinar or a task to be performed. You can organise your course work by dividing the users into groups, defining their roles, and granting permissions. In addition, it's possible to organise the courses using catalogues, categories and development paths. The Forma platform allows you to automatically generate certificates in the PDF format after completing the course, based on templates that can be modified.
Creating forums will allow the trainees to exchange insights and work in a group. When using Forma, they'll also be able to exchange private messages. The administrator can monitor the users' activities. They'll receive an automatic notification when a new user registers on the platform, purchases a course or finishes it. Also at their disposal are the tools for creating reports, as well as the e-commerce integration allowing them to sell courses.
edX
edX is an online learning platform founded by Harvard and the Massachusetts Institute of Technology. The courses cover various fields and topics (from IT and mathematics to languages and the arts) and are created by university lecturers. The business offers are aimed at universities and companies, and relate to the possibility of creating and sharing one's own courses with selected users.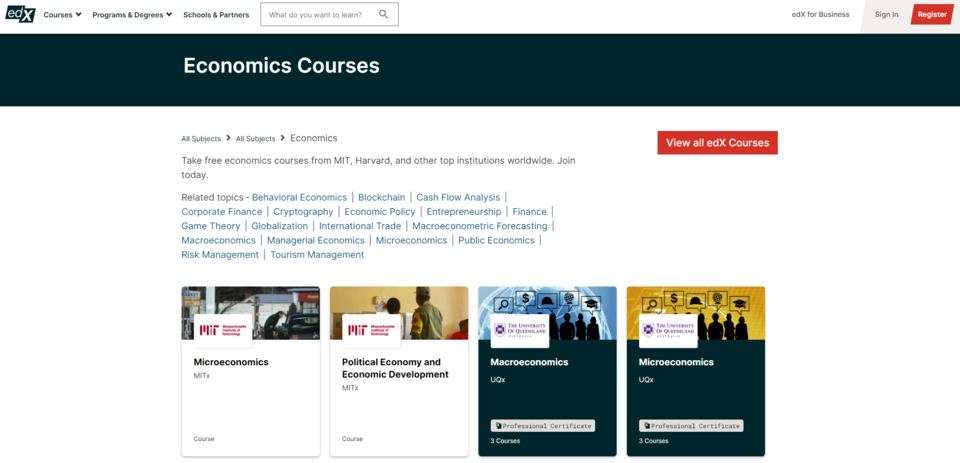 Source: edX
The courses are similar to regular online lessons - the user takes part in classes, discussions, quizzes, receives the material to read and the tasks to be performed. Every available training also has an official start date and is held periodically. Upon completion, the users receive certificates. A large proportion of the courses are free for individual users who want to gain knowledge, but in order to be officially certified one has to pay around $49 per lesson.
Personalized online learning platform on Drupal
Opigno is a ready-made virtual learning platform on Drupal that can be adapted to your business needs. This responsive, open-source solution has a clear, easy to personalize interface.
The course creator has at their disposal tools that allow importing PowerPoint presentations, and they can also use the gamification elements such as quizzes and rewards to increase the involvement of the training courses' participants. By formulating the conditions for gaining access to further materials (access to course B after the completion of course A), you'll facilitate the platform's users' acquisition of knowledge.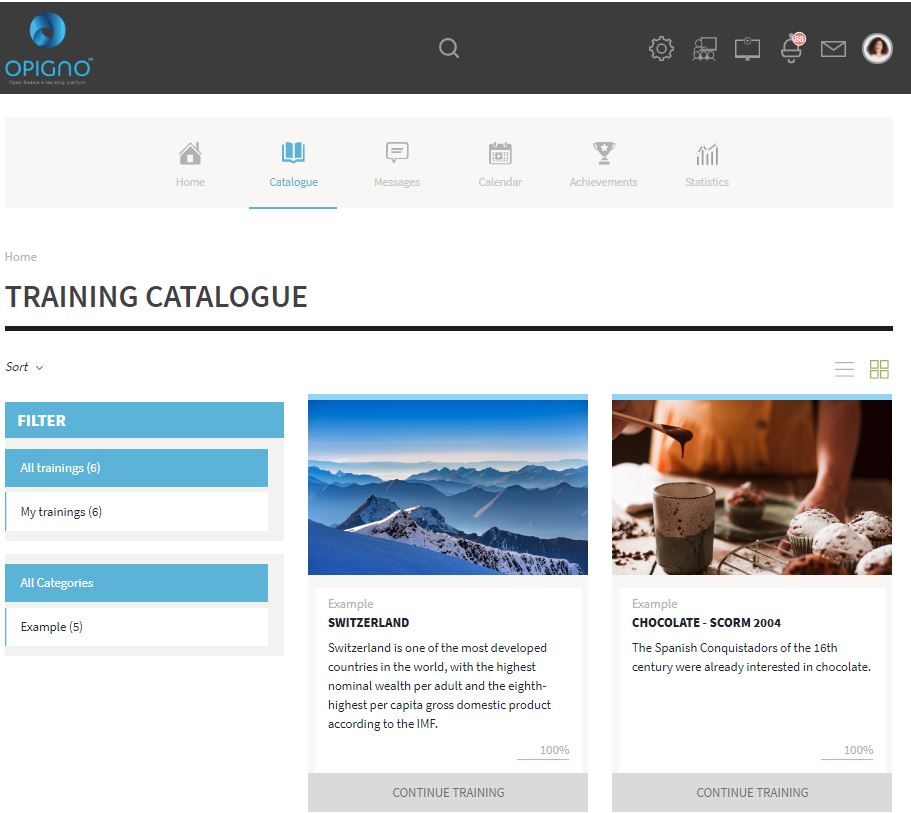 Source: Drupal.org
The users can manage their own progress with the panel that summarizes their achievements. After completing the course, they'll also receive automatically generated certificates in the PDF format. In addition, they can exchange opinions and knowledge in private messages and on forums.
If you want to provide a unique experience for the recipients of your training courses, you should consider building your own educational platform in Drupal. You can invest in a personalized solution and take advantage of many interesting features, e.g. e-commerce, thanks to which your organisation will be able to sell the published courses.
An experienced Drupal agency can use the Course module to create a bespoke solution from scratch. This type of platform would allow:
creating courses based on various types of content,
advanced reporting,
selling the created courses,
automatically generating certificates in the PDF format,
formulating requirements for starting the course.
Additional Drupal modules allow adding other interesting functionalities to a personalized learning platform, such as elements of gamification and user knowledge testing (the Quiz module).
Online learning platforms - summary
The online learning industry has its pitfalls, so it's worth spending more time finding the right solution for your business. The platforms available on the market offer varied functionalities. Some tools are better for educational institutions, others are better for different types of organisations. Every company has its own individual needs. If you aren't sure if the solutions available on the market are right for you, it's worth considering using Drupal modules to create online training software tailored to your expectations.