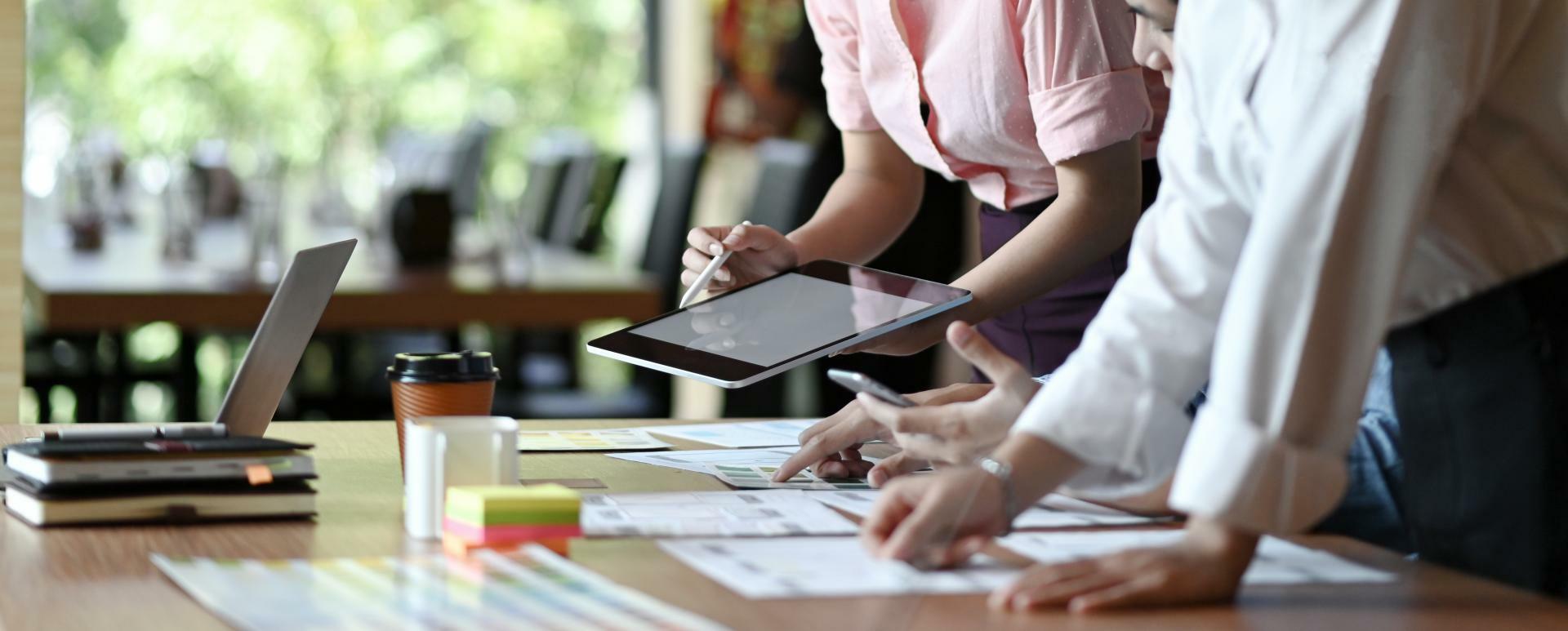 How to Choose Content Management System (CMS)?
The ability to freely publish content in various communication channels may be a factor in the brand's image success. Quick and easy posting thanks to an intuitive CMS - a system for managing websites or applications - will allow your editors to publish interesting and engaging content in mere moments. Please read our article to understand how you should choose your CMS.
Content management on a website or in a company application
A CMS (Content Management System) is a type of software that allows you to manage a website without knowing any programming languages or having a specialised knowledge of website building. By employing it, the user can easily and quickly add new texts, graphic elements, and subpages, as well as modify the existing ones.
Thanks to this tool, you can build a website by yourself – however, it requires certain skills and knowledge on how to use a given CMS, and even if you manage to create a website, it is worth to keep in mind that such a website may not function properly or may simply look bad, so we advise you to employ the services of professional designers and developers. A good content management tool will come in handy after the website is ready, and you want to manage it by yourself, add news and entries to the company blog.
But which CMS should you choose? There are options, and the available software is varied. You will not, of course, try them all. Let us tell you about the most popular ones and indicate the most important features that should be important to you when choosing a content management system for your website.
Top CMS platforms – which are the most popular ones?
There are many systems available, but we will show you the ones that are most frequently used and those that we personally recommend.
Source: Kinsta
WordPress – raise your hand if you have never heard about WordPress before! This CMS was chosen by more than 50% of the users looking for a content management system. It is used not only by professional bloggers and people running small businesses but also by larger companies. WordPress' position is strong. However, it should be noted that there are more and more systems of this type being created, aimed at freelancers and small companies, which surprise with their simplicity and intuitive interface. This popular CMS can be the perfect choice for you if you want to launch a standard website at a low cost quickly. However, if you need a unique website, it would be better to consider another solution (e.g., choosing Drupal, which can be almost freely adapted to the needs of an individual user).
Joomla – a much smaller number of users is using this CMS. Even so, Joomla remains second only to WordPress in terms of the number of people managing their websites with it. For many years, the levels of interest in Joomla and WordPress were similar – until 2010 when WordPress' popularity began to increase, and there were fewer and fewer new Joomla users. Why did that happen? It was most likely due to WordPress' simplicity. Joomla is designed for more advanced users – it offers more possibilities, but using this CMS requires more skills.
Wix – and when it comes to simplicity, it is worth to mention another tool aimed at less advanced users. Wix is gaining popularity very quickly because it is extremely easy to use, although… some people wonder if it can be called a CMS at all. It is certainly a curiosity and can work well when creating a website for a small company that needs a "business card" website but gives little options to those who would like to have a professional website.
Drupal - it is among the top three most frequently used CMSs; it definitely should not be omitted. Drupal is a very flexible CMS. It can be easily adapted to the needs of your business, and it will allow you not only to manage content easily but also to support your current business processes effectively. Like WordPress, it is open source and can be used for free. There is no doubt that Drupal is the most flexible of the above-mentioned CMS systems. It is used by the companies that need personalised solutions that allow them to stand out from the competition. It is also chosen by large organisations such as Here.com.
Each company has its individual needs and expectations towards CMS. It also happens that one editor simply enjoys working with a specific tool. Drupal is one of the CMSs we recommend most often because it has numerous features that improve the efficiency of working with content.
You may also be interested in: Drupal vs WordPress: What are the differences and which is better?
How to choose the right CMS?
Not every website content management software will work well for your business. Before you decide to choose a CMS, think carefully about what you need and what your expectations are. The Drupal consultants in our company will be happy to advise you and suggest a suitable solution.
When choosing a CMS for your company, you should consider:
Scalability - when you are running your own business, you certainly plan to develop it in the future. Therefore, you will need a solution that can be developed quickly and easily. Drupal is one of the most scalable CMSs.
Security and technical support - Drupal provides constant, free support to all its users and releases system updates on a regular basis. Good Drupal support for CMS users is one of the most important issues – especially if you do not have your own IT department.
Price – one of the most important selection criteria for small- and medium-sized companies is the price of a solution. Fortunately, there are many free solutions on the CMS market, the implementation of which is not synonymous with financial ruin. If you want to launch your website at a lower price, you may consider using Droopler – this Drupal-based system allows you to reduce costs significantly, is also relatively easy to use and – thanks to its versatility – suitable for both small- and large-sized companies. Let us advise you and help you choose the best solution for your business.
Ease of use - your editor, must navigate freely and effortlessly through the site thanks to an intuitive interface. When choosing a CMS, remember about those who will work with it on a daily basis, and take their needs into account. Your choice may affect the efficiency of your daily processes and the quality of your communication with clients.
A large community of the developers using a CMS - the more developers work with a given CMS, the more likely it is that the technology will develop dynamically. Developers themselves are willing to create additional extensions and develop systems with which they like to work. When using a CMS with a wide range of users, you can also count on the fact that you will always be able to receive technical support.
Development strategy - as a business client, you have the right to expect that your service providers will try to develop their products in order to ensure even greater work comfort and development of your brand. It is extremely important for a given CMS to have a "roadmap" prepared for the coming years. It is from there that you will learn in which direction the CMS you choose will be developed.
How to make sure that you choose the right CMS that meets your requirements?
Before you choose a solution for your business, we advise you to get acquainted with the various CMSs. If the industry articles comparing the advantages and disadvantages of the systems available on the market do not tell you anything, or you do not have time to read them, we suggest you talk to a consultant from our Drupal agency who will analyse your needs and propose some of the most interesting solutions tailored to your company's budget and profile.
How to prepare oneself for such an interview? Think about the answers to the following questions:
What tools do I need?
There are many CMSs available on the market. Some of them can do almost everything, short of building websites by themselves, without your participation. In some cases, having almost unlimited freedom is great – such as when your employees have experience in expanding websites and want to develop them by themselves. In reality, however, many companies – especially the small-sized ones – use their websites for advertising, publishing blog entries, etc. Think about what functionalities your CMS should have to make your work easier.
What budget do I have?
The complexity of IT solutions for your business may not always match its size. Some start-ups require specific solutions, and there are large companies that sometimes manage with using simple tools. The cost of technology often depends on how complex are the systems you need, but almost always there are several possibilities, and new functionalities can be added to CMSs.
Summary - choosing a Content Management System
Choosing the right CMS will have a direct impact on the management of your website content, as well as on the work of the marketing department. A CMS should be user-friendly – in such a way that your employees would want to use it, but also, they would want to spend as much time on it, as necessary. They should not waste this time constantly pondering on how to achieve a given effect in the CMS. A CMS should also be flexible in terms of the needs of your business and of the changing business environment. Define your goals and contact our consultant – and we will surely find the right solution for your company.