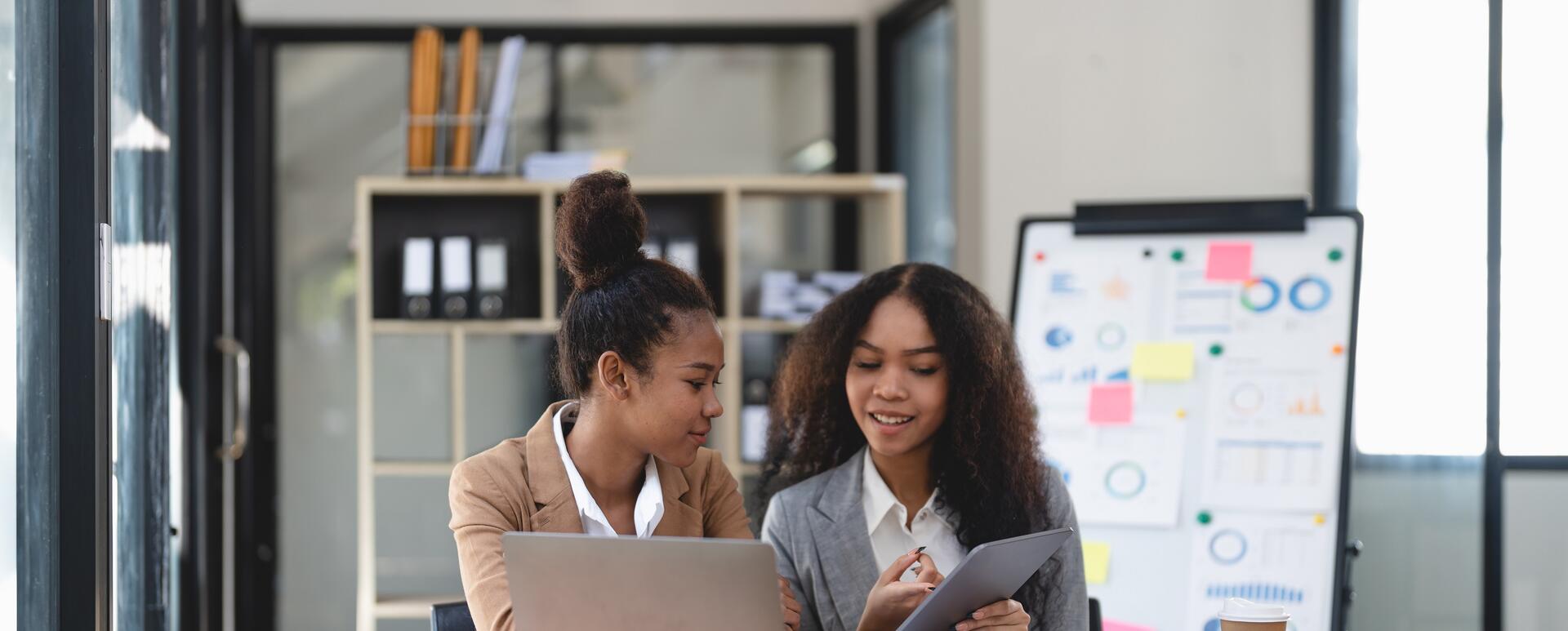 Best Accounting Firm Websites - What Do They Have in Common?
Filtering, calculators, and storytelling are just some of the solutions used by accounting firms on their websites. The services offered by these organizations are similar, only their scope is different. On the other hand, the firms themselves differ in the size of their teams and the length of time they have been in business. In this article, we'll present five examples of accounting websites and the ideas of their creators for catching the client's attention.
The best accounting firm websites - examples
A typical accounting firm website should include information on its profile, staff, case studies, and testimonials, among other things. In addition, it should be adapted to mobile devices, and the content there should provide helpful knowledge to the user. The best business web pages of this kind, in addition to the abovementioned elements, gain an edge over the competition by providing additional functionalities or content that is presented in an original way. 
When deciding on the given website treatments, it's important to remember that a potential customer will only do business with a reliable contractor. Then what will convince a potential client? What will they pay attention to? What will make them stay longer on a given website?
1. Fraser Scott - video usage
The slogan on the Fraser Scott website is Accountants For Businesses That Want To Grow. It's positioned on a banner next to a video showcasing the industries the company is targeting. We see a physiotherapist, a construction worker, a bartender, a farmer, and people working in a warehouse. It's a simple trick, effectively drawing the eyes of website visitors. 

Still staying with multimedia solutions, the section What our clients are saying also draws attention. In short recordings, people who have worked with the company speak about it. This is undoubtedly one of the best solutions to inspire trust in a given organization.
There are quotes under each video. They allow visitors to this accounting website to see what a particular recording might be about. These excerpts from customer reviews have been selected so that each one presents a different argument to encourage people to use the company's services.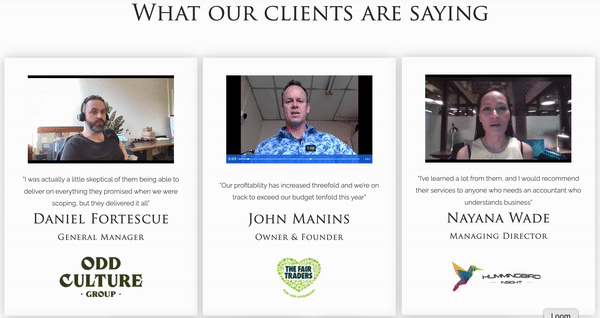 Testimonials and reviews that customers have posted online are also located below the Blog section. This part of the web page also stands out. Graphics illustrating the article's topic change from black and white to color when the cursor is hovered over.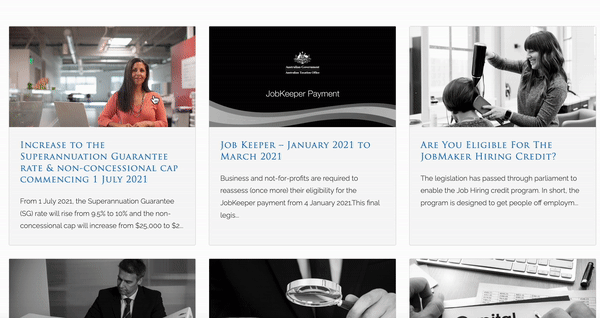 2. DMCL - accounting website design
The strength of the DMCL website is its design. As you scroll through the home page of this Canadian accounting firm specializing in services aimed at specific industries, more elements dynamically appear. There is a section on careers, services, and categories of articles with industry knowledge. Each subpage is designed in a similar way, that is, with animate on scroll functionality, which allows the website elements to animate as you scroll down and up.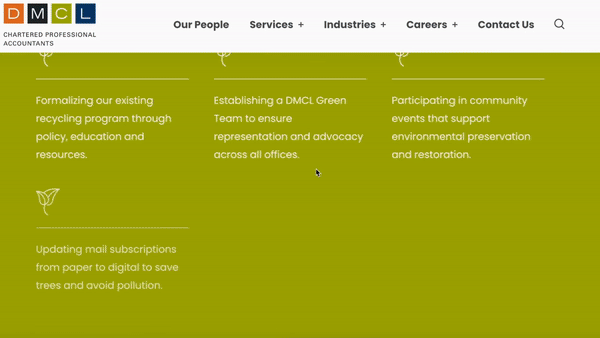 3. EisnerAmper - a thoughtful solution
What makes the website of EisnerAmper, a firm that provides auditing, accounting, consulting, advisory, and tax services, stand out is the quick transitions to articles on the home page. This is a rather bold move, but with a lot of articles on this business web page and thus a large dose of knowledge, the website owner can afford it. Just below the main banner, we see the Trending section divided into three main topics: Tax, Solutions Insight, and Banking. After selecting a topic of interest, articles dedicated to it appear. Scrolling down lower on this accounting website, we again come to paragraphs referencing blog posts.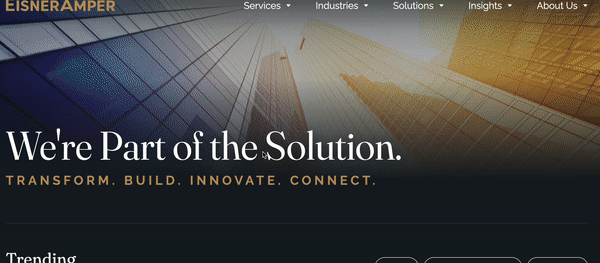 And an even more interesting thing happens when we enter a particular topic. An option to filter by the type of activity: read, listen, or watch appears to our eyes. If we choose listen, we find a list of podcasts. Watch means that we can select (after logging in) the webinar we're interested in. However, if we wouldn't like to share our email address, we can use the transcription of the recording to read what was discussed in the webinar.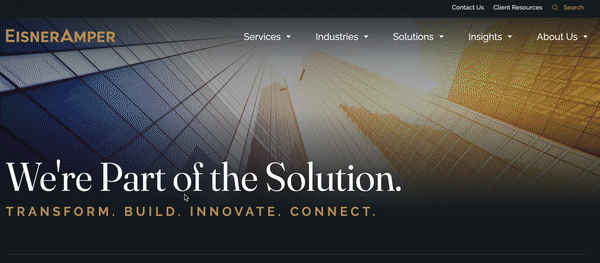 Slightly modified filtering is also found when selecting an accountant. We can search for such a person by name but also - importantly and helpfully - by location, specialization, and services. 
What if we are already interested in the company's services and we represent, for example, a manufacturing industry that we would like to learn more about? In the main menu, we find this industry, after which we get information on a landing page about what the company has done so far in this field and what it offers in the context of accounting. Slightly below appears a silhouette of a person who specializes in this industry and the blog posts dedicated to it.
The solutions on the EisnerAmper accounting firm website are rich and thoughtful. We encourage you to visit the web page, which can become an inspiration for building your own website. 
4. Azure Group - blog section
Azure Group offers extensive services related to long-term financial, tax, and wealth strategies. The company's website is rich in content, making the blog section all the more eye-catching. On the one hand, the eye is drawn to the design and attractive presentation of the content, and on the other - to the navigation. Articles can be filtered by topics of interest. Above each text are related tags, below is a short excerpt from the article to encourage entry into the content. 
When we open a specific text, we see a clear, segmented whole. At the bottom, we can see two buttons with the titles of blog posts. One of them leads to the previous text, while the other leads to the next one. Slightly lower, we find a section with articles related to the main topic. The whole thing closes with the possibility to add your comment to the article.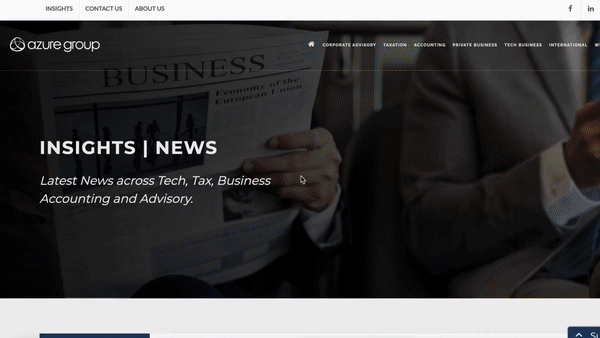 5. Bookkepper - financial calculators
In addition to descriptions of best accounting services, Bookkepper also provides financial tools on its website in the form of tax, payroll, and personal calculators. These can be found in the Calculators & Tools section under the Client Center tab. There we see 12 thematic sections, among which we can find calculators of interest concerning, among other things:
cash flow, 
investing,
Insurance,
credits.
In each section, we will find specific issues and thus answers to questions such as:
How much do I spend?
What is my current cash flow?
How long will I have to pay off my credit card?
Should I consolidate my charges?
Start saving now or later?
How to become a millionaire?
Below is the answer to the last question.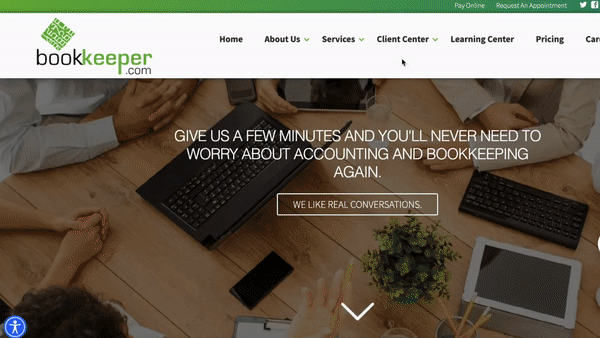 The website of accounting firm Bookkepper impresses with the number of financial calculators available. Such useful tools can encourage users to return to the web page, which in turn increases the chances of attracting new customers.
Best accounting firm websites - summary
The above web pages don't exhaust all the solutions that accounting firms can implement. In addition to the abovementioned elements, it's also worth mentioning chat, which enables the client to quickly contact a specialist. Other useful functionalities include a landing page builder, allowing efficient addition of more content to the website, as well as integrations with external systems so that the editors won't have to waste time switching between applications. 
At our agency, we create websites for accounting firms and implement functionality tailored to the needs of a particular business, which is key to standing out from the competition.