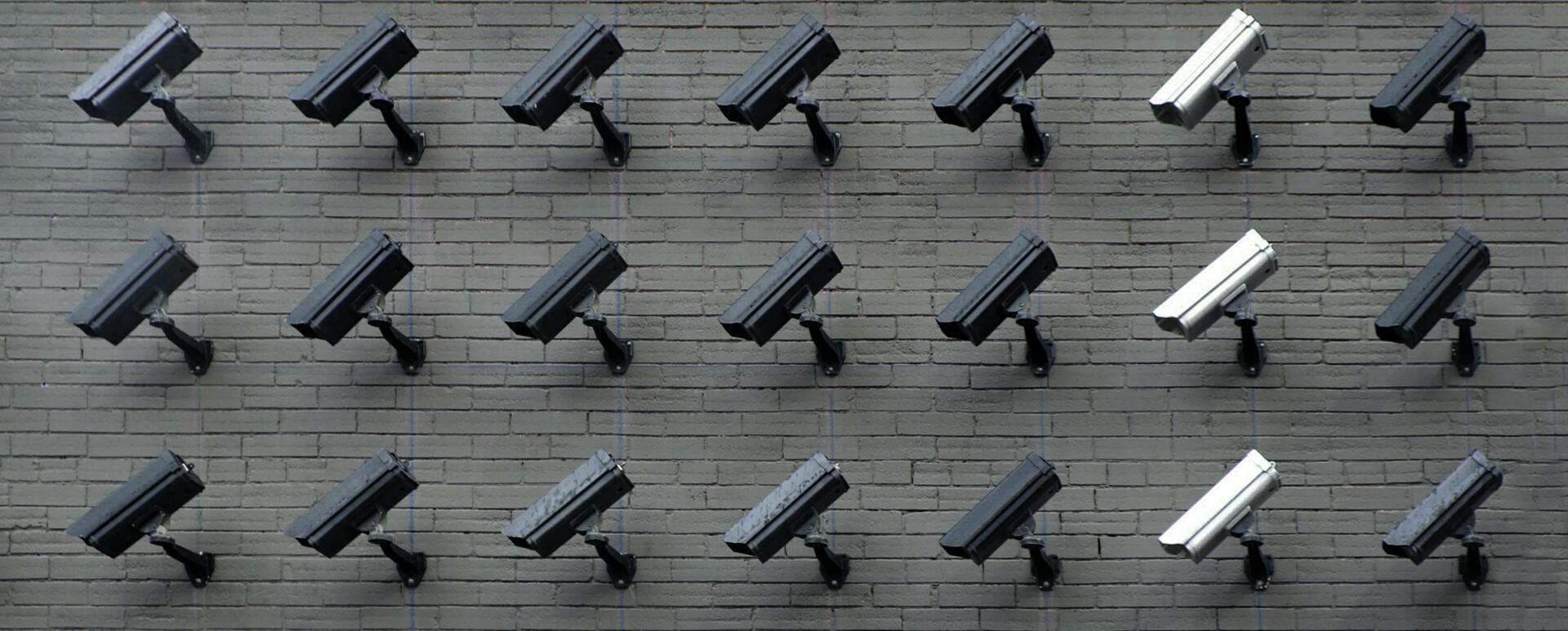 What are 6 the best tools for online brand monitoring?
Mentions about your brand online can tell you a lot about your customers' opinions. You can find out how the clients talk about your services and products on social media and forums. There are many interesting tools on the market to monitor the company's online image. It's worth choosing the platform that best suits your needs. Here is a compilation of six professional tools that you may find interesting. The insights you can get from them will also help you build and modify corporate websites. 
Why is online brand monitoring so important?
Website traffic analysis isn't enough. It may happen that despite the high engagement of potential customers and considerable financial expenditure for promoting the brand, you still don't observe satisfactory results. At the same time, the competition will succeed despite modest efforts.
Brand monitoring consists of analysing the online presence of a given company. It includes activities such as reviewing the publications about the company and tracking its mentions - the internet users' comments on various pages (e.g., industry blogs or news websites), on forums, and in social media. With a good number of places where customer feedback may appear, it's very easy to miss a relevant opinion or inquiry when you lack a proper monitoring tool.
Entrepreneurs often forget that the industry blog and social media accounts aren't the only communication channels through which they can take care of their brand reputation. By following the brand mentions, you can directly engage in solving a given customer problem - answer their question on the forum, dispel their doubts, inform them about a special offer, and even thank them for their suggestions that are useful for your company. Such a person will certainly appreciate your company's online presence and its readiness to establish direct contact.
By conducting a brand image audit, you can find out what mistakes you've made so far or why your organisation suddenly stopped being attractive to customers. Then you can consider what actions to undertake to influence customer feedback (redesign your website, modify the current offer, improve customer service, etc.).
Online brand monitoring tools
If you choose the right tool for monitoring brand mentions, you'll be able to effectively optimize your image-oriented activities and promote your brand quickly. Below you'll find descriptions of the platforms that we believe stand out from the crowd.
1. Google Alerts
The free Google Alerts tool is used to monitor Google search engine results for your brand. If you want to search for mentions of your company or its products on multiple websites, this is the right tool for you. It searches blogs, news, videos, discussions, and books.
You'll be informed via email about finding an opinion regarding your company. To receive a notification, you need to complete the form that can be found on the Google Alerts page. Provide in it:
the terms that you are interested in (the same as you do when you search for something in the Google search engine),
what kind of platforms should be taken into account,
how often do you want to receive notifications.
Unfortunately, Google Alerts won't provide you with the social media mentions, so if you need such results, there are other tools to consider. This platform also doesn't allow you to export data to a file to further develop the information by yourself (e.g., to prepare a report).
2. Brand24
Brand24 is a paid tool that allows you to find mentions of your brand among the deluge of posts, comments and publications on social media and other places on the web. Thanks to it, you'll learn how often and what the active and potential customers write about you outside of your own fan pages and the groups moderated by you.
This platform offers several features that'll allow you to review reports and understand the tone of a given opinion. It automatically performs a sentiment analysis for statements, so you can evaluate the general view of consumers on your brand, without the need to delve into comments. When there is a need to take additional image-oriented activities, you can return to the mentions and view them comfortably thanks to the option of filtering by sentiment or other categories important to you.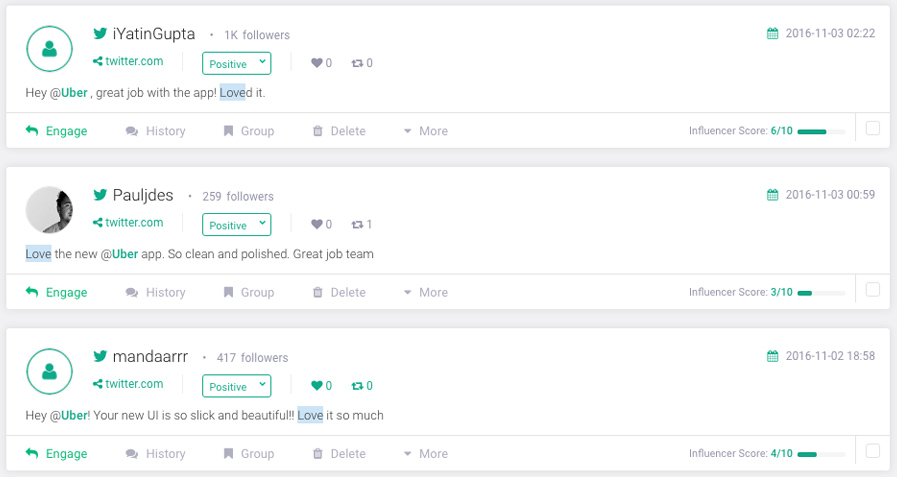 Sentiment analysis example. Source: The Brand24 blog.
Brand24 allows the users to generate a detailed report in the PDF format. The tool is also available in a version for mobile devices.
3. Sprout Social
Social media monitoring is also possible thanks to the Sprout Social platform, which gives the users access to mentions on Facebook, Twitter, LinkedIn, Instagram, and Pinterest. The tool is integrated with the free Google Analytics platform, so you'll be able to keep an eye on website traffic analyses at the same time.
Just like when using Brand24, you'll find out what the overall sentiment of opinions is – what is the proportion of positive and negative mentions. Sprout Social also analyses posts and comments posted on Facebook groups.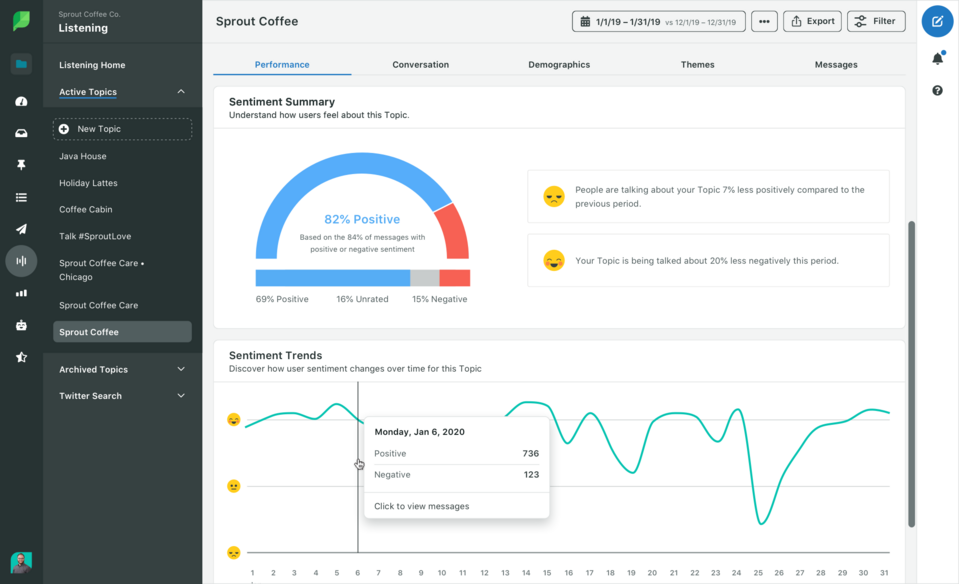 Source: Sprout Social
This platform offers many other practical functions. The most important advantages include advanced analysing and reporting capabilities. The tool performs an audit focusing on a specific purpose (e.g., it can check the mentions of competitors or assess user engagement). It also allows you to create visualizations based on the data collected from social media. The trend report will show you the popular hashtags and topics in your industry, which will interest your potential customers. In addition to accessing the information important to your organisation, you also obtain a planner for creating a post publication schedule.
4. Sotrender
You can also monitor platforms such as YouTube, Twitter, and Facebook using the paid Sotrender tool. Thanks to it, you can check out what is the exact reach of your content and how popular it is among social media users. You'll also learn how big is the engagement of the people visiting your profiles. The platform monitors your audience closely. It'll answer the question of who's the most active fan of your brand profile. It's good to find out more about your audience groups to use this information later for user segmentation and content personalization on your web page.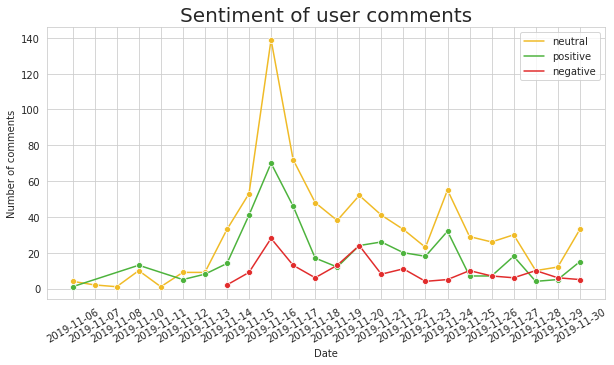 Sentiment analysis in Sotrender
The tool allows you to tag and filter the content that you can view when using it. In addition, it makes recommendations for improving communication in social media. You can reply to the messages and comments on Facebook using Sotrender, which will greatly improve your work.
The platform gives you the ability to monitor the activities of other companies in your industry on the abovementioned social media. You can also generate your brand visibility report, if needed.
5. Mention
The Mention tool will help you search for your brand mentions on various websites, blogs, forums, and social networks. To start working with it, simply create a new project and name it. Then you need to:
provide the phrases that interest you,
specify the sources you want to check.
Additionally, you can indicate the addresses that should be ignored when searching for mentions in a given project.
The results will be displayed in the form of a simple list. You'll also find references to the graphics or videos that may be associated with your brand. The Anti-Noise Technology function will remove duplicate content before generating the list of mentions. If you decide that certain alerts aren't valuable to you, just delete them and the program will omit similar mentions. You can also receive the notifications on new information related to your brand via email.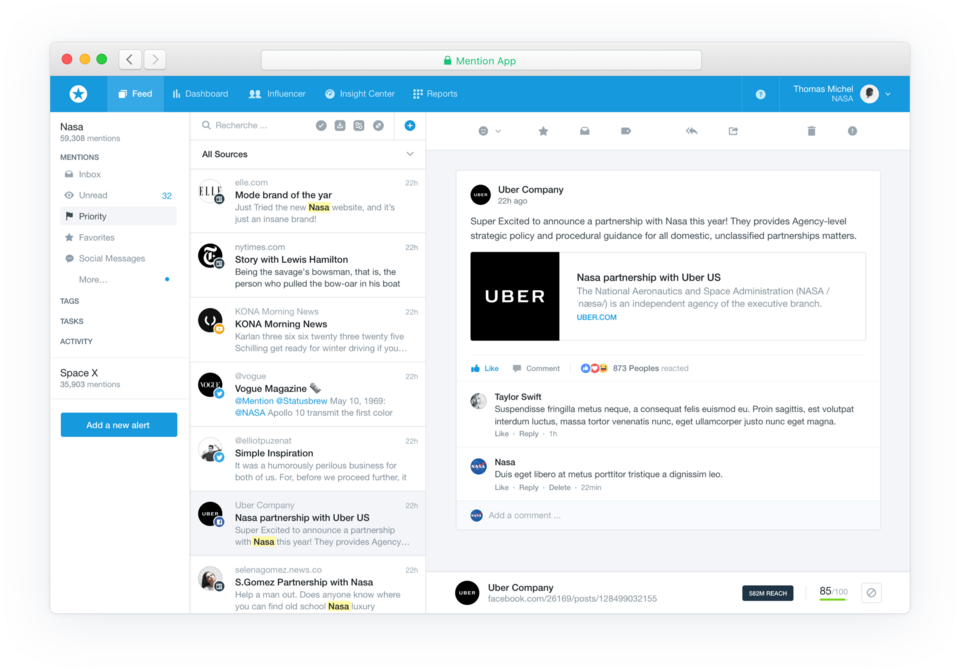 Source: Mention
Mention also allows for managing the social media publications. The platform is also available in the form of a mobile application. Besides the paid options, you can also test a limited trial version of the tool.
6. BuzzSumo
BuzzSumo is a platform that has many uses. The user can test it for free for 30 days before choosing one of the paid versions. First of all, this tool allows you to check out how often your readers share the content you published. The more shares your article has on Facebook, LinkedIn, Twitter and Pinterest, the higher it'll be on the list generated by BuzzSumo.
You can use this tool to track the trends in your industry and find out which content is most popular on social media. Such an analysis may be useful when planning the content strategy. It'll be easier for you to define what topics are worth developing on the company blog or in the posts on the brand's page on a social network.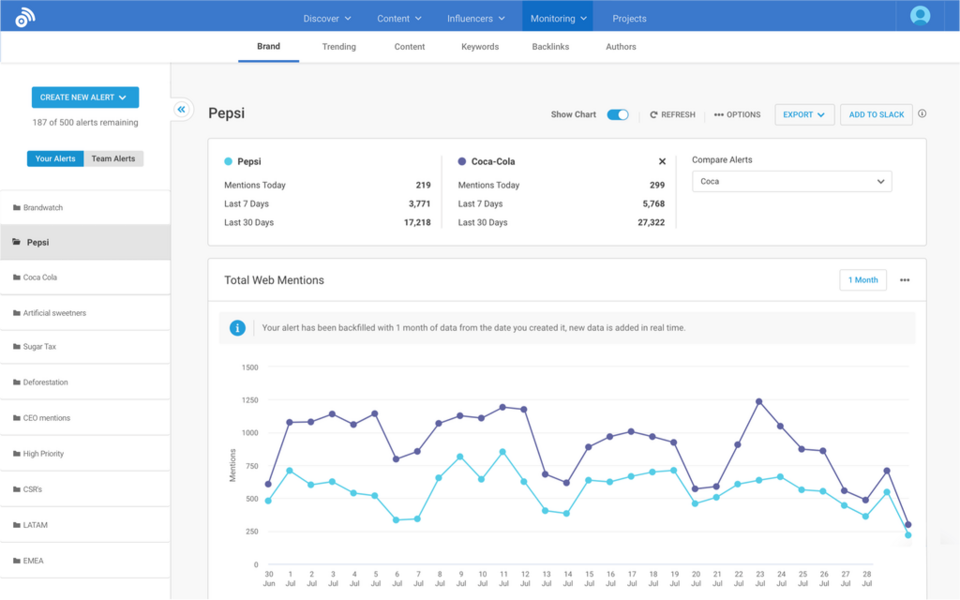 Source: BuzzSumo
If you use or are interested in influencer marketing, you'll surely appreciate the feature that allows the user to find the accounts of the authors who are trusted by their audience. You'll be able to choose the promoters of your business more consciously.
BuzzSumo also allows you to compare your brand with the competition in terms of popularity. You can take advantage of notifications to keep you up to date on new topics raised by the competitors and the successful brands operating in your industry.
Online Brand Monitoring - summary
Advanced online brand monitoring tools will help you define the expectations of your customers and optimize your image-oriented activities. By analyzing the opinions and expectations of customers on an ongoing basis, you'll learn faster how to develop the image of your company.