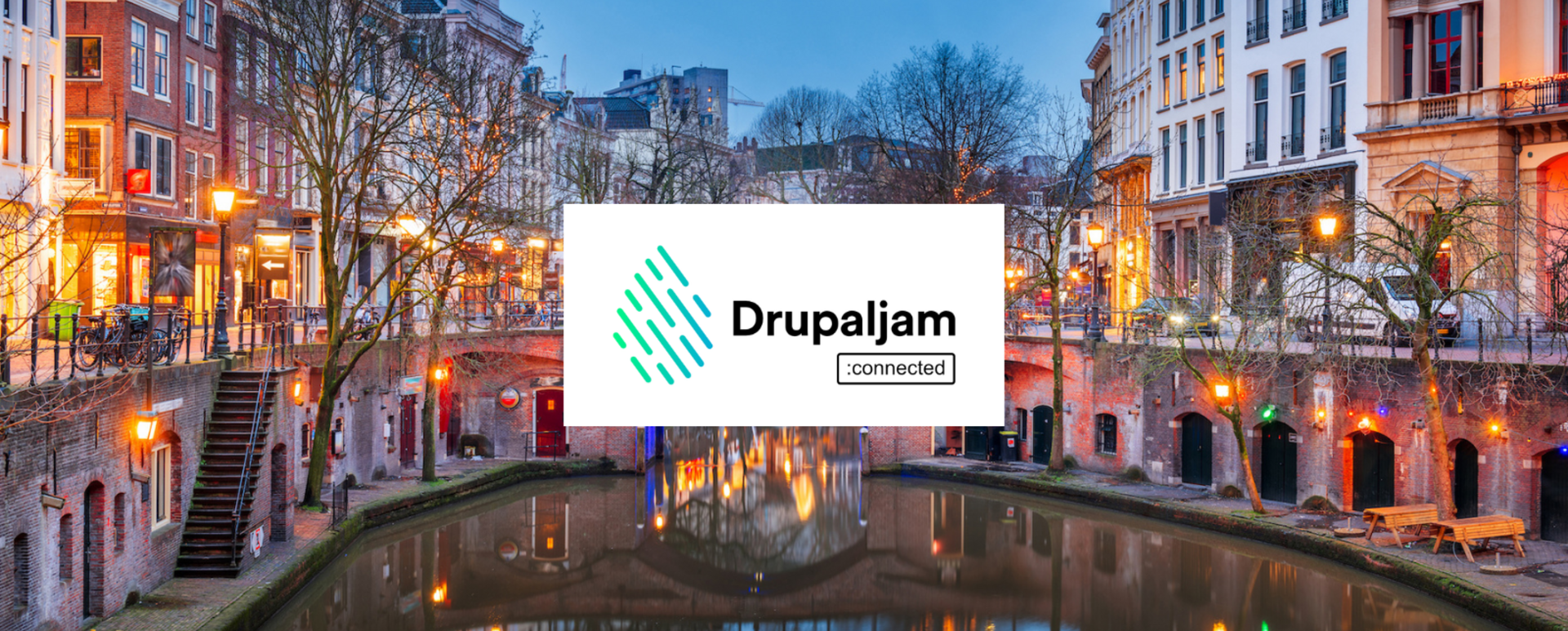 The event season is in full swing. The dust from Infoshare hasn't settled yet, and the Droptica team is already gearing up for more conferences. The upcoming occasion to meet us is Drupaljam, a gathering of Drupal enthusiasts, developers, and users, taking place on June 1st, in Utrecht, the Netherlands. Let's take a look at what's in store and what we're looking forward to most. 
Drupal enthusiasts and Droptica connected at Drupaljam
The upcoming edition of Drupaljam, subtitled "connected," will unite the incredible Drupal community. For one day, June 1st, attendees can immerse themselves in an event filled with knowledge sharing, networking, and inspiration. The venue will provide a unique setting for this. DeFabrique, a former mixed-feed factory, is a modern location with an industrial aesthetic that perfectly complements the innovative spirit of Drupaljam.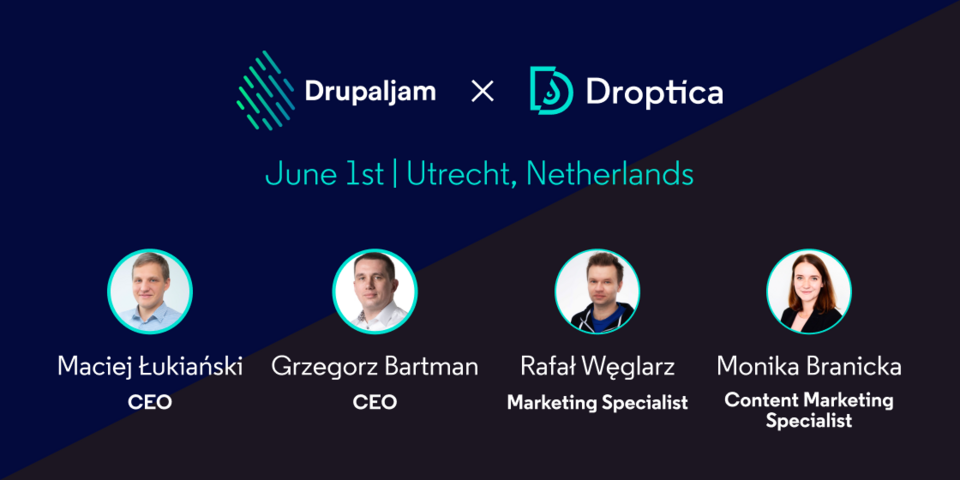 At Droptica, we appreciate every opportunity to meet with other technology fans and company representatives focused on Drupal. That's why we're even more excited to be a gold sponsor of this conference. We'll go to Utrecht in the Netherlands with our minds open to participating in discussions, sharing experiences with other professionals, and getting inspired by many expert presentations. 
Highlights of Drupaljam's keynotes
The Drupaljam 2023 offers a conference program that will illuminate the future of technology and provide invaluable insights for both seasoned experts and community newcomers. Selected speakers will propose diverse perspectives on the latest developments, trends, and challenges in the Drupal universe. Let's discover a few examples of planned speeches and discussion panels. 
Showing Drupal from different angles
Until recently, the Drupal community was experiencing the launch of Drupal 10. Now we can look even more boldly into the future. That's why Björn Brala (CTO of Swis), with the presentation Project update bot: The road to Drupal 11, will take the stage to discuss the journey to the next version of Drupal. This session will explore the lessons learned from the latest launch and evaluate the improvements needed for a smoother transition to Drupal 11. The speaker will answer an important question - how to ensure that Drupal.org's Project Update Bot becomes a continuous process?
Another noteworthy presentation will be From Spaghetti to Ravioli: Transforming Code while Running. Lawri van Buël, DevOps, developer, and security specialist, will share a story of code modification. The lecturer will delve into the challenges faced when inheriting a messy codebase, often called spaghetti code, and will show the best practices to transform it into maintainable code. 
The speech Drupal Nomads: Crossing the Continents in Search of Code also promises to be very interesting, although it touches on the Drupal topic from a completely different angle. Llewellyn Dawson and Roald Nel, seasoned Drupal developers, will take us on a journey through their experiences as traveling programmers. They'll explore the increasing trend of developers migrating between different countries. Among other topics, we'll see the motivations behind these moves and the challenges faced when relocating with families.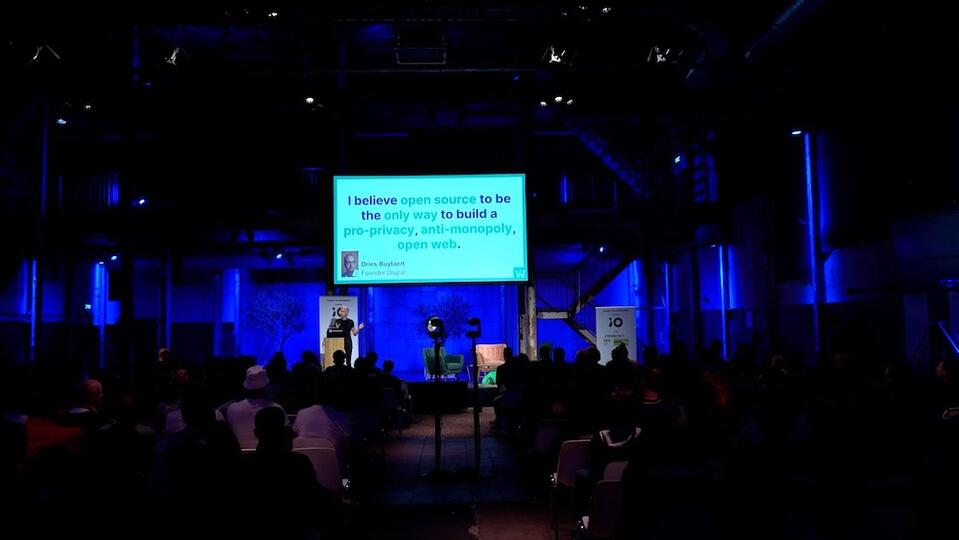 Sebastiaan van der Lans at Drupaljam 2022 re:United, source: Drupaljam.nl
Q&A session with Drupal founder 
Looking at the conference agenda, it's hard to miss a significant point - a meeting with Dries Buytaert. The renowned Drupal founder and Acquia CTO will meet with the audience during a 15-minute live Q&A session. It will be an opportunity to ask questions and participate in a lively discussion with one of the most influential people in the Drupal community, who has played a pivotal role in shaping the content management system. We can't wait to hear if Dries reveals anything about further development plans. 
Matching Drupal with tools and technologies
The critical issue for the Drupal community is using this technology with other tools. The conference will feature several presentations on this very topic. A few, in particular, caught our eye.
Mladen Stankovic, Technical Lead and Drupal Architect in RTL, will focus on scaling Drupal websites with Kubernetes to handle high traffic. In the presentation, the speaker will show some handy practices and solution architecture that lead to improved web page performance, scalability, and, ultimately, a better user experience. 
Drupal loves Tailwind CSS – that's the catchy title of another speech. Nenad Kesic, a freelance full stack developer, will reveal the secrets of working with this framework in the Drupal context. On the other hand, Dominique de Cooman will talk about the valuable relationship between Drupal and Mautic. In this session, the founder and CTO of Dropsolid will show how the open DXP (Digital Experience Platform) combining these two technologies can benefit end users.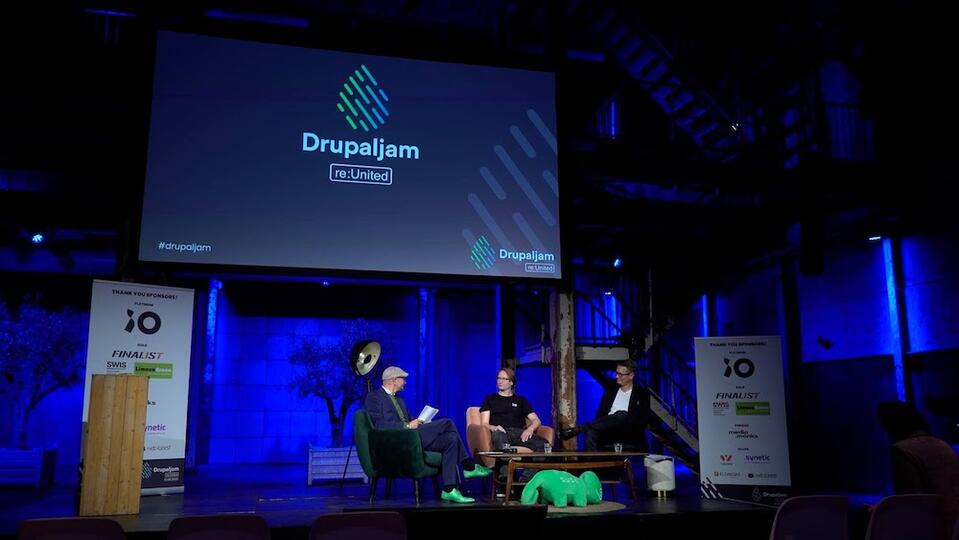 Discussion panel at Drupaljam 2022 re:United, source: Drupaljam.nl
Chatting, networking, and pub quiz 
We love technology conferences for their unique atmosphere. The same goes for Drupaljam. For one day, DeFabrique in Utrecht will be transformed into a space for sharing knowledge,  business backgrounds, and ideas. More or less experienced Drupal developers, executives, managers, marketers, and other technology fans will meet in one place to chat and get to know each other better. 
The event organizers have made sure that the conference program includes time for relaxation and social activities. In addition to presentations and panel discussions, there will be space for networking and drinks. A fun activity for the attendees will be a pub quiz, where they can feel the spirit of cooperation, but also a bit of competition. All actions will take place in different rooms of this industrial facility. 
Meet Droptica team at DeFabrique in Utrecht
Drupaljam 2023 in Utrecht is another innovative conference that Droptica will be attending. As a Drupal agency, we appreciate meeting the community centered around this technology. We're a gold sponsor of the event and we'll have our booth in the area with other companies. If you're also attending the conference, feel welcome to visit our team. You can find us across from the foosball tables and the surf simulator.
Representatives of our company will be waiting for you at the stand. You'll meet both Droptica co-founders, Grzegorz Bartman and Maciej Łukiański, and marketing specialists – Monika Branicka and Rafał Węglarz. Spend some time chatting, and make sure you get our cool company souvenirs from Poland! 
What can you discuss with us? Drupal (development, support, maintenance, migration), PHP, Symfony, Laravel, frontend, and backend technologies, web development in general, product design, marketing, and more. If you're interested in a more project-oriented conversation with our CEO, book the meeting with Maciej Łukiański. He'll be happy to grab a cup of coffee with you and talk business. You can also hear what our expert has to say during one of the gold sponsor panel discussions. See you there!