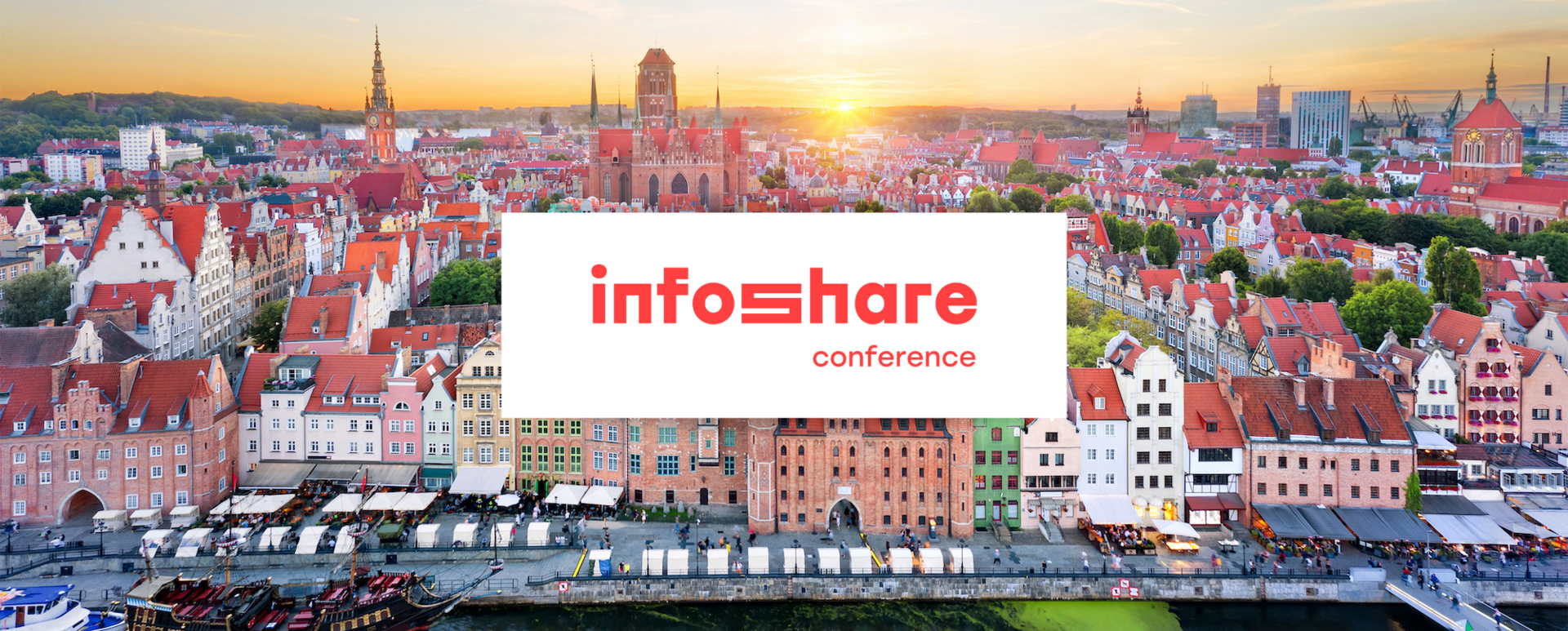 Droptica at Infoshare 2023. Our View on the Upcoming Conference
Nine thematic stages, two hundred speakers from around the world, presentations on hot topics (such as artificial intelligence or blockchain), side events, and networking – this is what the upcoming Infoshare 2023 technology conference promises. The event will take place on May 24 - 25 in Gdansk. Since the Droptica team is going there, let's look at the agenda's highlights. 
Droptica is a proud silver partner of Infoshare
The slogan that represents the primary mission of Infoshare Conference is Share what is worthy, and it couldn't be more appropriate. In line with these words, business representatives, marketers, investors, and startups will gather for two days at the AmberExpo in Gdansk to talk about the future of technology and share their experiences, thoughts, and ideas.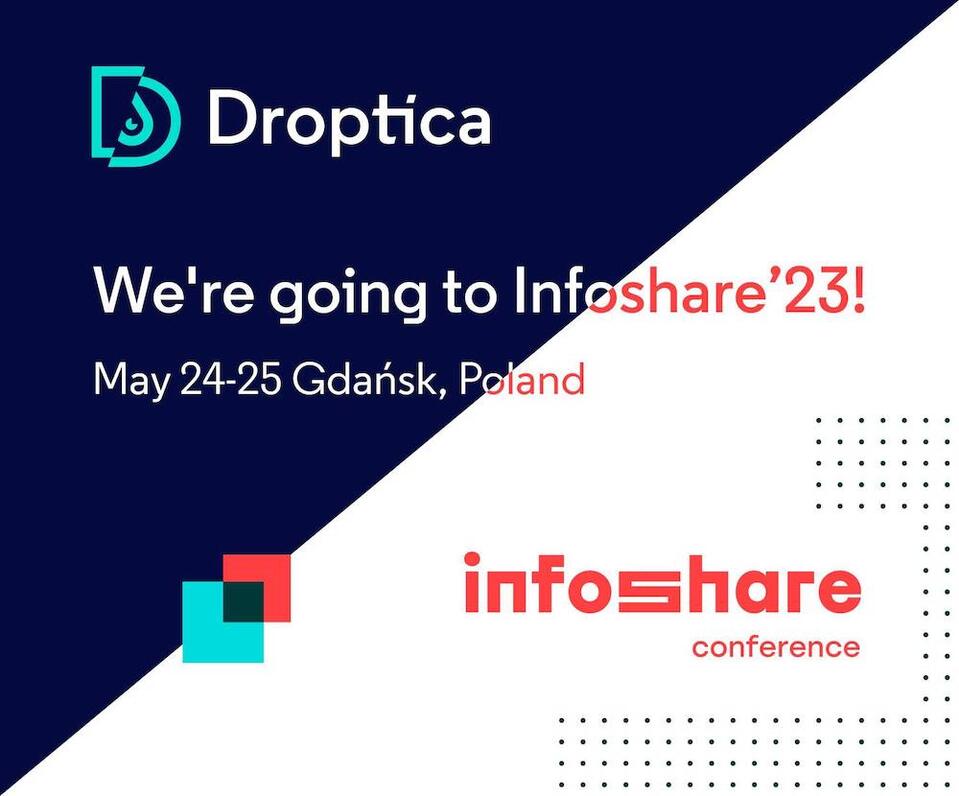 We agree that inspiring each other and following technological changes are important. That's why we're happy to be a silver partner of this conference, and we can participate in the event to build meaningful business relationships and expand our knowledge. During the two days, there will be many opportunities to learn about the latest innovations, trends, and more.
A glance at the Infoshare inspiring speeches
The conference space will feature as many as nine thematic stages: Inspire (e.g., technological trends and challenges), Arena (e.g., growth tips and business strategies), Marketing, DevTrends, Dev Architecture, Dev Java, Dev Front-end, Dev AI, and Dev Cloud&DevOps. Let's discover the most exciting highlights from our point of view.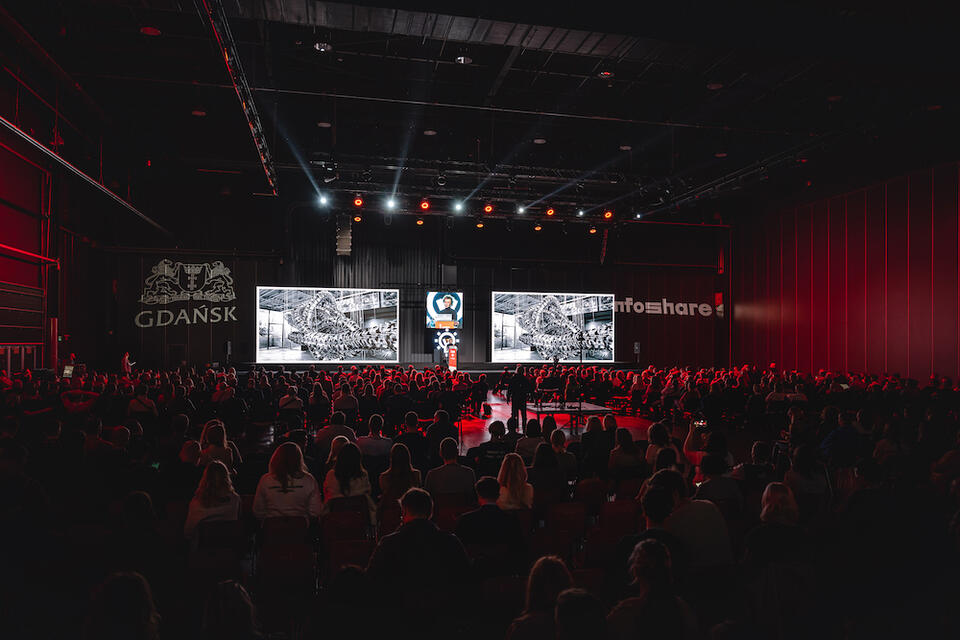 Natalia Hatalska's presentation at Infoshare 2022 (photo T. Kamiński), source: Infoshare.pl 
Artificial Intelligence in the spotlight
One of the main focuses of this year's Infoshare will be the trending topic of artificial intelligence. The entire stage will be dedicated to Dev AI, where experts will talk about, e.g., tools and solutions using data science in programming, testing, and web development.  
Data scientist Serg Masís (Syngenta) will explain how to build a facial recognition system from scratch using open source technology and publicly available pre-trained models. Mathis Hammel (CodinGame), a specialist in cybersecurity and algorithms, will shed some light on verifying the photos' authenticity with the presentation How I built the world's most efficient deepfake detector with $100. 
Nikolay Advolodkin (Sauce Labs) will also appear on the same stage with the speech ChatGPT Takes on Web Development: From Concept to Launch. The software development expert will show how to improve web application testing and integration with ChatGPT, overcoming the limitations of this OpenAI language processing model. 
The subject of AI will also play a role in other thematic stages. In the CHATGPT/Generative AI Impact on Business presentation, Gary Fowler (GSD Venture Studios) on the Inspire stage will discuss using GPT technology in enterprise workflows to improve customer experience and streamline processes. In turn, Leander C. Seidl (Leander Seidl Digital Consultancy) will show up at the Marketing stage and speak about using AI in marketing, presenting cases from a B2C travel startup, a B2B insurance corporation, and a B2C content generation profile on TikTok. 
Technology vs. ethics
Ethics regarding technology will also be a recurring theme. This is undoubtedly a critical issue in a world where ever-evolving tools mix truth and fiction. Phaedra Boinodiris (AI Specialist at IBM) will present the topic AI Ethics: from Principles to Practice. In the presentation, she will focus on holistic solutions companies and practitioners should implement to develop responsible AI.
Dr. Zachary Goldberg (Trilateral Research) will also add a voice to the dialogue. In the speech Ethics as Innovation, the researcher will explore how ethics can facilitate and encourage innovation rather than hinder technology development. The presentation will be focused on the technological impact on individual lives, social values, and a sustainable environment. 
The Inspire stage will feature an expert panel discussion on the ethical framework for technology (Ethics & Technology). The session's goal is to provide guidance on how to approach technology implementation ethically, responsibly, and consciously.
Other presentation topics in our focus
While AI seems to be the hottest topic at the moment, there are many other interesting points in the conference agenda. Here are some examples we decided to highlight: 
Quality Assurance Modern Tech Trends on the DevTrends stage - developer Jakub Gajda (from Nordea) will present new testing trends and solutions (e.g., the Playwright framework, Kubernetes). 
 
Harnessing the Power of Open Source for Cloud Native Development: Strategies for Success on the Dev Cloud&DevOps stage - dr. Mo Haghighi (Director of Engineering for Cloud Platform) will deliver insights on using open source tools to manage and deploy cloud-native applications. 
 
Hypergrowth scaling made simple on the Dev Architecture stage - Wojtek Ptak (an Engineering Executive and a Head of Product Engineering at Revolut) will show how to design an extensive global system for a bank using simple architecture and patterns. Among other things, he will show how to deal with hypergrowth scaling and legacy systems. 
 
New Kids On The Block(chain) on the Dev Architecture stage - Mieczysław Suska (IT Architect at Capgemini Polska) will answer whether IT professionals are ready for the blockchain/DLT (Distributed Ledger Technology) technology. 
 
How to build a great website in 2023? #GoHeadless! on the Marketing stage - Konrad Kuceł (from Naturaily) will provide a recipe for creating headless websites that make it easier for marketers to work and attract customers. 
Side events and networking
Although Infoshare focuses on lectures, its strength lies in people-to-people meetings. The conference gathers developers, marketers, executives, investors, and startups. The side events are an excellent opportunity to network and make business contacts. During Infoshare 2023, the Before and After Party, and the Great Networking Party with the live concert will bring participants together to get to know each other in a relaxed, seaside atmosphere.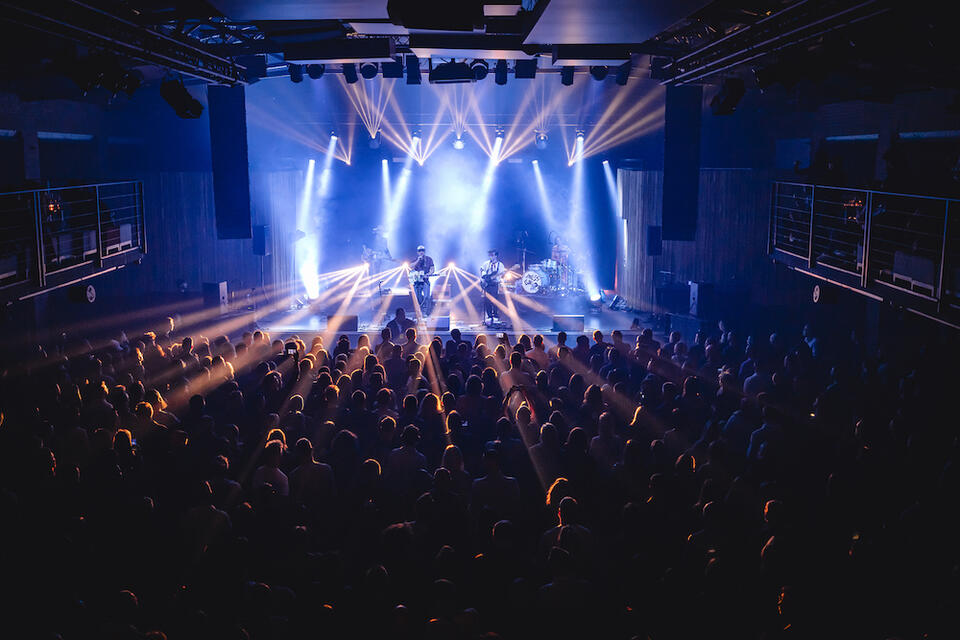 Karaś/Rogucki concert at Infoshare 2022 (photo T. Kamiński), source: Infoshare.pl
Let's meet at our stand at AmberExpo in Gdansk
When writing about Infoshare, we can't forget that it's a great place for business representatives to talk with people and share some experiences. We're even more pleased that, as a silver partner, Droptica will have a booth (A192 – next to the check-in point) among excellent companies. 
If you're attending the event, be sure to find us, give us a high-five, get our cool company gadgets, and spend some time chatting with our team. Who will you meet at our stand? Our CEOs, Grzegorz Bartman and Maciej Łukiański, business developer Daiji Kimura, marketing specialist Alina Urbaniak-Gawlik and HR specialist Weronika Głogowska.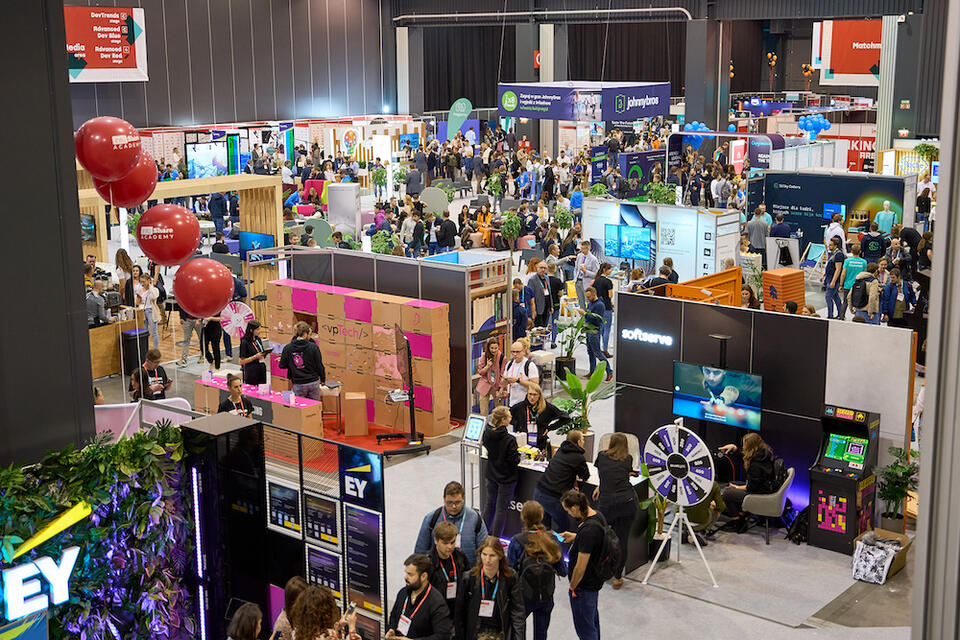 Infoshare 2022 venue, source: Infoshare.pl 
Drupal, PHP, Symfony, Laravel, and frontend technologies are topics we could debate for hours, so feel free to ask us some questions. We'll also be happy to share some thoughts about product design, web development, content management, or technology in general. You can also schedule a meeting with our business developer if you prefer a one-on-one appointment to share your project ideas or discuss potential cooperation. 
Droptica at Infoshare 2023 – summary 
Infoshare is the largest technology conference in CEE, so it's impossible to describe everything that will happen during the two days. One thing is certain - on May 24 and 25, Gdansk will become a space for sharing knowledge, experience, and ideas. We wouldn't miss it for the world, so we'll wait for you at our booth A192. We'll present ourselves as a Drupal agency and a software development company that designs, builds, and improves web applications. Feel free to come and talk with us!