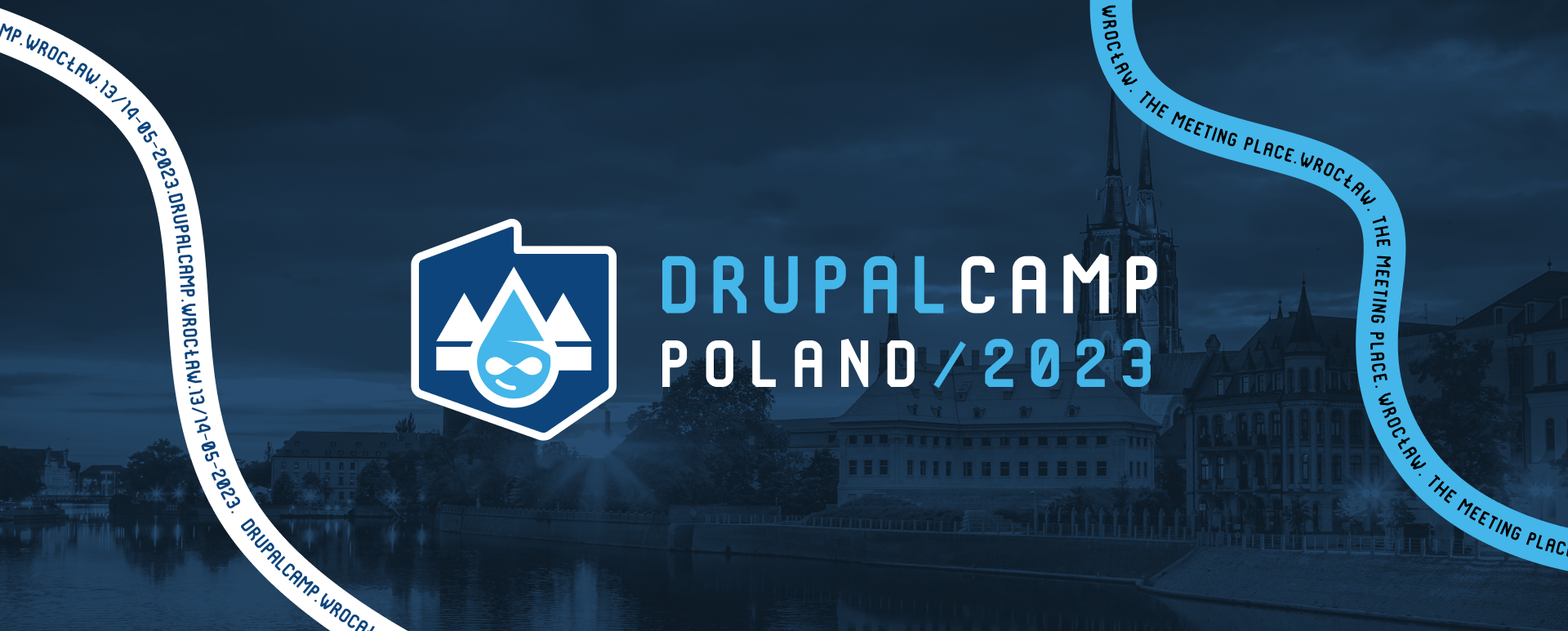 On the 13th of May, Wrocław - a city in Poland - will become the capital of Drupal. For two days, it will host DrupalCamp, a conference on Drupal, PHP, and other technological topics. Its agenda covers subjects like AI-powered code development, writing efficient code in PHP, and headless Drupal with Next.js. Let's discover other highlights of the event. 
The 12th edition of DrupalCamp Poland
It all started in 2012 in Wrocław, where a bunch of Drupal developers and enthusiasts decided to organize the first DrupalCamp conference in Poland. After eleven years, the conference gathers more than a hundred people from different countries every year. Developers, IT specialists, and business owners come to this event to meet and exchange experiences with each other and listen to presentations on hot topics in the world of Drupal and technology. Our company proudly sponsors this conference from the very beginning.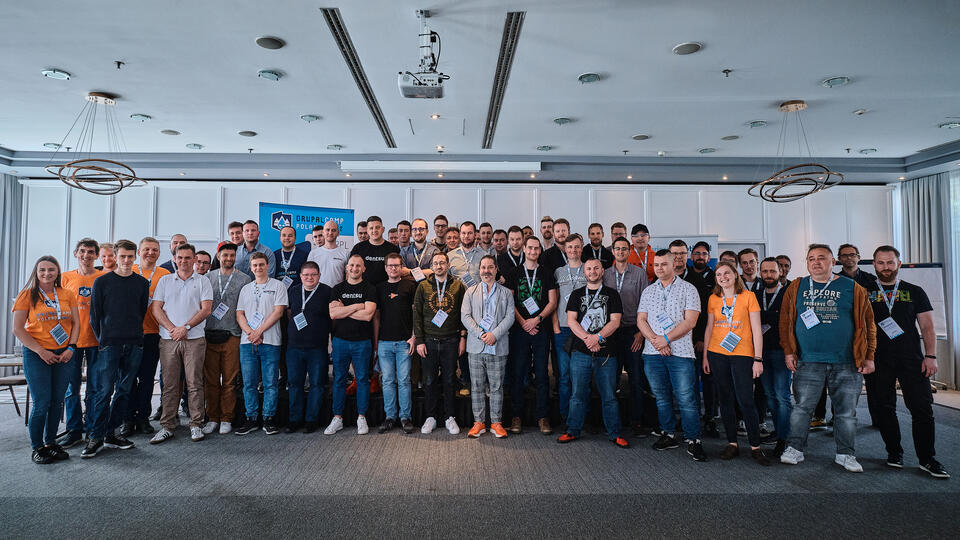 The participants of DrupalCamp Poland in 2022.
The session subjects of the 12th edition of DrupalCamp Poland revolve around the areas of technology, Drupal development, best practices for working with PHP, and business and project management. We'll take a closer look at some of the presentations of specialists from different parts of the world. 
Technology: artificial intelligence and open source
AI is definitely a hot topic in the technology industry. The tools based on artificial intelligence support various activities, including code creation. During the session AI-powered Code Development: The role of prompt engineering, Piotr Kamieniecki will introduce us to AI-aided code development, present best practices, and show how to use AI tools for code refactoring.  
The other impact on technology we can experience, especially as professionals involved in Drupal or PHP, comes with open source. In the presentation Open Source Impact: From Innovation to Positive Change, Jeffrey A. McGuire will look back at opportunities and changes that open source technologies have brought through the past 24 years. The speaker will also advise on how to apply open source ways of thinking to daily life and society. 
Drupal development: caching and Protected Content 
The main topic of the conference - Drupal - will be discussed in many different ways - from best practices through career advice to module usage. Within the latter subject, we'll get to know the Protected Content module we can use to integrate OpenPGPjs into our Drupal installation. During the session on that matter, Rodrigo Panchiniak Fernandes will present this module's possibilities, like asymmetric keys generation and client-side encryption and decryption.
Other helpful tips for working with Drupal will be included in the Caching Like a Pro: Best strategies for dealing with Drupal cache presentation. Its author, Mariusz Andrzejewski will discuss the built-in classes in Drupal 9 for cache management, caching modules, and troubleshooting of common caching problems. 
Being a part of the Drupal community gives developers many opportunities. Marcin Grabias will talk about The path from local to global Drupal developer and the soft and technical skills needed to achieve this goal. On the other hand, Marcin Maruszewski will explain how to contribute to the development of the Drupal system easily. The presentation in Polish Jak łatwo zostać "kontrybutorem" Drupala will answer the question of how to check existing patches or create our own.
Business and PM: sales knowledge for developers and efficient communication
Do developers need to know sales techniques? Daiji Kimura, in the Sales acumen for Developers presentation, will explain why such skills may be beneficial for developers. The speaker will also teach them how to ask relevant questions to the clients.  
Once the new customer is onboard, we need to form an efficient team. Rafał Żebrowski, during the session in Polish Jak zaprogramować swój zespół, żeby był wydajny, will share the tips that will make a development team work properly. The author will prove that good communication is key to achieving this goal. On the other hand Grzegorz Pietrzak, in the presentation in Polish Jak stworzyć dream team do projektu PHP, will reveal, from the technical leader's perspective, how to compose a united and cooperative PHP development team. 
Is there a subject you'd like to discover but can't find it in the event agenda? You can submit your topic for the BoF (Birds of a Feather) session. Within each of the three meetings, the participants will casually talk on a given subject. The session will be overseen by the BoF facilitator.  
Inspiring conversations, afterparty, and sightseeing  
As we've already mentioned, DrupalCamp Poland is not only about insightful presentations but - most of all - meeting peer developers and other IT professionals. We'll all have a chance to chat over coffee during the breaks or over a beer during the official afterparty on Saturday evening in the BlackBoard Pub at Plac Konstytucji 3 Maja 3 street. Before the party, one of the conference speakers - Grzegorz Pietrzak - a great fan of Wrocław, will take us on a walking tour around the city center and its top highlights. 
Join DrupalCamp Poland 2023!
The presentations we listed in this article are just a tiny part of what the DrupalCamp organizers prepared for this year's edition. In the conference program, you can find even more sessions about technology, Drupal, PHP, and business and project management at different advancement levels.  
Don't have your ticket for DrupalCamp Poland 2023 yet? You can still buy it through the Eventbrite platform to participate in this great event!