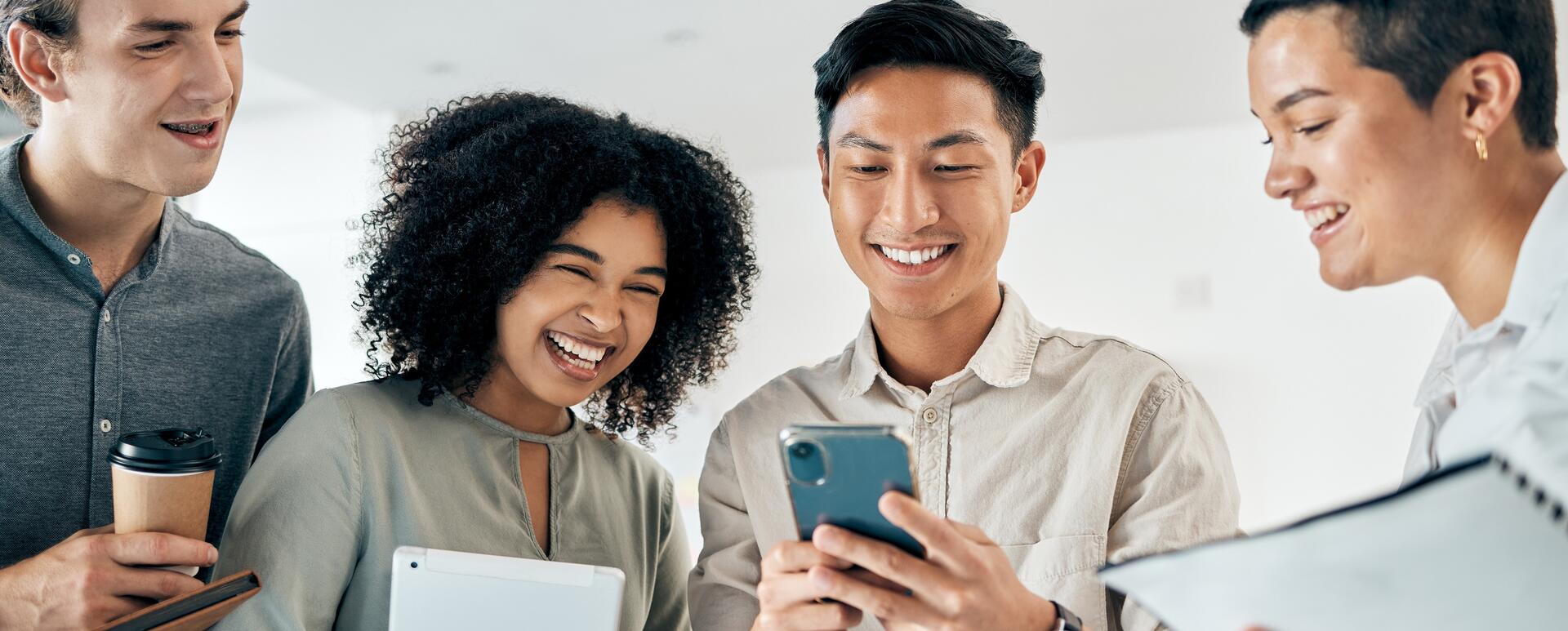 How to Enhance Communication within Your Company? 11 Intranet Best Practices
Good communication within a company is essential for success, but how to ensure it? It's worth taking a look at the more and less obvious best practices for fostering communication in a company using an intranet. Check out our tips. 
1. Ask employees what they need in the company intranet
An intranet is a tool that is supposed to facilitate the work of all your employees, from the lowest to the highest in the company hierarchy. The problem is that those at high levels of management often don't understand exactly the problems of all employees. At the same time, intranet best practices recommended on the web aren't tailored to the individual needs of specific companies. Then how to build the right tool? The solution is simple - just ask what your employees need and what would make them use the intranet as a communication tool. The answers can be gathered through a survey or a brainstorming session (if the company has few employees).
2. Choose one of the best intranet platforms
You have two options. The first is to buy a subscription for a SaaS (Software as a Service) model intranet, ready to use right away. If you decide to do this, it's worth looking around for such a program that can be personalized. Additional functionalities can be added thanks to integrations with other tools.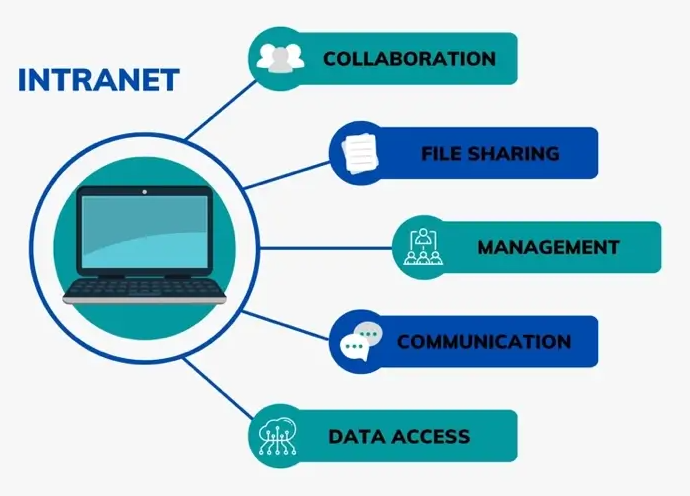 Source: WhatIsMyIp.com
Investing in a unique system tailored to the company's individual needs is the second option. It's worth considering building it in cooperation with a software development agency using open source technologies. They guarantee flexibility and freedom of solution design, as a large and active community of developers gathered around them creates numerous interesting modules that are available to other users. This gives confidence that the technology will be developed in the future. 
One such solution is Drupal. It offers modules so that you can build a portal according to corporate intranet best practices. One of them is to support team communication, for example, by creating groups using the Group module. Using this functionality makes it much easier to communicate in a project, as it allows for connecting employees into smaller groups. This creates channels in which specific topics related to the project are discussed, reducing the risk of overlooking important information. On the other hand, thanks to the Fivestar and Flag modules, users can react to and rate content published on the intranet. Worth noting are also modules such as Comment Notify (activity notifications), Drupal Chat (communicator), and Forum (a tool for exchanging opinions between users). 
Read also: Top 12 Modules for Intranets on Drupal
3. Take care of the intuitiveness of the portal
If the company intranet doesn't prove convenient to use, employees won't feel like using it. Clear, intuitive navigation is the key to success. Start designing by identifying the most important functions of the platform and reducing unnecessary functionalities. This will make it easier to create a simple menu and prevent time-consuming searches for those portal elements that users may need most. Placing additional call-to-action buttons in prominent places on the website and thoughtful internal linking will make it easier for them to get to the most important content. 
4. Adjust your intranet for mobile devices
One of intranet navigation best practices is to design a separate version for mobile devices or choose a responsive portal. This will make it easier to use the intranet anywhere and anytime, which is very important, especially in the era of remote work. Consider limiting the options on the main menu in the mobile version of the portal. It doesn't have to be a faithful copy of the intranet available in a browser on a computer.  
The mobile version of the intranet needs to be aesthetically pleasing, interesting, and well-designed so that users will enjoy using it on a smartphone. When creating the system, focus on the details and adapt specific elements such as forms or interactive parts (surveys, quizzes, mini-games, etc.) to the screens of mobile devices. Graphics should automatically scale to the right size, and buttons must be large enough so that the user has no problem pressing them. 
5. Implement tools for communication and exchange of views
An intranet gathers all the company's employees in one place in the web. It's worth taking advantage of this and giving them the opportunity to contact each other through it instead of investing in additional external tools. The best will be to make several solutions available to your employees. Attractive intranet features include, for example, chat, forums, writing short posts (similar to social media messages), and longer blog articles. Then everyone will be able to choose their preferred method of communication. 
Real-time (and not only) communication tools are very valuable, as they allow you to communicate efficiently with your team, as well as with colleagues from other departments. If video conferencing meetings are also on the agenda at your company, you may want to consider integrating with software that makes this possible. 
6. Encourage reacting to content
Try to encourage your users to share their knowledge and insights on various matters. Create options to respond to posts (e.g., adding likes, commenting, or rating content). Your employees will post with more enthusiasm while paying more attention to what they write.
Are you concerned that your employees won't want to respond to the published content? Implement gamification elements (e.g., activity ranking, assigning points for reactions, or participation in surveys) to motivate users to become active. Conduct surveys, ask questions, and respond to the answers by making changes to the operation of the company and intranet.
7. Include intranet content management best practices - possibility to moderate posts
Best practice for an intranet isn't only to foster communication and encourage the exchange of knowledge and views but also to verify that users follow the rules of social intercourse. Monitoring their activity makes it possible to respond to manifestations of discrimination, mobbing, or hate speech. This makes it possible to shape a culture of respect and openness within the company.
The portal administrator should take responsibility for the content published in it. They can monitor the content themselves, but it can also be handled by a moderator specially appointed for this purpose. If you opt for the second solution, your intranet will benefit from the ability to grant permissions to users. This way, you can allow specific people to modify, censor and delete content created by other employees. 
8. Take advantage of personalization
Displaying content tailored to users' interests increases the likelihood that they will be more likely to engage in discussions and use the portal more enthusiastically. Personalizing intranet is especially useful for large companies with hundreds of employees.
People at different levels of their careers (and thus with different experiences) need different materials and tools to facilitate their work. They also have different interests. Content recommendations (suggesting posts and articles tailored to the users needs) are a way to increase engagement.
9. Enable cooperation
An intranet can be not only a knowledge base but also a comprehensive tool to facilitate daily work. Implement functionalities that allow collaboration on documents, reports, and other files - sharing materials with colleagues, commenting, suggesting, and tracking changes. Working on projects is greatly facilitated by the previously mentioned ability to create discussion groups for selected employees. 
10. Use notifications
There is really a lot happening on the intranet. Users comment, add articles, change the status of their tasks, send messages and perform various other activities. In a sea of information, it's easy to miss even quite important messages. Notifications allow a quick (sometimes immediate) response to an event on the intranet. This greatly improves communication and keeps your employees up to date, no matter what they are currently doing or where they are.
11. Develop your portal over time according to intranet best practices
You can start with a simple intranet to serve as a knowledge base for employees.  However, as time goes by, there are new technologies and their applications that are worth implementing so that the intranet remains intuitive and modern. You can add more integrations as you learn about newer, more effective tools that could make your teams' work and communication easier (calendar, chat, social media integrations, project management software, and more). It's also important to keep in mind that technologies are evolving and after some time, you may need to use newer solutions.
Best practices for intranets - summary
Streamlining communication within a company is one of the primary goals of using an intranet. In out-of-the-box solutions, some of the best practices can be implemented through various integrations. However, not all external tools provide sufficient capabilities. Then it may be a good idea to build a personalized intranet. This will also give you the confidence that you will be able to update it on a regular basis since the code will belong to you. We can build a customized intranet system for your company.