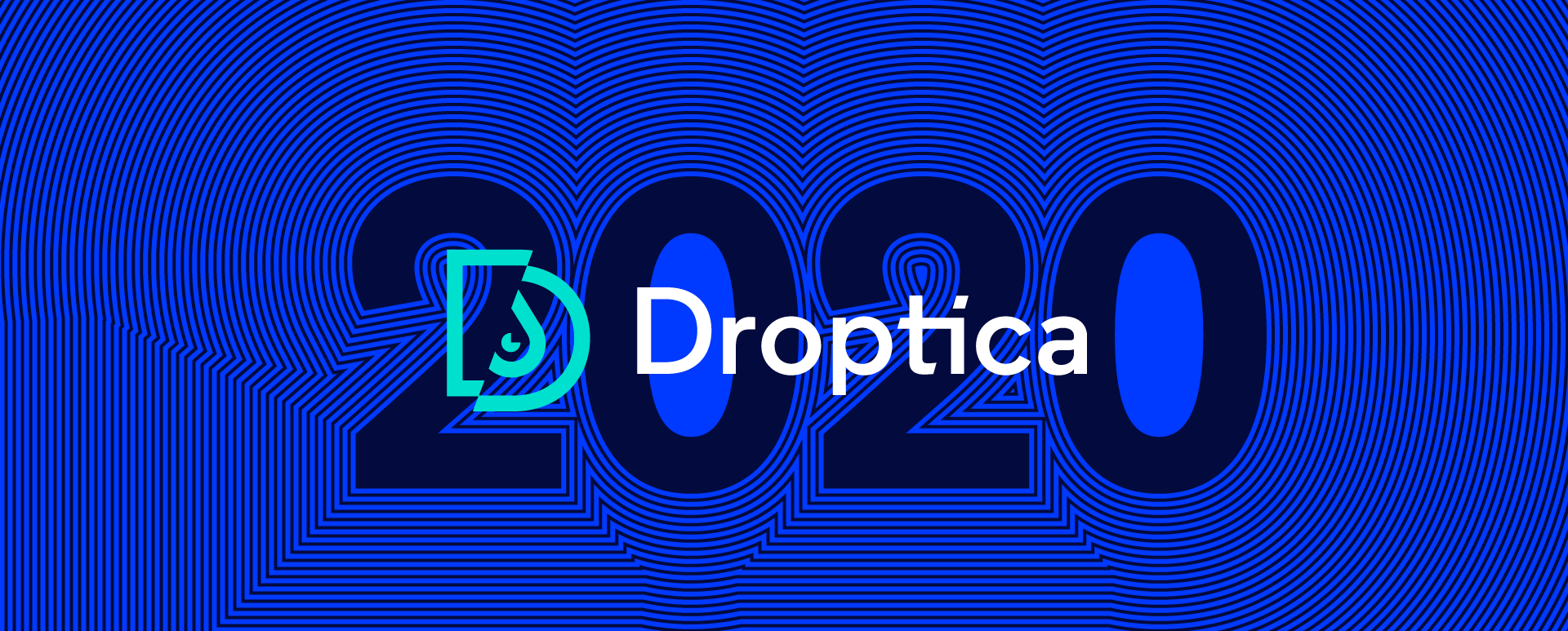 Summary of the Year 2020 in Droptica
We have 366 amazing days behind us! Certainly, the previous year forced many changes in the private and professional life of each of us. The situation related to Covid-19 had an impact on almost every industry, forcing companies to look for new solutions and modify the style of work. And how can we sum up 2020 in Droptica? First of all, it was a year of success for us in many fields! The most important of them are summarized in the text below.
Remote work benefits or risks?
Droptica has been working in a dispersed team from the very beginning. The first two offices were in Wrocław and Gdańsk. Another one is Rzeszów and the newest of our offices was opened in Toruń. In addition, some of our employees have been 100% working remotely for many years. After all, it was also a challenge for us to organize and maintain an online organizational culture, which we have successfully achieved.
We promote Drupal despite the pandemic
DrupalDay
DrupalDay is one day of free lectures for people who want to learn about Drupal. So far, we've met in different cities, but this time we organized the first online edition on July 2. And to this day we are impressed by both the high attendance and active participation of those who visited us.
Therefore, at this point, I cordially invite you to the next edition - 01/28/2021. Of course, participation is free, and tickets can be downloaded from DrupalDay. This year lectures on Drupal multisite and Domain access about managing multiple websites on Drupal; Workflows / Content Moderation modules; Marketing automation with the use of Mautic will be conducted by Tomasz Wodzikowski, Paweł Górski and Grzegorz Bartman, respectively.
DrupalCamp
The conference was held on October 14-15. We proudly participated in the event as a diamond sponsor of DrupalCamp Poland 2020, and our volunteers actively participated in the organization of the event. It was not easy - the conference was held online for the first time in 7 years, and the date was postponed twice.
Droptica had its virtual stand. Participants could chat with us or read the brochure about our agency and the services we provide.
Droptica presented as many as 3 lectures. Additionally, a representative of Droptica, Grzegorz Pietrzak, took part in the discussion panel: Installation profiles in Drupal - are they the future? Opportunities and challenges. The authors of the distribution deGov (Raúl Garcia Canet) and Open Social (Bram ten Hove) also took part in the discussion.
The DrupalCamp Poland 2020 program is available all the time on the event website, so whoever wants to can still see it.
Infoshare
As an official Silver Partner, on September 23-30, we took part in Infoshare - the largest technology conference in Central and Eastern Europe. Of course, this year's edition was online. You could meet us at a virtual stand, and we also conducted lectures on Drupal and Droopler.
Customers
2020 was full of new, large projects. Among many of them, we can distinguish the Headless CMS Drupal prepared for the Department of Amateur Football (Grassroots) of the Polish Football Association regarding the football tournament. We undertook backend work so that the prepared CMS could support many websites and provide content to them in the future, and remained effective and convenient for editors in management. A more detailed description of the project can be found in the Case Study section.
Blog
The above-mentioned topic of Headless appeared several times on our blog. The text containing the complete Headless Drupal guide is certainly noteworthy.
In 2020, the entire Droptica team participated in creating content and shared knowledge, among others in the field of commerce, intranet systems, PHP, Drupal modules, design or managing multiple websites within Drupal Multisite. We have written over 120 texts - so we invite you to our Droptica's Blog, as well as to follow our social profiles on Facebook, Twitter and LinkedIn, where we publish information about new articles on an ongoing basis.
Christmas Eve online
The first part was more official - the company's founders made a short summary of the year. Later we unpacked the surprise gifts together. A few days earlier, there was a draw: who is making a gift to whom. Together, we could watch the Golden Committee 2020, which Kamila, HR & Office Manager received (I am very pleased) for a good job :) Later we had themed rooms, including puns, kitchen. We had a nice time, although differently than before.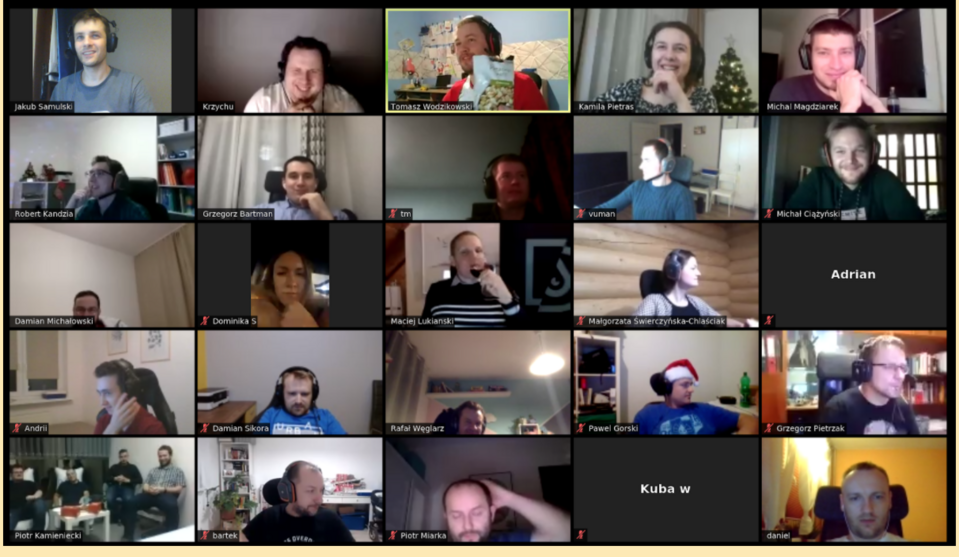 Certificates
We already have 13 developers who have a total of 36 Acquia certificates, incl. Acquia Certified Developer - D8, Acquia Certified Front End Specialist - D8, Acquia Certified Site Factory Pro, Acquia Certified Back End Specialist - D8 and Acquia Certified Site Builder - D8.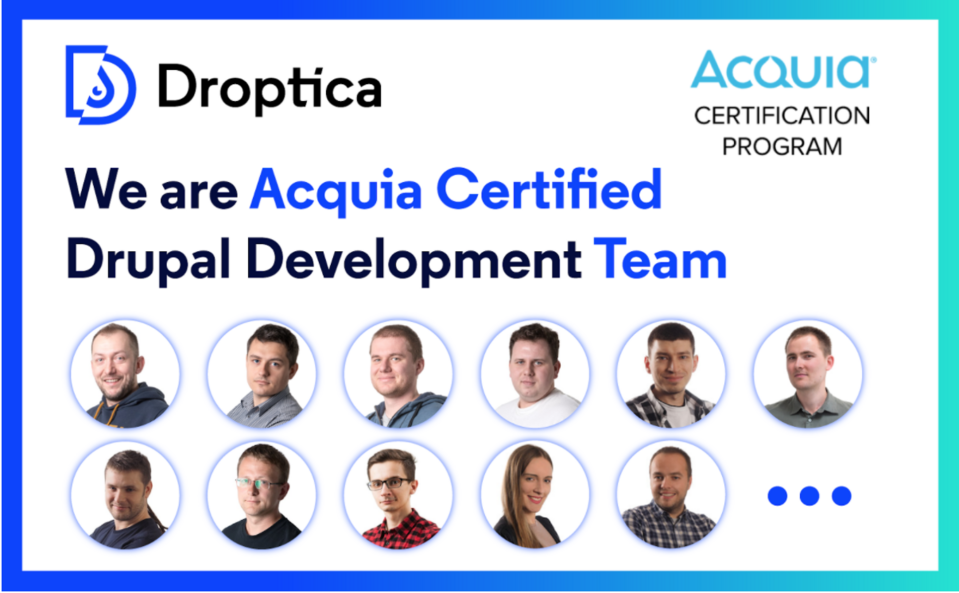 What's new in Droopler? 
A new stable version of Droopler 2.0 appeared in May! It is improved and has additional capabilities. Over time, Droptica developers also added support for Drupal 9.
So, what's new in Droopler 2.0? The new version introduced many fixes and new functionalities. What stands out is a fresh, more dynamic and corporate look. Support has been added for, among others, the Media and Media Library modules, which have radically changed the way you add pictures, videos or files. SEO support has been improved, making it even easier to position your website and achieve the highest rankings in Google. The package of paragraphs also includes new ones, which provide even more possibilities and variety, and a set of new settings allows for their extensive personalization. An experienced team of Drupal developers took care not only of what you can see - Droopler 2.0 has received a number of code optimizations. The security issues were even better-taken care of, and the quality level of the code was raised.
Two months after the Droopler 2.0 release, version 2.1 with Commerce support for Drupal online stores was released. This was in response to the start of the pandemic, with much of the commerce shifting from in-store to online. Droopler's main graphic theme has support for product category view, cart, order, payment and shipping. Our experts have also prepared modules for handling domestic payments and parcel machines, especially for Polish users. You can read about the benefits of Droopler Commerce 2.1 in an interview with its creators.
At the end of 2020, the Droopler 2.2 beta version was released. Our development team spent many weeks organizing page and paragraph editing. Thanks to this, creating landing pages will soon become even more effective, also for people unfamiliar with Drupal. A new feature will also be the ability to disable embedded content when installing a new page.
The 2.x branch in Droopler's GIT repository has a total of over 500 commits and many hundreds of completed tasks. We strongly encourage you to try out the latest versions!
Big applause and thanks to the entire Droopler team!
Droptica and the new website
Speaking of Droopler, it is impossible not to mention that we migrated our website to Droopler. Thanks to this, we have gained, among others flexible interface for editing pages based on paragraphs, which in turn allows us to quickly create new landing pages for specific needs. Moreover, the website is now friendlier to Google and looks more attractive on mobile devices. It is also worth mentioning that the migration gives us much more room for maneuver when creating blog entries, including full support for the Media module.
Or maybe you are considering changes in the context of your website? If so, we encourage you to spend a moment on our website. If you have any questions, please contact us.
Offices
Yes, in August 2020, the place of the company's headquarters has changed. Now the office in Wrocław is located in the prestigious SQ building at Stacyjna 1, less than 5 km from the market square! The new office is several times larger than the previous one, more spacious, comfortable and modern.
Summary
2020 was a special year. However, it did not stop us from successfully achieving our goals. Industry online events in which we participated, including those we organized, moreover, new clients and the development of Droopler are things we are proud of and allow us to look to the future with optimism.
And what's next? Our plans are complex and ambitious. We want to ensure further stable development of the company and the entire team. In 2021, we intend to expand our Drupal agency with new employees, and thus undertake further large projects. So if you want to get to know Droptica better and join us, send your CV today at https://kariera.droptica.pl
See you soon!