What is a Newsletter - What are its Benefits, and How to Create It?
Mailing can take many forms, one of which is a newsletter. It's an electronic bulletin sent to specific groups of recipients periodically, e.g., once a month, once a quarter, or once every six months. From our article, you'll learn what functions in business are fulfilled by a well-prepared company newsletter and what are its advantages.
What is a newsletter and its purpose?
A newsletter is nothing more than an electronic version of an information bulletin created and published for example by a company. Company newsletters are divided into those dedicated to external communication (with customers and business partners) and those aimed at improving the flow of information within the company.
An external newsletter provides detailed information on the organization's activities and the company's latest news and updates. These may include information about events organized by the company, project descriptions, updates on company policies, products, and services. A regular newsletter with the most important news about the company and its activities is an essential element of an email marketing strategy.
Any person who wishes to subscribe to the newsletter via a form on your website can access it, regardless of whether they are your customer or not.
This type of mailing is not intended primarily as a sales tool. Purpose of a newsletter is to strengthen the relationship between the recipient and the brand, increase customers' (or partners') knowledge about the company, and educate them about its solutions and products.
In principle, a newsletter could be described as a more convenient alternative to a company website's news section. Recipients receive a portion of the most important information directly to their email inbox, so they don't have to search for content on your website by themselves.
Why is it worth using a newsletter in your marketing activities?
The company newsletter is a tool to improve communication with customers in many ways. You can include many different pieces of information in such an email, so this single tool has several functions.
Effective external communication
By regularly sending valuable content with lots of useful information to your customers in the form of a newsletter, you get them in the habit of opening the emails from you. If you plan the content well, your customers may start to treat the newsletter a bit like one of the magazines they subscribe to. They will look forward to your messages with interest and impatience and will read them carefully.
Newsletters sent monthly, quarterly, or semi-annually are usually more extensive than a typical email marketing campaign. You can use them to come back to describe important issues that you have communicated before in other emails and that users may have missed. For example, suppose you've created an educational campaign explaining how to use an app, yet you still receive many requests for technical support. In that case, you can reiterate or present your instructions differently in the newsletter. This way, you make sure that important information reaches your users.
Building trust and loyalty
Meeting your customers' expectations regularly will help you gain their trust. In your newsletter, you can link to articles from your blog that answer their questions or teach them something useful. You can also create original infographics and materials tailored specifically for the newsletter to support your customers in addressing problems recently communicated.
Communicating special offers and changes that affect the customer experience is an expression of concern for the customer. By providing useful knowledge about your business and how it works, you reduce the risk of creating a bad customer experience.
As a result of positive experiences, the customer's interest, trust, and loyalty to the brand increases - in the business world, these are gained gradually. Suppose your company hasn't been particularly active in terms of creating and sending email marketing campaigns so far. In that case, it's worth starting with a business newsletter, as it allows you to provide your customers with a large amount of useful material without inundating their inbox with a large number of messages (which could end up marking the message as SPAM).
Additional promotion channel for the brand and its offer
The basic tools for establishing relations with users are the website, social media, and actually the newsletter. Customers like to feel part of a community. They like to observe selected profiles of their favorite brands and get to know their messages sent through various communication channels. Social media followers are difficult to reach because algorithms usually don't show all posts to every user. Moreover, not all users have social media accounts. However, the majority of them do have an email address. This is why a newsletter allows us the opportunity to reach a large audience.
A newsletter doesn't have to work in isolation from other communication channels - quite the contrary. Used appropriately, it allows the business user to direct the traffic of their customers. With a newsletter, you can generate more traffic to your website or social media and vice versa - a website and a company account, for example on Facebook, can help you gain new subscribers. A person who follows your activities on social networks and reads your blog and newsletter content becomes an active member of your community and is willing to share information about your brand with their friends.
It's also worth remembering that a newsletter is an owned marketing channel. This means that no one can take away the contact database created by your company, among other factors. Therefore, it's a communication channel over which you have a lot of control. Then you don't run the same risk of losing your audience as you would with Facebook, for example. If this social network disappeared from the web, so would all the fans who don't follow your company elsewhere.
Reduction of advertising costs
By increasing user loyalty through the use of newsletters, you also increase the likelihood that the user will start following your brand through more than one communication channel. When a customer actively searches for information about your brand, you can count on more traffic to your website or social media without additional financial outlays. This affects the visibility of your brand and company website. Loyal customers also don't require such intensive advertising campaigns. They buy because they feel attached and trust in the quality of service you offer. In addition, by effectively educating customers with newsletters, you ease the burden on your customer service and support departments.
The right software for creating and managing a company newsletter also allows you to analyze the effectiveness of your campaigns. The information provided by analytical tools will enable you to optimize your email marketing activities - to see what works and what should be abandoned. In this way, instead of investing in ineffective methods, you can adapt your campaigns to your customers' expectations.
What is included in a newsletter?
The newsletter should not be too long as the customer may not be able to go through all the material. Choose content that is really interesting and highlights the values that are important to your company and its success. Remember that whatever industry you are in, it's worth building a professional image. However, this doesn't have to mean giving up your casual and playful tone.
1. Valuable newsletter content
A newsletter should be concise, so plan carefully what content you want to include. Replace obvious advertising with important business information that directly affects your customers. Write about what recipients of your company newsletter want to know. Answer questions frequently asked in your forums, on social media, or in conversations with your customer service specialists.

An extract from the HubSpot newsletter.
Make sure your messages are clear and understandable. In addition to short paragraphs with key content that will interest your customers, you can use headlines, catchy slogans, and key phrases your customers are familiar with to highlight important information. A light style combined with humorous inserts will help you keep the reader's interest and make browsing the newsletter a pleasure.
Segmentation and personalization
Brands can have multiple target groups. Tools for sending newsletters enable the segmentation of users who sign up for your newsletter, dividing them into groups (for example, by their shopping preferences, online activity, or interests).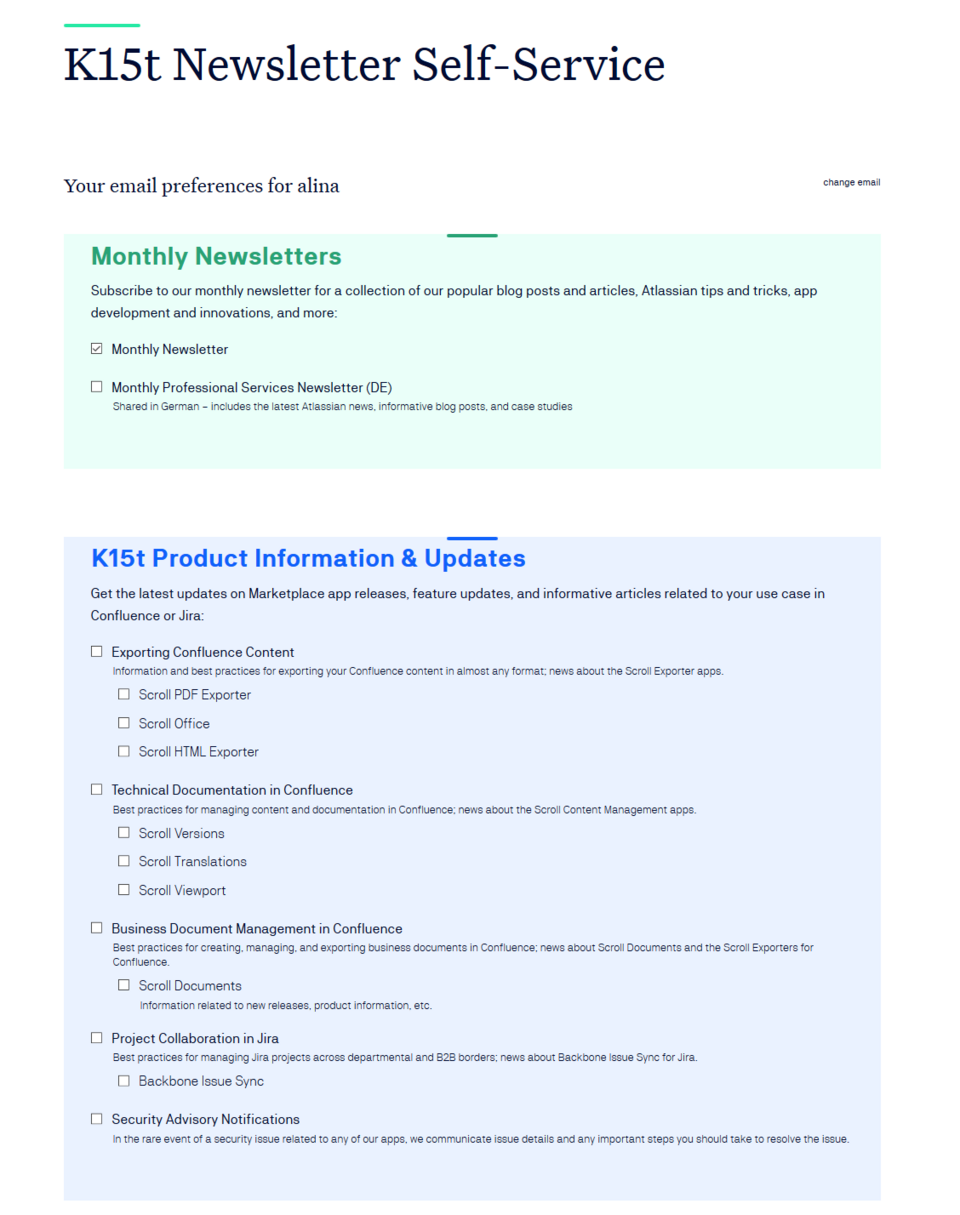 The K15t company allows users to decide on the newsletter content they will receive.
Once you've defined your target groups, you can send them content that is more relevant to their needs and expectations and even apply elements of email personalization to ensure that each message is addressed to a specific customer by name. By doing so, you let your addressee know that you create your messages with them and their concerns in mind. Personalization and segmentation also reduce the risk of wasting resources on promoting the product to the wrong target group or making consumers resent the brand by presenting inappropriate content.
2. Links to articles from the company blog
Putting the whole article in the newsletter is not the best idea, but you can insert links to interesting texts that your readers may find useful. Publishing excerpts from materials and links to the full version of publications created by your specialists not only helps you educate customers and respond to their needs but also showcases the competencies of your employees and the human face of your brand.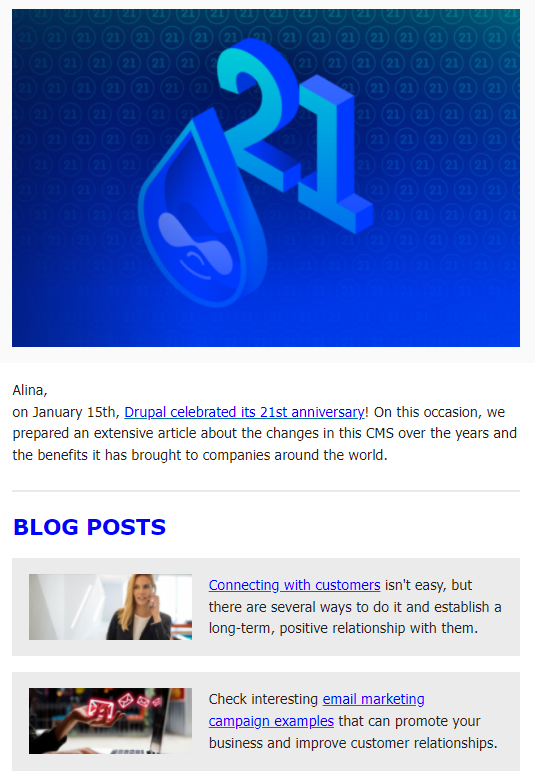 An extract from the Droptica newsletter is an example of putting links to valuable content from the company blog.
With this treatment, you have the chance to generate more traffic to your company website and redirect it to the sales pages - with a CTA placed in the right place on the blog - and turn the reader into a customer.
3. Employee and company achievements
Your professionalism is reflected in your successes. These can be recently completed projects, new partnerships, competitions you have won, new solutions you have developed to increase your company's efficiency, or even training and qualification of your employees. You can highlight team or individual achievements.
Keep your customers informed about what you're changing, what problems you're solving in your company, or what new opportunities are now open to you. Consumers prefer brands that don't stand still but develop dynamically, adapting their solutions to market needs. Focus on positive emotions associated with the described events, not just dry facts. Remember, however, that there is not much space in a newsletter, so it's the specifics that count but described in a way that shows the benefit to the customer.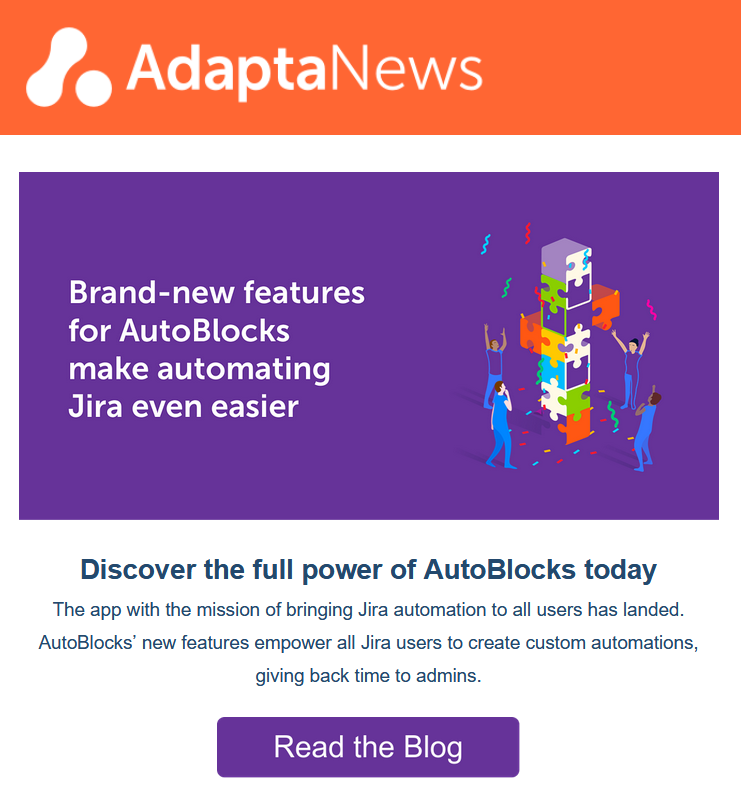 The opening of the Adaptavist company newsletter with information about the latest functionality.
4. Unique template
An original template for your newsletter is essential. After all, you don't want your company newsletter to look like all the others, or even more to be associated with a particular newsletter of your competitors. A template is a framework for an email message - it can contain text fields, places for photos, or additional graphics, as well as constant information that will be repeated in each newsletter (e.g., contact details of a company).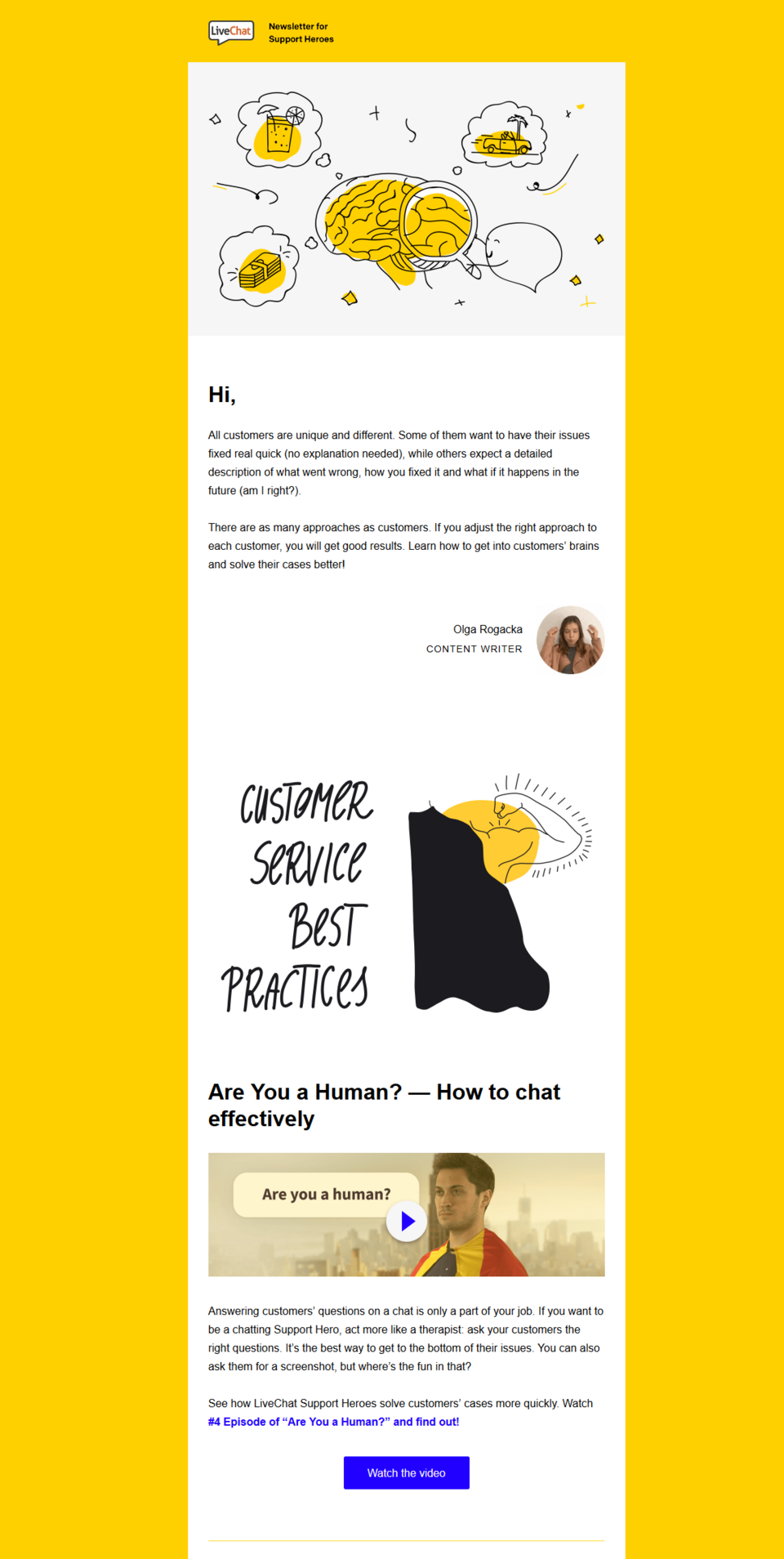 LiveChat has a consistent newsletter design.
Having a template makes it quicker to create a new release of the newsletter and easier for people without graphic editing skills. A graphic designer can do the design entirely and include elements related to your brand, such as specific colors or a logo. Many email marketing platforms provide customers with a set of templates that can be personalized by changing the position of components, modifying their colors and size, and adding your own elements (e.g., company graphics).
5. Videos, images and infographics
It's a well-known fact that images appeal to people more than written text, as the latter usually requires more focus and time to read. Make sure your newsletter contains graphics. However, don't forget that you can't put too many of these elements into a newsletter, as they would make such a message much longer.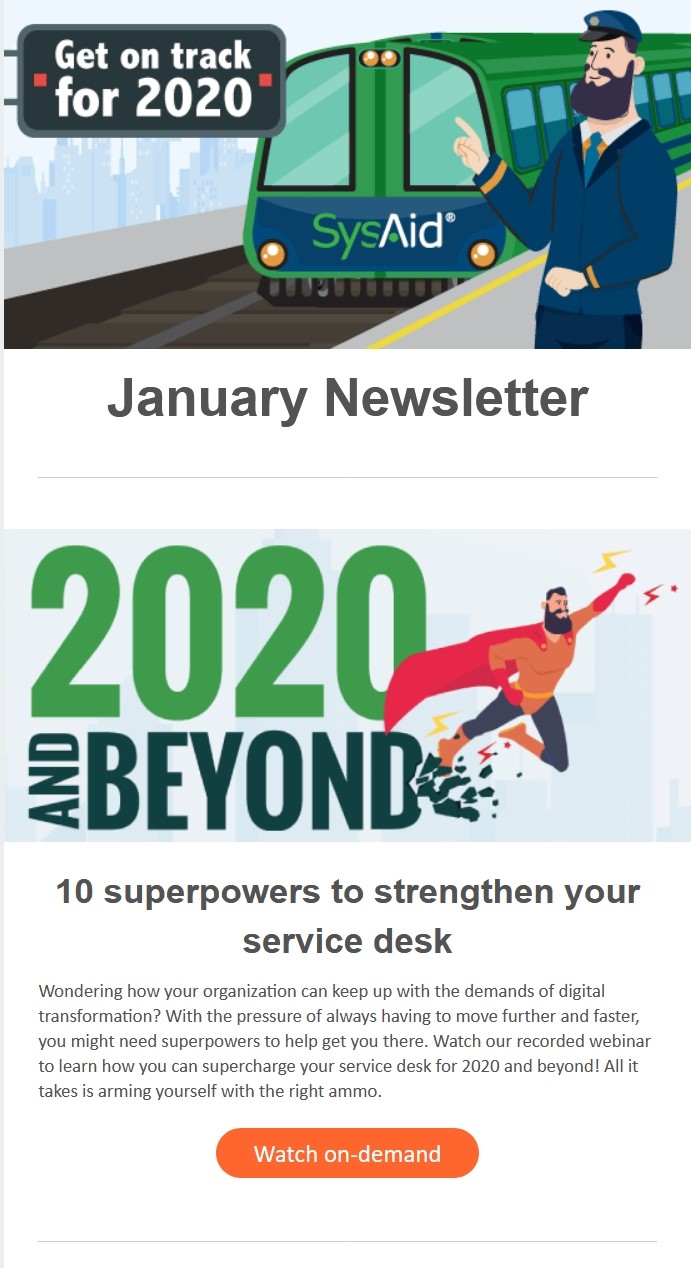 Newsletter SysAid includes dedicated graphics.
What type of graphics to include in your newsletter? Share your participation in a trade fair or industry conference by posting a photo from the event or linking to a gallery with a photo report. Do you want to communicate something important or present a new product from your offer? You can edit an interesting video and insert a link to it in your newsletter.
How to encourage subscribing to your newsletter?
When building your list to send out newsletters, it's worth considering what target groups you want to reach and how to acquire their email addresses. The following article on building an email list will help you create such a group.
You don't have to wait for customers to make their first purchase to get their email addresses and consent to your newsletter. Start capturing contact information on your company website. In addition to developing a high-quality newsletter, create a landing page, present materials useful to the customer, and ask visitors for their email address and consent to the newsletter in exchange for downloading the content you offer. Similarly, you can obtain contact details from the users who need your solutions (e.g., applications for managing company processes) but don't want to buy a pig in a poke. Offer them a free trial period in exchange for signing up for your newsletter. It's also a good idea to send a newsletter sign-up request to people who have bought products from you and are likely to become regular customers.
It's worth placing a CTA button, encouraging the visitors to subscribe to a newsletter or a special form wherever you think a customer who is really interested in your offer will look. Remember that a typo can happen to anyone. Then you should make sure that the contact details provided by the user are correct (e.g., sending a message asking the user to confirm their willingness to subscribe to a newsletter before giving them access to free material).
Promote your newsletter in other communication channels as well (e.g., social media). In the post, list the benefits of joining your mailing list. Also, consider including a CTA in the footer of your company signature that you use in your email communications. This way, people who already correspond with you can access more useful content with a single click.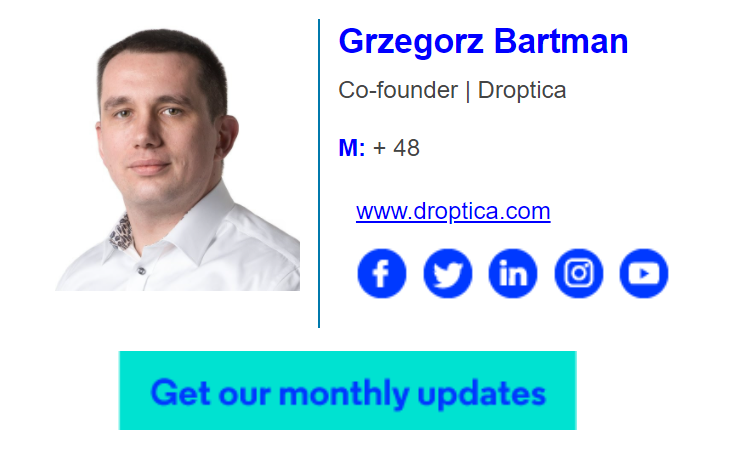 When planning your marketing activities, remember to empathize with your potential customer's needs. Internet users are reluctant to join new newsletters because they are inundated with a lot of commercial information via email every day anyway. To alleviate their objections, consider introducing different subscription options. Allow the customer to control how many and what messages they receive. You can let them choose, e.g., a weekly or monthly newsletter, or select what kind of information they want to receive (some companies give the option to choose in the forms if, e.g., it should be about products, services or industry news).
What is a newsletter? Summary
There is no doubt that a newsletter is an indispensable element of a company's efficient marketing strategy. A well-designed newsletter improves communication with your potential customers, earns their trust, and reduces marketing costs while increasing effectiveness. In addition to attractive graphic elements (unique template, images, etc.), the newsletter consists of valuable content and links leading to various sections of your company website. Their high quality increases the likelihood of conversion.
To conduct effective email marketing activities and exploit the full potential of a newsletter, you can opt for modern marketing automation systems. They are equipped not only with tools to create compelling messages but also to segment recipients and analyze campaign results. Mautic is marketing automation software released under an open source license. We'd be pleased to support your company in implementing this software. We can also develop original solutions tailored to your business needs, as well as train your team in the use of Mautic.