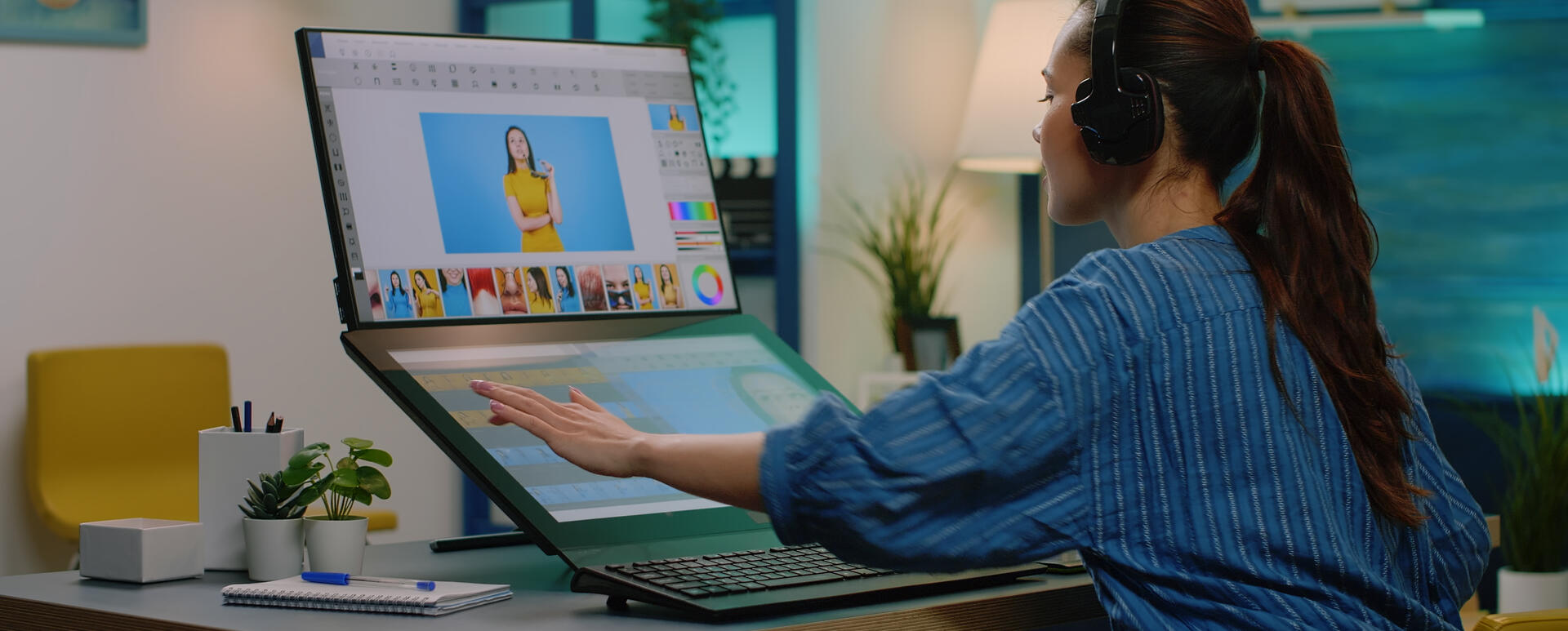 8 Publishing Tools for Online Editors and Publishers
The work of an editor or publisher isn't easy – it's a constant pursuit of materials that'll gain popularity among readers, working with the written word... and the people employed in the editorial office or publishing house. We've created a list of practical tools that'll help the people who edit and publish content in the daily performance of their duties.
Publishing tools that improve the work of the article creator
Creating an article, interview, press release or novel is a multi-stage process that may vary depending on the type of publication the author is working on. There are many interesting tools for the editors of digital and traditional publications that can save your employees' time.
1. Evernote
Evernote is an application that helps authors note down useful things, save inspirations, and organize materials. You can use the free version or choose one of the paid plans. The more expensive the solution you choose, the more functionalities you'll get.
The most basic access – the free one – allows you to organize your tasks and notes with templates and to-do lists. Web Clipper allows you to cut and save entire pages and fragments of text, as well as attach relevant PDF files to your notes. Evernote is also able to scan handwriting in order to search for information.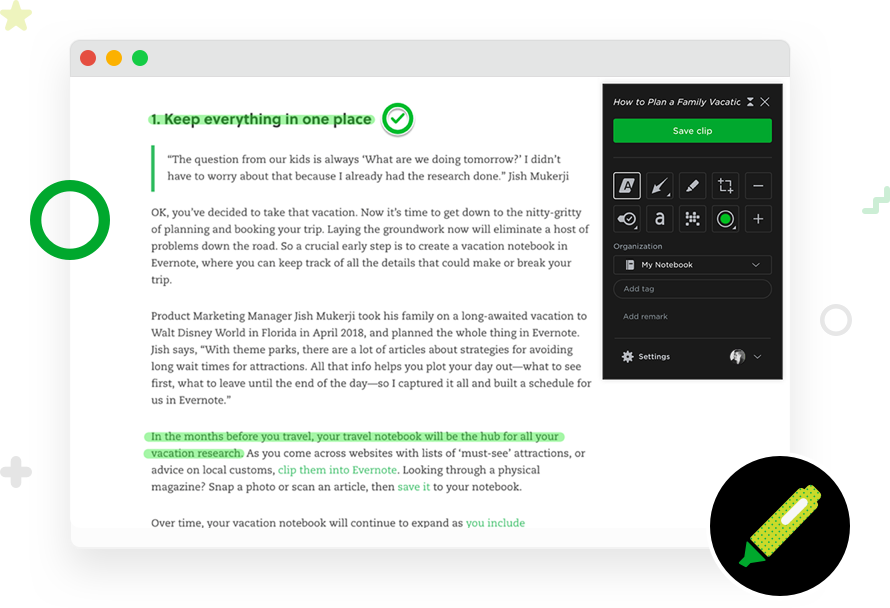 Source: Evernote
The paid versions of the tool make everyday work much easier. The built-in calendar improves work organization and allows for more effective processing of the collected materials. The templates for content and task organizing also help you with organizing your content – you can create your own templates for your team. In addition, you can integrate Evernote with Slack, Salesforce, Microsoft Teams, and collaborate more easily with your team.
2. Otter
Otter will be useful not only for journalists and editors when conducting interviews but also for those who come up with many of their ideas on the fly while performing other tasks and simply don't have time to write a detailed memo. The solution allows recording calls using a mobile application or a browser-based tool. Otter evolves using artificial intelligence. It can learn specialized terminology or recognize different voices.
The basic version of Otter is free and allows taking advantage of features such as transcription and recording. The other versions – pro, business, enterprise – are paid and offer more and more additional options. It's worth checking out one of the extended versions because the features such as the automatic creation of a note from a conversation on Zoom will certainly simplify your daily work.
The interesting possibilities offered by the paid versions of Otter include real-time audio transcription. The prepared text version of a note or an interview can be quickly sent to other users for processing, as the application allows collaboration, creating groups, as well as sharing recordings and notes.
Companies and freelancers will appreciate the fact that the tool can be integrated with Zoom, thanks to which it'll take only a few moments to summarize a company or business meeting.
3. Ulysses
The publisher tools are usually multifunctional. Their appearance can be personalized to some extent to increase the comfort of work. They have different styles to use when formatting texts and the option to define new ones. Broad options of formatting and creating styles are offered by Ulysses – an application for Apple device users, for which styles can be created or downloaded from the Ulysses Style Exchange. Ulysses is supposed to make it easier for the author or editor to work with the text on a daily basis, using only a keyboard (navigation doesn't require a mouse).
Source: Ulysses
Ulysses allows you to work comfortably with minimalistic equipment, which makes it a dream tool for writing, especially for publishers and editors who work remotely from different locations.
Just writing down the author's thoughts isn't the end of the work on a text. The next step is editing, covering highlighting the headlines, highlighting the relevant passages, and more. There are many publishing tools created specifically for this purpose.
4. Manuskript
Some applications allow you to group the tools necessary for a specific type of project, e.g. for working on documents or literary fiction. Manuskript allows the user to define and use different operating modes. This software is sure to interest publishers working on many types of publications, popular science articles, and fiction. It's convenient when working with large texts, as it allows quickly organizing parts of the text into chapters and adding notes. The authors of Manuskript also try to minimize the likelihood of distracting the article creator by providing the option of writing in full-screen mode.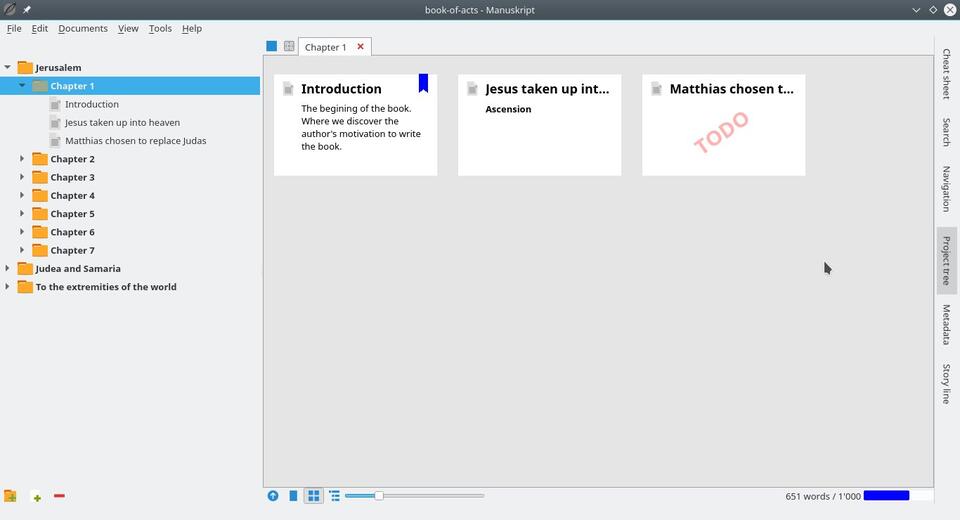 Source: Manuskript
Typically, writing and editing tools allow exporting files in various formats, managing the work on texts and projects by grouping them into folders, adding labels or describing with key phrases or other useful information about a given project. Many of them (like the aforementioned Apple application) allow users to create a list of goals for a given day in the program and save the dates of completing a given project. Automatic saving of changes and making backups are also standard.
5. Grammarly
Grammarly is one of the most recognizable text correction tools (in terms of grammar, punctuation, and spelling) on the market. It comes in the form of paid software and a free Chrome extension.
Currently, Grammarly is only used to edit texts in English, but it's worth noting that it's been adapted to work with various dialects of this language (American, British, Canadian, and Australian). Enabling the tool while working, e.g. in Google Docs in a different language, may cause Google to stop automatically indicating errors. Therefore, for other languages, it's worth looking for an equivalent of this tool on the local market or one that supports many languages, e.g. LanguageTool.
What exactly can Grammarly help an editor with? It detects stylistic, spelling, punctuation, and grammar errors, as well as suggests corrections. Proposals for changes to the text appear not only in the documents but also in selected applications, e.g. an e-mail application or chat. The paid version, apart from verifying the grammatical correctness, can provide useful synonyms or ensure compliance with a predefined brand style. It helps the author to maintain consistency in the brand communication by detecting the level of the text's formality and advising on changing the colloquialisms and abbreviations. The app also allows assigning roles to users, so that only the authorized people can define the style. It also has tools for creating reports on the use of the application.
6. Surfer
The editors and authors preparing texts for publishing online need also take into account SEO content optimization. There are many tools allowing you to evaluate and improve your article visibility on the web. One of them is Surfer – an application that helps the user to optimize every element of a company website, including blog posts.
The tool not only suggests which and how many key phrases should be introduced into the text but also evaluates internal and external linking. The built-in Content Editor allows creating text in Surfer, thanks to which the author receives useful tips while writing an article.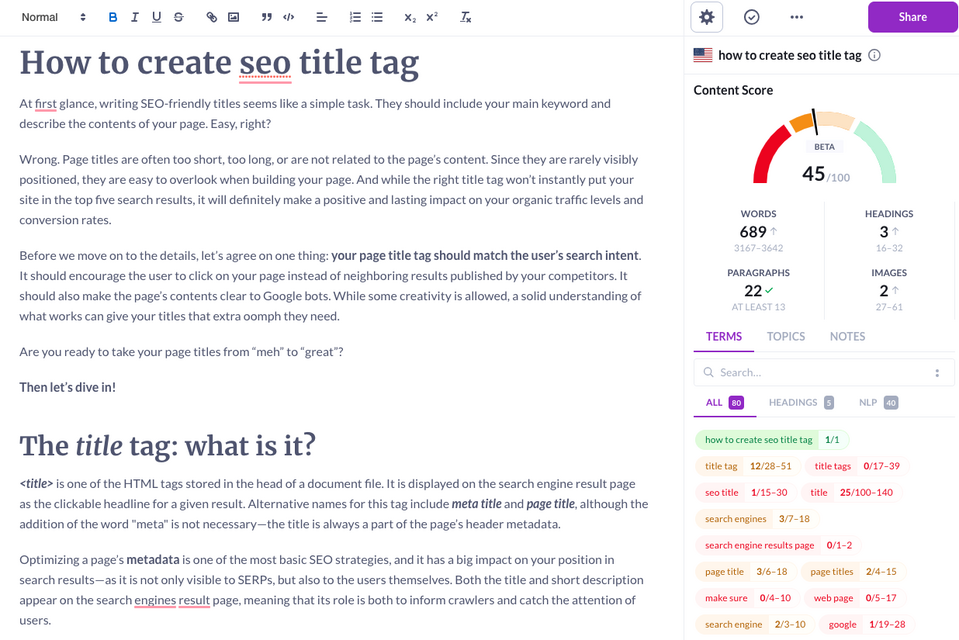 Source: Surfer SEO
The visibility of the published content in the browser is one thing, but you shouldn't forget about the visual appeal of the article. Texts on the web are most often accompanied by a graphic element that attracts the reader's attention and motivates them to read the content. It's worth choosing an easy-to-use but functional tool.
7. Canva
Canva is an easy-to-use yet powerful web and print graphic creation tool that runs in your browser. It's used by advertising agencies and freelancers, professionals, and amateurs. It's available as a paid and free version.
The free version of Canva already gives you access to a large number of interesting templates and graphic elements to use. In addition, the user can add their own photos and graphics from which they want to compose a project. This tool is suitable for editors creating social media publications and blogs, as well as marketing and advertising staff. It allows quickly designing posters, leaflets, and even promotional newsletters. It's used to efficiently create graphics based on templates, using the available illustrations and photos, or from scratch – from your own materials. Canva also allows creating multi-page, text-heavy documents, magazines, and infographics.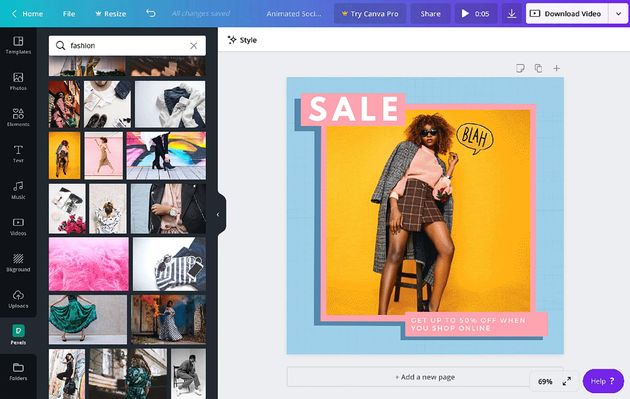 Source: Canva
This graphic design tool offers some useful functionalities. It allows sharing the content on social media, as well as exporting the project in many formats. It's also possible to share projects with other users and collaborate with them.
Publishing is a complex and lengthy process. The applications used for this purpose are often operated from the browser level. Many distractions await editors and publishers on the Internet. Are there applications that can help increase the productivity of these specialists?
8. RescueTime
RescueTime will increase the productivity of not only editors and publishers but also any other specialist. It'll certainly be liked by those who work on increasing work efficiency (freelancers, people working remotely). That's because this application is used to monitor the working time. It's available as a Lite (free) and Premium version.
The application measures how much time you spend on the computer and certain websites. It'll indicate how long you perform valuable research or work on company platforms, and how long it takes you to browse Facebook. This way you'll find out how much time you actually work and how much time you waste.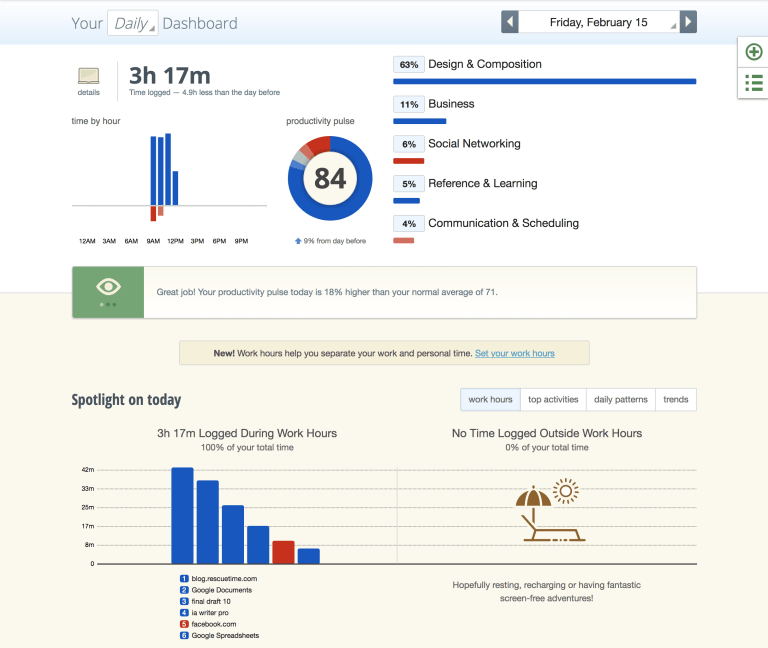 Source: RescueTime
Before using this tool, you need to complete a survey about your style of working (or studying) and career goals. The application will not only measure the time of specific activities, but also remind you about meetings, inform you at what stage of achieving your daily goal related to focusing on work you are, and it'll motivate you to meet the daily norm.
You may be also interested in: 6 Ways to Improve the Productivity of the Editors Publishing Content in CMSs
CMS tailored to the editor's needs
Large companies often choose professional publishing platforms that allow not only creating beautiful publications but also selling them online, conducting promotional activities, etc. Instead of choosing advanced applications or using many tools available on the web at once, you can opt for a multifunctional publishing CMS that you can adjust to your individual needs.
The best editorial experience is guaranteed by publishing tools designed to meet the individual requirements of a given editorial office. By using the Drupal agency services, you can choose useful Drupal modules and integration tools to build a content management system that'll respond to the problems that your editors and you – the publisher – face on a daily basis. You can bring together all the functionalities of the applications described above within a single CMS to work smarter and more efficiently.