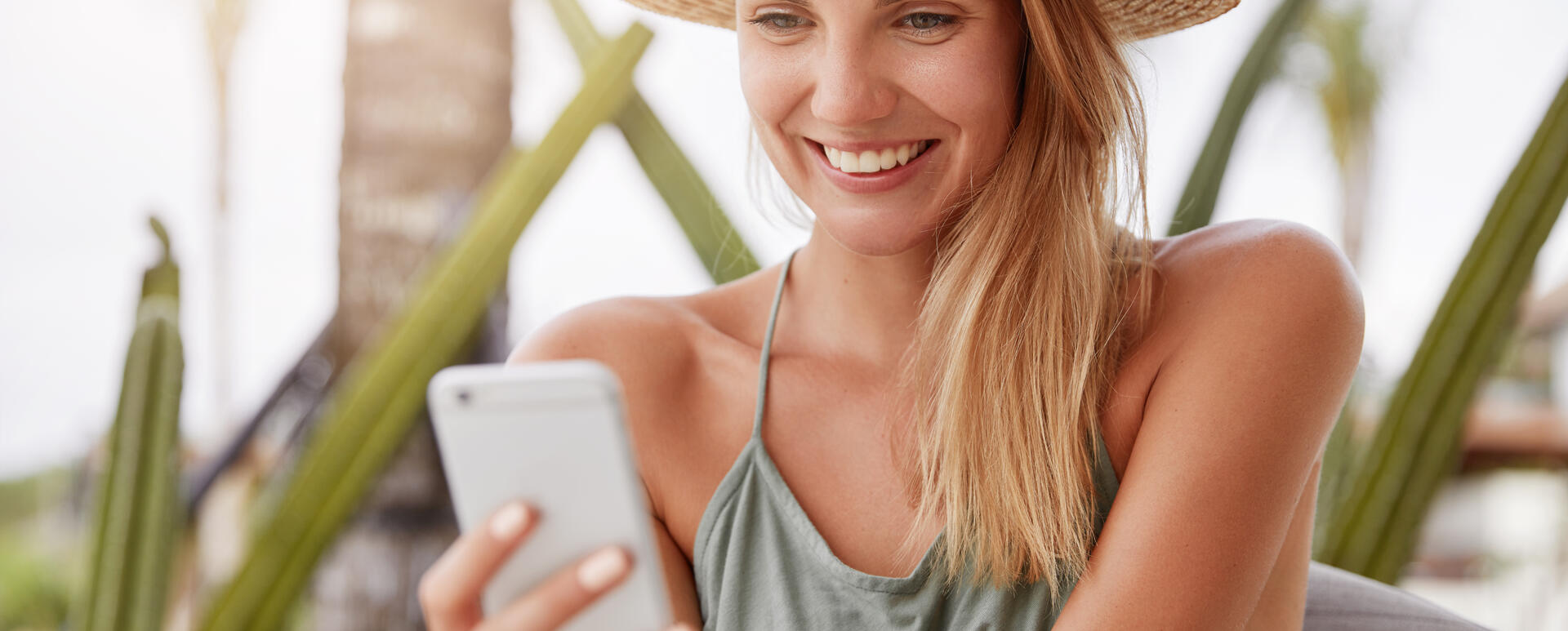 Comment System. Which One to Choose for Your Website?
Comments sections on the online platforms encourage users to interact. They can share their opinions after reading the article or join the ongoing discussion. As a person responsible for the website, you can also take part in it, showing the human face of the brand and its willingness to dialogue. To simplify this task, you need a solid comment system. We'll advise you on how to choose such a tool and show different solutions available on the market.
Selecting a commenting system
Some people wanting to add a comment section to their platform go with what their CMS (content management system) natively offers. It might be sufficient for them, but if you're still hesitating about what tool to pick, it's better to analyze all possible options.
There's a wide range of commenting systems. To make your decision process easier and faster, we encourage you to gather your expectations for such a tool. While doing it, you can take the below aspects into account.
Availability. To leave a comment using some systems will require a user to log in (to the account on a particular platform). This will limit the possibility to comment only to specific groups of people. However, at the same time, it'll give you more control over who is taking part in the discussions, as you could blacklist spammers or the users violating your commenting policy.
Ease of use. It's easier for the users to just freely share their opinions without the necessity to create an account and then remember its credentials.
Moderation features. In some tools, you'll be able to determine if the commenters have to register, log in, or not. It'll also be possible for you to moderate comments, f.e. to hold the ones that contain links. This way, you can react against spammy content as it usually directs users to other URLs.
User experience. Check whether a particular solution gives the customization options. Using them, you can make your comments section look similar to the rest of your site design. It's also good to test how a chosen system works on mobile devices.
Ownership. If you choose a tool hosted and owned by some third-party company, you won't have full control over the created and stored content and other data. Also, the moderation options can be limited.
SaaS and social commenting systems
If you don't have a comment tool on your website or need some features that this solution doesn't contain, you can take a look at the third-party systems. In this category, there are SaaS (software as a service) tools that are developed, maintained, and hosted by external companies (such Disqus), and social commenting systems (owned by the platforms like Facebook). Let's take a closer look at these solutions.
Disqus
Disqus is a plugin that you can install on any website. Everyone who wants to share their opinions on a webpage having this commenting system needs to either create an account on the platform or use the social media profile. Once a user has the account, anyone can click on their nickname to see which discussion they took part in and follow them. When someone becomes a follower, they see the recent comments of a chosen person on their homepage and can easily join a particular discussion.
Pros
Disqus has quite a few features boosting a discussion. After adding a comment to an article using this system, a user gets an email notification every time someone replies to it or leaves a new opinion under the original text. This way, users can be up to date with the conversation and easily rejoin it. A user can also up or downvote a particular comment and share it on their social media profile. The latter helps build your article reach.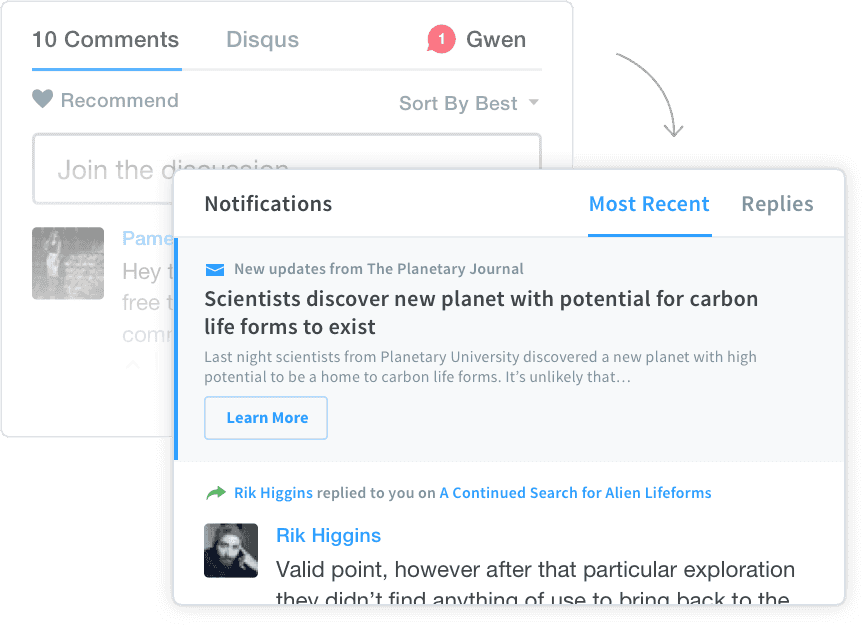 Source: Disqus
Information of user activities (visible on their profile) gives you an image of their reputation. You can see how other people reacted to their answers, how many comments they added, and how many of them were spammy. It'll help you identify trolls and spammers in your moderation process once you choose the pre-moderation option in the admin panel.
Cons
Disqus has paid and free versions. The second one - a basic plan - has ads. Not only can it be irritating for the readers, but also some of the admins as they can't control how their users' data is processed. There are also website owners who complain that Disqus slows down their pages' loading time. Another disadvantage, from the users' perspective this time, is that they have to have a Disqus or social media account to join a conversation.
IntenseDebate
IntenseDebate is a free comment system that you can install on your WordPress, Blogger, or Typepad website. You're also able to integrate it with other platforms using a generic snippet of JavaScript.
Pros
Like Disqus, this tool has strong community features. It has threaded comments so the users can easily jump into a particular topic. They can also vote for their favorite opinions and help others earn reputation points this way.
Although to comment the reader needs to have an IntenseDebate account, the admin can allow sharing thoughts without it (guest commenting) or with the Facebook or Twitter accounts.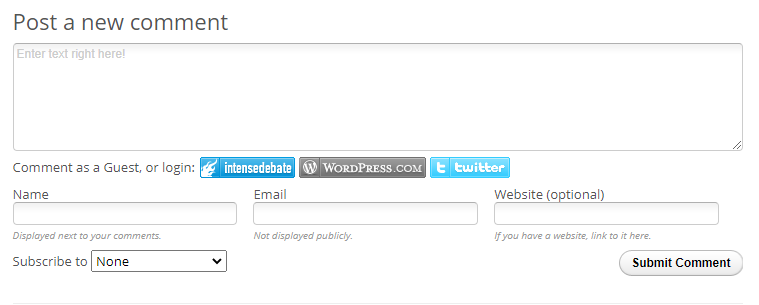 The usage of IntenseDebate comment system on All Roads Lead to the Kitchen blog
Like Disqus, this system sends email notifications when a user gets an answer to their comments. What's more, they can respond directly via email. In the same way, the admin can moderate a discussion. Regarding such control, you can hold all comments in moderation, and re-check approved comments for spam, to name a few.
Cons
Although the IntenseDebate interface is clear, its design is outdated. It might be because the system isn't regularly updated. Some people also report that their users encounter difficulties while trying to comment using this tool on mobile devices.
Facebook Comments Plugin
The Comments Plugin lets your readers share their opinions on your articles using their Facebook account. You can add it to any website and blog. The tool gives you some of the options you have on Facebook such as liking the comments and sorting them from the most relevant, the newest, or the oldest.
Pros
While writing a comment with this plugin, a user can check a box with the option "Also post on Facebook". Once the comment is visible there, it can be shared and further discussed. All these increase the reach not only of the original comment but also your article.

Facebook Comments Plugin on the Hootsuite blog
Using the Facebook account identifies the commenters so you can see information about their location, school, job title, etc. (depending on their profiles' privacy settings). It gives you a better understanding of who reads and comments on your articles. Also, posting with the Facebook account holds some people back (obviously not everyone) from publishing trolling or offensive content.
The same as the already described tools, the Comments Plugin offers moderation possibilities. Using them, you can approve or hide a particular piece of writing, as well as report it as spam. You're also able to see the comments reported by other users or Facebook.
Cons
By choosing this solution, you exclude people without a Facebook account from a discussion. Also, the social media platform owns this system, so you have less control over it, and once its provider disappears, all the comments will be gone. Even the Facebook API changes can impact the work of this plugin on your website (f.e. when some updates will conflict with it). Another disadvantage is the design. It's consistent with the Facebook look, but it might not be compatible with your webpage's aesthetic.
You may find this helpful: What to take into consideration when choosing a CMS platform?
Commenting tools on CMS platforms
Your CMS can contain a functional comment system or offer handy plugins enabling such features. Below we show some examples of such solutions.
WordPress
WordPress offers a commenting system by default. You can turn it on for a page or post to get several text boxes (Comment, Name, Email, and an optional field - Website) your readers need to fill in to add their opinions. You also have the Comments dashboard where all submitted comments land. They are ordered into the tabs: Pending, Approved, Spam, and Trash. You can set whether a comment should be published immediately or held for approval.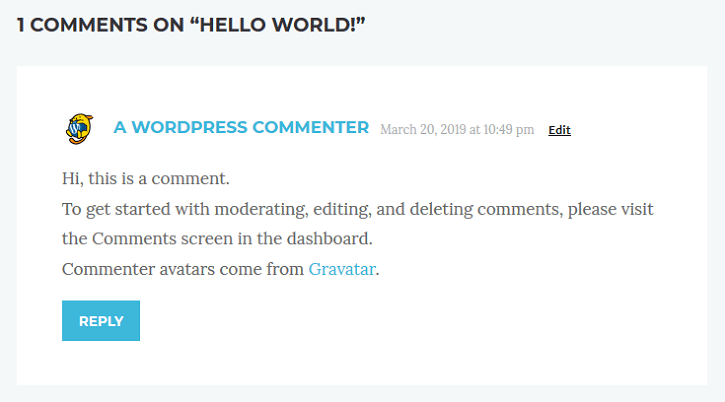 Example of a WordPress comment. Source: CPO Themes
Here are the advantages of this solution:
You can have it natively without installing any third-party software.
The readers don't have an account to leave a comment.
Easy and intuitive commenting experience.
However, due to its simplicity, the WordPress tool lacks some functionalities. We mean here up or downvoting the comments, social media integration, or response notifications. Also, only the site admins and the content author are informed about comment-related activities.
To extend the basic functionalities, you need to install the dedicated plugins. There are many of them. With Jetpack, the readers can use their WordPress.com, Facebook, or Twitter account to comment. Akismet protects websites from spam comments and contact forms. The first plugin is free for non-business and personal use, the second - works without charge, but to get the advanced features you'll have to pay.
Drupal vs WordPress which CMS should you choose?
Drupal
In Drupal, you can add the comments sections with the additional modules. Drupal contains the Comment module in its core, so you only need to enable it in the settings. With this tool, the users can add comments and control their display (newest or oldest first) and the number of comments on a page. By default, Drupal informs only the site members about new comments. After installing one of the comment notification modules, users will be able to request Drupal to send them emails when new opinions appear.
In the Comment module, you can allow readers to post comments without the administrator's review or require previous moderation.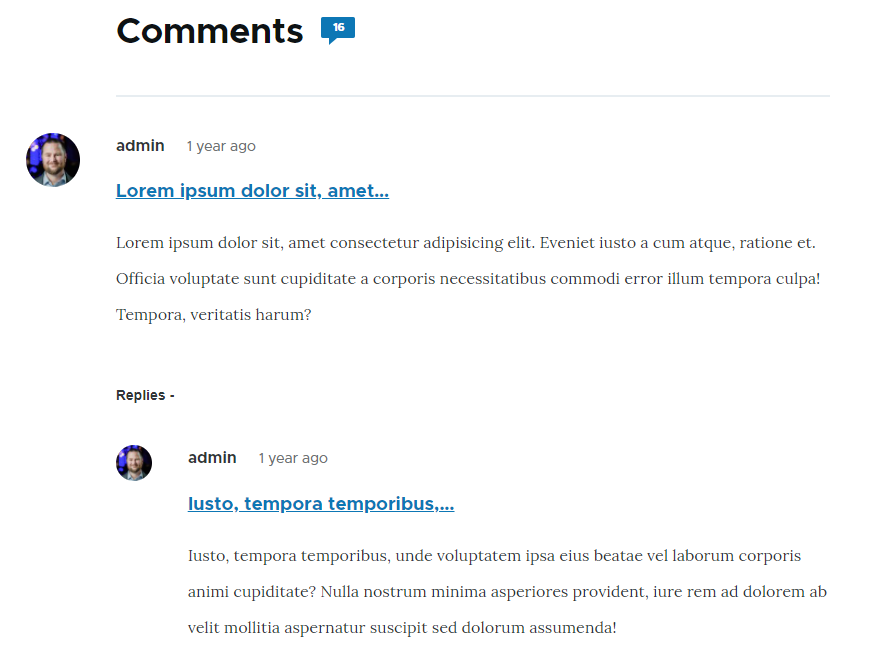 The comments section in Drupal 9 with the Olivero frontend theme. Source: Tugboat Preview
The upsides of Drupal comments:
All modules related to them are free.
You can customize the comments in many ways, f.e. by adding fields and changing the layout.
You don't have to worry about Drupal security. You only need to do the regular website updates and follow best practices from the Drupal Security Team. And to fight spam, you can use a handy Captcha module.
Although Drupal offers great flexibility regarding comments, it requires more setup (like styling comments for desktops and mobile devices, setting permissions for editors and visitors). What's more, to let the users join a discussion using their social media account, you'll have to install a separate module. If you'll need help with comments configuration or selecting and implementing the right module, consider Drupal support.
More marketing possibilities
Owning the comments on your website, you can use them to personalize content for your identified visitors (who left their email addresses in your database) using marketing automation platforms like Mautic. It has a Dynamic Content Feature. Based on information gathered on a particular user, Mautic shows visitors a customized message once they come to your website again.
Which comment system is the best for your website?
As with every tool, choosing a comment system depends on your requirements. If you don't mind storing the users' opinions on some third-party platform and don't need advanced customization options, you can go with systems like Disqus or Facebook Comments Plugin. But if you want to keep the comments on your server and have more control over their look and feel, consider using the tools natively built in your CMS or the possibility to add them with dedicated plugins or Drupal modules.