6 Content Analysis Tools for Your Website
Choosing the right tool for analyzing the content of a company website depends on individual needs. Every company has a different content strategy and history of activities in the area of promotional content creation. You may find many free and paid platforms with interesting functionalities on the market. Check some of them out.
Why is content marketing so important?
The content that you can use to promote your brand isn't only the texts on the subpages of your website. The high-quality content that allows for creating a strong bond with internet users also includes blog articles and many other types of content. Everything you publish can be used in content marketing. Good content allows the company to:
generate more traffic on the website - a large amount of high-quality content enables website positioning for several phrases and thus increases the brand's reach,
extend the session time - thanks to having many related types of content on your company blog, you have the chance to influence the time that customers spend on your website, and thus the probability that they'll make a purchase increases,
build the image - the company's activity in the form of publishing professional industry articles says a lot about its experience, knowledge about a given market, and attitude towards its customers.
The supporters of your brand will be willing to engage in promoting interesting materials by sharing them in various communication channels, but in order to reach them, you must first make sure that your content is visible on the web.
What influences the quality of your publications? First of all, you should take care of the substantive value of the text. It should be useful to a potential reader. Equally important is the linguistic correctness and clarity of the text (the Internet users pay a lot of attention to the aesthetics of blogs), which you can achieve thanks to well-thought-out formatting. It is worth creating content that can be easily recycled. Appropriate tools for editing will make it easier for you to work with text.
Content analysis platforms and SEO
Don't forget to also optimize your publication for SEO. Content marketing is strongly related to website positioning. The high quality of content is an important ranking factor for Google. There are numerous guidelines for website optimization to increase its visibility on the web (such as preventing content duplication). The published texts should contain relevant keywords (appropriate for the topic of the articles or the industry in which you operate).
To take care of the visibility on the web, you must first have access to a platform that's able to indicate the current position of your web page in the search engine. You need the right tool that'll allow you to evaluate the results of the articles already published on your website and help you better plan your content marketing strategy in the future.
Content analysis tools
On the market, you may find many interesting applications that'll allow you to create better content and check out the results of the publications that already are on your website. It's also worth using platforms for monitoring the brand mentions in social media to see what types of content and topics are the most engaging. Many content analysis tools are multifunctional platforms that allow you to inspect the content on your web page in many aspects (internal and external linking status, SEO, and more).
1. Ahrefs
Ahrefs will surely be helpful at the stage of planning the creation of content that you want to publish on your website because it allows for analyzing keywords (checking the potential of keywords for a given industry), as well as suggests the right ones (related to the main phrase) for your brand. Before you start working on new texts (or commission their creation), it's worth examining how your company's competitors have approached the topic you chose. Moreover, if you plan to modify already published materials, Ahrefs is able to detect the differences between the content published on your page and the content from the websites of competing companies.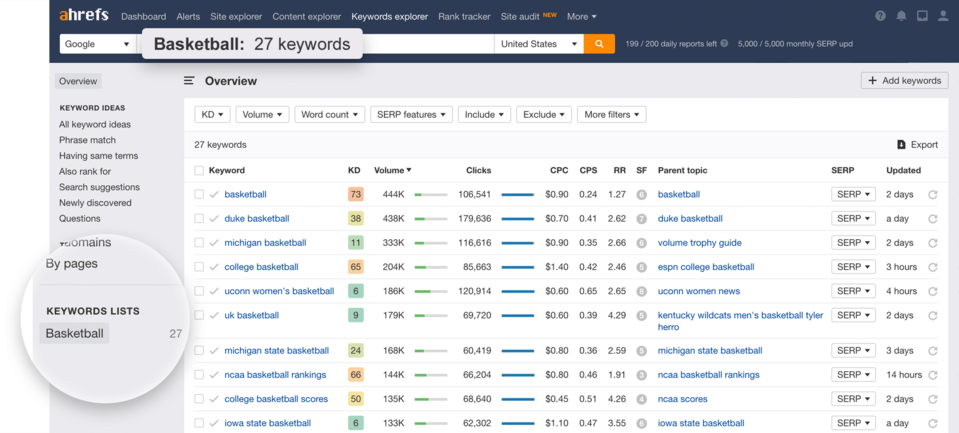 Keyword explorer. Source: Ahrefs
The platform will show you the keywords for which your company page isn't ranked and which are being effectively used for positioning by the brands similar to yours, thanks to which you'll create a better content strategy. This tool allows for checking out the website's visibility in various search engines and can display the pages that link to your domain. With Ahrefs, you can also perform an internal linking analysis and improve the navigation on your company blog.
2. Moz Pro
Another tool useful for content planning is Moz Pro. It'll let you search for the keywords that are relevant to your brand and show you how difficult it'll be to get a high search engine ranking for a given keyword. You'll also receive information on the potential of these keywords in the organic traffic. The platform also offers a function that suggests ideas for article topics.
Moz Pro is easy to use. You can create, modify and track the groups of key phrases related to your industry thanks to the Keyword Lists functionality. The platform also allows for performing a SERP analysis, which helps understand what parameters affect the high position of websites in the Google search engine.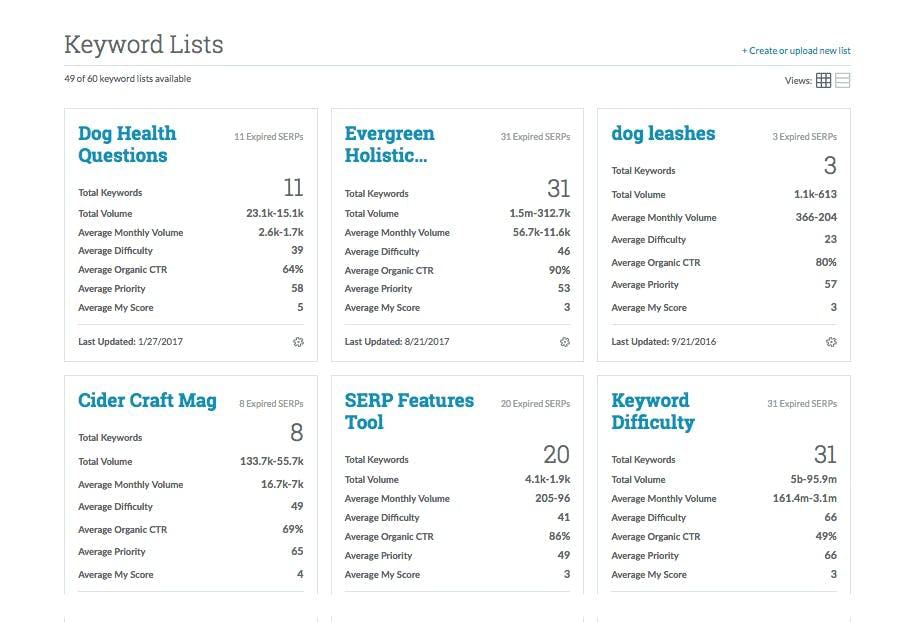 The Keyword Lists function provides the groups of key phrases related to a given industry. Source: Moz Pro
The tool makes it easier to optimize the website and assess its visibility for specific phrases. After the user provides the selected phrase and URL address on the platform, the website is rated on a scale of 1 to 100, based on how well it's optimized for a specific keyword. After checking the 27 factors that negatively affect visibility (e.g., presence of harmful phrases, unusual URL length, an unnaturally large number of links in the content, too short or too long meta description, etc.), Moz Pro gives you the result. After clicking it, you'll receive a list of recommendations for improvement worth introducing to the page.
3. Semrush
Semrush is a SEO tool that allows for analyzing key phrases, conducting an SEO audit of your blog and planning a content strategy. Thanks to the Domain Analytics function, you get a handful of important general information about your website after logging in to the tool. The presented metrics include organic traffic, paid searches, backlinks, and key phrases. Like most platforms of this type, Semrush has a keyword search engine that you can use to find interesting keywords related to your brand. The Keyword Magic Tool is also useful. It shows the average monthly number of searches for a given term. It allows you to determine the level of competition between pages fighting for a high position for a specific keyphrase.
The Keyword Magic tool allows you to search for keywords widely. Source: Semrush
Semrush supports text authors in creating content compliant with the SEO principles. SEO Content Template creates a template based on the key phrases selected by editors. The tool won't only suggest the recommended text length but also provide the related key phrases and the pages from which it would be good to obtain links to your website. Specific text optimization tips are created based on the actual content posted by the top 10 sites on Google for the phrases you choose. SEO Writing Assistant will allow you to quickly check the potential and uniqueness of your text in real-time.
As a user of this tool, you'll surely appreciate that it allows you to analyze the toxicity of the links you own. Not all links redirecting to your business website are valuable and improve its visibility. Semrush will advise you which links to other subpages you should remove, if possible.
4. Senuto
Among the paid tools for auditing online visibility, you can also find Senuto. It'll help you assess the position of your website in the Google search engine for the key phrases that interest you. Every company needs a website and must take care of its visibility - it's the first showpiece of your brand that potential customers will see.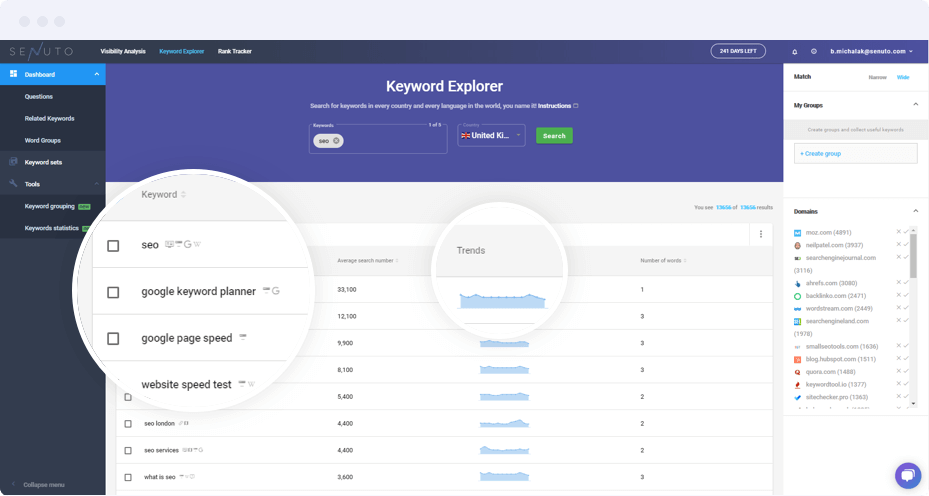 Keyword search. Source: Senuto
Optimizing a website for relevant queries is crucial for achieving high traffic on a page, but also for satisfying the Internet users. Potential customers are looking for specific services and products. If they go to a website displayed for their search query, and it turns out that the company offers completely different services, the customer's opinion about the brand may worsen.
Senuto allows for performing similar analyses of the competing companies' content so that you may discover new phrases for your industry. On the platform, you'll also find information about the phrases' potential, which has dropped or increased on a specific day. Thanks to the access to SERP history, you can also see what domains have historically occurred for selected keywords.
5. Surfer
Surfer enables its users to quickly evaluate and optimize the content of every element on a company website. SERP Analyzer, a service for analyzing the best practices used by the competitors, will help you with effective positioning. It'll provide you with screenshots of the Google bot so you can understand how the Google search engine sees your site. You'll also obtain valuable information about the resources on your portal, and you can learn how Google renders the page and plan the possible optimization of various elements of the page.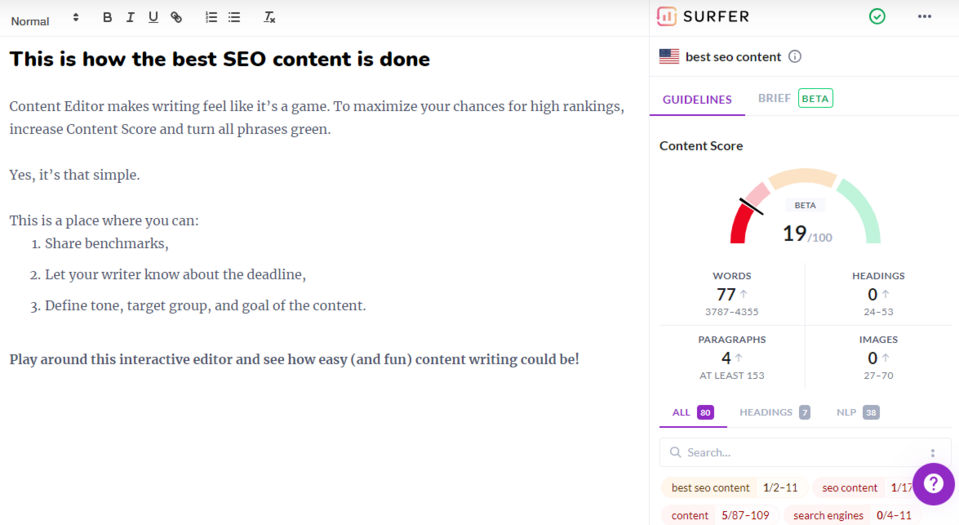 Content Editor helps with creating content for a given keyword. Source: Surfer
The users of this platform can also use a tool for analyzing internal and external linking, thanks to which you can better plan the development of linking and improve the navigation on the company blog. On the other hand, Content Editor is a text editor in Surfer which evaluates the optimization of text for SEO at the time of its creation. After entering the keyword you are interested in, words and phrases that should be used in the text to correctly position the page for the selected main phrase will be generated (you'll also learn how many times they should appear). This editor can also be used to optimize the content that has already been created. All you need to do is put a text in it, and you'll receive information about what words and how many of them you need to add to position yourself well for a given phrase.
6. Screaming Frog SEO Spider
Screaming Frog SEO Spider is an efficient platform with which you can quickly audit even quite large websites. It checks a page for the most common SEO errors and evaluates its internal linking, finds and indicates broken links (404 error). Thanks to this function, you can quickly solve page problems that affect the satisfaction of visitors.
Screaming Frog SEO Spider has a built-in meta title and meta description analysis tool. It informs you if they haven't been entered on the page, their length is incorrect, or they have been duplicated. Speaking of which, the platform also finds duplicate content on your page. Thanks to this, you can quickly remove or modify the content that negatively affects your position in the search engine.
The data from this tool can be exported to Excel, where you can further process it. The platform is integrated with Google Analytics, Search Console and PageSpeed Insights.
Summary
There are many platforms to choose from, and most of them offer a free trial period. During this time, you can check which tool suits you best. Properly selected, intuitive, and easy-to-use software can be used to formulate useful tips on improving the visibility of your website and its optimization.
Every page should have additional functionalities facilitating the evaluation and improvement of its visibility for the search engine. If you have a Drupal website, you can use the Yoast SEO module, which suggests the corrections to be made in the texts published on the page on an ongoing basis. Our experts can also help you with website optimization by conducting a detailed SEO audit.