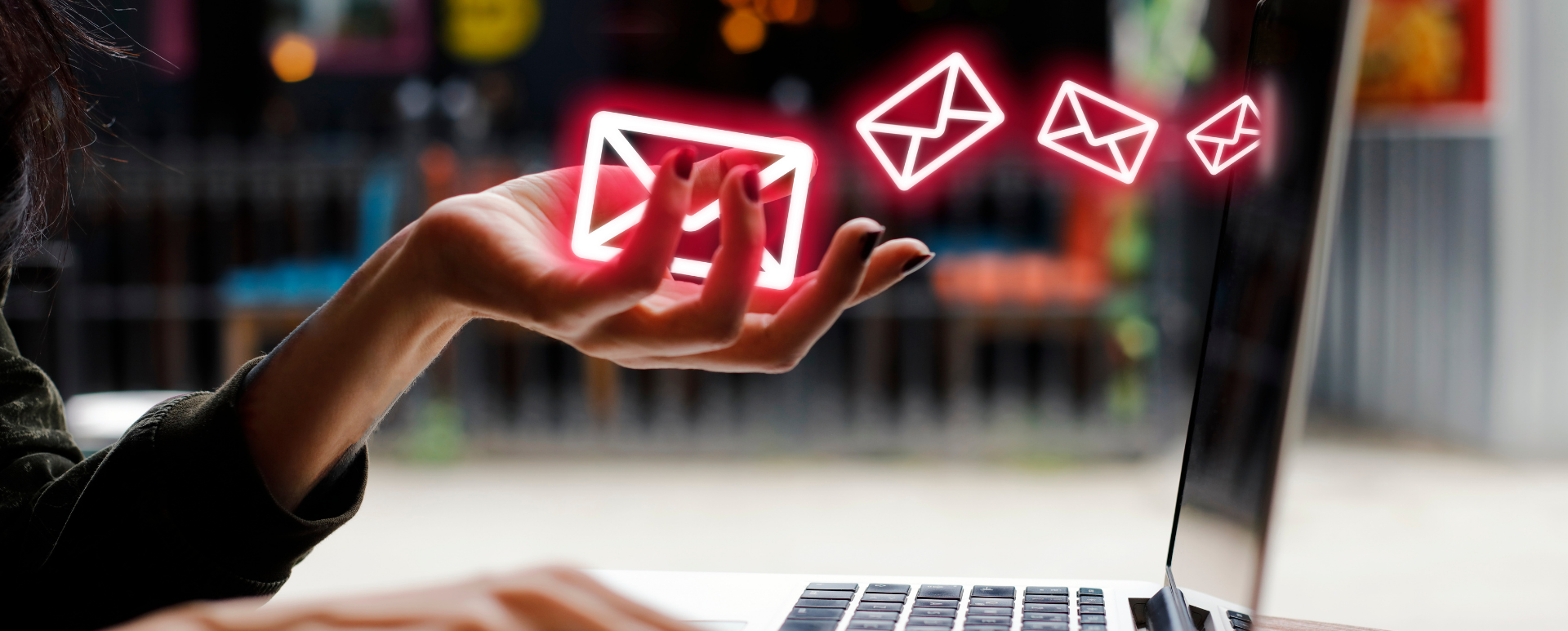 What Are Some Interesting Email Marketing Campaign Examples?
Email marketing is an effective and frequently used promotion and sales tool. However, it isn't enough to send a message with a description of the offer to increase sales and interest the customer. Every day, hundreds of campaigns are marked as SPAM by internet users. Fortunately, you can learn how to avoid it. Our article highlights examples of outstanding email marketing campaigns that will inspire you to make your own mailing.
What makes the best email marketing campaigns stand out?
The best-known brands have well-thought-out, detailed strategies that they regularly analyze and adapt to market conditions and customer expectations. The best companies run multiple email marketing campaigns at once (welcoming email campaigns, increasing sales, engaging the customer, etc.). Mailing is a marketing tool that can help you achieve many different objectives. Of course, before you start planning different campaigns, you need to ensure that you have quality contacts by building a quality mailing list. Once you've built a database of email addresses, you should focus on what makes a good campaign good.
The way you communicate your thoughts and suggestions is extremely important. Content should be tailored to the customer's needs – witty, humorous, emotional, or related to direct benefits for the client. CTA buttons, or more crucially, their placement and the words you put on them, matter even more. The effectiveness of a CTA saying, Learn more and another one that says Earn 10% more are completely different.
First of all, a good mailing campaign should be personalized. It's all about tailoring the content of your messages to the interests and expectations of different groups of your customers. This is made possible by audience segmentation – the process of creating groups based on data collected about potential and active buyers.
The best email marketing campaigns are also characterized by consistency with the communications published in other channels, for example, social media or your website. Adapt the graphics and the way of addressing the recipient of your campaign to your brand language.
Responsiveness of emails is yet another key issue. The users browse using computers and mobile devices. You never know what screen they will be viewing your message on. Perfect emails open correctly regardless of whether they are viewed on a laptop or smartphone.
When looking for inspiration to design your email marketing campaigns, look out for those that you find truly engaging. Your target audience receives hundreds of emails every day – it will be difficult to keep them interested. Successful campaigns involve added value for the customer in the form of entertainment, free, limited materials, or discounts.
It's also important to think about a proper graphic design for the email that you're going to send to your customer. Focus on original and custom graphics made for your brand. Although mailing tools offer interesting and nice templates, using eye-catching designs created with your brand in mind will allow you to build a consistent image and stand out from the competition.
Insurance email marketing examples
Customer trust is paramount for an insurance company. A carefully planned email marketing campaign can help you acquire it. Below you will find examples of well-thought-out activities.
Policybazaar's diverse email campaigns
Policybazaar is an Indian insurance company with a wide range of insurance products. The brand not only takes care of the visual design of its messages but also ensures their effectiveness by including specific CTA buttons (Renew your policy, Download the app) and all the important information in all the right places. Policybazaar adds a prominent CTA at the bottom of the message so customers can proceed to purchase as soon as they read the information.
The new product launch campaign is particularly noteworthy. The CTA appears right at the top of the message in the form of two brightly-coloured buttons. Then the customer will remember that they have the option to quickly contact the seller using the button and won't have trouble finding it in the message. The email itself contains information about the key benefits of the new product. They are presented clearly using graphics and short slogans. This approach ensures that the customer doesn't have to spend a lot of time reading and immediately sees the benefits of the product or service. At the bottom, there is also a clear indication of who the offer is aimed at – "For Delhi/NCR Customers only". This increases the likelihood that the right group of customers will respond to the message.

Source: SendX
The campaign to remind people to renew their insurance policy is also interesting. Such a message is practical in itself – thanks to it, the customer doesn't have to save the date. In the case of this particular message, the company uses personalization by referring to the customer's actual policy. The greeting includes the customer's first name, which increases their trust in the sender.
It's worth noting that the customer rarely makes important decisions without having detailed information, when it comes to the insurance industry. Policybazaar understands this perfectly, which is why they immediately provide relevant details concerning the customer's current products in their sales communications. Following the example of this company, it is worth including the most important details of the policy in the e-mail - its name, number, date of termination, amount, and key items. You can also personalize your mailing more by adding an incentive in the form of a customized additional offer if the customer makes the decision to renew the contract within a certain timeframe. In this case, the company uses a different solution – it offers additional services such as adding a family member to the insurance and more.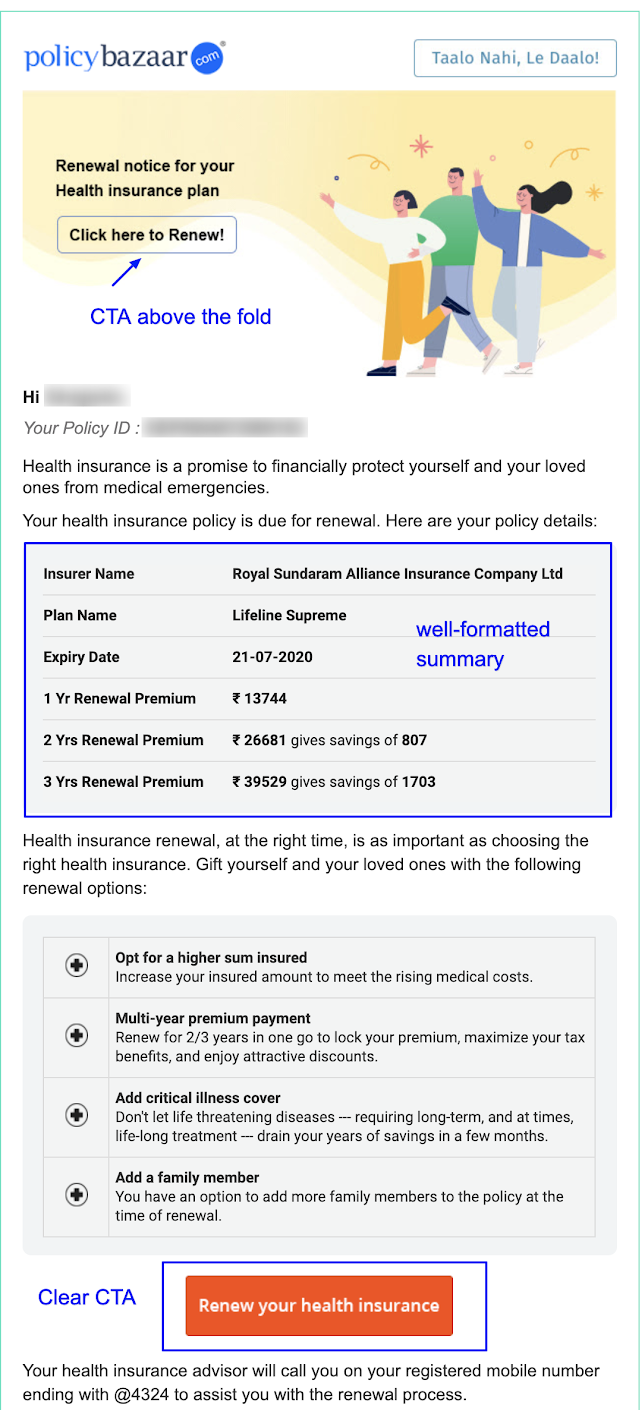 Source: SendX
Pets Best information and sales campaign
Pets Best, a pet insurance company, shows how to run an interesting campaign to inform and improve customer relations. At the top of the campaign, there are links to four articles on different topics, half of which refer to pet diseases – any pet owner can look at the content they might find interesting. Below, the brand promotes a service available to their customers – a special communication channel, which they can use to consult a specialist if they notice any worrying symptoms. This way, the company shows that they can help while inviting you to read the blog. Thus, this campaign fulfills three purposes: promoting products, generating website traffic, and improving brand image.

Source: Pets Best
The email also serves a sales function. Below, the message lists some of the services the customers can purchase for their pets. Graphics are accompanied by brief descriptions. Additionally, the company tries to urge the customer to buy, offering additional discounts.
Restaurant email marketing examples
Restaurants are outdoing themselves in creating interesting email marketing campaigns, which capitalize on customers' love of food, cooking, or just socializing. Foodservice establishments have many ways to actually do this.
Personalized email marketing by ASK Italian
We all like it when others remember our birthdays and even more when they give us a gift. English Italian restaurant ASK Italian has taken advantage of this simple fact of life.
Instead of sending an email on the customer's birthday, it sends an email exactly six months before. This process can be automated using the customer data, which they certainly had. In this way, the brand stands out from the many others that will send similar messages closer to the customer's actual birthday.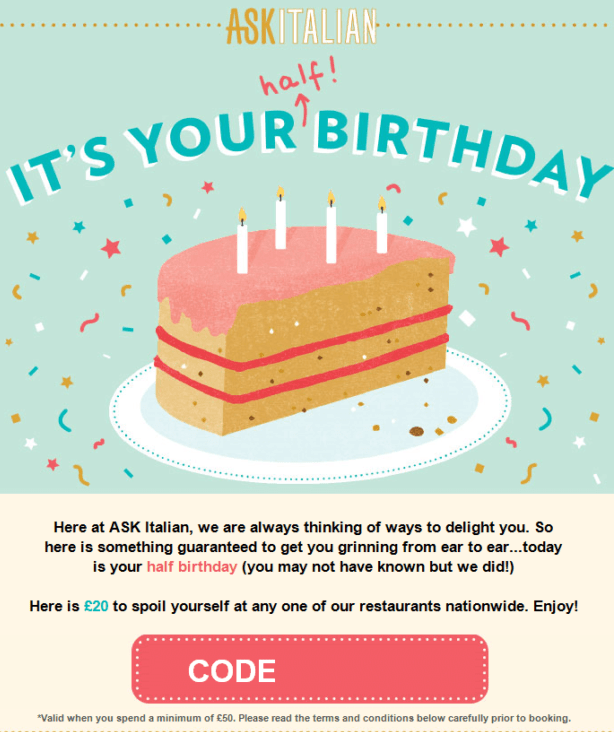 Source: ASK Italian
In addition to the friendly message, the client received a discount code for their next order – a popular gift. By sending this message half a year earlier, the pizza joint can be sure of one thing – that the offer to go and spend time there will stand out from among numerous competing offers, which will probably end in the mailbox on the customer's actual birthday.
Additionally, the brand not only incentivises going to the restaurant and getting food there but also demonstrates its flexibility by allowing the customer to use the code in any of its restaurants across the country.
Win-back email campaign by Patina Restaurant Group
Patina Restaurant Group is a company bringing together restaurant and catering groups. Every organisation has customers whose interest in the brand has waned, despite having previously made purchases. Like Patina Restaurant Group, you can use a win-back campaign to win the hearts and minds of your customers.
The company created an elegant campaign to remind the customer of the brand and help them update their information. First, the brand explains the reason for sending the message (which in this case has to do with the customer not opening their marketing emails) and then asks if they still want to receive messages about planned events and deals. In the message, the brand gives the customer a choice that is respectful to the recipient and evokes positive emotions. The customer is first offered the opportunity to update their profile to ensure that they'll only receive messages that are tailored to their needs. Underneath the information is a corresponding CTA that will let the customer go to the account management site.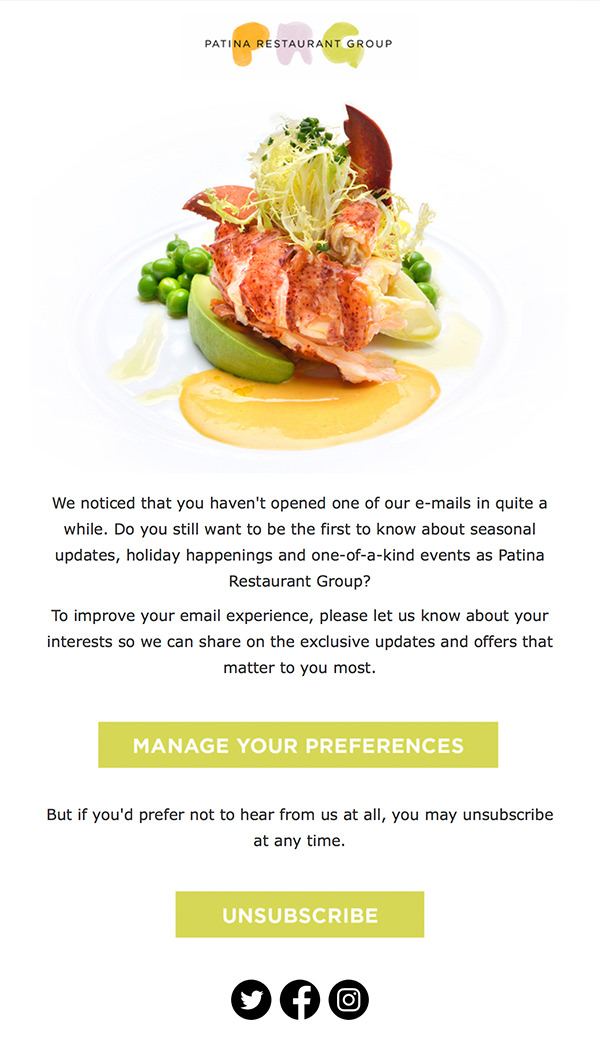 Source: Emma
At the bottom of the email, the brand informs the customer that they can also unsubscribe from the newsletter (accompanied by a corresponding button so that the customer can do this quickly and seamlessly). By making it possible to unsubscribe, you ensure the quality of your mailing list by regularly purging it of contacts who aren't interested in your campaigns. By creating a similar campaign, you'll improve your image and implement the mailing list management best practices. This gives you the chance to re-engage the customer in the campaigns conducted by your company.
Hotel email marketing campaign examples
Mail communication between hotels and their customers can be extremely elaborate. In addition to numerous automated messages (booking confirmation, check-in reminder, or summary of services at the end of the stay), it's also good to take care of proper promotion.
Occidental email campaign aimed at building customer loyalty
Different customers have different potentials. Some brands focus on business customers who regularly travel for business trips or meetings, while others invest in attractions and relaxation zones, focusing on tourists. Regardless of your target audience, it's important to select a group with whom you want to build a particularly positive emotions and boost their loyalty. Remember that attracting a new customer can cost much more than retaining an existing one.
Occidental Hotels & Resorts created an email marketing campaign aimed at customers who could potentially become valuable, loyal ones. At the top of the message, there is a bar that lists the advantages of booking accommodation immediately, such as priority in restaurant reservations. The brand thanks customers for their loyalty and offers them a 10 percent discount in the form of a promo code. It also uses a clear call to action – Book Now – and an aesthetically pleasing design that evokes pleasant associations. In the message, you'll also find information that the offer will expire soon, which is an additional motivation to book a room as soon as possible.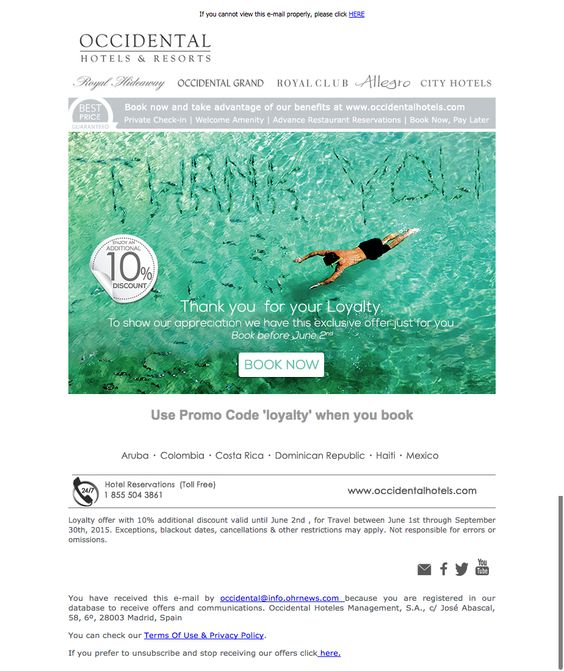 Source: ActiveTrail
A feedback mailing campaign by Amba Hotels
Do you want to survey your visitors' satisfaction or gather additional information to improve your hotel's service? You can invite customers to complete the survey by including a link in an email, as the Amba Hotels brand did with their campaign.
Right from the get-go, the company points out a benefit offered to the customer for participating in the satisfaction survey – an opportunity to take part in the Amazon gift card raffle. This gives the customer a specific reason for completing the survey or answering the question. Below, there is a link redirecting them to the survey. It's worth noting the original CTA: "VIP's this way". This highlights the potential customer's value to the brand and inspires them to join the chain's elite customer base.
The email message is very simple, both in terms of content and graphic design. Reading it doesn't take long, so the customer doesn't feel like they are wasting a lot of time and can quickly move from reading to completing the survey. There are also Find your hotel and Book now buttons on the top right-hand sidebar, allowing the recipient to re-book a suite.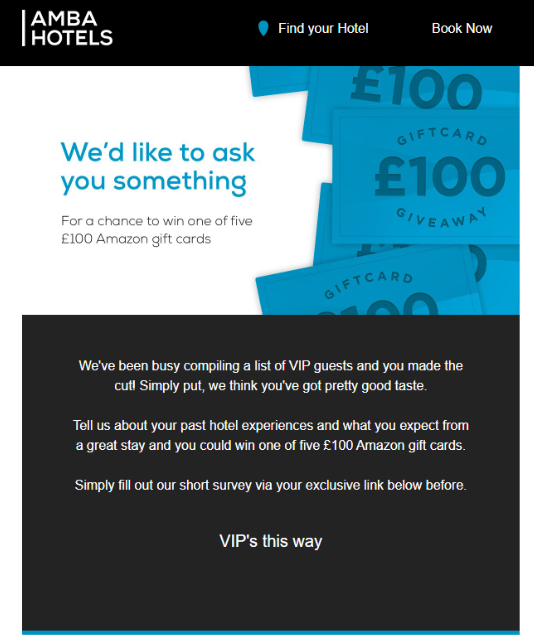 Source: eSputnik
These types of messages not only allow you to get relevant information for the company but also increase customer satisfaction (by showing the customer that their opinion matters to the company) and engage them in various actions (completing surveys, viewing content, participating in contests and raffles), strengthening their relationship with the company.
Ecommerce email marketing examples
The ecommerce world is rife with competition. In particular, small and medium-sized online stores need to pay extra attention to the unique and effective marketing campaigns to win the hearts and minds of customers who would otherwise choose the biggest marketplaces. What are some examples of unusual and interesting ecommerce email campaigns?
Email marketing campaign attracting new customers - Bombas
Bombas is a brand selling underwear for children, women, and men of all ages. To attract new customers, they suggest their existing clients to invite their friends to take advantage of their offering.
We often share information about high-quality products, great vendors, and low-cost stores of our own accord with our loved ones. Bombas takes advantage of our willingness to recommend products to others. The company offers an incentive: two free pairs of socks for referrals and something to tempt your friends to buy from the store – 25% off their first order. What's more, it clearly instructs its customers on how to invite new people so that they receive a gift of socks.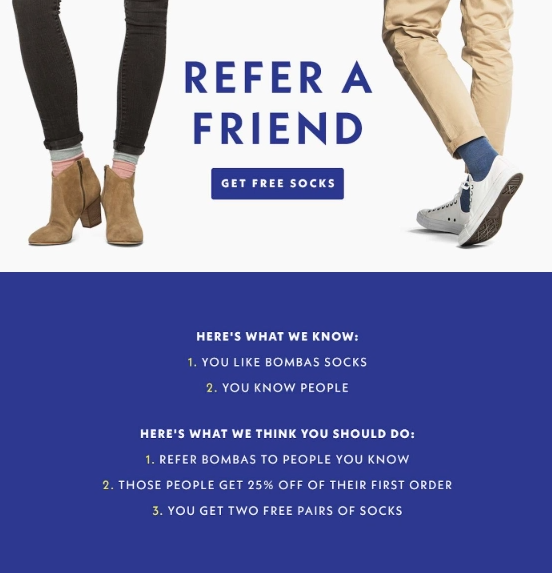 Source: Sleeknote
This campaign gives Bombas a chance to attract new customers and reward existing ones for this small favor, increasing their satisfaction. The company involves its target audience in promoting its brand, which is often very effective. Many companies use similar campaigns to make their customers their brand ambassadors. Small gifts and courtesies increase their satisfaction and loyalty.
LALALAB's welcome email marketing campaign
LALALAB is a small company that wanted to create an easy way to print and present photos from smartphones in various forms (albums, calendars, posters, and more). For example, the company can help customers with making a custom calendar with photos of their families.
Their welcome campaign for new customers is especially noteworthy. In most cases, welcome emails are sent automatically immediately after someone signs up for a mailing list. While there is nothing wrong with that, you have to remember to personalize your message, just like LALALAB. In their welcome email, they go with a relaxed and direct tone. The message is signed by a specific person (in this case, Chloe) who directly addresses the recipient.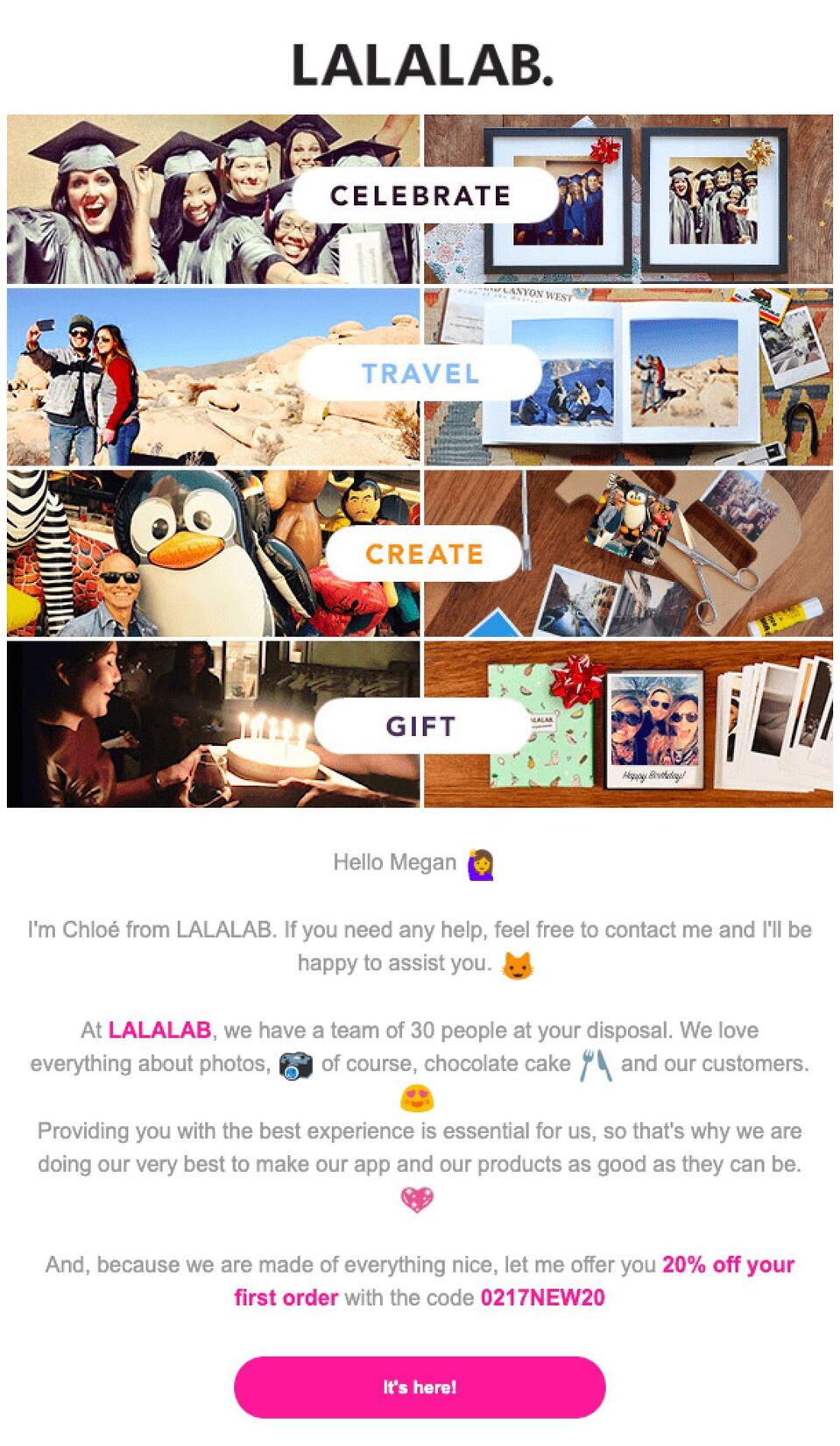 Source: MailerLite
Warm reassurances that the customer is extremely important to the company means that in the event of problems, the customer will certainly quickly decide to contact the customer representative directly. The recipient sees that they are cared for. Giving a gift – of a freebie, discount or free delivery – also makes a very good first impression. LALALAB gives its customers a discount on their next order, which they can take advantage of by entering the code in the appropriate field at checkout or by proceeding to order by clicking the button in the message. Including a discount code in the message increases the likelihood that the customer will make a purchase.
Financial services email marketing examples
Most of us use applications and gadgets that facilitate quick electronic payments. There are many financial services companies that know very well how to run effective email marketing campaigns.
PayPal information and sales campaign
Almost everyone is familiar with the basic services that PayPal provides, such as instant online payments. However, not everyone is familiar with the company's entire offering. That is why PayPal creates email campaigns to introduce customers to its additional services and different faces of the brand. When someone takes advantage of the company's basic service, they will receive a polite, aesthetically pleasing email detailing some of the other services offered by PayPal that are worth taking advantage of.
They send their email campaigns frequently to not let customers forget about opportunities that can make their daily lives easier. In a campaign worth looking at, PayPal lists the advantages of using their services – greater security, reimbursement of shipping costs and an easier purchasing process. The message also includes a CTA button: Discover new stores with PayPal, which – when clicked – lets the recipient learn more about the services and PayPal's partners.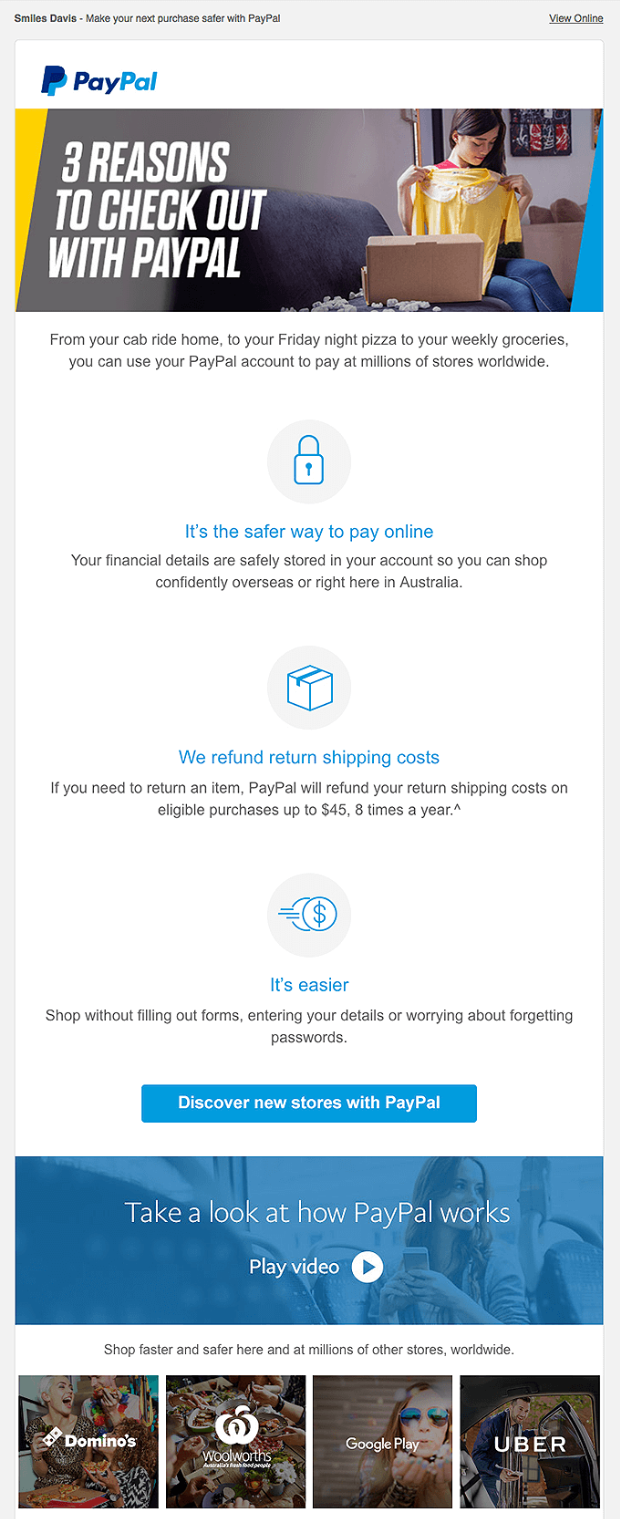 Source: Step Change
This mailing campaign uses aesthetically pleasing graphics and a video accessible with a single click, which allows the readers to learn how PayPal works. Some clients prefer this form of communication to text. In the message, PayPal also advises how to avoid dangerous situations and recognize which emails are sent by scammers. This knowledge is the added value for the customer.
Regular email notifications from Revolut
Email notifications are very important to customers in the financial services industry. They usually let customers know why the application or website looks or works differently, what new services are worth checking out and what changes in the regulations of the websites and services are being worked on.
The email marketing specialists at Revolut know well that notification emails generate high CTRs and engagement. The brand is careful not to send messages that don't provide tangible value to the recipient. The company has taught its customers their emails always contain important information – for example, about changes in the terms of service or confirmation of making changes in the application. A well-run campaign with notifications can teach the customer to open all messages from the brand.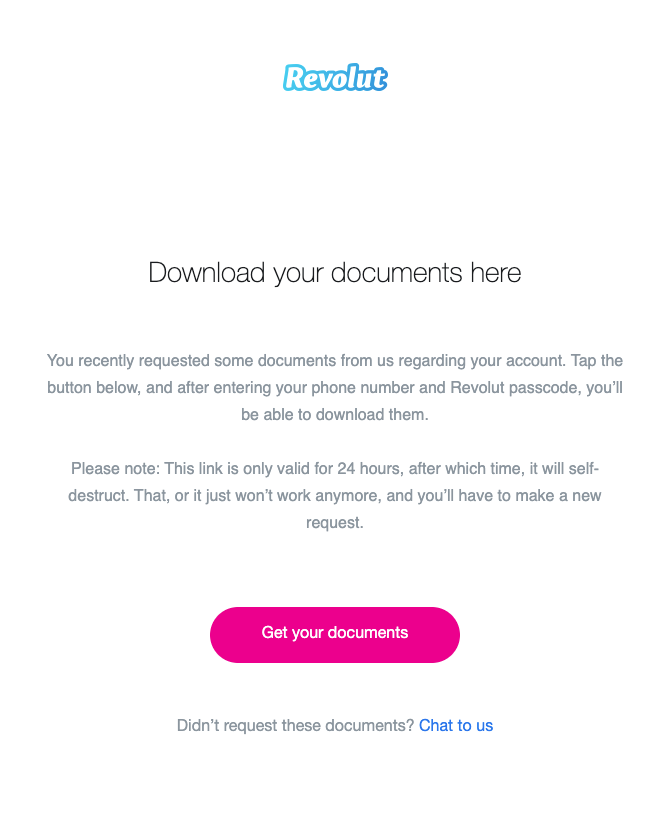 Source: Automizy
Notification messages can be automated – they are sent automatically as soon as the customer performs a certain action, for example, in Revolut's case, in response to sending a request to make specific documents available for download. When creating such a campaign, remember that notifications should only contain relevant information. If recipients receive notifications with irrelevant content too often, they will quickly stop opening them.
B2C and B2B email marketing examples - key differences
As you plan your future email marketing campaigns, remember that B2B customers make purchasing decisions carefully and after a lengthy analysis of multiple offers. They do more in-depth analyses and compare vendors, carefully considering the benefits of offering the product or service. The purchase will be based mostly on logic and less on emotion. Thus, B2B emails have to focus on educating the recipient – the goal is to build a relationship, not to quickly sell a product. That's why B2B email marketing usually involves carefully planned drip campaigns (pre-scheduled messages sent to a customer after they've performed a specific action or at a specific time) designed to build a strong relationship. Of course, this does not mean that you can't use this kind of campaign to foster loyalty in the B2C world.
The opposite is the case with B2C, where the customer often makes purchasing decisions under the influence of emotions. This is where one-time deals, contests, other benefits and evoking different emotions can shine. Retail customers will appreciate campaigns fostering brand engagement. Many of them want to become part of a certain community whose values they identify with. If the B2C recipient receives the email at the right time of day, they may find it entertaining and enjoyable to read. Make sure that it contains some interesting trivia or a link to your blog.
The type of information provided in the message is also crucial. B2B messaging should communicate how the product or service your company offers will help save time and money. Sending messages full of facts and advice will help you foster a long-term relationship with your business customer. On the other hand, individual customers may be more interested in entertainment. They are pleased with a sense of humour, an invitation to enter a contest or read an interesting blog article.
Choosing the right time is also very important. B2C consumers check their private mailboxes on weekends and holidays – that's when they have more time to read. Conversely, hardly anyone looks at their company email in their free time. If you want to run a Christmas B2B campaign, you should plan to send it early enough before everybody gets overwhelmed with thoughts about buying gifts and family get-togethers. They should receive them on workdays, so they have time to think about the offer and present it to their supervisors.
Email marketing campaign examples - summary
Planning and executing complex email marketing campaigns is hardly an easy task. Manually sending messages to individual customers is virtually impossible with an email database large enough. A mailing or marketing automation tool tailored to your company's needs can significantly streamline your work and provide many interesting opportunities to shape your campaigns with segmentation and personalization features.
One of such systems is Mautic. It's an open-source software that allows you to segment your contacts into groups based on their preferences or online activity. Your campaigns can be tailored to the profile of a specific customer group. Mautic also allows you to create and execute drip campaigns. We can help you implement it and teach your marketing experts to use its full potential.