5 Open Source Email Marketing Platforms
Are you looking for the right email marketing tool for your company? There are many free and paid solutions on the market. In our article, you'll find a list and comparison of the most interesting open source systems that allow the user to manage the contact database, create campaigns and improve work thanks to automation.
Features of a good email software
The modern digital customer expects engaging experiences when using corporate platforms and business applications. Well-conducted email marketing activities can support your efforts to provide customers with the highest-quality experiences with your brand. Well-thought-out mailing campaigns can also help you increase your sales. Interesting email content may engage customers as effectively as activities carried out in social media. That's why choosing the right tool is so important.
Email software should first of all allow for creating and sending email messages using a WYSIWYG editor. A library of email templates will also be very useful. Thanks to it, you can use the ready-made layout of elements and simply add the created content. With the help of an email marketing platform, you can create and send many more types of content than just product offers. You can use such a tool to create invitations to events, distribute ebooks, inform about what is happening in the company or about a new publication. Templates and an editor equipped with the necessary tools (the ability to define styles, basic text formatting tools, creating columns or tables, adding graphics) will allow you to create messages that are attractive in terms of substantive content, but also visually. When creating content, anti-spam analysis may also be useful. The user receives information about the probability of their message being marked as spam, thanks to which they can still modify the content before sending it.
One of the most important functionalities allowing for creating and managing advanced email marketing campaigns is the user segmentation. It allows for more optimal use of the contacts from your mailing database. You can group them according to various criteria and create personalized campaigns for specific audiences. Tools for analyzing and reporting the progress of ongoing email campaigns are also indispensable. They provide the user with information about the course of the campaign: open rate, click through rate (CTR), unsubscribe rate and bounce rate.
Email marketing tools are often part of marketing automation platforms. It's worth thinking about such an extensive solution, especially if you represent a medium or large company. Using such a tool ensures:
more precise retargeting activities,
more effective cross-selling and up-selling,
higher chance of returning to an abandoned cart or payment,
better digital customer experience thanks to content personalization,
access to many tools facilitating the daily work of a marketer.
The right tools for automating marketing activities or for email marketing will save your marketers' time and your money.
Open source email marketing platforms
There are many free and paid digital experience platforms on the market. Email marketing tools also belong to this group. Many of them are based on open-source technologies that can be used and improved by any user. The purpose of this is to develop the software and make it more innovative.
If you are wondering why it's worth using open source technology, you should know that such solutions are mostly free to use. Looking ahead, using them may be more profitable financially than using the platforms your company will have to pay for. By using open source technologies, you mainly incur the costs related to the development and implementation of new systems. The open nature of this type of technology allows the potential user to access, modify and improve the source code. Thanks to this ability open source solutions are considered extremely flexible - a company can adapt them to its individual needs.
Below you'll find descriptions of some interesting open source email marketing platforms.
GNU Mailman
GNU Mailman is a free and open source Python software for managing email marketing campaigns and mailing databases. Its strengths are the transparency of the interface and interesting functionalities - despite the apparent simplicity of the tool, there are many of them.
This email marketing software has its own template library, however, the user can also modify the existing ones or create their own templates from scratch. Thanks to the automation and ability to schedule message sending, marketers can more efficiently manage the campaign and save valuable time. Mailman has a Bounce Management System that helps to minimize the number of bounces resulting from incorrect or non-existent email addresses that may get into your mailing database.
When using Mailman, you have the ability to freely browse the campaigns that have already been carried out. They are collected in an archive where you can find any campaign and analyze its content and settings.
The developers of the software made sure that the user has access to customer support in multiple languages. In addition, this tool is integrated with Google Analytics used by many companies. It's also possible to integrate Mailman with your website, which greatly facilitates the daily work of marketers. Thanks to this, you'll optimize the use of the data collected by your company through the web page and its related business tools.
OpenEMM
Another open source and free email marketing software on the market is OpenEMM. There are no limits to the number of subscribers, created mailing lists, or the number of sent emails. Like Mailman, this tool is easy to use due to its intuitive interface. The user panel can be personalized and is responsive, so you can use the tool on any device. You can also use ready-made templates to help you create your messages.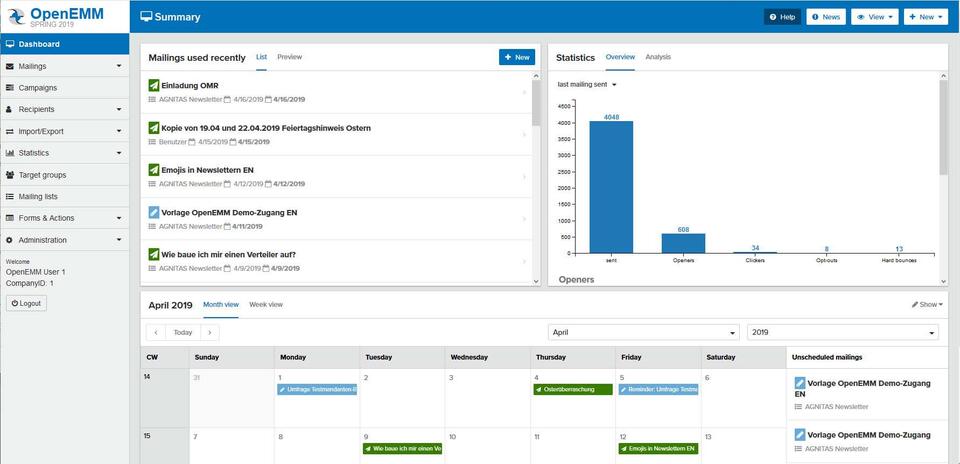 Source: Twitter OpenEMM
Real-time statistics on campaign effectiveness will help you manage your mailing campaigns and increase their effectiveness. The reduction in the number of bounces will also impact it. It's possible thanks to the bounce management system.
In addition to standard email marketing, you can use the software to send transaction confirmations to customers or autoresponders. The extensive OpenEMM documentation will help you work with the mailing tool. An additional functionality that will improve the daily work of a marketer at your company will be the calendar that allows you to add reminders and comments regarding tasks. Thanks to the filters that facilitate viewing the content, you can also quickly find the mailing project you created, review it or modify it.
SendBlaster
SendBlaster is a platform available in free and paid (pro) versions. It can be adapted extensively to the individual needs of the company. You get access to a database of ready-made templates categorized by the type of recipient or topic. You can edit them and adapt to the visual theme of your company. SendBlaster offers you the editor that allows you to customize the photos you want to use in your mailing. The editor has various filters that you can apply to graphics.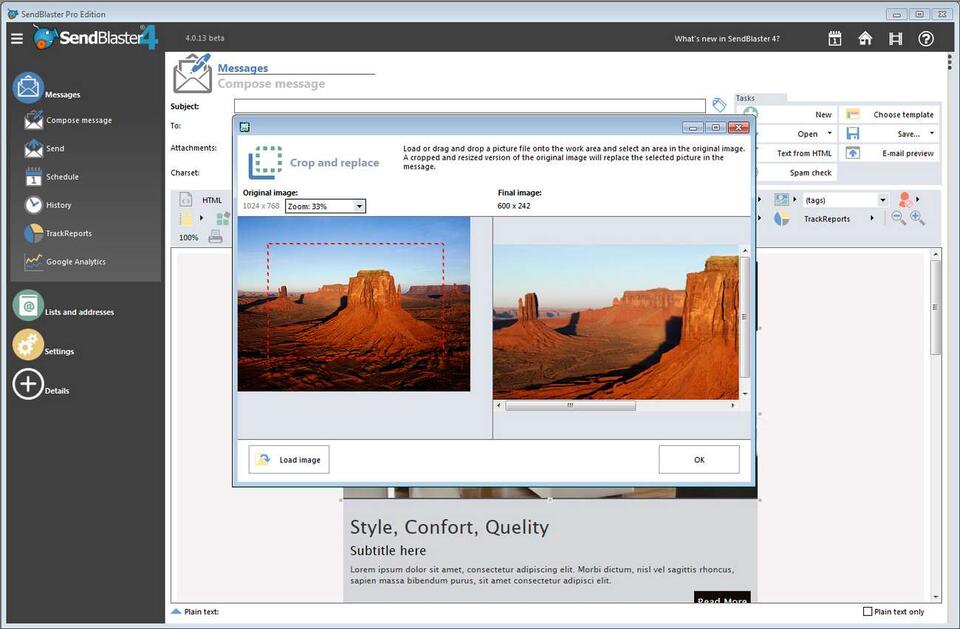 Source: SendBlaster
The platform allows creating an opt-in permission-based list of addresses, which reduces the risk of sending information to a user who hasn't given their consent to receive the message. Like the other tools described above, SendBlaster uses the Bounce Management System to regularly delete or block email addresses bouncing the messages. The platform also automatically prevents the resending of the same message to one client. It also has a tool for mailing planning and managing the details of paid email campaigns.
You can integrate the tool with the company's website. It's also integrated with Google Analytics. The paid version is available after purchasing a license (it's a one-time expense for a company), it allows you to create personalized messages for each contact in your mailing database and segment the addresses.
phpList
There are several ways to use the phpList platform. phpList.org offers a completely free version of this mailing program. However, in the case of phpList.com, the free version is in fact a trial version with no time limit and gives only the basic options, i.e. testing and sending campaigns to recipients. You can also get access to additional features if you choose to pay for the size of the mailing database, the number of messages sent or if you purchase the Pro version.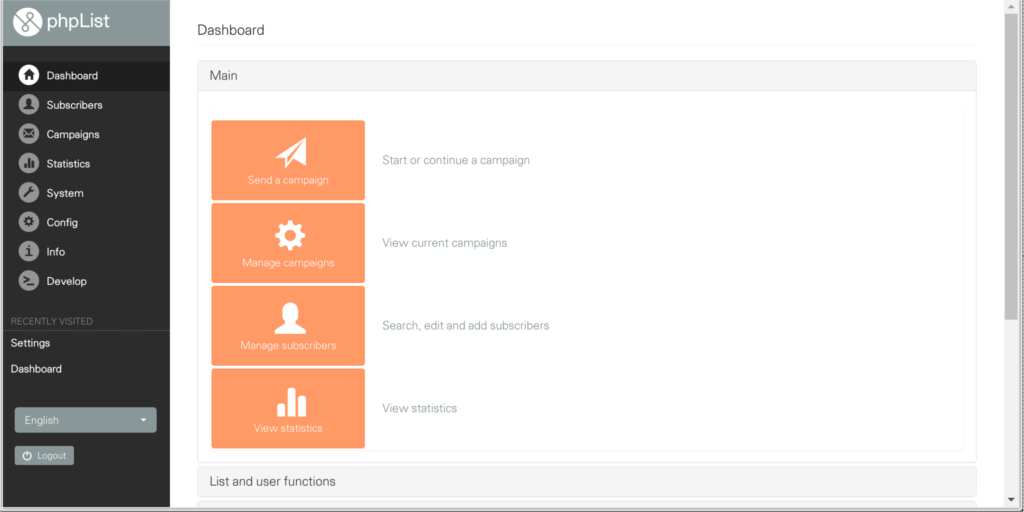 Source: phpList
The tool analyzes the bounces and automatically selects and removes from the database the email addresses that generate them. It provides access to the history of recipients' activity and their demographic data. Segmentation is also available. Using the Subscriber Management System you can sort your leads based on activity (and more), and then send them the content tailored to their expectations.
PhpList gives the user access to campaign effectiveness analysis and allows observing the subscribers' behaviour in real time. Additional statistics are provided by integrating the tool with Google Analytics. The email platform also has an automatic notification system that'll keep you up-to-date with the information about your mailing campaigns, e.g. the statistics on the number of bounces or message openings.
Mautic
Mautic is an open source marketing automation tool that allows you to send email campaigns and use extensive marketing automation functionalities. Like OpenEMM, it doesn't impose any limits on the number of subscribers, mailing lists or emails sent, making it a good choice for both smaller and larger enterprises.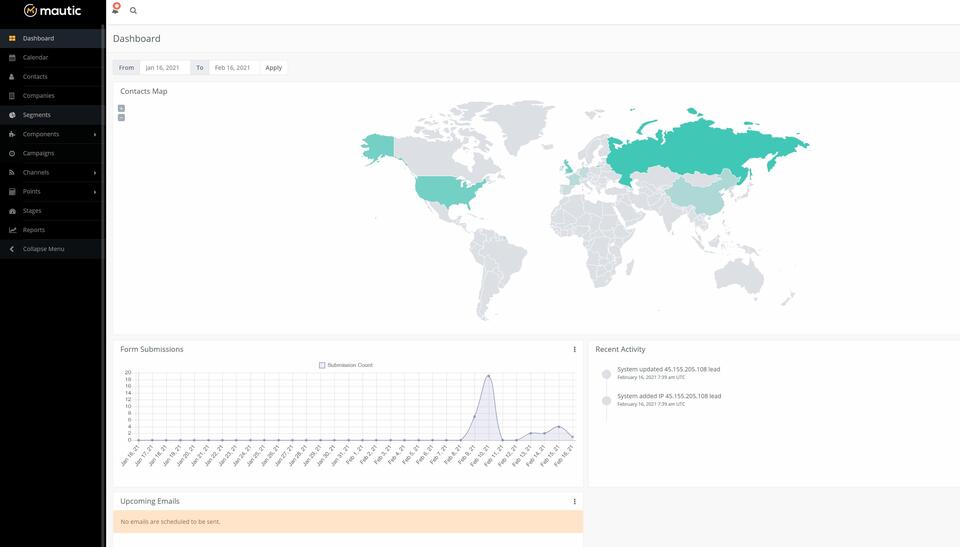 Source: Twitter
When a recipient first visits your site, Mautic creates a profile for that user. From that moment, it records the sources of visits to the company's site, the time spent on the page and the activities undertaken by them. Thanks to this information, it's possible to perform an advanced contacts segmentation in the mailing database, based on even just a few properties, and then – to personalize the email messages.
Mautic allows sending mass, transactional and individual messages. You can add dynamic content to the mailing (it consists of inserting a few topics, the sender, contents or graphic elements that change in the message depending on the characteristics describing the subscriber) and attachments. The tool helps you translate messages into different languages and plan their sending. You also have access to statistics regarding clicks and message openings, so you can better understand how the users react to your campaigns.
Open source email marketing - summary
Before you choose the email platform that is right for your company, think about your expectations and needs. If you're running intensive marketing activities in your organization using multiple communication channels, a marketing automation tool with advanced email marketing features may be the best choice for you. Our experts regularly carry out projects related to the Mautic services. We can help you implement this solution and teach your employees to use it.