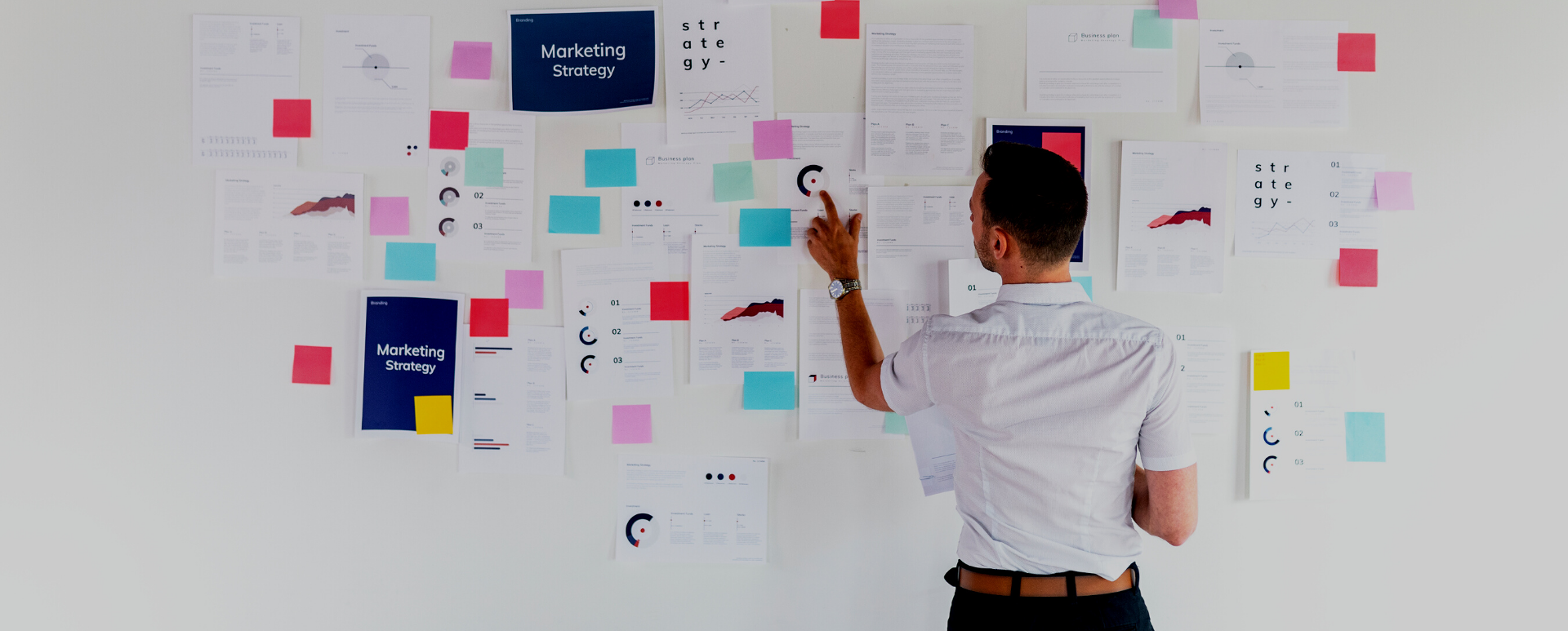 How to Create a Good Email Marketing Strategy for Your Company?
The use of mailing in promoting a company and its offer rarely gives the expected results if the business operates without a well-thought-out email marketing strategy. Changes in business are hardly ever accidental. A responsible business owner should always analyze their environment and have a good action plan. By following best practices in creating an email marketing strategy, you'll prepare campaigns that'll improve your sales results and customer relations.
What is an email marketing strategy?
An email marketing strategy is a carefully thought-out plan made for a specific company. It concerns activities related to promoting a given business by mailing and covers a predetermined period of time, e.g. half a year or a year. The strategy should be written down. Such a document is usually quite extensive, as it specifies:
the goals to be achieved by the organization,
tasks that must be completed within the indicated deadlines,
the tools suitable for implementation of the email marketing strategy,
the methods, programs and variables that'll be used to evaluate the effects of the implemented plan.
An email marketing strategy is generally part of a larger, overall corporate marketing strategy, as long as the company has one such brand and sales support plan. Many companies (especially small and medium-sized ones) don't create a strategy and thus inefficiently use the advertising budget. As a business owner, you need to know that well-used email marketing can be extremely helpful in developing the company's relationship with customers and more. The most popular email marketing goals include increasing the sales, improving the buyer's experience and creating the corporate image.
Creating an email marketing strategy - 5 tips
An email marketing strategy may be prepared by an agency specializing in conducting promotional activities. However, if you have a limited budget for promotion or just want your own team to create such a plan, nothing is stopping you. However, there are a few important things to keep in mind.
1. Analyze your contact list and determine email segmentation possibilities
Before you undertake any activities, you need to plan how to use the existing contacts and how to get new ones (this information should be part of your strategy). Companies that have been in business for several years usually already have some kind of contact database to use in an email marketing campaign. If you're taking your first steps as a business owner, you are probably wondering, how to build your own mailing list. Make sure that it contains valuable email addresses, that is, those whose owners have agreed to receive marketing information and are interested in your offer.
There are many reasons why users share their contact information with us and consent to the sending of marketing materials. Some of them are interested in your services, others only want to use the discount code that you promise for ticking the marketing consents. There'll also be people who are simply curious about your industry, and the articles on your blog are of great value to them. Learn how to manage your mailing list well to ensure you get the most from your budget. It's about finding the contacts that generate bounce rates or lower the open rate of your emails and deleting them, as well as about logically grouping the recipients.
It's important to know which audiences will be the target of your campaigns. It's thanks to having access to the data on their behavior and interests that you can analyze their expectations and really understand them. Then you'll be able to create segments from the contacts collected by the company and prepare different content and message sending scheme for each of them. You may send a general newsletter to all subscribers, a win-back campaign to those who haven't made a purchase for a long time, and a nursing campaign to the customers who've recently reported claims or complaints. You may use audience segmentation and content personalization tools in your marketing campaigns in order to improve the quality of your automated campaigns.
Source: Mautic documentation
2. Set your email marketing goals
Investing in promotional activities doesn't make any sense until you figure out what you want to achieve with email marketing. Therefore, start from considering the current situation at your company. Are the sales results, cart value and customer satisfaction at a satisfactory level? Define the areas of your business that could be improved and find out how you can use email marketing to do this. Formulate specific metric goals and express them in the form of a percentage-based improvement, e.g. customer satisfaction – for example, 20% of customers more than last year will declare loyalty to the brand or satisfaction with the quality of service. This'll make it easier for you to verify the effectiveness of your actions. The goals included in your strategy should be specific and described in detail.
3. Consider the style of communication.
When communicating with an individual client, a direct and relaxed style is most often the best, but it may turn out to be a bad choice when nurturing a B2B relationship, which is sometimes more formalized. Every brand is free to define how it wants to write to the audience. However, it's important that the content you send in the mailing is stylistically consistent with the overall communication tone of your organization. Today, companies conduct advertising activities within many communication channels, e.g. in social media, on a website and via mailing. Make sure that the way you write makes your brand immediately recognizable to the client, regardless of the channel you use.
4. Choose the right email marketing automation tools
There are comprehensive marketing automation systems having functionalities that are useful in running mailing campaigns, as well as platforms for managing email marketing campaigns. Choosing high-quality tools is an important part of your marketing strategy. Without the proper software, you may not be able to complete certain tasks or verify your progress accurately. A modern mailing system allows you to not only quickly create multi-stage mailing campaigns that engage the recipients or use segmentation and automation, but also includes built-in tools for analyzing marketing activities and reporting.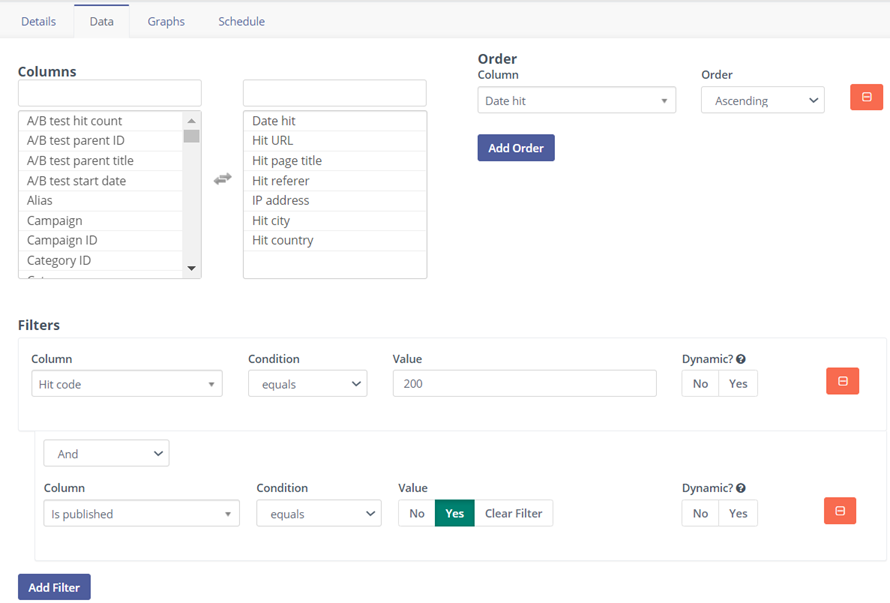 Adjusting a report in Mautic. Source: Mautic documentation.
5. Analyze the results and modify the email strategy
The market and customer needs are changing, therefore in some situations your email marketing strategy may or even should be modified. How should you know when a change is needed? The built-in analysis and reporting tools of marketing automation platforms or mailing software will allow you to understand how effective your activities are and what campaigns aren't going as well as initially assumed.
The ability to introduce modifications applies not only to individual campaigns, but the entire strategy. Marketing experts create more and more effective tools and formulate new good practices in email marketing activities. A mature company tracks changes in the business world and adapts to them to optimize its email marketing strategy and advertising efforts.
What types of email marketing campaigns can you use?
Your strategy can have many goals, and for each one you need to plan the actions which will help to achieve them. You can use different types of email marketing campaigns. An interesting solution is the use of drip marketing. It's a form of automation based on planning a campaign consisting of many messages and establishing specific rules that must be met in order for subsequent emails to be sent. Each email is sent in response to a specific user action.
Welcome campaign
Careful preparation of your welcome campaign is a task that should be prominent in your email marketing strategy. After all, you only get one chance to make a good first impression. An original message sent to the customer after making the first purchase or joining the contact database may prepare a good basis for next campaigns and encourage the client to open mailings.
The first messages are very important because at this point you have the opportunity to develop the habit of following your messages in the customer. In this campaign, you may announce to them that they'll soon receive a special discount or a personalized offer. It's also worth providing valuable content in the form of instructions on how to use the platform or the purchased service, sending a free guide in the form of an e-book or a short video training course.
Source: HubSpot
Limited offer campaign
Do you want a given product to be sold out quickly? Putting a time limit for using a specific discount additionally motivates the customer to make the purchase. Such campaigns are often used for presales, e.g. "order our product by the end of the month and you'll get an extra item for free". You can also take advantage of personalization and give customers access to a temporary discount on the products they've added to their cart or viewed. In this way, you convince the undecided people who've expressed interest in your offer, but are still hesitating to buy. Such a campaign could contain the message: "you can have this product 20% cheaper if you complete the order by the end of the day".
Cross-selling campaign
Cross-selling is based on offering the customer an additional product to the one they've already chosen. The recommended item may be related to the previously selected item (e.g. paints and a canvas, a laptop and a wireless mouse) or may be an item which the customer was previously interested in (e.g. browsed three t-shirts during the week, chose one, and in the mailing they were offered the opportunity to buy one of the other two). The advertised product may be available at a bargain price, but it doesn't have to be.
Such activities are aimed at increasing sales and the average value of the buyer's cart. Cross-selling campaigns will be included in any email marketing strategy the most important goals of which are related to increasing sales. This doesn't mean, however, that cross-selling can't have a positive effect on customer satisfaction. Many people often browse the offers of online stores and find interesting products, but then have a problem finding them among many other options. A cross-selling campaign can act both as a reminder and a short-cut for the customer while shopping.
Reminder campaigns
Speaking of reminders, reminder emails can be extremely useful for the customers who often suspend their shopping activity and forget about discounts or special events. A reminder may refer to an abandoned cart, but also to a discount that expires soon. Clients rarely write down such information and forget about it, even if they want to use discounts. These types of campaigns have a lot of uses. You may remind customers about an unfinished transaction and current discounts, but also of upcoming events, online conferences, fairs, competitions, etc.
Challenge campaigns
Today the customer wants more than just high-quality products and services. They want to be part of certain communities and participate in the initiatives happening in their favourite companies. You can increase interest in the brand and customer loyalty by organizing various discussions, meetings and competitions. The challenges in mailing campaigns can be as effective and engaging as those in social media. For example, a company that offers an application with personalized training plans may invite the customers to participate in the challenge of testing a new training plan for a month. The customers receive additional value in the form of access to a new training plan, which increases their satisfaction, and the business has the chance to strengthen the relationship with the audience, test their product and get positive feedback on their application, which may increase sales in the future.
After-sales campaigns
Like a welcome campaign, an after-sale campaign should be included in any email marketing strategy. Such actions shouldn't just mean sending a single thank-you for making a purchase. When the customer finalizes a transaction, it gives you many possibilities. You may, for example, encourage them to make further purchases by offering them a discount code. Knowing what product they've chosen, you may present them more, similar or related products in the following messages. It's also worth inviting the user to participate in a survey and to express their opinion about the product or customer service. In this way you let them know that their opinion about your company is important to you and will affect the quality of the services you provide.
Win-back campaign
Customers come and go. Not everyone will buy from you on a regular basis, but it's worth taking care of each customer. A carefully crafted email marketing strategy should include examples of campaigns which will help you regain the customer interest. In order to encourage inactive customers to buy from you again, it's worth using email retargeting. It's based on sending messages advertising the products that the user has previously viewed or added to the cart. Automatic messages can be sent as soon as they leave the website or with a certain delay. In the case of sending it immediately, the message acts more as a reminder, but you may schedule the sending of such an advertisement even after several months of customer inactivity. The campaign may also contain additional elements motivating to make a purchase: a special discount, gift or free shipping.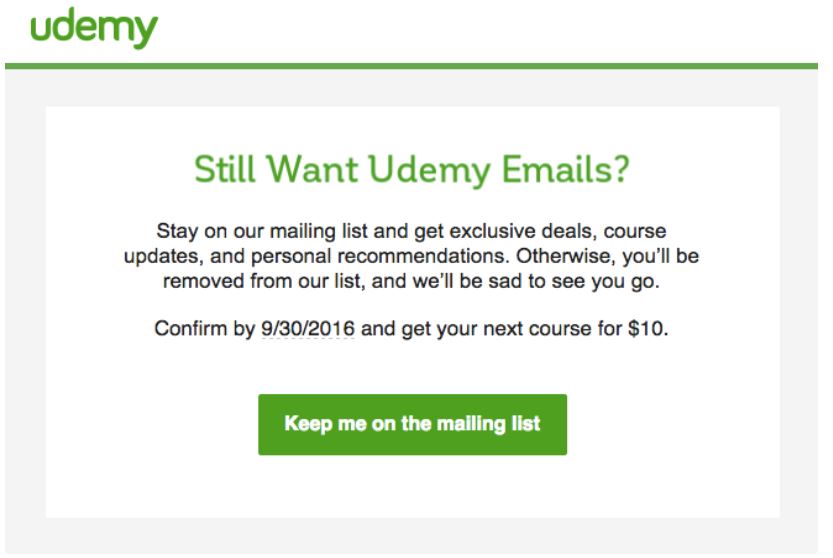 Source: Udemy
Newsletter in a marketing strategy
A newsletter is one of the most basic elements of most email marketing strategies. The most difficult task of a marketer is to plan the message so that regular emails with news don't become boring and aren't moved by the recipient to the spam folder. A good newsletter should meet a specific goal – to inform about the new products at your company. Regular messages with information are welcome by users if they actually receive news, and not constant advertisements for the same products they know well.
What is worth writing about in a newsletter? You may provide information about:
the changes in the scope of your business activity (e.g. about the new products or services),
the reasons why it's worth choosing your offer (e.g. by linking to your case studies),
the effectiveness of your solutions, e.g. providing statistics showing how your brand promotion program increases sales or the company's visibility on the web,
the new activities within your community (e.g. about the Facebook groups, closed and open events.
There are many options. Make sure that your newsletter is as interesting as your other campaigns.

Source: Valiantys
Create an email marketing plan for your company
After creating the strategy, selecting the types of campaigns and the useful tools with which it'll be implemented, you should prepare a specific plan of action. Write down what actions should be performed and when. By following the tips from our article and using the campaign types we presented in your strategy, you can create a basic email marketing plan for your company on your own.
Having such a plan won't only help you with creating additional campaigns and analyzing the activities, but it'll also improve your daily work. At small companies, the marketing department is run as a one-man operation, or a person from another department is responsible for the newsletter. In such a situation, if the employee responsible for the newsletter is on vacation or sick leave, the substitute person can consult the schedule and quickly find out what needs to be done during a specific week.
Developing an annual strategy and action plan may seem time-consuming and complicated. The process of formulating the goals and assigning individual tasks can be difficult if you don't have the right tools. Fortunately, you can find numerous templates for email marketing plans on the web. By using them, you'll quickly prepare an action plan for your organisation.
Email marketing strategy - summary
As you can see, creating an email marketing strategy is a complicated process that requires careful consideration of your brand's needs. Goals, tasks, types of campaigns – all of these have to be well-thought-out. Before you start to implement your unique email marketing strategy, you need to consider choosing the tools necessary for its implementation. There are many possibilities. Using the right program can make your daily work much easier. We recommend checking out the Mautic open source marketing automation software. It allows managing email marketing campaigns and using modern solutions, such as personalization of content on web pages. We'll help you implement this tool and teach you to use its full potential in managing your email marketing campaigns.