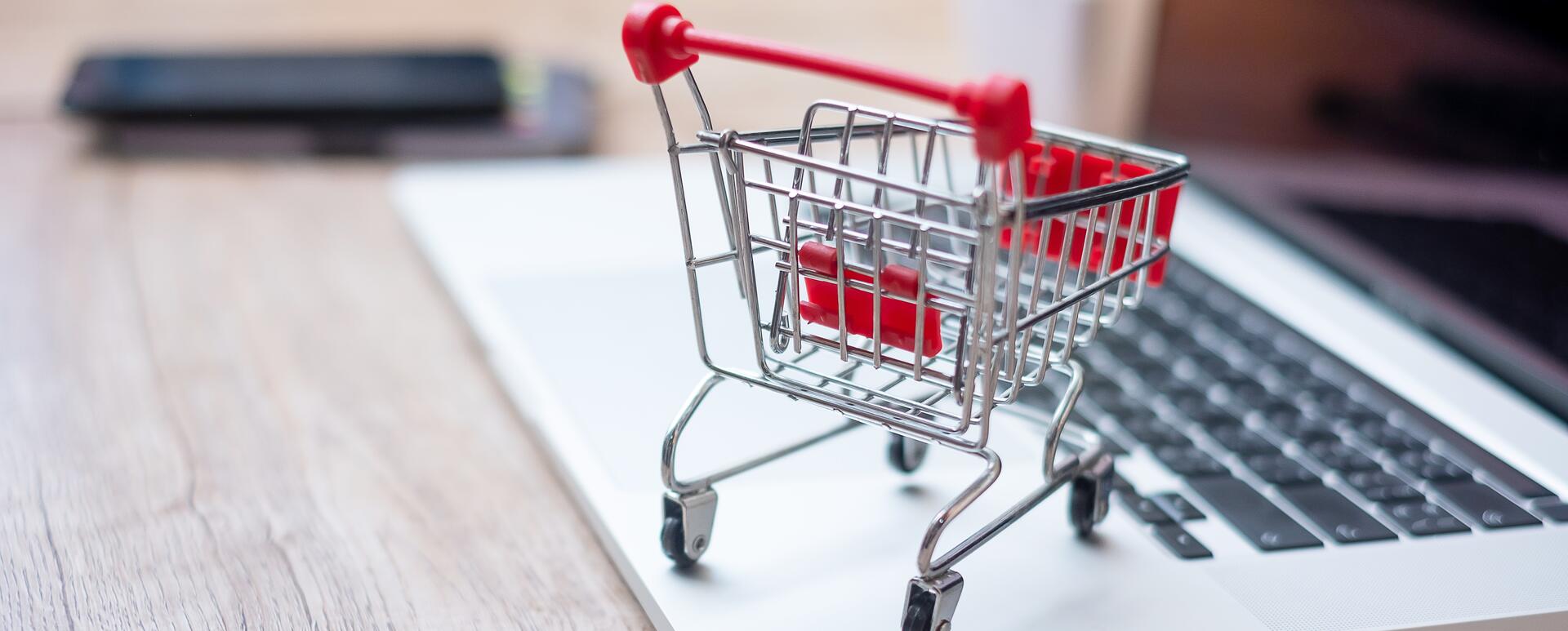 What are the Best Ecommerce Startup Ideas and Companies that Use Them?
Are you interested in online business and looking for inspiration for an ecommerce startup? Internet business isn't only about online stores, although they're a big part of this market. From our article, you'll learn what types of startups have great potential in today's digital business world.
E-commerce - not only online shops
Online stores are the most common form of internet sales. Currently, online shops with second-hand clothes, such as Vinted, are extremely popular. There are also more and more platforms selling handmade products (jewellery, home decorations, etc.). Etsy is a good example. However, it isn't just about selling physical products. Ecommerce may also take other forms.
Currently, the virtual services market is developing dynamically. A startup may focus on intermediating between service providers and their individual or business clients. You can sell comprehensive marketing or IT services, advice (legal, dietary, psychological, or medical consultations). Are you considering opening your own ecommerce startup? Check out the following ideas for this type of business.
1. Dropshipping and marketplace
Marketplace and dropshipping are two types of ecommerce businesses that don't require you to import and store goods at your own warehouse until the customer buys them, or to handle the shipping of these items. Thanks to that, you don't incur the costs of maintaining the warehouse or transporting the goods. Creating a marketplace is a significant investment, but after promoting such a platform among the sellers and customers, you can achieve a large profit. The advantage of both marketplace and dropshipping is that you don't freeze your budget to buy the goods in advance.
How does dropshipping work?
In the case of dropshipping, the customer receives the ordered product from the manufacturer, but an intermediary participates in the entire sales process. They process the transaction and it's their logo and contact details that are included in the package together with the order. From the buyer's point of view, the purchased goods come directly from the seller (the intermediary). The intermediary company's profit is the difference between the wholesale and retail price of a given product.
What is running a marketplace about?
Any seller who accepts the terms and conditions of the platform owner can list their products on a marketplace. In such an ecommerce store, you can find a large selection of products from various manufacturers and sellers, thanks to which every customer is able to find something for themselves. Gathering a large number of sellers allows you to create a wide price offer and to ensure a diversified availability of goods, as well as tailoring the time and method of delivery to the customer's needs. The sellers working with the owner of the marketplace use the ready-made infrastructure of the store, which allows them to gain access to a wide group of customers. For an entrepreneur who decides to set up such an ecommerce startup, the main benefit is the commission on sales, without any involvement in the process itself.
Examples of dropshipping platforms and marketplaces
Dropshipping may be a method of order fulfilment for the sellers at marketplaces. All that such an entrepreneur needs is good integration with the suppliers and the correct implementation of the dropshipping system, which will guarantee a smooth flow of goods and fast customer service. An example of a dropshipping company is AliExpress. The company doesn't offer direct delivery of products but functions as an intermediary. After the products ordered by the customers are packed, the sellers deliver them to the AliExpress shipping centre, which takes them over and forwards them.
The Mom O'Clock platform is an interesting example of a dropshipping startup which has been transformed by our team into a fully functional, Sylius-based marketplace that allows various suppliers to independently manage their orders. After a thorough analysis of the original solutions, we built a stable sales system. We created a reliable online store that allows efficient order processing. Every seller has access and control over their orders, payment and delivery methods.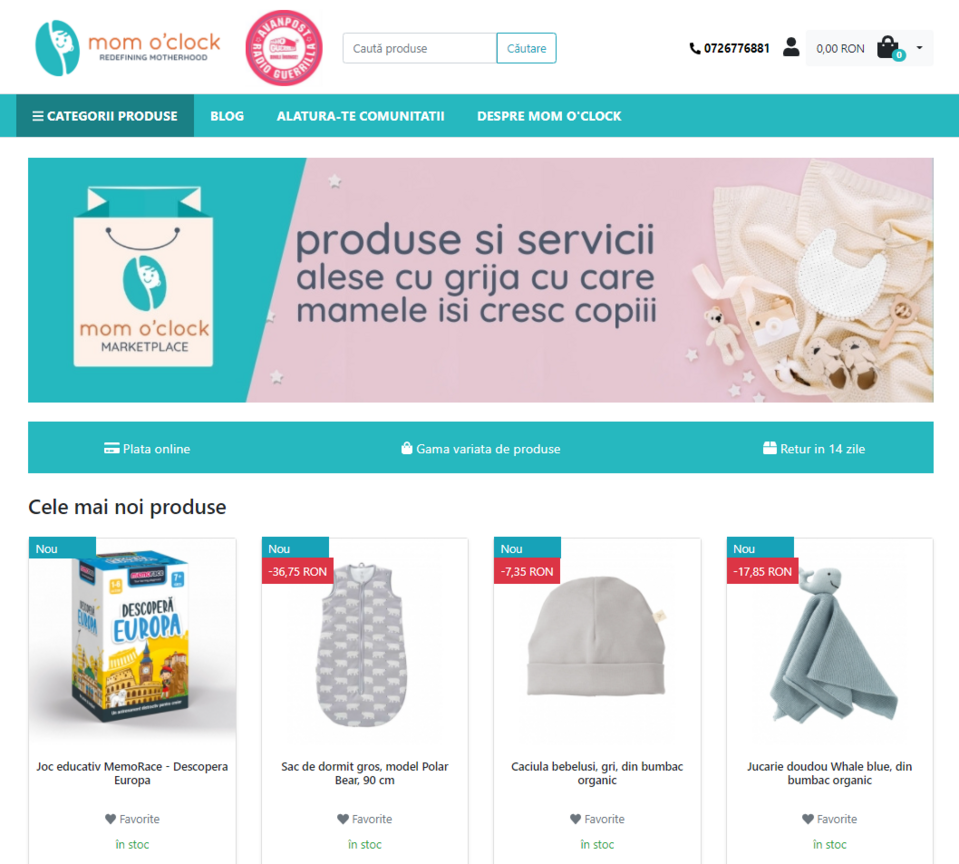 Source: Mom O'clock
2. Online booking and ordering systems
Ecommerce is a huge trade sector that includes all kinds of business transactions made over the Internet. Therefore, an ecommerce startup may also deal with, for example, maintaining a system for handling requests for booking places and services. Such websites are very popular nowadays. They help to automate the booking process at the places that require it – hotels, guesthouses, restaurants or hairdressing salons.
By creating your own booking system that the users can use via an application or a web page, you can become an intermediary between the customer booking the service and the business offering it. The customer will be able to pay for booking the service through a payment gateway, using a credit card, through the PayPal platform, etc. However, the intermediary will make the reservation thanks to the integration of the booking system with the internal systems of the final service provider.
What is the profit for the entrepreneur who cooperates with the owner of the website for online orders? Additional promotion and access to more customers. The booking application owner mainly earns a commission from sales but may also charge for posting ads on their website.
Examples of platforms for booking services
Booking.com is one of the most recognizable booking systems in the world. People looking for a hotel or apartment for business and private travel can browse the facilities of hundreds of different companies offering accommodation in a given place and in the surrounding area. Advanced offer filtering capabilities help in finding accomodations that meet customer expectations.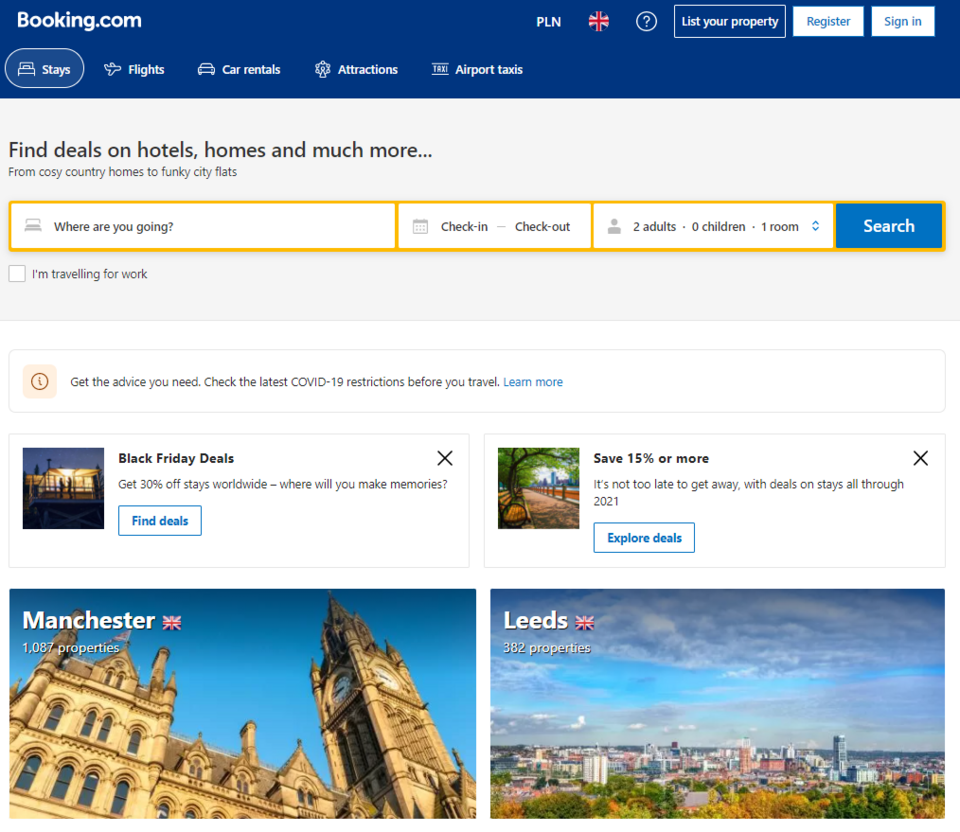 Source: Booking.com
Similar systems allow ordering food online. In recent years, many ecommerce startups of this type have been created. There are local companies intermediating between customers and restaurants in almost every country. On the other hand, an example of a company operating almost all over the world is UberEats. The application allows ordering food delivery from various restaurants.
3. Sale of online courses
More and more people are learning via the internet. Even traditional universities open up courses where classes are held entirely online. People are willing to pay a great deal of money for training provided by a recognized specialist, even if the course is held remotely. Thanks to a website with the right ecommerce functionalities and those enabling the creation of online courses, it's possible to sell ready-made, multi-stage training courses. You can also open an online store that offers previously prepared educational materials (e-books, videos) and teach "live" via the internet during videoconferences.
On a specialized e-learning platform, you can create advanced educational courses with quiz, video or audio recording elements. You can use it to design and sell your own courses or share it with other professionals. Thanks to access to the teacher's panel equipped with useful tools, they will be able to prepare interesting training courses in many fields, and you'll earn money by collecting a commission from their sales.
Examples of startups from the e-learning industry
There are many e-learning platforms that you can use to create and distribute your courses. The Udemy website is one of the most well-known. Customers can take advantage of training courses in various fields after paying a fee. The creators of educational content working with Udemy have at their disposal the tools to create PDF documents, PowerPoint presentations, and materials in other formats. An owner of a learning platform can earn quite a lot of money. Udemy collects as much as 50% on course sales.

Source: Udemy
Also noteworthy is the edX e-learning platform funded by Harvard and the Massachusetts Institute of Technology. As with Udemy, it offers a lot of courses in a variety of fields (from highly technical to language and arts courses). The training courses are created by lecturers employed at universities. Individual users can access many of the courses absolutely free, but issuing an official certificate of completion for a training course costs about $49 (for each course for which we want to receive the document).
4. Sale of digital products
In an online store you can successfully sell many digital products. What does this term mean? All the goods that don't have a physical form, such as the aforementioned courses, electronic books, audio files, applications, web page design templates, training plans, games, etc. These may include products prepared and intended for printing by the customer or for convenient online browsing.
There are many advantages to selling digital products. First of all, you only need to create a single copy of an e-book, training course or recording. You don't need to worry about designing and manufacturing multiple pieces to ensure supply. A digital product, unlike a physical one, can be shared an infinite number of times. In the case of a book published on paper or music marketed in the form of a CD, multiple copies have to be produced and the cost of production reduces the producer's earnings.
As is the case with dropshipping, when you have an ecommerce startup dedicated to selling digital products you don't need to acquire a warehouse and spend time on getting your products ready for shipment. The sale of electronic products can be fully automated (the product can be sent by the system to an email account immediately after receiving the payment confirmation). You don't need a huge financial background to prepare digital products. You also don't need to have any materials for production. You only pay for access to the tools, e.g. by purchasing a graphics or editor program license.
Example of an ecommerce startup selling digital products
Relaxing White Noises is a good example. It all started with a YouTube channel with relaxing music. The brand then began selling audio files with the sounds that help with sleeping or increasing concentration, such as rain sounds.
Source: Relaxing White Noise
5. Internet market of specialists
There are many portals where the business owners can look for appropriate specialists for their companies, but direct employment of a person isn't the only way to complete certain tasks at a company. Outsourcing is very popular nowadays, because in many cases it turns out to be cheaper and more convenient than hiring employees. There are many portals on the market where business owners can look for appropriate experts to perform specific tasks. A platform intermediating between specialists and business owners looking for web designers, IT specialists, copywriters etc. may turn quite a profit.
The website of such an ecommerce startup can operate in two ways. Business owners may publish applications, and then select a contractor from among those who sent a portfolio or browse the accounts and examples of implementations by specific experts, and then invite them to work on their projects.
Examples of startups that act as intermediaries between companies and freelancers
Contra is an example of a freelance community. Professionals with various useful talents can put a portfolio and describe their experience on this platform, and then sell their services. Contra provides freelancers with tools for building a portfolio and handling the received projects. The users can also take advantage of the functionalities that enable monitoring their sales.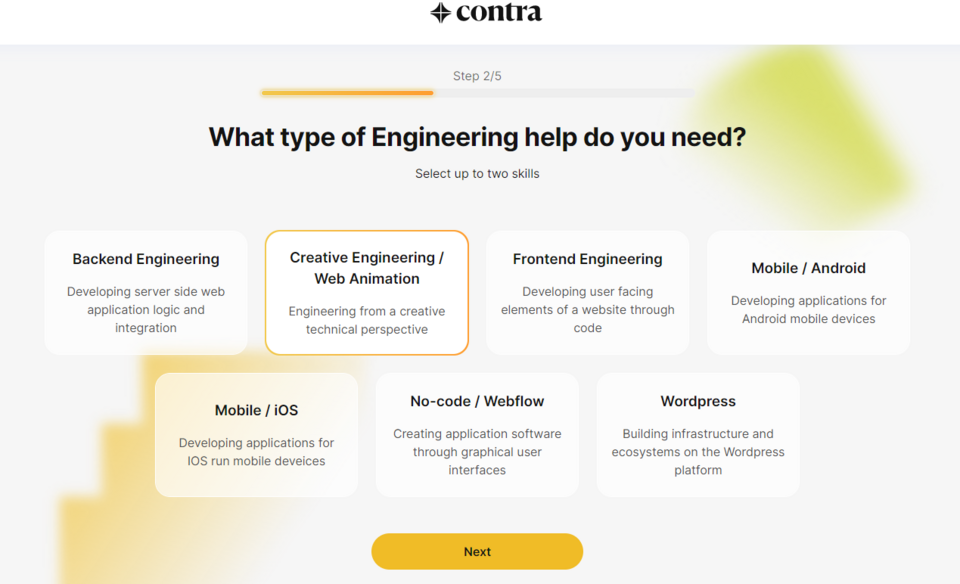 Source: Contra
Another well-known site of this type is Useme. Both businesses and contractors can set up an account on this page to view interesting offers or the portfolios of specialists. The platform allows issuing an invoice without having a registered business, which opens up more opportunities for freelancers. The service providers sign a specific work contract with Useme, and the latter issues an invoice to the business client, earning money on a previously agreed commission.
Ecommerce startups ideas – summary
Those who want to open their own ecommerce startup are only limited by their own imagination. As you can see, there are tons of ways to make money from an ecommerce business, and an online startup can be successful in many industries. The constantly developing technology brings newer and newer functionalities that help businesses to impress their customers. We can help you create ecommerce solutions based on Sylius and Drupal Commerce. Contact us if you have an idea for your startup and want to learn more about building a high-quality website and tools for your business.