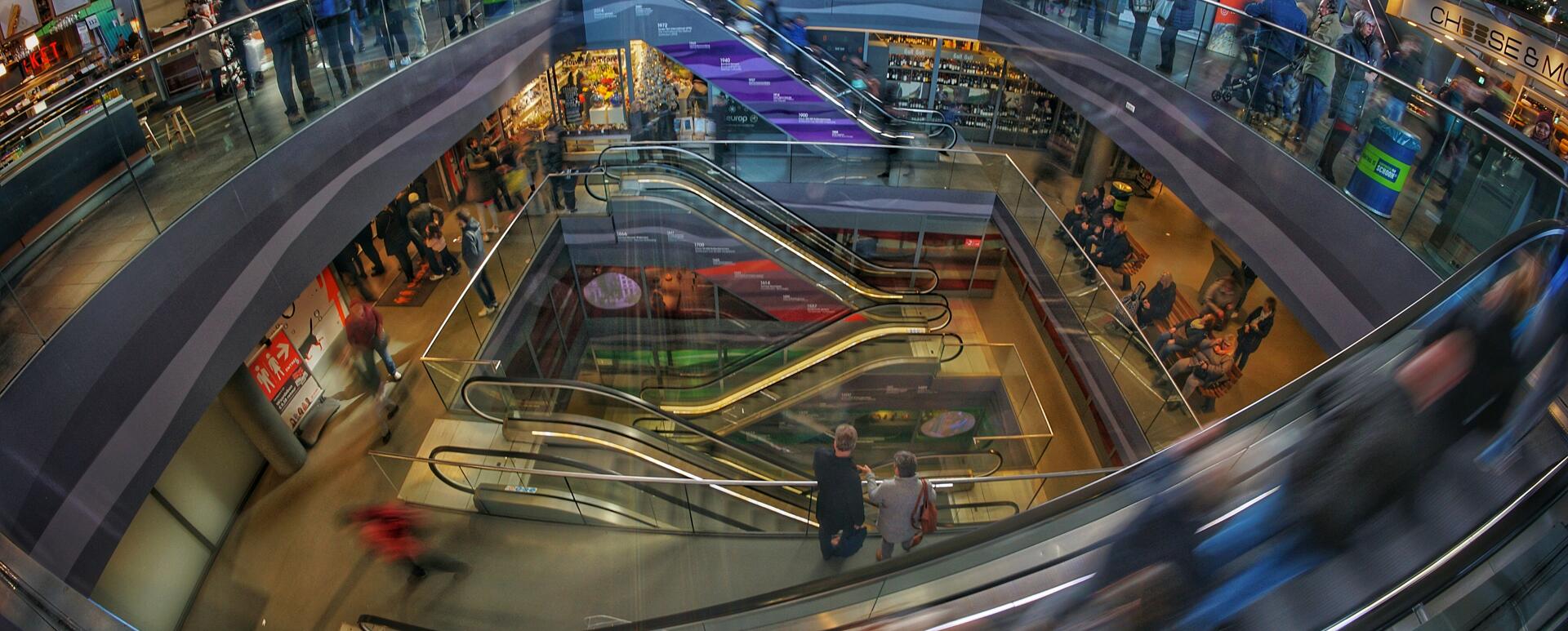 What are the Top Open Source Ecommerce Platforms?
The use of interesting functionalities, unusual and typical solution packages for ecommerce businesses is possible thanks to the development of numerous technologies. Although you can find many articles on the web about open source and commercial ecommerce platforms available on the market, choosing the right solution isn't easy. To make this task easier for you, in this text we'll compare 5 open source solutions.
Internet sales - different approaches
When deciding to run an online store, you can choose one of two paths - set up a marketplace where numerous entrepreneurs will sell, or create an online shop where only your company will offer products or services. Running a marketplace platform may generate additional profit, although it must first become popular to attract more customers and companies. On the other hand, running your own online store gives you more time to focus on your brand.
You may consider choosing a good ecommerce platform not only when you're creating a new shop, but also later – when the page already exists. The work aimed at modernising the ecommerce website can be undertaken at various stages of its existence.
Why is choosing the proper ecommerce platform so important?
The appropriate ecommerce platform allows you to equip your shop with specific functionalities, and at the same time – save on those that aren't needed. Choosing a solution carelessly may lead to generating excessive costs of maintaining an ecommerce website, as well as slow down or prevent its development. It's worth aiming for a system that'll have a large number of available optional plugins, extensions, and integrations needed for your store. Try to make a list of ecommerce solutions and features that you'll need in your shop, then see which platform will provide them at a reasonable price.
Commercial ecommerce solutions vs open source ecommerce platforms
There are many types of solutions for the ecommerce industry. Before you start comparing the lists of functionalities of the most popular platforms, learn more about paid and free online ecommerce software.
Software as a Service (SaaS) platforms
You need to pay for a subscription to run your online store with this platform. Most companies offering this type of solution require a monthly subscription, but there are also systems with annual subscriptions. When you buy a package from a service provider, you get a ready-made sales platform.
SaaS platforms are often hosted in the cloud of the company that created them. You must keep in mind that by paying the fee for using a subscription platform, you don't automatically become the owner of the store, only its lessee. Therefore you don't have much influence on the technical issues, but thanks to these types of platforms you can quickly build an online store – even within several minutes.
Although creating a store with the functionalities necessary for online sales is usually relatively easy, with SaaS platforms, the ability to scale it and add custom modules is limited or even impossible. As a user, you don't have access to the code and you can't implement complex modifications. Usually, you can choose one of several dozen available templates to define the appearance of the shop and integrate it with several external systems. Therefore, it's a solution aimed rather at small, medium-sized, and starting ecommerce companies.
Platforms with a paid license for ecommerce
When using commercial ecommerce platforms, you should also be prepared to incur additional costs, because access to these tools isn't free. First, you need to make a one time payment for the license to create and manage your shop through your chosen platform. When choosing a commercial solution, you also need to accept the fact that you probably won't have access to the basic code. On the other hand, it'll most likely be a very complex platform, giving access not only to the functionalities directly related to sales, but also facilitating the performance of numerous tasks related to marketing (e.g. automation, content personalization, etc.).
Commercial ecommerce platforms offer great freedom to modify the created online shop. You actually have a lot of freedom in choosing the configuration and development directions. Paid solutions ensure a high level of data security. You'll be able to add many new products without worrying that it'll negatively affect the performance of your ecommerce website. Together with the ecommerce platform, you'll most likely get access to advanced promotional tools that'll make it easier for you to conduct your marketing activities, analyze data, and create reports.
Platforms with a paid license are usually aimed at very large companies with a huge ecommerce budget. The user not only buys the license but also has to bear the implementation cost. It's a one-off, but often significant expense. The use of commercial platforms is also often associated with the need to build a team responsible for the development and management of this website or hiring experts from an agency.
Open source ecommerce platforms
The open source platform license is free, which means you can get full access to the code at no cost. In addition, however, you have to pay for the hosting and – if you need it – invest in the support of an agency specializing in creating online stores using a given platform. Among open source platforms, you'll find both easy to implement and complex ones.
On the one hand, open source solutions save you money, because you don't incur license-related expenses, and on the other hand, you have great freedom to modify the ecommerce website. Additional functionalities can be added thanks to numerous paid and free plugins and modules.
Open source ecommerce platforms may prove to be the optimal solution for your organization. You can make your own decisions about the costs you incur and the pace of development of your online shop. Open source software allows for:
Accessing the source code. You have the opportunity to create a unique ecommerce website thanks to the option of introducing modifications or adding your own functionalities to the original code.
Scaling the online store. You can gradually expand your online store. Open source software is a good choice for people starting a business, planning to increase the number of customers, and expand the product range. You can start with creating the minimum of functionalities needed to run the business, and then add more complex solutions.
Great possibilities of personalizing the ecommerce website. Thanks to the modules, you get almost unlimited freedom of personalizing the site and you can adjust the store to your expectations.
Support of a large community. The developers create and provide their own extensions and modules for the ecommerce industry. They share software patches, and in addition you can find a lot of useful tips and materials on the web facilitating work on a given platform.
Not depending on a single solution provider. Any specialist can edit the code of an open source platform they are experienced with. Therefore, the owner of the online shop isn't forced to work with one interactive agency or with a specific developer. They can find another expert at any time.
Better SEO. By having access to the source code, the store owner can adapt the website to the search engine guidelines and implement a set of good practices in developing the page or adding new content.
The above-described features of the open source ecommerce platforms certainly make such software attractive for those considering the right platform for their business. To help you make the choice, we gathered information on some interesting ones.
1. PrestaShop
PrestaShop is a free open source solution for creating online stores. The PrestaShop platform has key functionalities that allow you to manage orders, deliveries, payments, and product catalogue, issue invoices, support barcodes, and newsletter subscriptions. The standard version of PrestaShop can be expanded with new functionalities (e.g. payment gateways, price comparison engines, shipment tracking systems, etc.) thanks to the available modules. Many of them are paid, but almost every one has its own free equivalent. You can also build your own modules using the system documentation.
It's also possible to improve the created ecommerce website in terms of SEO, which facilitates its positioning. A business user can manage multiple stores from a single administration panel, and the interface itself is relatively simple and intuitive to use.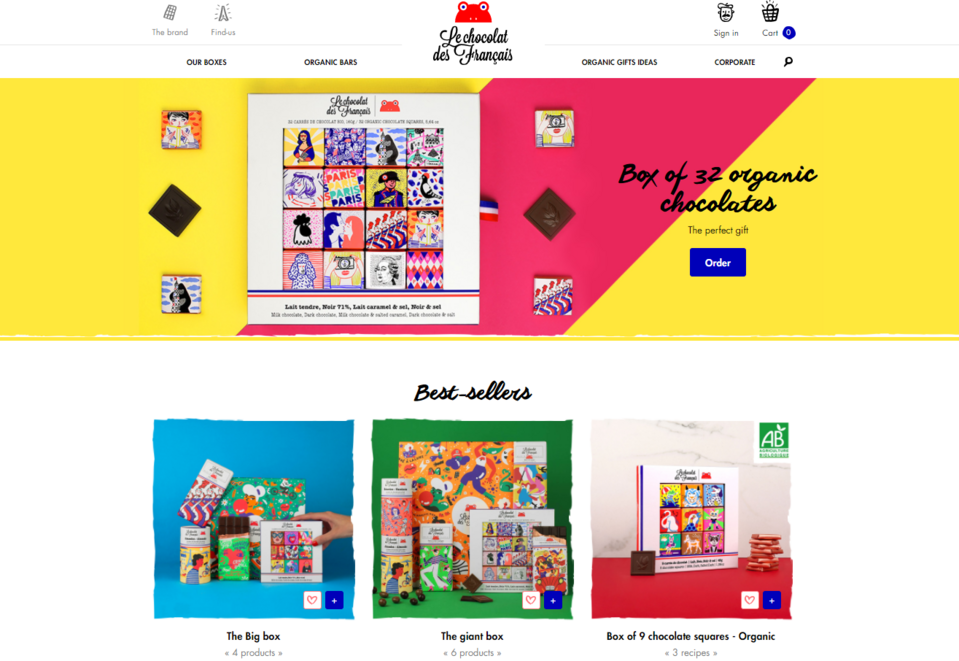 The Le chocolat des Français page was created using PrestaShop.
The stores created using PrestaShop are attractive to the end users (the store customers) due to the possibility of comparing the features of several products at the same time, choosing one of the available language versions, and switching the currencies.
According to data provided by ShopRank, PrestaShop is among the 5 most popular ecommerce platforms. This may be because there are also no special hosting requirements, so if you are able to administer the store by yourself, there'll be no hidden additional maintenance costs.
2. Magento
This ecommerce platform comes in open source and paid versions. It's also one of the most extensive solutions of this type on the ecommerce market, being constantly improved by its creators.
The interesting functionalities of Magento (Adobe Commerce) include the possibility of using free delivery, even when the order is already covered by other promotions, or granting a 100% discount. One of the significant recent changes on the users' part is the ability to open the cart in a different window when finalizing the transaction. It's also worth mentioning the integration of the platform with Adobe Stock – thanks to this the companies that use stock photos instead of making their own have quick access to materials. Adobe Stock provides access to thousands of high-quality photos. The online stores created using Magento are user- and mobile-friendly.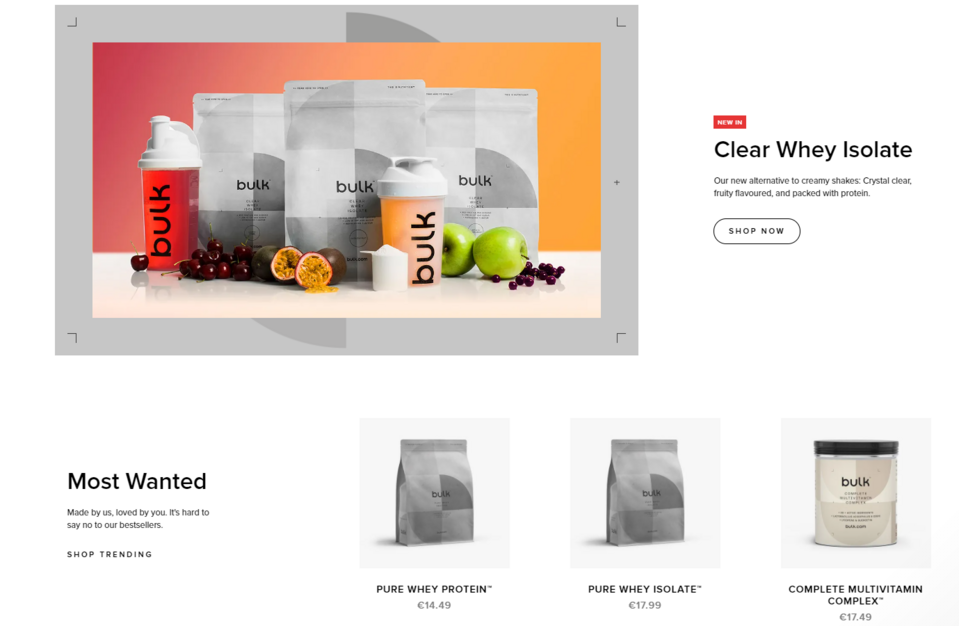 The Bulk Powders page was created using Magento.
Magento has numerous functionalities already available in its basic version, and this can be considered both an advantage and a disadvantage of this platform. The average owner of an online shop doesn't use many of the possibilities provided by Magento, and each one of them slightly hinders the daily use of this system. As an open source system, it allows for modifications, but due to its advancement, it's also extremely difficult and expensive. This complexity of the platform also means that Magento requires good and efficient hosting, which generates additional costs. Experience is also needed to configure servers. Incorrect configuration may result in a decrease in performance.
3. OpenCart
OpenCart is an open source, free and easy-to-use ecommerce platform. Like the other open source solutions, it has numerous useful and customizable plugins that you can use at no extra monthly cost. The software integrates with more than 20 payment gateways and the store owner can propose 8 different shipping methods to their customers. A ready-made partner system, discounts, coupons and sales are built into the platform. As a shop owner, you'll also be able to add different product properties (size, color, length, height, and more) to describe them more precisely.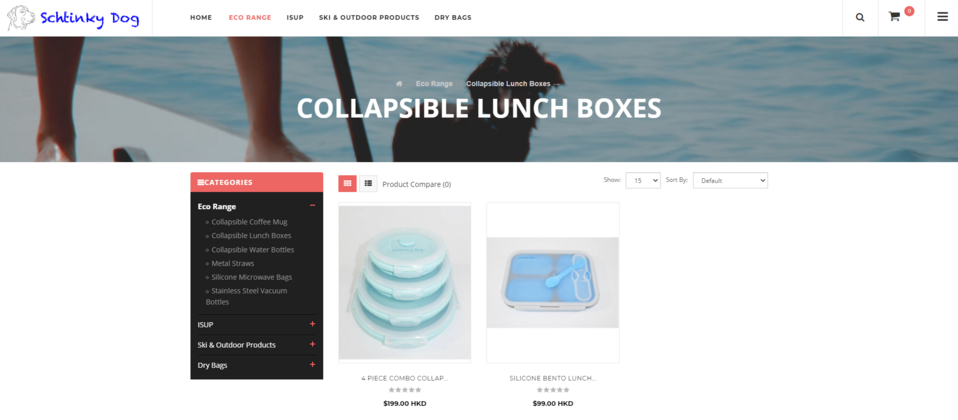 The Schtinky Dog store is based on the OpenCart platform.
The user managing the store has access to an overview of all the orders, sales, customers, and can also analyze the purchases via the admin panel. Admins of several online shops can easily manage them from a single admin interface.
One of the weaknesses of OpenCart is the documentation that's not very easy to understand compared to the other ecommerce platforms. And some users notice that the platform is buggy and not completely secure. The installation folder or directory should be removed immediately after the installation is complete, as it's potentially possible for someone to access it and run the installer again to overwrite the website. The Admin folder provides access to the store administration, and anyone who takes control over it can edit the customer and product information, hence, on the Internet, you can find numerous texts in which the creators of online shops advise the users how to secure their data and access to the platform.
4. Drupal Commerce
Drupal is a powerful CMS used to create all types of web pages. Drupal Commerce is one of the Drupal modules that you can use after installing Drupal. By choosing Drupal and Drupal Commerce, you automatically obtain not only the many functionalities aimed at online shops, but also this CMS with all its functions.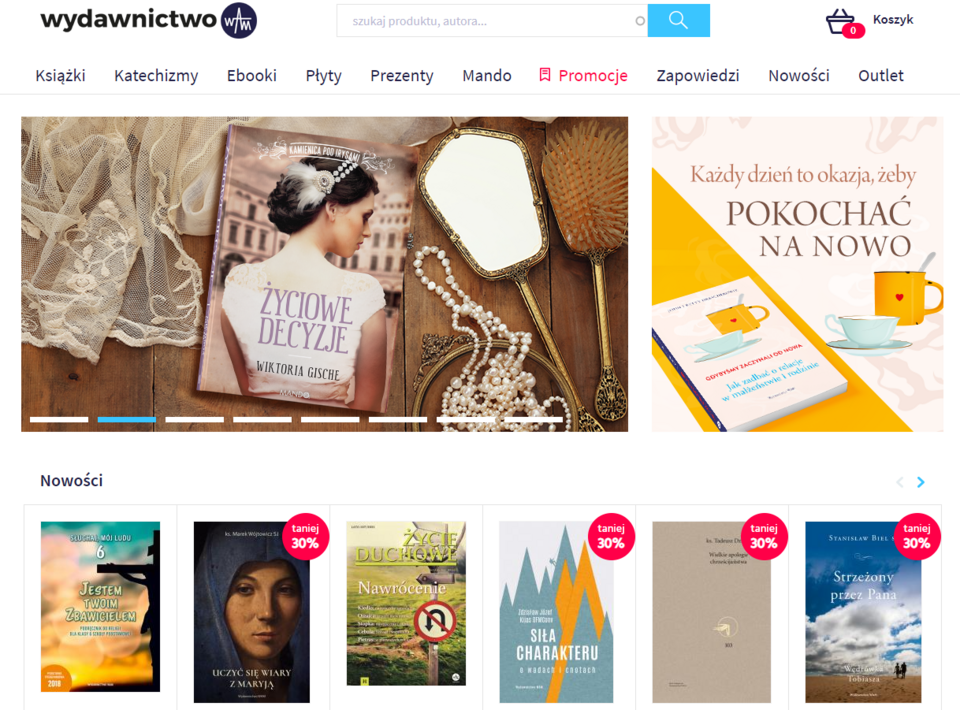 The WAM publishing house website was made using Drupal Commerce
The flexibility of this Drupal module gives you a competitive advantage as it allows for more than a typical ecommerce system. It's suitable for building a standard store, as well as for selling digital products, downloadable or available on a subscription basis. There are Drupal modules that allow implementing various payment methods, e.g. an installment payment system. You can also introduce multiple mechanisms for calculating the price and the use of price components if the price of the product isn't fixed but depends on the selected elements and configuration. Drupal Commerce allows the user to manage this mechanism with the help of price components.
Drupal allows creating a personalized online store using the latest ecommerce solutions, e.g. visual search project or augmented reality.
5. Sylius
Sylius is an ecommerce software for quickly creating personalized online stores using the headless model. It's a specific concept of software development - the frontend of the solution is separated from the backend. These parts communicate via API. Sylius can easily be used as a backend for an ecommerce implementation in the form of a progressive or mobile application. This ecommerce platform is built on the Symfony framework (using the PHP programming language). It comes in commercial and free versions.
Stores created with Sylius are easy to develop and modify. It works well on a standard VPS but can be used with the Docker and Kubernetes platforms for increased scalability. It can also be integrated with various payment systems, other software and business tools. The built-in advanced reporting tools allow you to monitor the functioning of the store.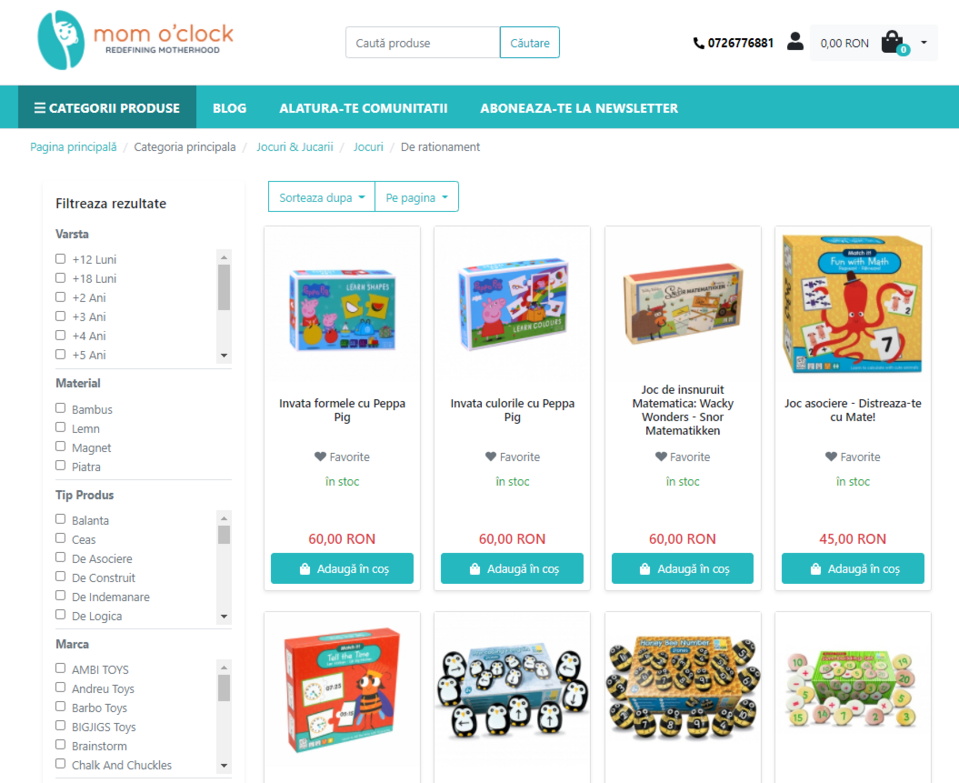 The Mom O'clock multi vendor marketplace is based on Sylius.
Sylius is lighter than most solutions available, so it requires less hosting power. It also has an active community. You can contact other users of this platform through the official forum or website, and also through Facebook. Minor updates are introduced every 3-6 months.
Open source ecommerce platforms - summary
Due to the large selection of open source solutions, it's worth considering creating your online store using one of them. Using this type of software will allow you to create a unique sales page tailored to your individual needs. Drupal and Sylius are among the business-proven open source technologies that guarantee their users great freedom in creating ecommerce solutions.