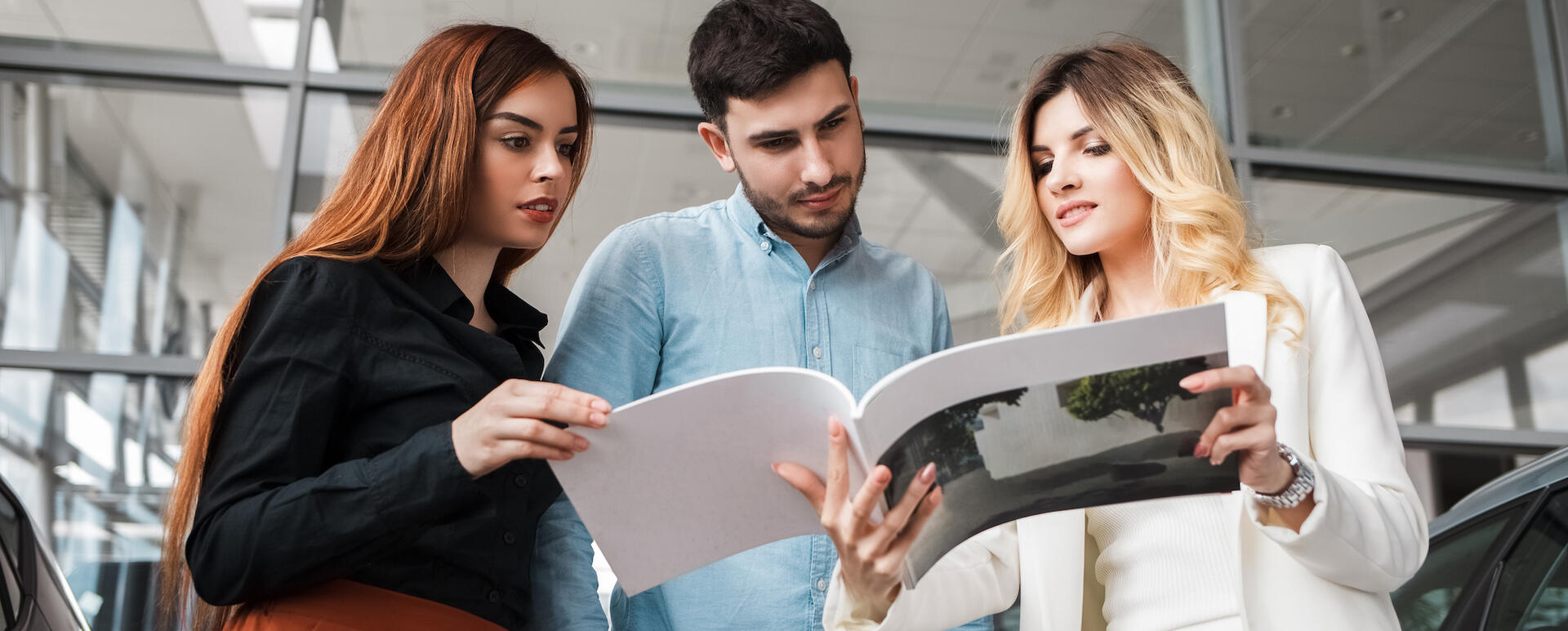 6 Industries That Benefit From Information Management in Pimcore
A Product Information Management system like Pimcore allows you to collect, store, and update data from various sales channels. Despite its many practical functionalities for online stores, this solution isn't limited to the ecommerce industry. The open source platform also streamlines data flow in travel, retail, media and publishing, manufacturing, distribution, and more. Find out how different industries can benefit from this software and its features.
What is Pimcore, and why is it a good solution for different industries?
Pimcore is an open source platform that makes digital life easier for companies. As a Product Information Management software, it centralizes data of different volumes and types (e.g., marketing, sales, technical) in one system. As a result, organizations can efficiently collect, manage, integrate, and distribute information across multiple touchpoints – ecommerce platforms, websites, social media, paper catalogs, and so on.
With Pimcore, you can send only the data you need to specific channels. You'll eliminate duplicate information, automatically reduce errors, and keep data consistent across each platform. This PIM system also acts as a "data warehouse," allowing you to create and maintain information relationships between large data sets. This feature is helpful for companies that share product details among departments, business partners, or development areas.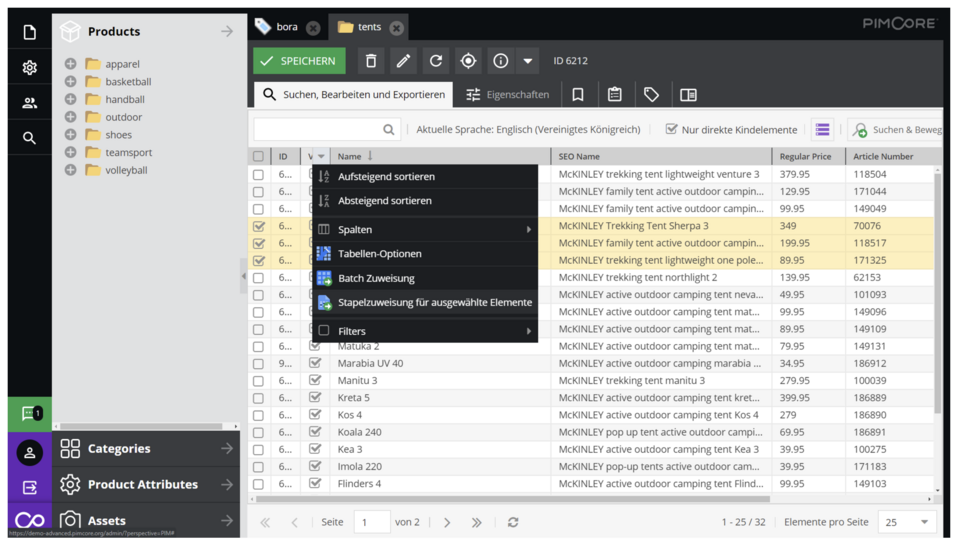 Source: Pimcore
Although data management is at the heart of the Pimcore system, it also provides its users with several other capabilities. Companies from diverse industries can easily define product attributes, hierarchies, and versions, set pricing and promotions, and specify localization in different geographic regions. 
Pimcore can also be used for brand management, print publication creation, and automated corporate translation. In the last case, thanks to the Pimcore integration with the Google Translate and GlobalLink translation memory system, the software enables translating product information automatically into multiple languages. 
What industries benefit from Pimcore?
Organizations of all sizes and industries choose Pimcore because it enables not only improving data quality and controlling all the information when data management becomes too complex. This system also helps to facilitate product-driven processes, increase productivity, boost sales, and improve customer experience. Further in the article, we'll explore how travel, retail, media and publishing, manufacturing, ecommerce, and distribution can work with Pimcore to meet their needs.  
Travel 
Today, more and more people are using technology solutions to plan their voyages. Platforms such as Booking.com, Airbnb, and TripAdvisor are so popular. Therefore, other travel service providers need to keep up with the aforementioned online platforms and simplify the customer journey to ensure that digitally-oriented travelers will use their services. 
The PIM platform helps make the travel experience convenient for customers. It can be used for providing access to interactive, revised hotel catalogs and trip brochures and then to itineraries or individual lodging information. How does it work? 
Travel Management
Travel companies can use Pimcore to manage and update travel information and digital assets (such as hotel images, and trip catalogs in PDF format) in one software. Then it's easy to distribute consolidated data, for example, to different travel ecommerce platforms, and to the company reservation system. As a result, customers have access to up-to-date, consistent information (i.e., same prices, or room availability at the facility) while they book accommodations online, purchase transportation tickets, or sign up for tours and sightseeing.
Automated travel package promotion
Travelers like to compare available trips and their prices and search for the best recommendations and user reviews to fit the best travel package. With Pimcore, companies or travel agencies can reach their target audience faster than the competition. Product information management allows them to deliver travel content in real-time and consistently across multiple channels, including websites, corporate newsletters, social media, and mobile applications. Automating the process eliminates repetitive tasks (like pasting content into different tools) or inconsistencies in package descriptions. 
Retail
Retailers running offline stores compete for customers by offering increasingly innovative experiences. Brands use personalization (for example, real-time marketing campaigns that encourage in-store visits) and new technology solutions (e.g., self-service checkouts or virtual fitting rooms) to engage shoppers. 
To deliver the best shopping journeys, companies need to collect and manage the product information that matters to customers (e.g., product description, technical specification, item pictures, or video, quantity, and availability). To do this productively, they need a comprehensive PIM platform with its functionalities.
Omnichannel retailing
Presenting high-quality, customer-focused offers is one of the most significant elements of the retail industry. Companies can use Pimcore to synchronize product information and simultaneously place it in multiple channels (e.g. social media platforms, mobile apps, in-store kiosks), providing a consistent experience. In this way, they can target audiences and inspire them for shopping at sales points. 
Pimcore's system focuses on the omnichannel strategy, providing automatic updates, easy offer management in online and offline materials, and message personalization. It also connects two worlds – digital and physical. To maintain brand integrity, companies can deliver the same information across the website, mobile application, and paper catalog or even integrate the click-and-collect system into the offline store. 
Media and publishing
A major challenge for media and publishing companies today is finding solutions that simplify the preparation of materials for offline and online publications, using automation and relying on data. This is true not only for large publishing houses or smaller agencies working with clients but also for companies that have in-house specialists working on, for example, online offerings, paper catalogs, or company brochures. Let's look at how Pimcore can help in this case. 
Cross-channel and print publishing 
Pimcore is a suitable tool for cross-channel publishing. It automatically delivers product information to various output channels (such as websites, mobile apps, and physical sources). For example, companies can easily publish the details of their products, such as books or magazines, on the ecommerce platform and simultaneously use some of this data to prepare printouts. Pimcore allows them to export data to PDF files (RGB and CMYK standards) and office documents. 
Thanks to its publishing capabilities, Pimcore users can automatically create datasheets and content, such as product catalogs, price lists, technical documentation, company presentations, photo magazines, brochures, etc. Editors, marketers, or sales managers no longer need to ensure the data is up-to-date before publishing because the system automatically updates all the information. 
Layout design software integration 
Another feature of Pimcore is its ability to integrate easily with the publishing and layout design application – Adobe InDesign. Such a solution allows designers and publishers to use data models, object databases, and assets stored in the PIM system and build the layouts in design software (e.g., format the tables, and adjust product pictures), turning them into printing materials (leaflets, posters, catalogs, magazines, or even books).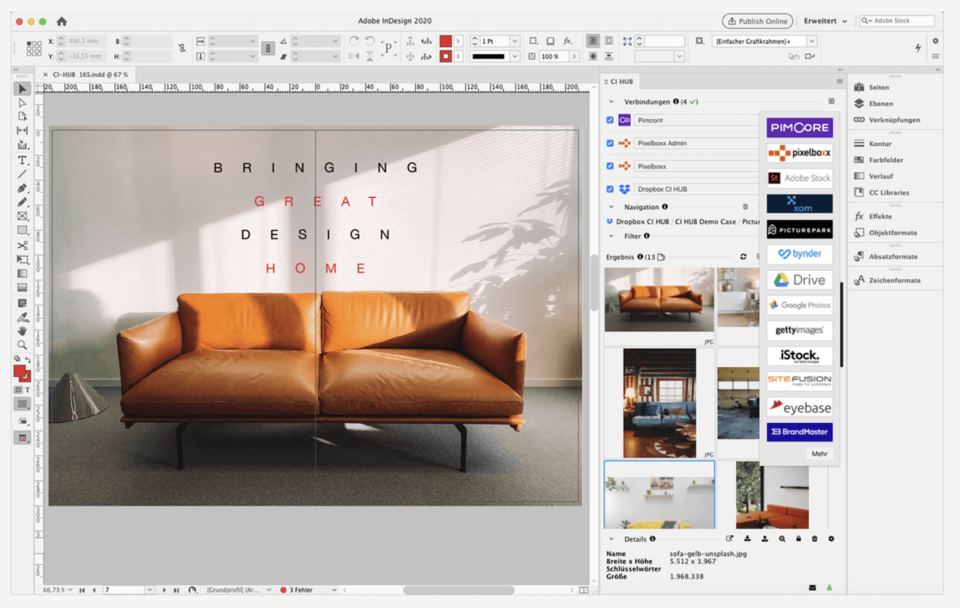 Source: Pimcore
Manufacturing
Manufacturing, like other industries, is going digital. This is happening for various reasons – innovative products are emerging, the time to market for new products is decreasing, and consumer demands are advancing. Companies need to meet these challenges. The PIM system can help them by better data management and increasing operational efficiency.    
Industrial data management 
Pimcore provides manufacturers with efficient data management. It enables them to import, enrich, consolidate, and deliver product information across different channels and applications (e.g. B2B trading platforms, manufacturing websites, product catalogs, and price sheets). With centralized and up-to-date data in one place, they can respond quickly to market and customer demands. 
PIM system also helps reduce time by automating some repetitive tasks, for example, SKU (Stock Keeping Unit) releases, price changes, adding new items or product recalls. For this purpose, manufacturers can use such functionalities as importing product data directly from their ERP (Enterprise Resources Planning) system, batch editing on a multi-product list, duplicating existing products to faster create similar ones or building templates.  
Ecommerce
Digital retailers need different ecommerce features to drive engagement and sales. Today, simply setting up an online store and selling products only there is no longer enough to differentiate offers from the competition. They need to capture customers' attention and deliver messages fast through the right media. Pimcore, as a PIM open source software, has built-in tools to help merchants sell and promote products to their target audience. See how it works.
Product information optimization
In the Pimcore ecommerce system, sellers can edit various product information (such as prices, sizes, availability, or technical description), add digital assets, optimize it, and adapt it to the channel where they make it available. This way, the details presented about the offer will be consistent but unique. Merchants can ensure that information conveys a different value to the viewer in a given medium (e.g., emphasize images in social media and a low price in online ads).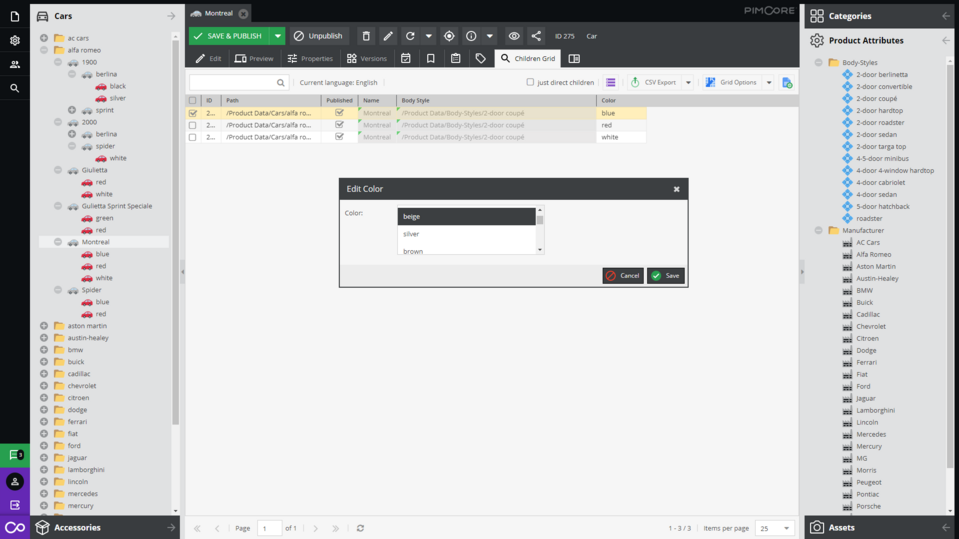 Source: Pimcore
Multiple integrations
The Pimcore system delivers several integrations with different types of software that are important for ecommerce companies' daily work, e.g. shop system, ERP system, CRM platform (Customer Relationship Management), and PLM (Product Lifecycle Management) software. It imports and exports data from these sources so that merchants can work with ready-made, big sets of information in one place. 
In addition, Pimcore ecommerce features allow sellers to integrate with many customer touchpoints. They can connect to search engines (Google, Bing, YouTube), social networks (Facebook, Instagram, Pinterest), affiliate systems (Criteo, AdRoll), product comparison platforms (Shopping.com), and marketing applications (SalesForce). As a result, ecommerce brands can reach a wider audience of potential shoppers. 
Distribution
Today's challenge for the distribution industry is to increase agility and improve supply chain efficiency so customers can easily get access to products whenever and wherever they want. To do this, distributors have to use digital tools to adapt to the market and optimize some processes (for example, accelerate the new product introduction, and quickly establish partnerships with new points of sale).
With a PIM open source software, distributors are able to coordinate strategy and supply chain with all essential data - SKUs, suppliers, buyers, and partners' details. Let's have a look at the sample options. 
Supply chain optimization
Pimcore lets distributors efficiently exchange new product data and delivery details between different entities. It bears it quickly and seamlessly to various systems, giving control over every process step. Pimcore users also get a single view of the information, where they can take a closer look at the particular product or collection and edit the details. 
With the PIM system, distributors no longer need to fill out paper documents important to particular stages of the supply chain. Pimcore automatically imports or exports data from multiple sources, so users can unify it in one software, and then just send it to recipients. This allows them to maintain consistency of information throughout their communications with suppliers, customers, merchants, or business partners. 
Pimcore for different industries – summary
As you can see, Pimcore is a complex tool that is suitable for different industries. If you're in the travel business, you can improve the customer experience with access to up-to-date itineraries and trip information in multiple media. If you're a retailer, you can create customer-centric offers with the omnichannel solution. 
A PIM open source software is also good for publishing and manufacturing by providing printing capabilities and integration with the layout application Adobe InDesign. In ecommerce, this system plays a vital role by delivering integration with shop platforms, ERP systems, and different customer touchpoints (such as social networks, search engines). For the distribution industry, it's great for optimizing the supply chain and information flow.   
Are you interested in what a PIM system can do for your company? Our specialists in Pimcore development services can help you implement this solution in your organization so that you can achieve your business goals through Product Information Management.