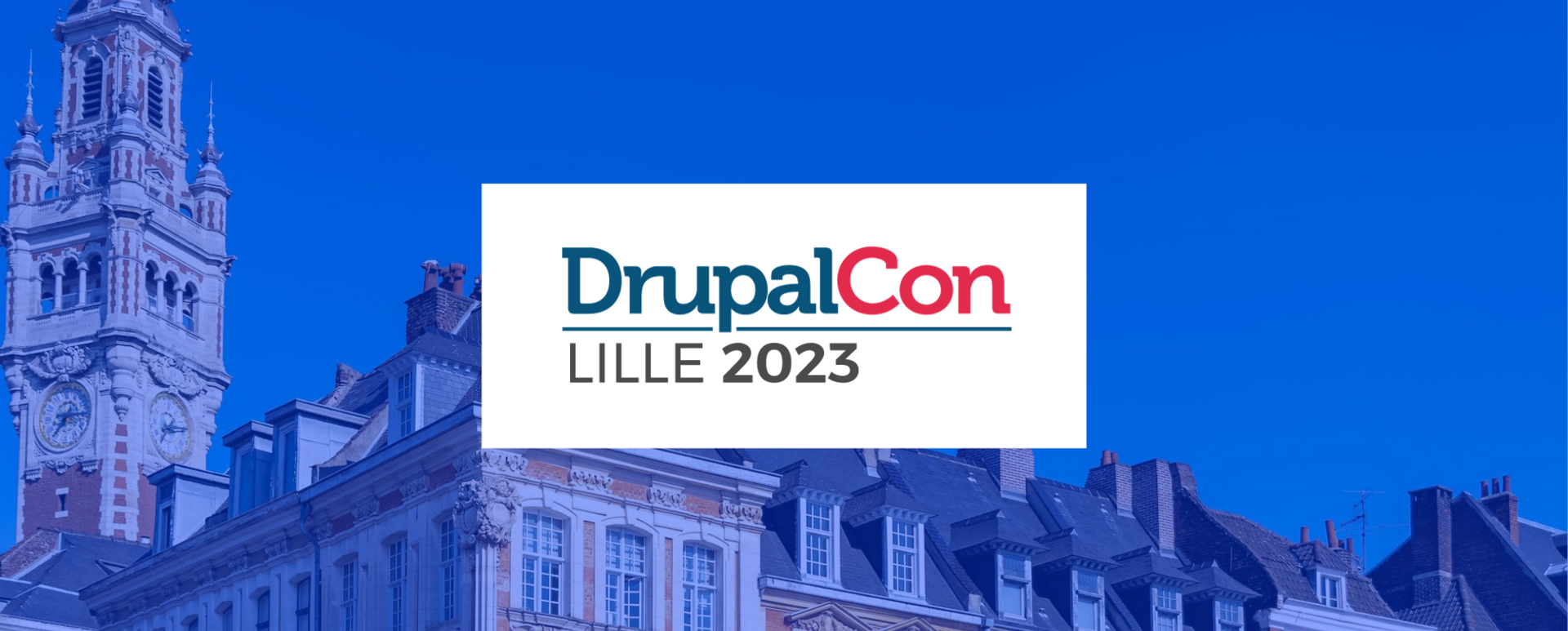 The conference season is slowly winding down, but one major point is still on the horizon – DrupalCon 2023. This year's European edition of this educational event will take place in Lille, France, from October 17th to 20th. Let's take a closer look at this gathering and see why it's a must-attend occasion for anyone interested in Drupal.
The Drupal community gathers again at DrupalCon 2023
DrupalCon is a global conference that brings together people who use, enjoy, develop, and build Drupal. This year, the event is returning to France. The host venue, Lille Grand Palais, will become a space full of networking opportunities, friendly conversations, and contributions to Drupal.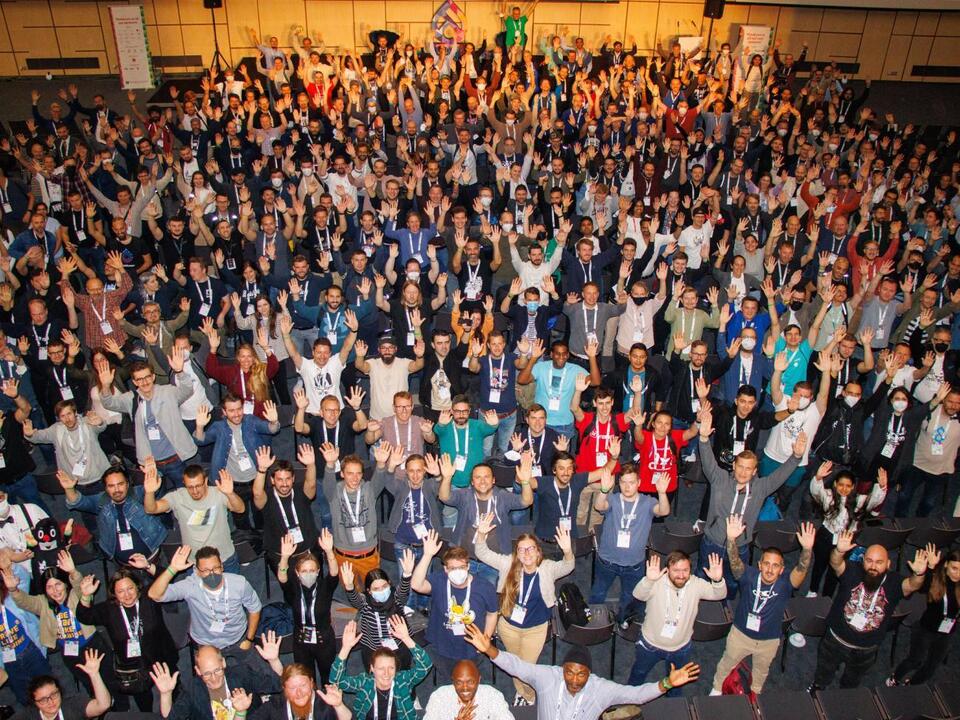 Last year's edition of DrupalCon in Prague, Czechia, source: events.drupal.org
Droptica couldn't miss the chance to meet with the Drupal community again. That's why we're happy to be a gold sponsor of DrupalCon. Our team will travel to Lille, France to share experiences, discuss projects, explore Drupal, and learn more about the future of the technology. To that end, our specialists will be participating in sessions, keynotes, and panels led by experienced industry professionals. And the conference program is packed with exciting topics!
What's in store at DrupalCon 2023?
The event organizers have made sure that no DrupalCon Lille attendee will be bored. The program is full of sessions aimed at different interest groups. We can find several topic categories on the agenda: 
Keynote,
Agency & business,
Clients & industry experiences,
Makers & builders,
Open web & community,
Users & editors, 
Sponsored talk,
Contribution topic, 
BoF (Birds of a Feather). 
What's in the DrupalCon schedule? We've prepared a subjective overview of the most notable talks.
Driesnote and the Drupal community Q&A panel
A not-to-be-missed item on the conference agenda, happening right after the opening ceremony, is a meeting with Drupal founder and Acquia CTO – Dries Buytaert. In his traditional keynote, known as a Driesnote, this Belgian-born open source pioneer will provide an update on the Drupal project and development.
Another critical point for those interested in the future of Drupal will be the opportunity to meet the Drupal Association and Board members and participate in a community Q&A panel. During the 45-minute discussion, attendees will have the unique chance to ask the organization's representatives direct questions about key initiatives, strategic goals, and more.
Agency and business
Project First Aid: How to respond, recover, and thrive in the face of project failure
In digital project management, where 70% of projects face potential failure, it's crucial to recognize and address issues quickly. That's why Alice Minett will share insights on how to identify early warning signs, create immediate recovery plans, and implement preventative measures to save projects from crisis. The presentation is suitable for agencies and project managers. The speaker will show some practical strategies to increase project success rates.
How we integrated AI as a new colleague
This session will touch on the latest hot topic - Artificial Intelligence. In their presentation, Ulrika Mengshoel Wedelin and David Holmlund from Digitalist will explore the issue of integrating AI tools such as ChatGPT, Midjourney, and Copilot into daily operations. They will discuss practical applications, benefits, and challenges, emphasizing how they align with their company's values. In this 45-minute session, we'll learn how the tools above have been integrated into the workflow and discover lessons and thoughts on adapting to a future based on artificial intelligence or ethical issues.
For good or for worse: making happy client relationships
The next interesting presentation will focus on balancing contract requirements with agile values. Drawn on 25 years of digital experience, speaker Imre Gmelig Meijling (representing React Online) will offer seven strategies for effectively selling, managing, and delivering digital projects on time and within budget. Key topics will include dealing with inexperienced agile teams, providing difficult news to clients, and protecting teams from overpromising while meeting contractual obligations. We'll discover insights gained from a diverse range of digital projects. 
Clients and industry experiences
Drupal DXP meets AI: unlocking the full potential of digital experiences
Saranya Rajaram and Annam Ravin from Axelerant will explore the synergy between Drupal DXP and AI to enhance digital experiences. Attendees will gain insight into AI-powered tools and techniques for enhancing, i.e., personalization, chatbots, content creation, and data analytics within the Drupal framework. This 45-minute session will cover best practices for integrating third-party AI tools and services. We'll also discover the challenges and limitations of using AI in Drupal DXP and strategies for overcoming these issues. 
The unique challenges of design systems at scale
In this session, Jen Witkowski of Lullabot will discuss the challenges of scaling design systems to support multiple diverse websites and applications. The presentation will cover topics such as maintaining design patterns, naming systems, governance, and adoption at scale. The session is aimed at those familiar with design systems who are looking for hints on how to scale them effectively. It will provide valuable tips on ensuring consistency in a complex ecosystem of digital projects.
Open web and community
Defend FOSS: From innovation to positive change, we need to remind the world what we're about
During the presentation, Jeffrey McGuire (Partner at Open Strategy Partners) and Mathias Bolt Lesniak (member of the TYPO3 Association Board) will emphasize the transformative impact of open source technology and the need to reaffirm its importance. They will highlight the necessity to communicate what makes open source different and its potential to drive positive change globally. The session will explore the evolution of open source - from small successes to significant societal contributions over the past 24 years. 
What can we learn from the 2023 Drupal Local Development Survey?
The Drupal Local Development Survey gathers insights from developers around the world about tools and processes for Drupal development. In 2023, it received over 800 responses worldwide, available in multiple languages. During this session, Michael Richardson (managing director at Ironstar) will present the latest survey results, shedding light on Drupal developers' practices, methodologies, and hosting choices. It will also address ad hoc feedback and outline plans to improve the 2024 survey to gather even more valuable information from the Drupal community.
Makers and builders 
Managing technical debt: lessons learned and how modern Drupal helps you
Modern Drupal offers incredible possibilities for growth, but it also presents challenges, particularly in managing technical debt as a website expands. During their session, Dieter Blomme and Niels Aers from Dropsolid will share cases of issues they have fostered, such as tracking and measuring technical debt to keep it under control. They will share with us some valuable lessons learned, highlighting challenges faced and solutions found – both technically and in client interactions, accumulated over time.
Design in Figma and deploy a pixel-perfect Drupal website in days, not weeks!
This session will address the common challenge of translating complex visual designs into Drupal web builds. Akhil Bhandari, from Salsa Digital, will highlight this process's high costs, time, and potential errors. Then, he'll present CivicTheme, an open source, atomic component-based design system in Figma that provides a solution to ensure perfect alignment between design and Drupal 10 build. The speaker will discuss how this approach significantly reduces project timelines and costs while delivering consistent, visually appealing, and standards-compliant websites. We'll also learn how to seamlessly design and build Drupal websites with precision, eliminating the need for coding.
Users and editors
Accessibility for Everyone!
The importance of accessibility is often misunderstood and viewed as relevant only to people with disabilities. This 20-minute session, led by Daniel Angelov (QA at FFW), will aim to broaden this perspective. The lecturer will provide a comprehensive introduction to the basic concepts underlying WCAG (Web Content Accessibility Guidelines). Attendees, regardless of prior experience, will have a chance to expand their knowledge of accessibility. The presentation will include examples and solutions based on WCAG 2.2, inviting us to explore this essential topic more deeply.
AI-assisted content editing with CKEditor5 & OpenAI in Drupal 10
During this 20-minute talk, Raffaele Chiocca (Software Engineer at Hinto) will present a Drupal module that streamlines content creation by integrating CKEditor5 and OpenAI. This session will explore its features, including the DALL-E API integration for media content. Real-world use cases will illustrate its capabilities, and the presentation will show the potential of web products and AI integration, offering insights into the future of content creation within Drupal. 
Contribution Events for various specialists
DrupalCon is not just about theory. The conference will also feature several practice sessions. During the Contribution Events, developers, project managers, QA testers, designers, and other specialists will work side by side on a Drupal project. At the meetings, they'll organize events together, write documentation, review bugs, and more.
Attendees will also be able to share their insights, discuss challenges, and address issues  they've encountered in their work with Drupal so far. For those wondering which Contribution Event is right for them, the organizers have provided a helpful outline:

Source: events.drupal.org
Meet Droptica at DrupalCon Lille 
At Droptica, we're proud to be a gold sponsor of such a fascinating conference as DrupalCon. The team of five people will represent our company in Lille, France,  from October 17th to 20th. Who will be present there? Our co-CEO, business development manager, recruitment specialist, and two technical directors. Visit booth #10 to chat with them and share some thoughts on Drupal, PHP, Mautic, and more. Why you should get to know us? We have more than 10 years of experience as a Drupal agency, and we take great pleasure in contributing to this open source technology.