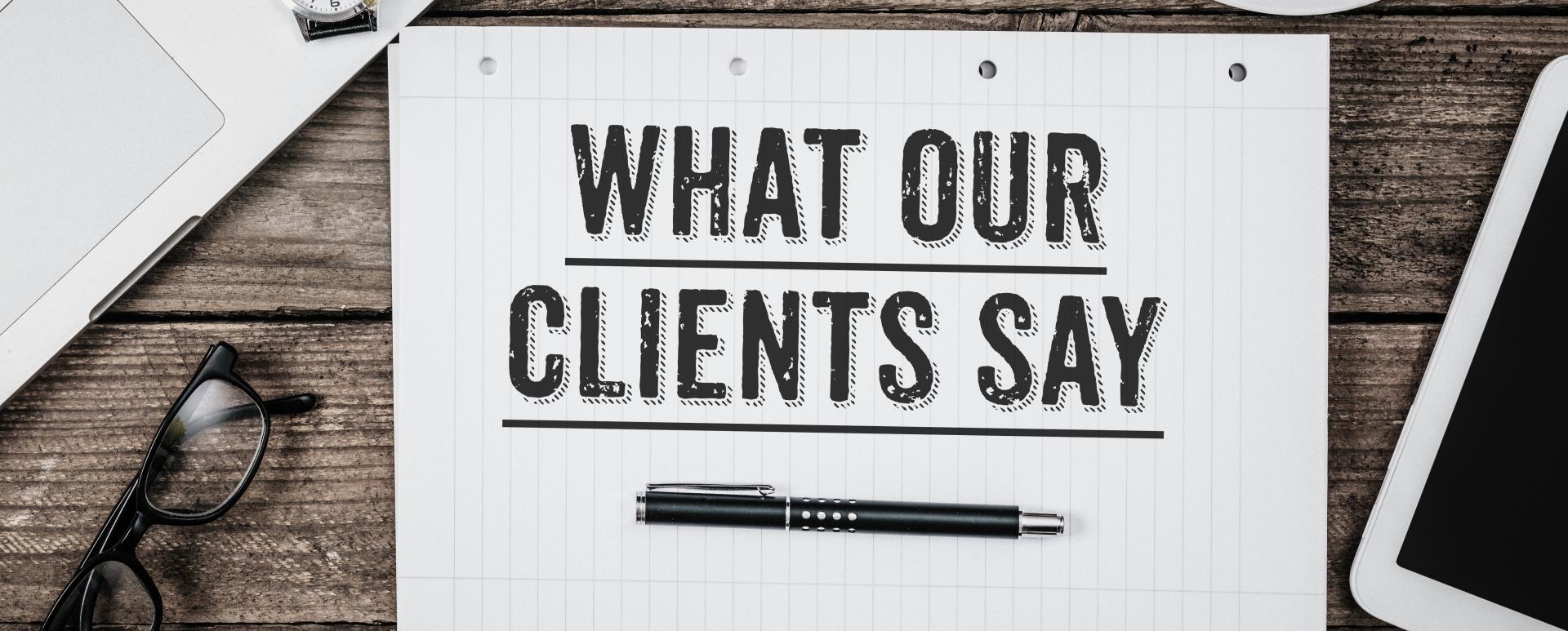 How to Use Customer Testimonials on a Website?
You might know that customers are quite keen to share their thoughts about various brands online. What value do customer testimonials have for your business and how can you present them on your website? Read our article and learn more about the benefits of using customer testimonials on your website.
What is a testimonial?
A testimonial is nothing more than an opinion or review given by a customer who used your services or purchased a product from you. These can take the form of a product review, a detailed commentary on a service, or an evaluation of the work of your company's specialists.
Customer reviews can be positive or negative. The references (or testimonials) are positive comments about your business. It's worth noting that a testimonial isn't only a statement formulated on the initiative of the buyer themself. The request for a testimonial can come from the company after the completed sales process. Comments that are worth using on your website can come from various sources.
How to obtain client testimonials?
The simplest, although perhaps not the most convenient method of creating a testimonial section on a website, is to issue a request (e.g., by email) for customer feedback, and then manually publish that feedback in the appropriate place on the company website. Positive customer testimonials can also be tracked using the right brand monitoring tools across different communication channels. You can find valuable testimonials on social media and on your own website. The last one happens due to implementing the right comment system. Having it, you can allow users to freely express their opinion, for example on your company blog.
The process of acquiring and publishing testimonials can be automated. If you want to speed up the acquisition of customer opinions, you can create a special form that the customers interested in expressing their opinion about your services can fill. It's a good idea to ask supporting questions in the form to help the customer formulate a valuable testimonial. Such questions may be as follows:
What customer problem did the product or service help solve?
How did the service go?
What is most indicative of a high quality product or service?
Customers write about companies on various websites, for instance, social media (Facebook, LinkedIn), Google, company directories and rankings. Finding and transcribing these opinions to your website is time-consuming, so it's a good idea to automate the transfer of testimonials from selected portals to the testimonials section of your website. Popular frameworks and CMS have special plugins that allow you to create an automated testimonials section. We're talking, for example, about Social Reviews & Recommendations for WordPress. The plugin displays reviews and recommendations of Facebook pages on your websites in the sidebar widget. It uses Facebook's Graph API and requires admin permissions to the Facebook page to obtain reviews and recommendations. If this condition is met, the plugin drags customer testimonials from the social network. The customer reviews from external systems can also be easily embedded into the website using, for example, the Clutch Review Widget or Taggbox Widget.
How should testimonials look?
The purpose of a testimonial is to persuade potential customers to make a purchase, so this type of opinion should be specific (it should indicate a real need of the client and the way in which this need has been satisfied by the product or service) and they should be authentic. The credibility of a customer testimonial is enhanced when it is signed with the customer's name and surname. It's also best to add the name of the company and the position of the person who is giving the testimonial, so that readers know that the author is a real person who is a specialist in a certain field. You can also ask the recommender to give you permission to publish their image in the form of a photo. It adds credibility to a customer testimonial and increases the trust of the person viewing your website, showing that there is a real person behind the comment.
Unfortunately we have little influence on how a review is presented. We aren't allowed to interfere with the content of our customer testimonials (shorten them, add new elements). However, a linguistic correction is allowed. Testimonials with spelling, punctuation, and stylistic errors reflect poorly on the author's image and are less convincing. If we send a request for a testimonial by email directly to the customer, we may suggest corrections and publish the modified testimonial after getting approval from the original author.
Why is it worth publishing customer reviews on your website?
91% of 2020 respondents reported that online testimonials positively influenced their willingness to use services from a particular company. Publishing customer testimonials on your website can provide a number of benefits:
inspire trust of new potential customers,
by adding testimonials with author names and positions, consumers will get a picture of your brand's current typical client, learn who you work with and what needs you meet,
opinions will allow you to build an emotional connection between your brand and the customer, and this will help convince them to make a purchase.
By publishing customer testimonials on your website, you are providing consumers with social proof. According to this concept, potential customers are more likely to make a purchase decision if they come across credible, positive testimonials from other buyers about a service or product. From testimonials, users learn in detail not only what the product helps with, but also what specific functionality it has and what it can be used for.
Where should you place testimonials on your website?
The choice of where to include client testimonials on your website is up to you. You can base your decision on the number and manner in which your services are presented on your company website. For example, if you handle social media and the packages you offer differ only in the number of posts you publish, you can place testimonials on the home page. However, if you offer a wide variety of services (e.g., website building, mobile app development, and optimization of existing systems), you may want to consider posting testimonials on the page of a specific service, as the testimonials will relate to various solutions.
1. Homepage
Customer testimonials are very often placed in a section on the home page, which increases the likelihood that the consumer will see them. After all, this is where a user usually starts browsing your company website. They will probably notice testimonials from other customers if you don't put them at the very bottom of the website. You need to make sure that they stand out properly among the rest of your content. Users often return to your home page after reading the rest of your content and every time they type your website address into a search engine. Usually, links from social media also lead to the homepage.
There are many ways to draw the users' attention to the testimonials section. It can be static and contain a few fixed opinions or dynamic, e.g., in the form of a carousel. The Tea Story online store chose a dynamic solution. A separate section on the home page dedicated to the presentation of testimonials has interesting, colourful graphics that match the design of the whole website. It resembles a postcard or decorative stationery. Testimonials slide by, giving way to one another. The customer can also switch testimonials by themself. The section is located just below the Hero section, so it's very visible.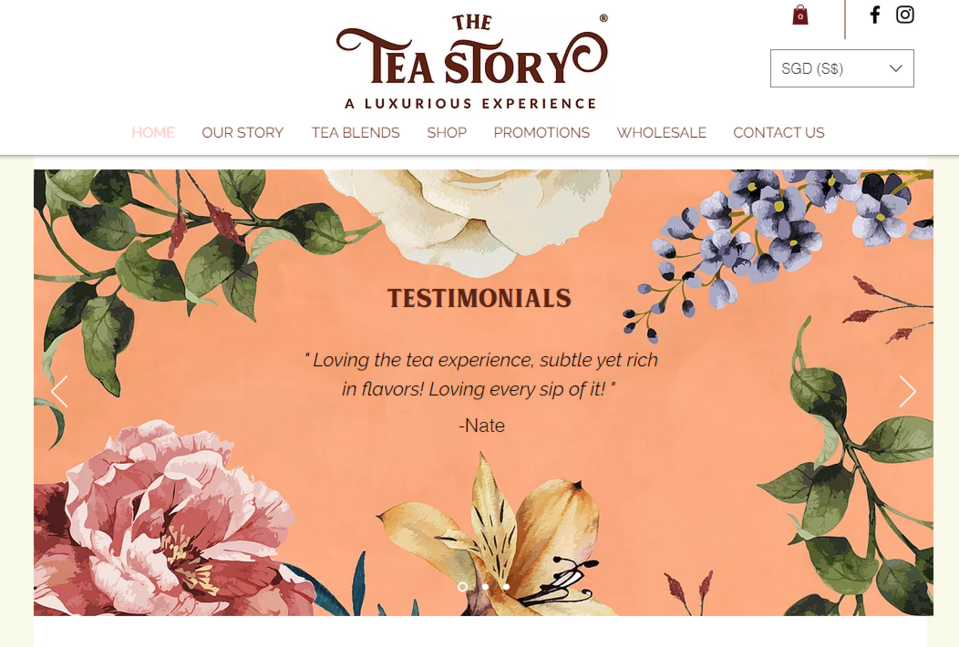 Source: The Tea Story
2. The Hero Image section
The Hero section or the slider at the very top of the website are the first elements a customer sees when opening your website. Placing customer testimonials there is an interesting idea. The customer will notice them almost immediately, and if they are presented properly, they will also be an interesting element of the website design. In addition, if the user wants to return to the testimonials to look in more detail at them after browsing the website, they will have no trouble finding them between the text and graphics on the website.
3. Product page
Product pages (with a description of a given product or service) are usually visited by users with specific needs, looking for specific solutions. Placing a testimonial just below the product or service description can reinforce the customer's positive impression and convince them to make a purchase.
The Infinity and Ovation company presents testimonials in a section below the description of a particular service. There are dynamically changing comments, as well as backgrounds - various graphics related to the event industry are displayed, stimulating the imagination of the potential customer. The user can also scroll through the references themself using the arrows if they don't want to wait until the next testimonial appears.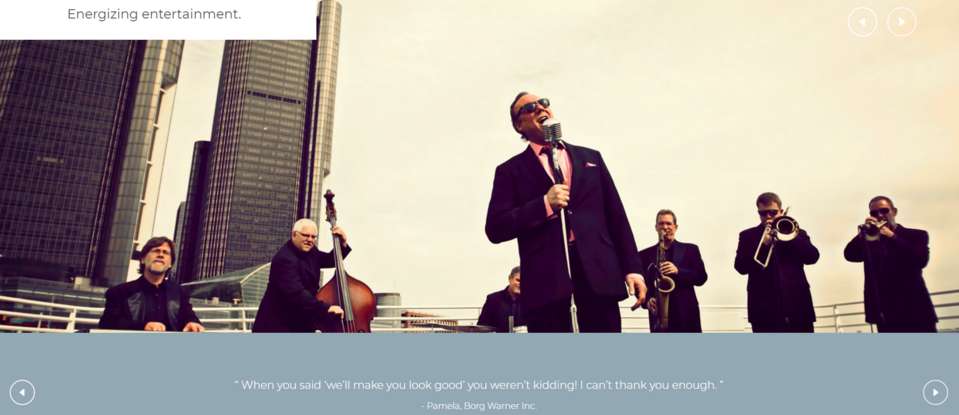 Source: Infinity and Ovation
4. Nearby call to action (CTA)
A call to action is usually a large, visible button that takes you to a subscription, product personalization website, etc. Placing a testimonial here can strengthen the customer's motivation to click the CTA button, i.e. take the action we expect. Such testimonials also provide additional information about the product at this point. They can intrigue the reader and convince them to delve deeper into your website.
An example of this approach to showing testimonials is the solution of Squarespace. This is a classic example of placing a testimonial between two CTA buttons. Buttons with catchy motivational slogans surround the customer testimonial section. The comment is strongly emphasised by graphics and a contrasting dark background.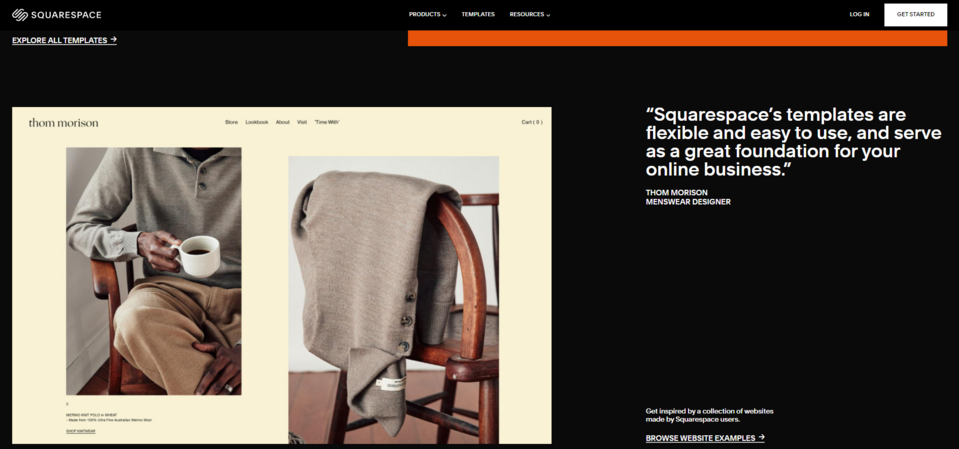 Source: Squarespace
5. Separate subpage for customer testimonials
If you want to display a large number of testimonials, you can choose to create a separate subpage on your company website. On any subpage, you can create a small but visible section with short quotes from testimonials along with links to the entire testimonial. It would be a good idea to place a button redirecting to the testimonials in the website menu. After clicking the button or section, the customer will be redirected to all the testimonials you highlighted. Some website builders offer ready-made templates for creating websites with customer testimonials.
Basecamp has created a separate subpage titled Before & After, as if to suggest that businesses using this company software have undergone a transformation as a result of choosing this product. The first part of the website contains statements outlining the problem customers are facing, and below that different customers share stories about how the new solution has made their work easier.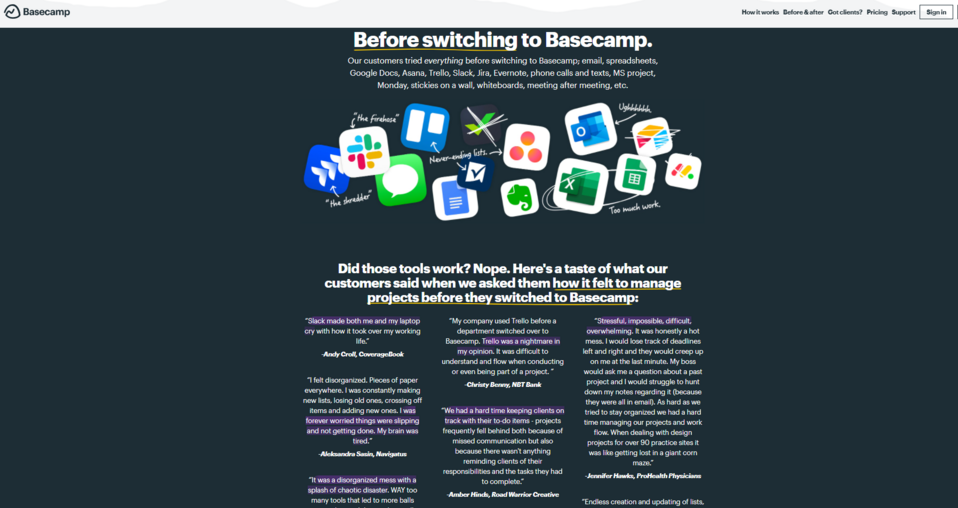 Source: Basecamp
6. In blog posts
Including customer testimonials in specific blog posts makes a lot of sense if you write regularly about given services or products. Then positive and specific testimonials from buyers confirm the information about the effectiveness of the services you mention in the article. You can place them between paragraphs, on the side of the post or at the very bottom below the text.
This is the way Slack chose to present customer testimonials. In the articles on the Resources subpage about the benefits of using the communication tool in your company, you'll find testimonials from satisfied users between the paragraphs pointing out those benefits. Slack doesn't include testimonials in every post. It's important to choose your comments carefully - they should correspond with the article.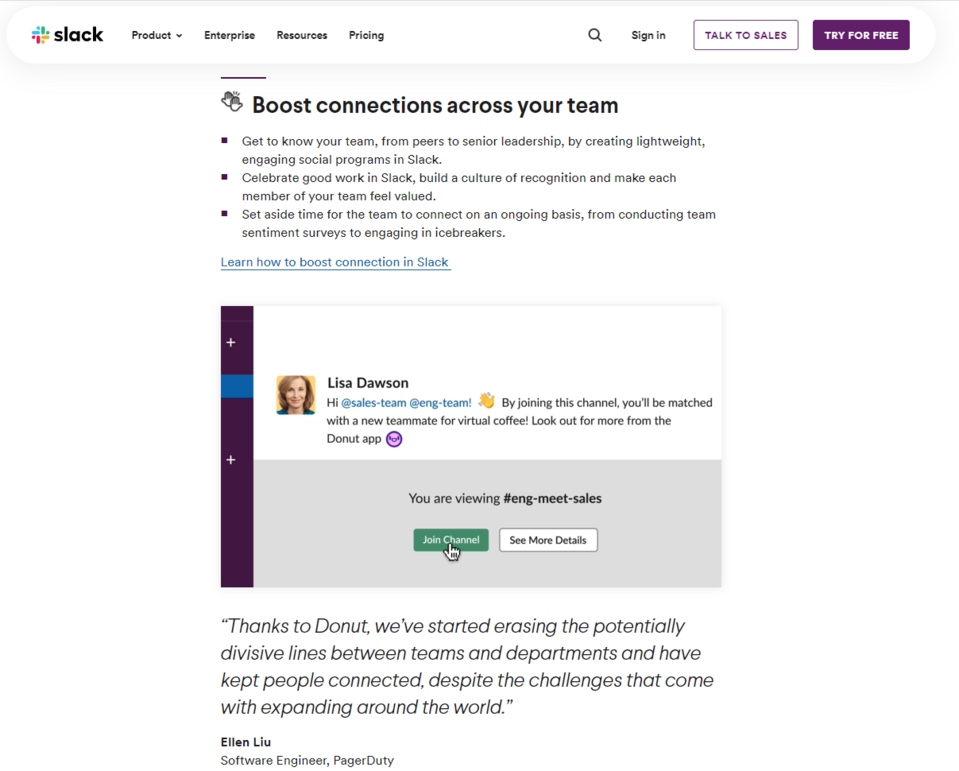 Source: Slack
Customer testimonials - summary
The right placing of testimonials on your website will have a positive impact on your customers' purchasing decisions. Check which subpages are the most visited by users and consider publishing testimonials there. Our Drupal agency can help you design your website so that it displays testimonials and attracts new customers.