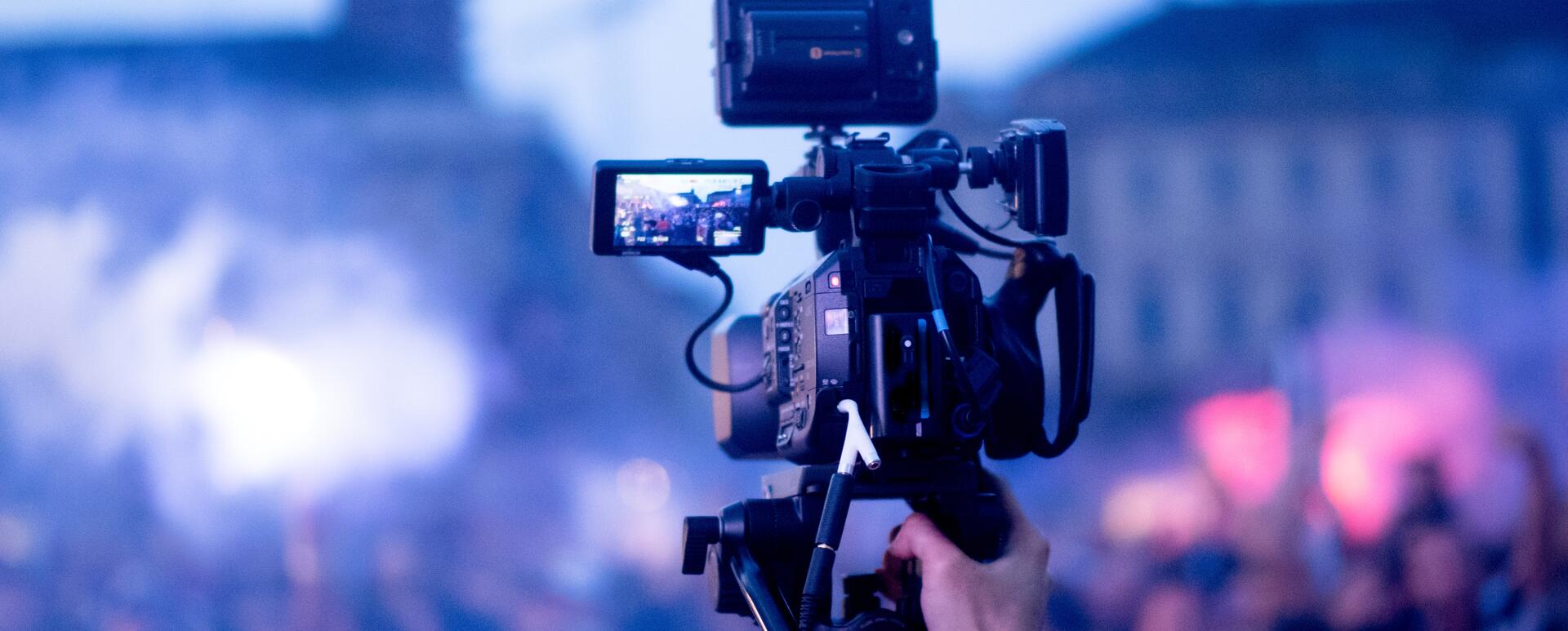 Why Do You Need a Video on Websites and Where to Use It?
Video content is not only a source of entertainment but also information. It engages the viewers with the images, animations, and sound. Using video on your website, you can make the users more interested in your products, services, or company culture. We'll show you the methods for implementing videos on your pages and the benefits of doing it.
Video on websites
For some people, videos are a way to relax, whereas others use them for acquiring knowledge and discovering new areas. Companies can take advantage of all these interests to create engaging videos that can enrich the business website. There are quite a few profits this type of content can bring them.
Benefits
Using videos, your website distinguishes itself from your competitors' pages with static content. Your visitors interact with various materials that boost their experience with your site. Video content also makes them remember your brand as one that employs creative and modern ways of showcasing its work. If you use a video about your organization, employees, and values in the About us section, it positively impacts how the users perceive your company and its atmosphere. This way, specialists looking for new challenges may be more likely to apply for the work you offer.
In The State of Video Marketing 2021 report by Wyzowl, 83% of responding marketers said this type of content helped them increase the average time their users spend on a website. Keeping people on a page affects SEO. When they stay longer consuming your content, after they were directed to it from the search engine result page, it tells Google that they are satisfied with what they found. If other visitors will act the same way, your page will land higher in the rankings. This will increase your website traffic. The more people come to your site, the bigger are chances for conversions (e.g. filling the contact form) and generating new leads. In Wyzowl's report, 84% of marketers claimed that video helped them acquire leads.
How to add a video to your webpage?
There are two simple ways to add a video to your website - by embedding or uploading it. The first one means using video streaming data from an external provider (who hosts this video in their location). Their servers are designed to handle such types of files so the videos you embed to your website will load fast. Also, when you upload your videos to a popular platform (to later link to it on your website), it will be easier for the users to find and share them.
Uploading a video means adding it directly from your page's host. Sending bigger videos can take a lot of time. The same situation can repeat when multiple people will try to watch this material at the same moment. However, unlike embedded videos, the ones that you upload to your site won't have any ads that appear before, during, or after watching, and related videos (unless you set it up).
Video hosting
Let's say you decided to embed a video on your website and you're wondering where to host it. The first place that comes to your mind may be YouTube, as it's the most popular video streaming provider in many countries. After uploading your content there, it can be found by the users of this platform. It can be the same in the case of Vimeo, which is less popular but has loyal users. Another video hosting option is Dailymotion, where you can also upload your video for free, but it can have only up to 60 minutes.
Adding video in Drupal
In Drupal, one of the ways to embed video on your website is to use the Video Embed Field module. Once you install it, you need to add a video field to the chosen content type (e.g. the article). You don't have to repeat this activity in the future, as the field will already be there. When you want to embed a particular content, just paste the link to it to the video field in your article.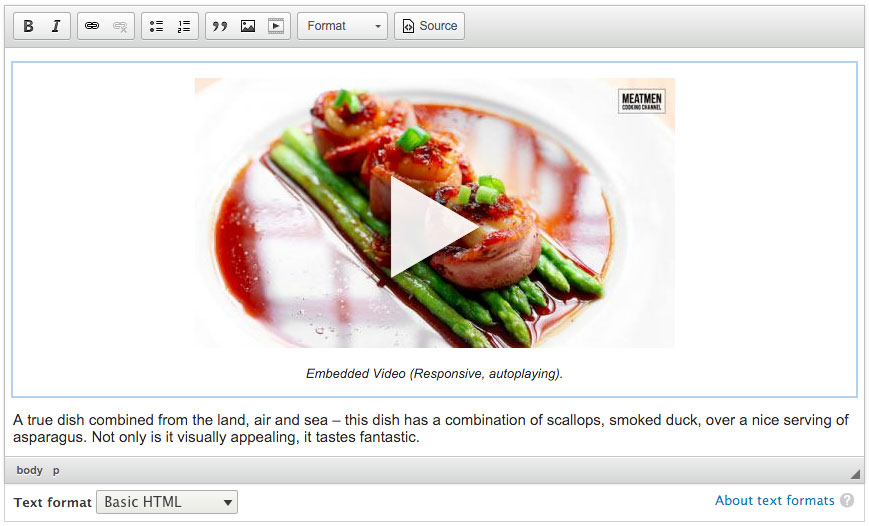 A video added with the Video Embed Field module. Source: Drupal.org
If you use a Drupal distribution Droopler, you can add your video using e.g. the Sidebar Embed Paragraph. It's divided into two parts where the first one can be filled with video, and the second one with text. To embed the video, you just copy the iframe code to Droopler.
What about uploading a video directly to your website? You can do it in Drupal using the Video module that enables you to upload and play video in any format. However, this option requires additional processes on the server (extra libraries for converting files).
How to use videos on your website?
The videos can be used for various purposes. You can showcase your services, prepare a product demo, or conduct an interview with your team to encourage the viewers to join your company. Then, depending on your intent, you can place videos in different parts of your website. We'll take a look both at various locations and goals at the specific examples.
Homepage videos
A video can attract the user's attention from the very first contact with your website - on the home page. A looped video can show cooperation in your team, your top product, or service. You can treat this content as a showcase of your company's character, abilities, and offer.
The video on the home page of the Be Happy Music Club website shows excerpts from the activities of the charity. The file was placed here using the Banner Paragraph component in Droopler.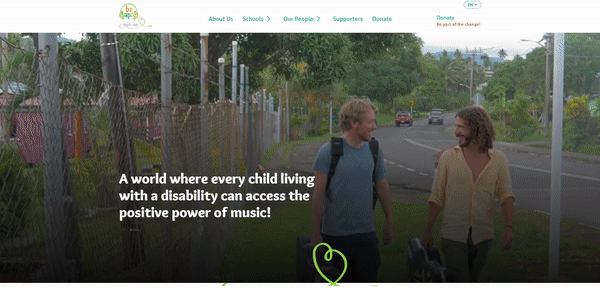 Source: Be Happy Music Club
Blog videos
Adding video to the blog post can not only enrich your content but also strengthen its educational character. Let's say you're writing a how-to article where you can explain something using examples. It's always easier for a reader to understand a particular topic when they can see how exactly it looks in practice. We used a video to show how a mega menu works on a website in Droopler.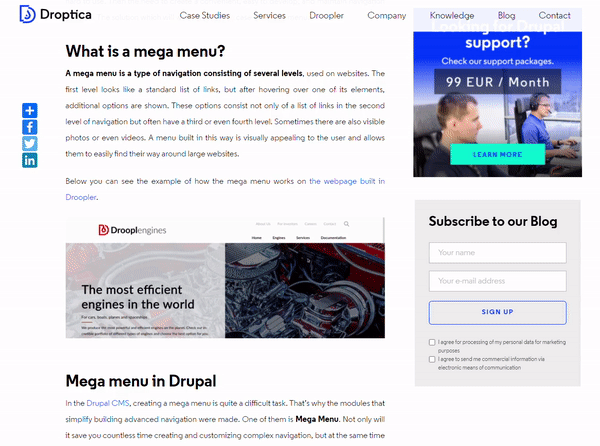 Video in the About us section
In this section of the companies' pages, there are usually some descriptions or pictures of the team. The photos already show the human side of the organization. However, the video achieves that goal even better as visitors can feel like they're meeting you or visiting your office.

The abovementioned Sidebar Embed paragraph lets you combine both video and description of your company in one place. You can add videos from YouTube, Vimeo, or other popular providers.
Product or service page video
As in the case of the how-to articles, videos can help you show how your products work. They can also tell a short story on how your items were created or how they can answer some common industry problems. Boplan - a company producing the elastic shock-resistant barriers - chose the second way. In the Products tab of their website, you can see the embedded video from YouTube showing the problem of a large number of forklift accidents. Boplan's answer to it is the safety barriers they manufacture.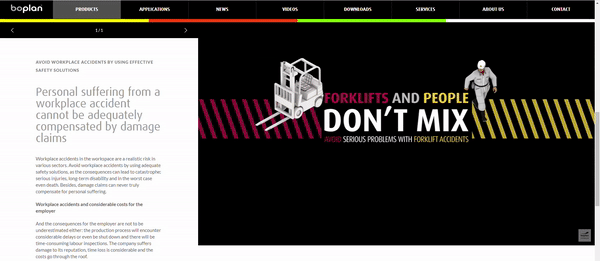 Source: Boplan
Video marketing
Creating and distributing videos should be a part of your content or video marketing strategy. This type of material can accompany your prospects in different stages of your sales funnel. You can use the videos for:
Building your brand awareness. Video helps you reach the audiences that don't know you. For that reason, you should post it on social media, YouTube, or link to it in your marketing messages (once you build a solid email list).
Interesting the users in your products. You can achieve it through the already mentioned videos on service or product pages.
Making the viewers consider your company. To be ready to include your organization in a decision-making process, a prospect needs in-depth videos. Then you should create and publish expert interviews (with your top specialists), and explainer videos (like the one from Boplan showing a solution to a common businesses problem). Encouraging the prospects to choose your offer. At this stage, your potential client may compare you with other companies. To make this task easier for them, add videos with case studies or customer testimonials.
Use video on your website
As we've presented in this article, adding videos to different parts of your website can bring a host of benefits to your business. The visitors can get to know better your team, style of operation, or company culture. You can showcase your products or explain in detail how they work.
What if you're already creating great videos but don't know how to make the most of them on your page? Our Drupal developers have applied videos to the websites of various businesses. They'll be happy to advise you on using your videos.