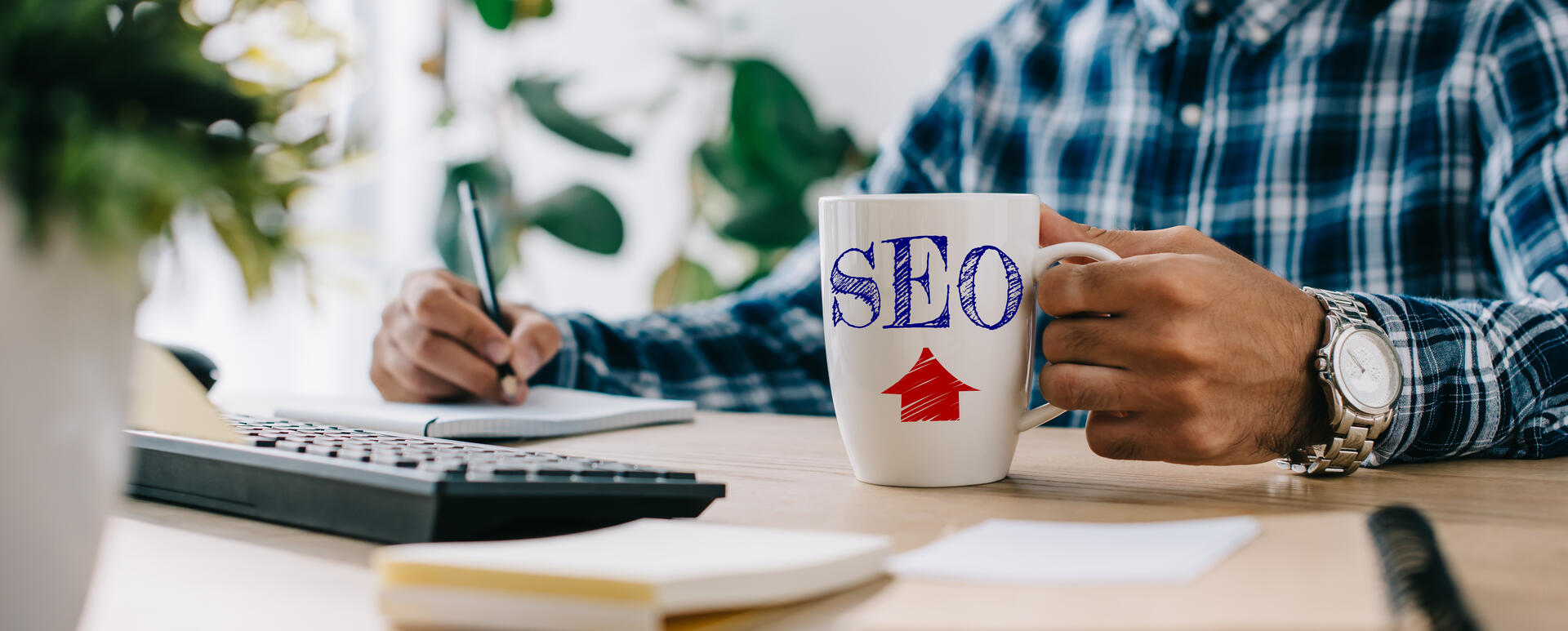 A website is the business card of every company and when you use it properly in marketing campaigns, it may increase your brand visibility online. You most certainly know already that a company website and its position in search engines is crucial. An SEO audit will give you information on how you can optimize your website so it appears in the top searches of your potential clients. Read our article to learn why it isn't worth delaying the audit.
What is an SEO audit?
An audit is an evaluation of a given process or its part. During SEO audit, experts run detailed reviews of elements of your website, which affect its position in search engines. Such an analysis is run to assess the attractiveness of a website for Google robots, detect errors and formulate recommendations regarding content-related and technical matters.
It's much more difficult to sell a product if it lies on the last rack in the back row on the store shelf. The same goes for the products offered online. If your website isn't optimized well for SEO, Internet users will find it among one of the remote search result pages. Most of us enter a phrase that we're looking for and don't go further than the first page! You may assume that if a website isn't on the first page in Google for key phrases important in a given industry, it isn't visible to the clients who search this way for services or products. If your website stays for a long time at a low position, you'll lose a lot of potential clients.
It isn't a good idea to put the audit off till later as the website grows all the time – the larger it is, the more time it'll consume to run its SEO audit and optimization. Additionally, the longer you operate without professional support, the longer you make the same mistakes. It is a good idea to run such an analysis if:
you plan to launch the redesigned website version,
you change the service or migrate to a different domain,
you encounter problems with low traffic on the website or its poor visibility,
you introduce marketing changes or change the SEO agency,
you launched a mobile version of your website (Google will index new and current services using a mobile Googlebot).
It's best to run the SEO audit periodically – monthly, quarterly or annually, depending on such factors as traffic growth, competition development, changing search engine algorithms, changes to Google guidelines, etc.
Technical audit
For Google robots, not only the placing of key phrases on the website is crucial, but also the condition of the mobile version of the website, page speed, or internal linking. This part of the audit includes evaluation of:
Code and errors on the website – errors from a group marked with a three-digit number starting with 4 may result from Internet user's error (typo in the website address) or website administrator (e.g., deletion of content previously available under the given link). SEO audit is intended to identify such errors and reduce their number.
Website safety – not only clients expect that your website will be secured properly, but also Google robots are interested to know that. Installation of the SSL certificate and HTTPS protocol is a must. Many years ago, Google announced that services applying the HTTPS protocol will be better rated by bots.
Website operation on mobile devices – website responsiveness is just another crucial issue for potential clients and bots. For a while now, Google has rated higher websites optimized for a mobile device's display.
Website speed and the factors influencing it – page loading speed (content, graphics and animations) impacts not only the website position, but also a user experience. The speed rate depends on the server quality and the size of multimedia available on the website.
Correct and swift operation of your company platform affects not only its position in search engines, but also the satisfaction of clients who use it.
Content auditing
Your company website includes the story of your brand, descriptions of your products and services, latest information and expert blog posts. It's the content that attracts potential clients. Creating interesting and professional articles, you may convince them that the company you built deserves their attention.
During the content audit, the SEO specialists focus on the analysis of:
All subpages in terms of the use of correct industry-specific keywords – it's necessary to define the phrases which are valuable for your industry and verify whether the content on the pages is optimized for such phrases.
Backlinks and anchored texts – internal linking helps the user to find valuable content and navigate on your page, while backlinks and properly selected phrases for anchoring make it possible to move the page to the top position in search results.
URL structures – Google robots constantly scan the Internet and go through URLs. User-friendly addresses shouldn't include random numbers or expressions. The more clear they are to the user (e.g., thanks to the keywords included in them), the more likely that they will be better indexed by the bots.
Title tags - title tag forms the page title, which is displayed in a browser's title bar. It should include high-potential key phrases. If Google displays a wrong title, it may be that the tag wasn't entered at all or was implemented wrongly.
One of the most serious errors made by website editors is content duplication. It's a good idea to make sure once in a while if someone hasn't "appropriated" your text.
Benefits of SEO Audits
Regular review of your website content may increase sales, but it may also affect the image of the company you represent. Here are some of the reasons why it is a good idea to invest in an SEO audit.
1. Improving website performance
The issue of website speed and efficiency often appears among clients' questions regarding website development. Luckily, the very moment you develop your website isn't the only time when you can influence the effectiveness of its operation. An SEO audit will give you crucial information about technical problems on the website. You will learn if:
the number of questions sent to the databases isn't overloading your server too much,
the server is working fast enough and if the content is loaded as quickly as possible.
Heavy load when the traffic is increased may result from poorly optimized code of the website or a database. One of the possible solutions is to modify such code. We'll show you the things you can change to have a positive influence on the performance of your platform.
2. Content Optimization
It may happen that, despite the very best efforts, you won't necessarily utilise the entire potential of your website. Each industry has its specific services, products, problems that it deals with and the key phrases connected with them. It's a good idea to select one or several (maximum 3) major keywords for each of your subpages. The more unique and the more accurately they describe your industry, the better. We can distinguish several types of key phrases. General phrases describe more like initially your domain or services, but have a huge number of searches. However, it's necessary to consider whether or not the positioning on them is reasonable as, considering the large competition, reaching a higher position for popular phrases will be difficult. There are also long-tail keywords, which are more complex – they contain more than two words. They'll help you capture the attention of the users with very specific searches.
Running a thorough phrase audit is crucial for good website positioning. During the SEO analysis, experts will show you the phrases with the highest value for your company and advise you what texts it is a good idea to add them to. You'll also receive instructions on how to format your articles, e.g.:
divide large text blocks into smaller paragraphs,
apply defined styles in line with their hierarchy (headlines h1, h2, h3…),
using numbering.
Correct text formatting affects not only the Googlebots' rating, but also the satisfaction of readers.
3. Increased satisfaction of website users
The deployment of SEO recommendations will make your website more friendly for potential clients and increase their comfort of use. It's hard enough to get anyone to use the platforms that don't operate properly. If your website often displays error information or it takes too long to load content and graphics, potential clients will get discouraged quickly. You can minimize the risk of leaving your website quickly by removing errors. A properly operating website will make users spend more time browsing it. Google analyses user session time and their behaviour on the website. Longer time on the website suggests that the content is valuable and engaging, which affects the website position in a browser.
Internet users also appreciate valuable industry-related articles. Using proper headlines, calculations and highlights, you may aid content reception while internal linking will improve website navigation. You gain twice – first of all there is an increasing chance of re-purchasing and secondly, the image of your company improves. Transparent and visually attractive content may also make website users more willing to browse the website, which will in turn extend the session time and positively influence the website positioning.
4. Better positioning of the website in the search engine
After an SEO audit you'll get not only information about things that are wrong on the website – you may also expect improvement suggestions. Some companies involved in such analyses also offer improvement implementation. You may do it yourself or share the duties with an external team of experts. Thanks to website optimization and following the recommendations, you may make it up to the first page of search results among the top listed websites from your industry.
5. High traffic on the website
After the changes on the webpage, you should observe traffic growth. This is mainly due to better visibility of your website in the search engine. Frequently, higher traffic generates more conversion, which translates into higher sales profits.
SEO Audit of a Drupal website
Our team is experienced in the execution and deployment of recommendations formulated in SEO audits on many Drupal websites (on our Drupal SEO landing page, you can download a sample SEO report). As part of our audit, you will get:
an analysis of errors made on your website so far,
an extensive report with a list of changes to introduce to your website,
suggestions on how to introduce the changes in Drupal as efficiently and as fast as possible.
Additionally, we may not only run the audit, but also implement the recommendations on your company platform. Remember that meeting good SEO practices on a Drupal website is necessary for your service to maintain its top position in the search engine. We offer Drupal support for companies with solutions built using this technology.