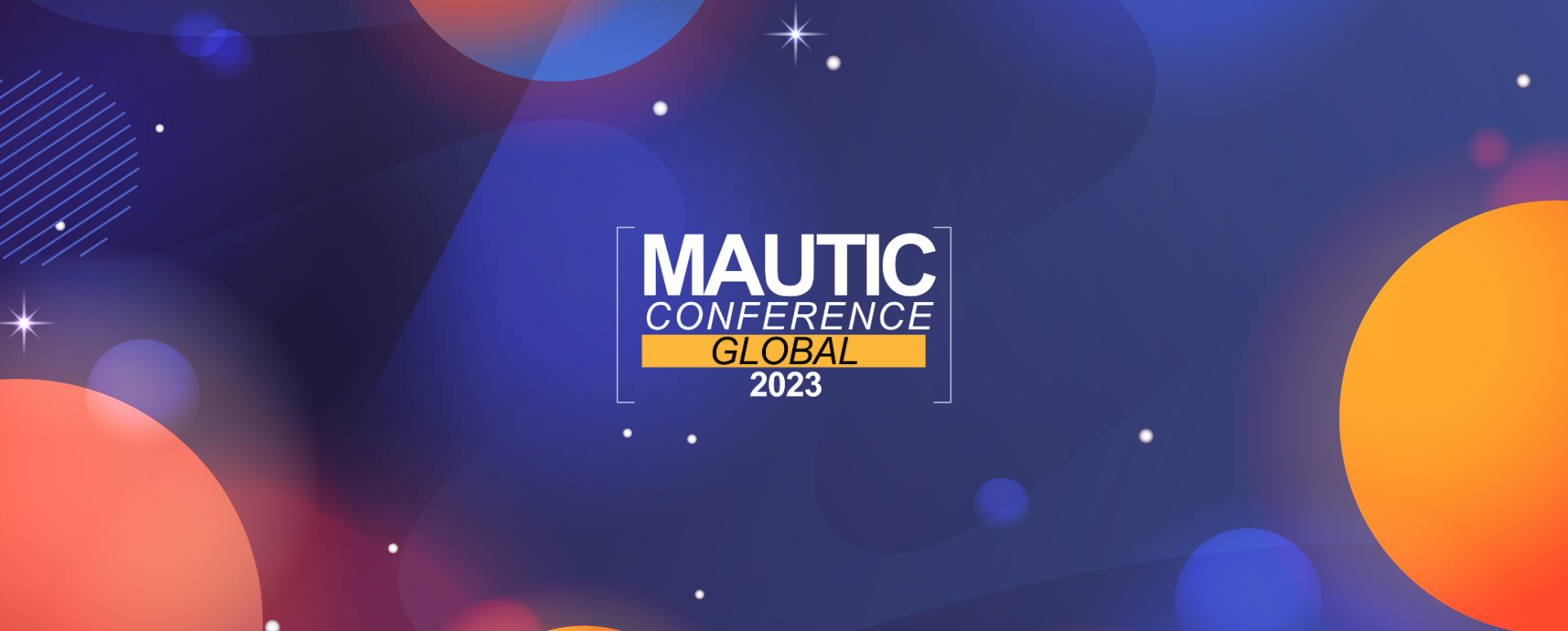 Mautic Conference Global 2023. A Brief Glance at The Online Event
Another technology conference is coming up. This time attendees will sit comfortably in their own chairs to share thoughts and gain new experiences about the open source marketing automation platform. The Mautic Conference Global 2023 will occur on June 21st and 22nd, and we'll join the inspiring sessions. Let's look at the event's agenda and see what two days in the virtual company of the Mautic community will bring. 
Droptica supports MautiCon 2023 as a bronze+ sponsor
MautiCon is an annual conference that allows people working with Mautic to come together. Because it'll be held online, professionals from all over the world can attend the event. Marketers, executives, content specialists, developers, DevOps, and end-users of Mautic will gather at their computers to discuss, network, learn, and get inspired.  

Since Mautic hosting, development, and support are a part of our services, so we want to grow and expand our horizons. There is no better way to discover software innovations, functional solutions, and best practices than by attending an event entirely dedicated to this technology. That's why we're so pleased to be a bronze+ sponsor of the Mautic Conference Global 2023. The program promises to be very interesting!
A sneak peek of the Mautic Conference Global agenda 
The two days of the conference are packed with discussion panels, networking slots, and presentations conducted in three languages - English, German, and Spanish. The organizers have designed the plan to provide something of interest to everyone, whether technical, marketing, or business focused.
There will be tracks to cover various areas, such as:
Growing a business with Mautic,
Using Mautic with ecommerce,
Scaling and optimizing Mautic,
Developing with Mautic,
Marketing Strategy,
Marketing Automation Best Practices,
Open Source,
Community.
Let's take a closer look at some points in the agenda. We only highlighted examples of sessions, indicating their subject. Many presentations in the program are assigned to different topic tracks simultaneously. You can find them all in the MautiCon schedule. 
What's new in Mautic tool?  
Since the conference brings together everyone interested in the Mautic platform, it would be a pity not to take advantage of such an opportunity to discuss software development. In her speech, The Mautic Update, Ruth Cheesley - Mautic Project Lead - will show us the current state of this solution and outline the direction in which it's heading. 
The worth-noting session on the Mautic development topic will be the discussion panel Mautic: An Independent Project. We'll have a chance to listen to representatives (Ekkehard Guembel, Oluwatobi Owolabi, Mattias Michaux, Jan Linhart, and Ruth Cheesley) of the Mautic Community Council and Governance Working Group talking about how the future is shaping up for Mautic as an open source project. 
How to grow a business with Mautic?
As a Drupal agency, we couldn't overlook a presentation on How to bring Drupal & Mautic closer together. In this session, Dominique De Cooman, CTO and founder of Dropsolid, will show the benefits of Drupal developers extending their skills with Mautic. We'll see why this combination can be a game-changer for enterprises from a business and technical perspective. The speaker will also explore the potential of Mautic and Drupal combined together to create an open source Digital Experience Platform (DXP).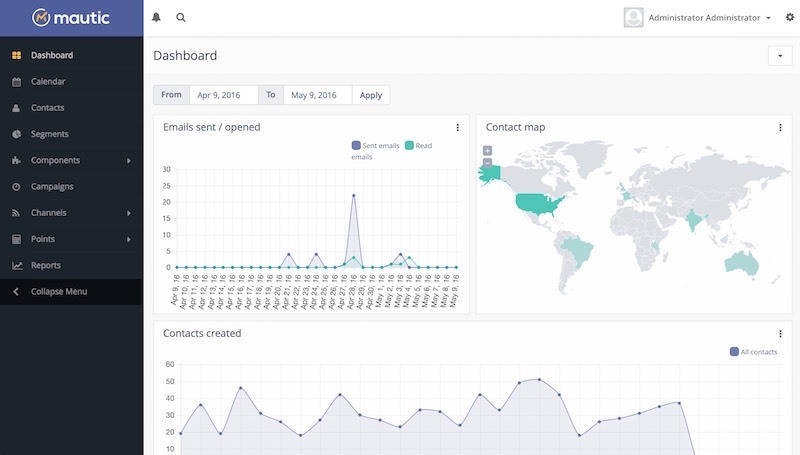 An example of a Mautic dashboard, source: Mautic.org
Tips on scaling and optimizing Mautic 
In a section about scaling and optimizing the platform, our gaze fell on the session titled Programmatic email content - with smart blocks in Mautic's email builder. In this talk, Ekkehard Guembel, a Mautic enthusiast from Leuchtfeuer Digital Marketing, will delve into the ability of Mautic to incorporate custom email elements into the builder (GrapesJS). We'll witness how these dynamic features come to life in actual examples.
Another speech in this topic track is Housekeeping: How to keep your Mautic database lean prepared by Leon-Elias Oltmanns. The Marketing Automation Expert will show us how to maintain Mautic running smoothly by using tools responsible for keeping the database lean. During this presentation, we'll discover various Mautic core features and the Housekeeping plugin.
Developing for Mautic - insights
The conference will also include a section on developing this marketing automation platform. The presentation Mautic product governance: an overview under the hood drew our attention. During the speech, Mattias Michaux, the Product Architect at Dropsolid, will provide insight into various aspects of working with this tool, including Docker images tailored for both end-users and testing purposes.
We'll also discover the significance of GitHub actions and triggers, which streamline workflows and automate essential processes. Additionally, the speaker will investigate the realm of automated tests and builds, showcasing their integral role in Mautic's ecosystem. 
Marketing automation and strategy - best practices
For the event, the organizers have also planned something for marketing professionals. We noted the opening presentation Modular Email Design - a New Philosophy that changes the Email Design Experience. Dmitry Kudrenko will explore the transformative concept of modular email architecture and how it revolutionizes the email design experience. In the speech, a CEO at Stripo will also reveal surprising parallels between SpaceX Falcon 9 and the email design.
Another inspiring speech seems to be Future of Digital Experiences: Multi-experience marketing! In the presentation, Gaurav Mishra, Srijan's Director, will answer the following questions - why a contextual content strategy is critical for marketers today and how marketing campaigns would change in the multi-experience world. During this talk, we'll also hear the trending topic - AI as the next strategic investment for businesses.
Droptica at Mautic Conference Global - summary
The program of the Mautic Conference Global includes various panels and presentations designed for professionals with different interests and skill levels. As we offer Mautic development services, we're happy to attend this event, expand our knowledge, and discover some new tools connected with this marketing automation platform. There will also be time for networking, so feel free to say "hi" if you're also present online at the event.