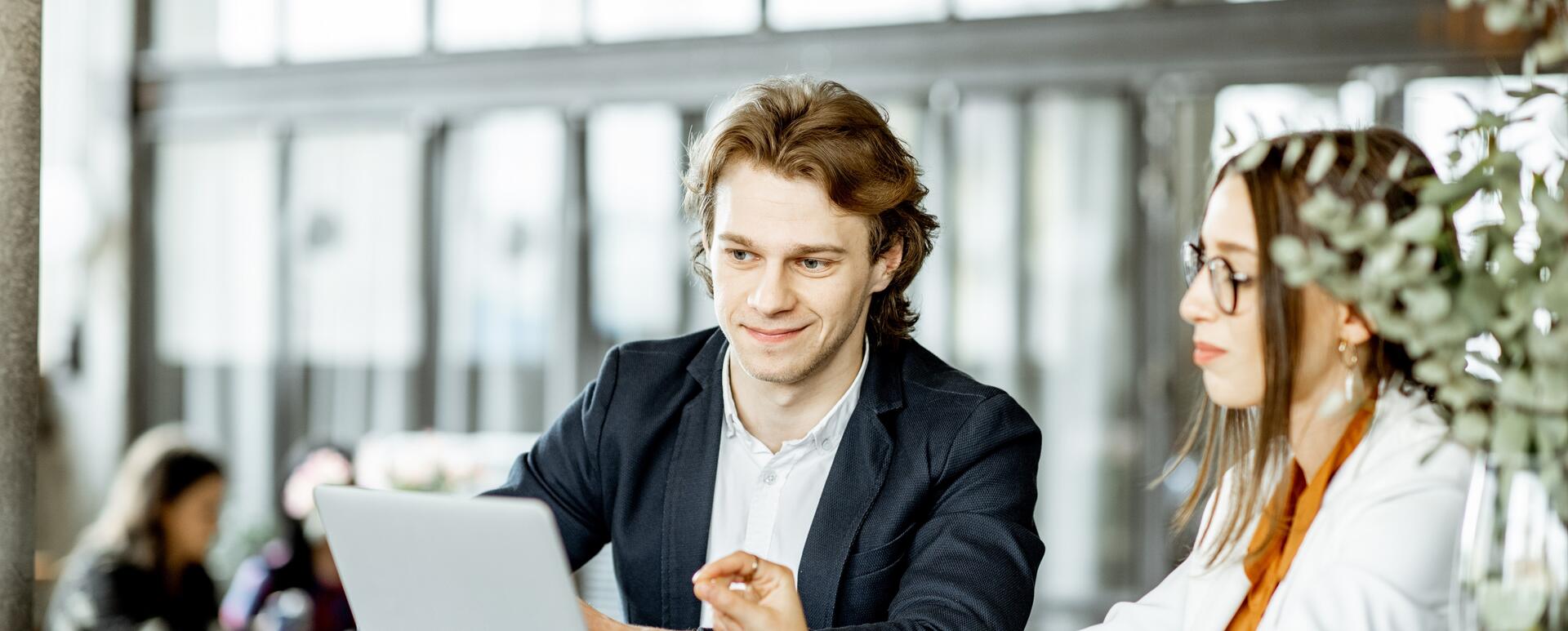 Selecting the Best Intranet Software. What Factors to Consider?
Are you thinking about choosing intranet software? Implementing an intranet requires a lot of work, so it's better to spend more time learning about the available options. We explain what to pay attention to when comparing such solutions.
Functionalities
An intranet portal is primarily a knowledge base, which should allow adding materials in various forms - videos, presentations, documents, and interactive elements. The basic functionalities of such a platform also include a contact list, FAQ, calendar, time recording, or news section. 
You can personalize your portal by developing it with additional, less typical solutions to facilitate your company's work. Enhancing communication using the intranet is possible with chat, forums, and reacting to publications (comments, likes, etc.). 
Training and developing the skills of employees is facilitated by quizzes, video lessons, tests, and social media-style courses (microlearning). Tools to manage workflow, monitor progress and send notifications of deadlines can also be useful.
The best intranet software is customized for specific companies. CMS Drupal has numerous  modules for intranets that make it easy to implement interesting and practical functionalities. You can allow your employees to add files within the intranet using the Imce module. The Fivestar and Flag modules provide capabilities familiar to social media. The first increases engagement by allowing users to rate content. The second allows you to track user content and activity. If you care about gamification elements, the User Points module is at your disposal, allowing users to receive points for performing certain actions on the intranet portal.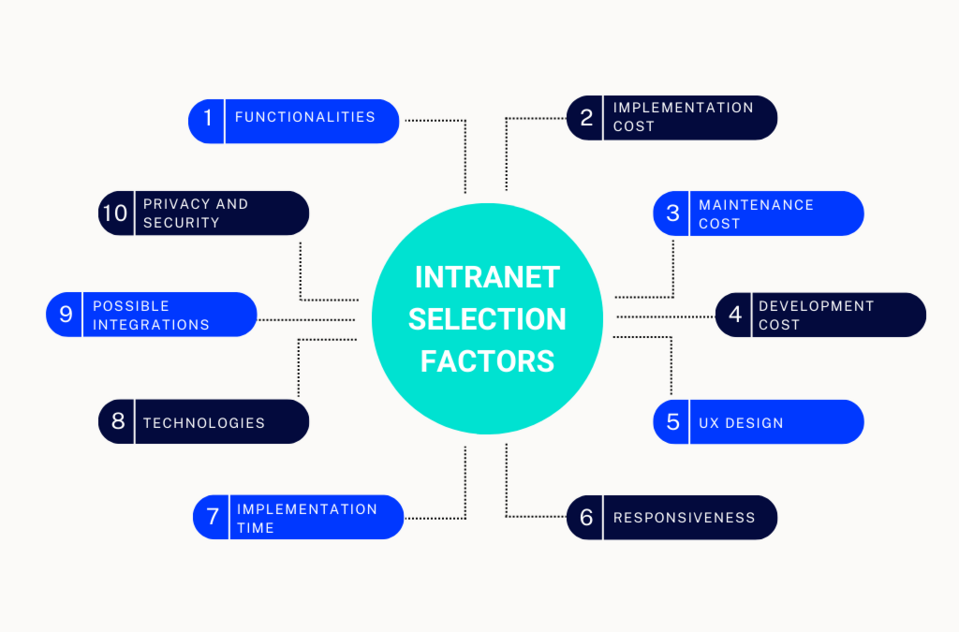 Price and implementation costs of intranet solutions
The best intranet software isn't among the cheapest. When deciding on an intranet, you have two choices - you can either subscribe to an off-the-shelf tool in the SaaS (Software as a Service) model or build your own portal from scratch. It's worth comparing various intranet examples in terms of total product cost over the life cycle (TCO - Total Cost of Ownership).
Implementation cost
In terms of implementation expenses, in a SaaS solution, this is a rather low monthly cost for smaller companies. However, it's important to note that it can grow to a very unaffordable amount in large organizations with thousands of employees, as the cost of using this type of software is usually based on the number of users. Imagine that there are 5,000 people working in your company, and access to the intranet for each of them costs 10 euros (prices for some complex systems can reach up to tens of euros per person). Monthly expenses in such a scenario are significant. In contrast, a solution built from the ground up for your company is a large one-time investment that, in the long run, may prove more cost-effective than a subscription.
Upgrade and maintenance cost
You shouldn't forget about the price of maintaining and updating the intranet platform. When it comes to SaaS systems, these tasks are left on the provider's side, so users aren't exposed to additional costs. In the case of a personalized intranet, maintaining it is the responsibility of the company that uses it. This requires additional expenses, such as having a permanent team to take care of the intranet portal or working with external specialists. However, this is the only way to build the best intranet solution tailored to the organization's needs.
Intranet modifications and development cost
Even the best intranet software will cease to be an effective solution if it isn't improved over time. The price for modifications and development should also be taken into account. In the case of a SaaS solution, access to additional functionality is most often a matter of opting for a higher (and therefore more expensive) package. The choice of more advanced tools is often quite limited to a few or a dozen specific ones. Building a personalized intranet portal, on the other hand, allows for tailoring solutions to the needs of a specific company. Both the design and creation of new functionalities, however, are on the company's side, which means a larger investment once every few years. 
Appearance and convenience of use
Modern intranet design affects the user experience. The best intranet software should provide the ability to customize the design and color scheme to meet the needs of a particular company. The look and feel of a SaaS solution depends on the provider and can change regardless of user needs and preferences. The intuitiveness of navigation depends on the specific examples of the intranet. Then when choosing the platform, it's worth comparing more than one product for ease of navigation, responsiveness, and other additional visual elements you care about. The ability to set dark and light modes is also useful. 
In Drupal, you can do this by using a special Dark Mode module. In addition, this CMS has solutions that make it easy to build a mega menu. It's a multi-level solution suitable for a complex website with many functionalities and subpages. 
Responsiveness of intranet software
Not all SaaS model intranets are responsive. This may be due to the developers' assumption that users are most likely to use them in the office on computers. Nowadays, with remote work and business travel, access to an intranet portal on a mobile device is very important. It allows employees to quickly get information and communicate with each other, no matter where they are at the moment. 
Drupal uses fluid layouts and special modules. The Responsive and off-canvas menu tool allows menus to adapt to screens of different sizes. Another module - Responsive Images - enables optimizing graphics depending on the device on which the intranet platform is opened.
Time required to implement the intranet portal
If you urgently need an intranet and building a customized solution for your needs isn't possible at the moment, SaaS software is worth looking into. You can start working in it immediately. Any extended waiting time for its availability may be due to the need to tailor it to your requirements. This is possible with some SaaS intranets. In addition, integrating the product with other tools you use may also take a while. 
The best intranet software isn't created overnight. Unfortunately, you have to be patient. Designing and building an intranet specifically for a particular company can take anywhere from a few weeks to a few months - it all depends on the complexity of the intranet the client needs. If the company cares about time, the software development agency may commission an MVP ( Minimum Viable Product ) first. This is a version of the product equipped with the basic features needed by the company. This quickly provides the client with some tools to make the business more efficient, and the software agency can continue to develop more functionalities.
Technologies
Naturally, companies opting for SaaS intranet solutions have no influence on the choice of technologies that are used to develop the platform. On the other hand, there are many advantages of using off-the-shelf software. One is the technical support available within a given subscription package. Customers subscribing to the most expensive packages can often count on their own personal assistant. Some providers also offer implementation support as part of the package or at an additional cost. The disadvantage is that smaller teams often work on such intranets, which affects the speed of software development.
Organizations betting on a personalized intranet might consider using open source technologies. The advantages of such an approach are gaining access to the system's code without having to purchase a license (which means lower costs), the possibility of freely modifying the solution, and changing the vendor.
Open source technologies are also associated with the high availability of programmers in the market. Choosing a solution that is popular among experts guarantees easy access to companies and freelancers with the necessary skills, as well as competitive price offers. Drupal has a very large and active community. Numerous companies and individual developers involved in Drupal development regularly release new versions of the system, enhanced with new features.
At the same time, you shouldn't forget to match the technologies in which the intranet will be built with those currently used in your company. If it uses PHP, for example, it will be easier to buy another system in this language and maintain it. 
Integrations
Appropriate integrations develop the basic functionalities of the intranet platforms. The possibilities for integration with external systems in SaaS software are limited. On the other hand, if you decide to create software for an intranet that is tailored to your needs, you can add additional tools according to your preferences.
With Drupal, you can integrate work management systems such as Jira, Redmine, Asana, Trello, and many others, both free and paid. It also allows you to integrate social media, time tracking tools but also create your own solutions of this type. The Workflow module enables you to design workflows, and the Calendar module allows for creating a calendar for users to mark events.
Privacy and security
The best intranet software must be secure for your employees. Both in the case of a personalized tool and the commercial one, remember to implement good security practices. Protecting user data and project information should be a top priority. In the case of SaaS intranet solutions, it is rare for vendors to explain in detail how they fend off potential attacks by cybercriminals. 
Drupal developers place great emphasis on security, so the technology is recommended for projects that require advanced security features. This CMS is equipped with an error reporting system, which is able to catch any vulnerability or security breach and then inform the appropriate team about it. Regular updates to the software and installation of the latest versions of modules allow for keeping your Drupal intranet and its users well protected.
Choosing the best intranet software - summary
There are many interesting intranet systems that can be used on a subscription basis. However, if the available solutions don't have the necessary functionalities for you, you should consider creating a personalized portal. Such a tool for business will be tailored to the nature of the company and its processes. The original UX and unique intranet design will influence the desire to interact with the solution and other employees, build loyalty and a sense of community within the company. Drupal gives great flexibility and allows you to build a customized intranet platform for your company.