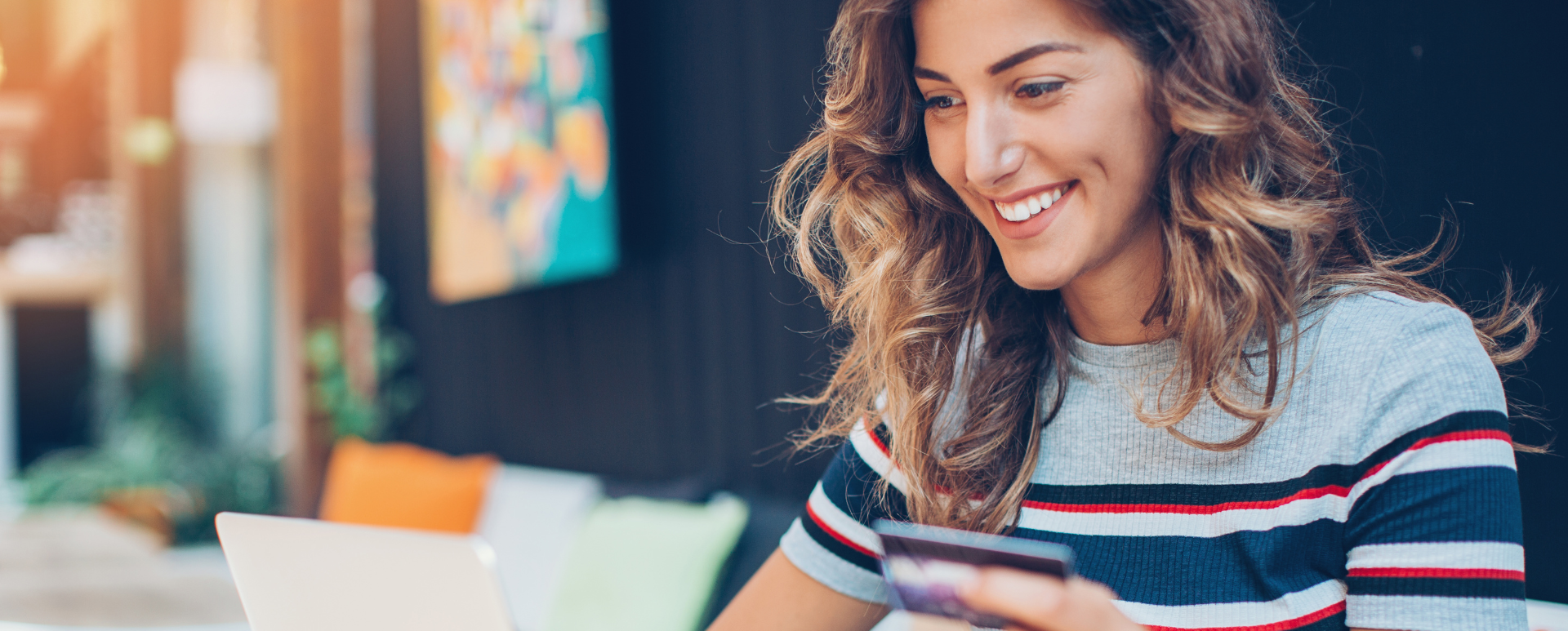 10 Tips For Ecommerce – How to Improve the Functioning of Your Business?
Running an online store makes it easier to reach the customer than when using traditional business models. But, the competition in the virtual world is fierce, so you need to evaluate the effectiveness of your actions and modify your strategy on an ongoing basis. Here are some tips for ecommerce that may help you succeed.
Tips for starting an ecommerce business and more
The most important thing at the very start is choosing a business model, which should precede everything else – including building an ecommerce website. Start by defining what you want to offer your customers, who's the ideal recipient of your goods and services, and how you'll deliver them. On the basis of this information, you'll decide what the necessary functionalities of your future website or e-store are. An online clothing shop will operate in a completely different manner than an e-learning platform offering training courses in various forms. Most of the other tips for ecommerce that you'll find in this article can be implemented at various stages of your e-store's operation, although the earlier you start using them, the sooner you can count on achieving high traffic on the web page and better sales.
1. Choose the proper ecommerce platform
Equipping an online store with the necessary and additional functionalities is possible thanks to using one of the commercial or open source ecommerce platforms. It is thanks to them that online stores can fulfill their sales function.
A development team will help you choose the platform. There are some very technical issues at stake, so it's worth entrusting professionals with this task. However, what the experts recommend depends largely on how you describe your project. Therefore, explain your idea and needs carefully, and spend enough time getting to know the ecommerce features that may be useful to you. Think about how you want to organize your products, what integrations you need, what delivery and payment methods you want to make available to your customers, etc.
Drupal Commerce stands out among the popular ecommerce platforms used in building online stores. This solution allows you to create highly personalized websites with ecommerce properties. You can opt for this technology whether you need a standard e-shop or want to sell digital products. The main advantages of Drupal Commerce include the possibility of advanced product price management using numerous price components (tax, discounts, special offers such as "buy 1, get 1 free", etc.). The platform allows not only for the integration of various payment methods but also for offering the customer to pay for the purchase in installments or for accepting prepayments. Drupal Commerce also allows you to generate and manage discount codes in the form of one-time and multiple-use coupons and the ones reducing the price by a given amount.
2. Ensure the responsiveness of your website
According to the report published by SaleCycle, more than half of ecommerce transactions worldwide are made via mobile devices (in Europe, it's as much as 57%). Therefore, there's no doubt that creating a responsive website adapted to browsing and using smartphones and tablets is one of the most important tasks facing companies in the ecommerce sector. Keep in mind that you risk losing more than half of your potential customers by not caring for a good ecommerce user experience on mobile devices.
Fortunately, more and more ecommerce platforms are equipped with special functionalities, modules, and plugins that facilitate the adaptation of the project to mobile devices (e.g. Bootstrap, AdaptiveTheme, etc.). In addition, website developers can apply one of the many website testing tools to assess the responsiveness of their ecommerce website and decide to implement patches.
3. Tips for ecommerce website design
However, using the latest technologies and implementing useful functionalities isn't enough to ensure a great UX. The visual elements and the content layout are equally important. They engage the customer in exploring the ecommerce website and browsing products. The basis is also intuitive navigation on the website. Navigating an online store should be simple. The same goes for checking the cart or completing the transaction.
Consider how you can use colors and contrast to focus the users' attention. Define heading and paragraph styles to organize your content. The website should also include beautiful graphics and videos that will catch the visitors' eye. Unique photos and graphic designs that aren't downloaded from free photo collections will make a much better impression. Choose originality.
4. Tips for ecommerce marketing
The marketing strategy should include both paid and free methods of promoting the brand and its offer. These are primarily the costs of browser advertising, retargeting, social media campaigns, email marketing, and content marketing. There are many options. To better choose the appropriate communication channels, it's worth reading more about advertising in a given industry (e.g. fashion, e-learning, etc.).
Also, don't forget about free activities and those that don't involve any other costs than creating the content. Such activities include running an industry blog or social media without investing in a paid promotion, and this allows you to get more organic (natural) traffic on the website. Good practice in promoting ecommerce is using the so-called user-generated content - the content created by users themselves (opinions, content from social media, quotes from their private blogs, etc.).
When designing your campaigns, remember about A/B testing. It allows you to choose the best settings for advertisements. It consists of checking the effectiveness of several versions of an advertisement using a special tool (e.g. one made available to the advertisers by a given social networking site). Also, don't forget to monitor the results. By regularly assessing the effectiveness of campaigns, you can decide to modify those that don't bring the expected results.
5. SEO tips for ecommerce website
You're probably wondering why SEO is so important. Optimizing an e-store for a search engine (usually Google) and specific key phrases makes your website more visible to potential customers. Visibility translates into more traffic on the web page, which may result in better sales results – after all, it's difficult to convince a user to purchase if they won't visit the store website, right?
Optimizing an online shop in terms of SEO consists of parts – technical (related to building a web page with clean code and correct structure) and content-related (consisting in selecting and implementing appropriate key phrases in the content). Make sure the people responsible for the content on your website are following the most important SEO guidelines for ecommerce websites. It's recommended to:
Create original content. This is important not only for the position of your e-store in the Google search engine but also for the customer experience, so it's worth making sure that every product description is unique and contains the right amount of well-chosen key phrases.
Run a blog or an alternative subpage (e.g. news, announcements, tips, etc.). More and more online stores create blog content. Their primary function is to increase traffic on the website, as well as help the customer to become familiar with the product or service. However, they are also important for the visibility of a web page in the search engine, and adding relevant keywords to it may improve the website's positioning.
Implementing internal linking. It's also important to add internal linking, that is, to add links to other pages to blog entries and subpages. This creates a network of links that makes it easier for users to navigate your website and extends the time they spend on it.
6. Limit the cart abandonment rate
Baymard Institute estimated the average cart abandonment rate at 69.82% in 2021. This means that, on average, almost ¾ of ecommerce customers leave the website before making a purchase, despite having previously added some products to their carts. Due to this, online stores lose many potential buyers who are one step away from making a purchase.
Source: Baymard Institute
There are various reasons for this behavior, and you can easily eliminate some of them. First of all, simplify the purchasing and registration process as much as possible. Lots of people enjoy shopping online, but they get discouraged when they're forced to go through an unnecessarily complicated account creation process. Sometimes it's better to give up on obtaining some data (e.g. on the customer's profession). Remove the unnecessary questions from your registration forms and allow the user to fill in their information later after making a purchase.
Another way to lower your cart abandonment rate is to allow purchasing without creating an account. If you want to add the customer to your database, you can ask for it later in the thank you email sent after making a purchase. Also, keep in mind that the more payment or delivery methods you make available to the customer, the more likely they are to make a purchase. After all, online shopping is about making the user as comfortable as possible.
7. Make use of the customer data
Every visitor leaves a trace on your website. You can collect this data with the right tools to understand your customers better. In addition, you can encourage your visitors to share their detailed information. All you have to do is to create a data collection form and motivate users to fill it in, e.g. by offering a discount for sending back a complete set of responses or promising personalized offers.
Customer information is more than just fuel for reporting systems. You can use it to personalize the content on your web page, which will positively surprise users and have a positive impact on UX. Customer data also fuels the recommendation engines that suggest to the visitors of your online store the products and services that may be of interest to them based on their activity on the website or on their purchase history.
8. Allow customers to rate products and leave comments
Increasing brand recognition is time-consuming, even with a large marketing budget. Then how do you build trust in customers? It's worth allowing them to issue opinions on individual products (and sellers, if you decide to run a marketplace). Some online stores allow not only for rating the transaction but also to provide a detailed description (in reference to the product, seller, delivery, and price), as well as to post photos or a short video in the comment. The more detailed the opinion, the greater its value to potential customers.
Comments from buyers not only increase the brand's credibility but also help with making purchasing decisions. This is because they can present a given product in a more detailed or simply different way, dispelling the doubts of a potential customer. They also contain information that the company can use when planning to improve customer service. It's a good practice to present the opinions related to a given item directly on the product page. In the case of websites with a narrow product offer or products or services of a similar nature, it's worth considering creating a portfolio or a separate subpage with testimonials from customers.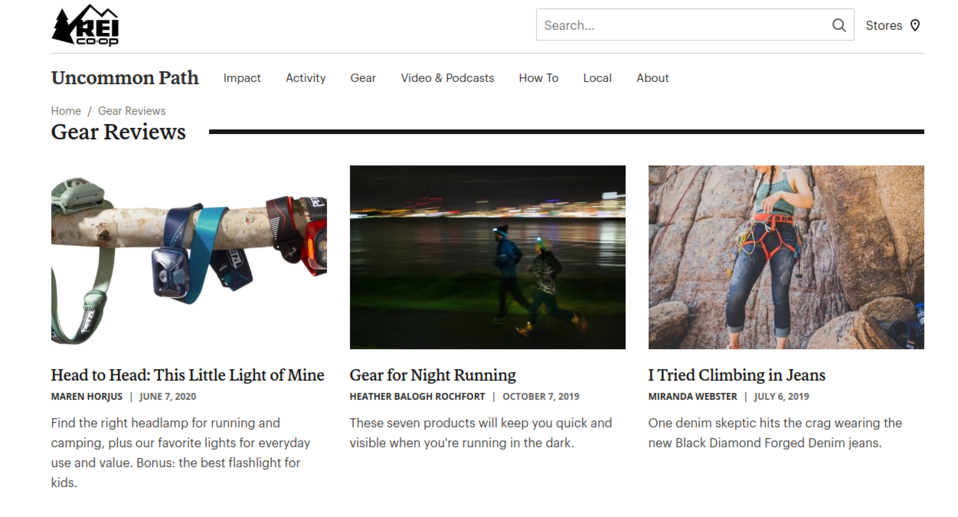 Source: REI
9. Use analytics and automation
High-quality, clear reports with visualizations may help you better understand your customers (both active and inactive ones). The ability to transform huge amounts of transaction data and the information about customers and their activity into useful feedback for the company allows you to modify your marketing strategy and more. Thanks to analyzing the information, you can identify the biggest problems of your business (such as ineffective advertising, poor customer service, lack of appropriate payment methods, etc.) and solve them more efficiently, thus affecting customer satisfaction.
Thanks to proper data flow and access to modern technologies, you can also make good use of automation. Many ecommerce processes can be automated – from marketing to warehouse management or handling complaints. Automation allows you to perform many time-consuming tasks much faster and completely without the participation of employees, thanks to which their energy and creativity can be redirected to more difficult tasks, which require human intelligence.
10. Guarantee excellent customer service
The Tidio company's research showed that 62% of consumers prefer to use a chatbot rather than waiting for a connection with a consultant, and 69% of respondents describe their interaction with a chatbot as satisfactory. Adweek's report shows that 65% of consumers feel more comfortable getting things done without the help of a human consultant.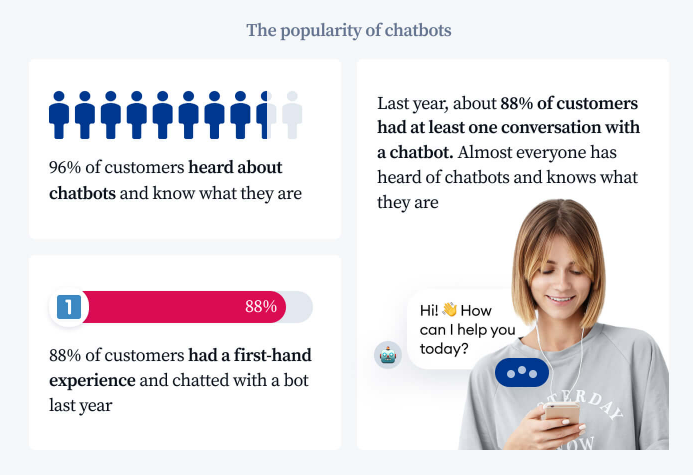 Source: Tidio
Integrating a chatbot with your web page can be much more economical in the long run than maintaining your own customer service office or outsourcing it. What customers appreciate in this solution is the possibility of getting support 24/7, regardless of the time of day or the situation. It's also important that a chatbot can handle many customers at once, so you don't have to wait in a queue.
The modern chatbots have many uses – they can process voice commands and inquiries, handle complaints and claims, and even sell products and services. In addition to this solution, you may also consider a live chat, allowing your employees to help the customers faster.
Tips for ecommerce - summary
Many factors influence the success of an ecommerce business. First of all, you need to know what value you're offering to your customers, who are your potential visitors, and how you're going to deliver the value to them. Once you've figured that out, you can choose the right technologies for building your website and additional tools to integrate it with your online store. This will allow you to serve your customers efficiently.
Image building and promotional activities are as important as sales, so you should prepare a marketing strategy (covering increasing the visibility of the brand and website – positioning). Your customers "help" you by providing information and sharing feedback - take advantage of this. The data that your company collects can be used to improve the customer's digital experience and streamline the processes within your organization.
Our team can analyze your needs and build a functional online store for you using the Drupal Commerce platform or help you improve your current solutions.