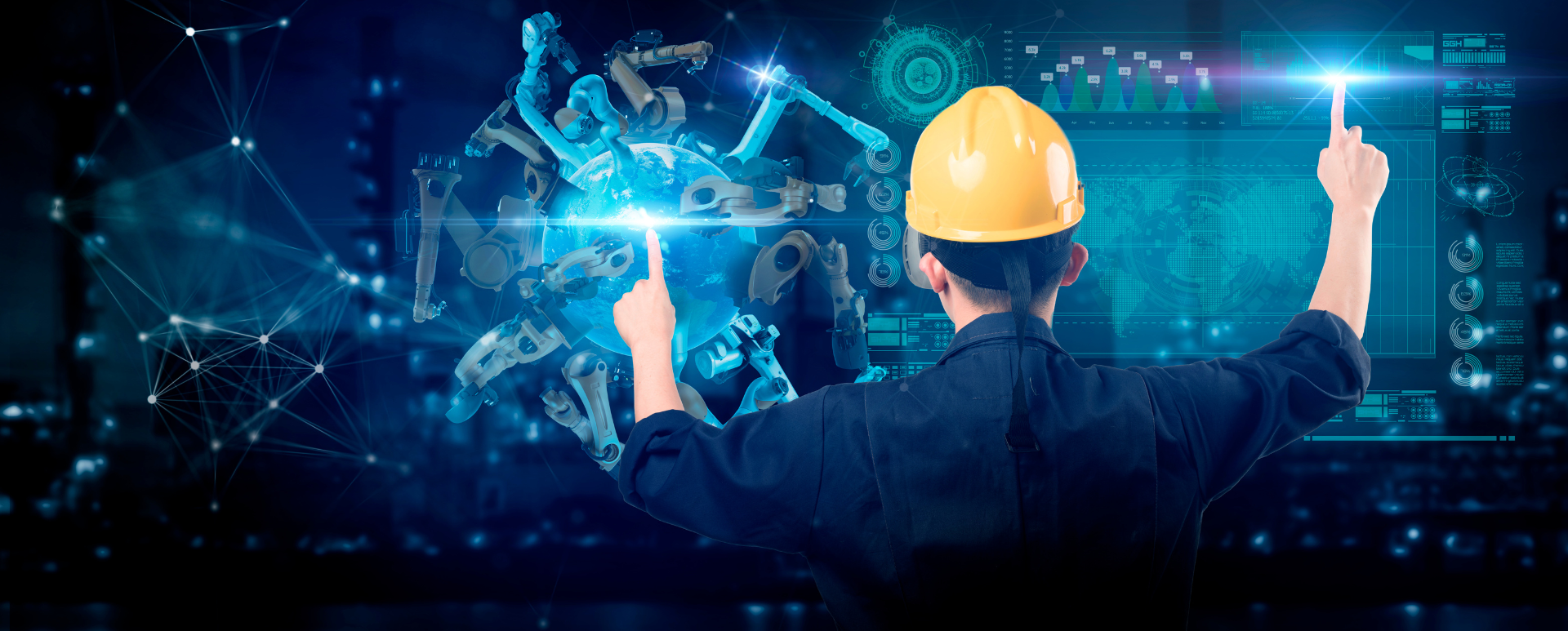 Manufacturing Industry Trends – What Solutions Should You Implement?
What are the most interesting manufacturing industry trends? What are the possibilities and limitations of modern technological solutions? We explain what the market of manufacturing companies looks like today and what are their biggest challenges. Find out how to reduce expenses and increase business efficiency.
Manufacturing industry today – statistics
The COVID-19 pandemic has affected many sectors of the economy, including the manufacturing industry. Despite the various difficulties that have arisen (delivery delays, increased production costs, and uncertainty on the market), it looks like changes for the better are coming. In 2021, production increased by 8.3%. However, this doesn't mean the end of problems for the companies operating in this industry.
The dynamic development of manufacturing technology brings both opportunities and challenges. Some enterprises invest in implementing new solutions, which noticeably increases their competitiveness and forces other companies to follow suit. One of the biggest challenges in today's manufacturing world is increasing supply chain management efficiency and ensuring institutions' cybersecurity. The latter is especially important if the company intends to implement newer and newer data-driven solutions. The devices operating on the Internet of Things and those facilitating the maintenance of machines in good condition not only use but also generate new information. Therefore, it's necessary to protect them properly.
It's also impossible to ignore the fact that companies are trying to develop their corporate websites by equipping them with interesting functionalities (chatbots, gamification elements, modern product search engines – e.g., using the visual search solution, etc.).
It's worth taking a look at the latest trends in the industrials sector and checking out which solutions will help reduce costs and improve the company's operations.
1. Improving the supply chain
The success of a manufacturing company depends on the efficiency of the supply chain. The appropriate level of necessary materials and tools in the warehouse allows the company to achieve maximum efficiency. Maintaining an optimal stock level is extremely difficult, so companies increasingly implement modern warehouse solutions.
Automation is becoming increasingly popular in supply and warehouse management, especially in large manufacturing companies. In the case of supply chains, it means the use of special systems (e.g., software for ordering automation, for controlling the conditions in the warehouse), which enable a significant reduction in human work and even the possibility of almost completely excluding it from the warehouse management process. This involves, e.g., monitoring stock levels and automatically generating orders.
Experts predict that supply chain strategies in 2022 will be multifaceted. According to the research, 41% of board members (or other executives) surveyed said their companies would further diversify or add new suppliers to their supply networks. This most likely means that the pace of implementing modern inventory management software will increase in this industry.
Warehouse automation software can be combined with solutions that use artificial intelligence. Special algorithms are able to track the consumption of materials and tools on an ongoing basis. They can also analyze this data to adjust orders to current consumption instead of using predefined stocks. Thanks to this, the purchasing department employee loses less time analyzing and modifying orders.
Another useful integration is also the connection of the warehouse system with the suppliers' software. The modern solutions improved with artificial intelligence are able to select partners from the company's databases based on the guidelines consistent with its strategy: price, purchase history, or following the principle of sustainable development.
2. Using the Internet of Things
Almost half (as much as 45%) of decision-making representatives of manufacturing companies surveyed by Deloitte for Manufacturing Industry Outlook expect a further increase in operational efficiency as a result of investing in the Internet of Things (IoT). It's a technology that creates a bridge between the product, the end user, and the manufacturer. The latter receives information on how the product is used and what its performance is in real time.
The use of the Internet of Things in production gives access to more data, which can then be used in many ways, e.g., in the processes of designing new products, repairing products under warranty, and even creating advertising campaigns. IoT devices are a rich source of information not only about the product's operation but also about the habits and behavior of the end user.
The first application of the IoT in manufacturing is product improvement. Companies that haven't implemented IoT-based solutions must rely on costly market research and carrying it out may be time-consuming. Moreover, the results of these studies aren't always fully dependable. Thanks to the IoT, manufacturers gain access to information coming directly from users. The data is generated during the use of equipment, sent to the company systems, and then analyzed. The Internet of Things also allows for adjusting stock levels to the demand for a given product. It facilitates supply chain management by providing systems with valuable information on demand.
The IoT is able to monitor equipment and production in real time, which means that this technology used in manufacturing can detect defects in products and assess their quality. Thus, you can take this tedious and time-consuming task off the shoulders of company experts and redirect them to the work that requires more human intelligence and creativity. In addition, IoT sensors can receive stimuli and provide data to the systems, which are able to assess the conditions and situation in the production hall. Transmission and processing of data in real time not only helps to keep production machines in better condition but also increases safety, e.g., by emergency shutdown when a foreign object (an unwanted object or an employee) enters the work area.
3. Applying robotics and increasing automation
A large part of the work that doesn't require human intelligence and abilities can be performed by robots. This means that the company can limit the number of employees performing manual tasks and assign those irreplaceable to the work corresponding to their qualifications. Half of the CEOs of production companies surveyed by Deloitte expect operational efficiency to increase in 2022 thanks to investments in manufacturing robots and cobots. It's also expected for the investments in artificial intelligence to bring a compound annual growth rate (CAGR) above 20% by 2025.
Devices equipped with artificial intelligence and the IoT can replace human workers at many stages of production. Implementing RPA (Robotic Process Automation) as a production technology enabling the automation of many repetitive and routine tasks allows for a significant reduction of regular expenses. By choosing to implement RPA, even partially, allows for reducing the number of defects and increases the effectiveness of quality control and assessment processes. Conventional activities conducted to check product performance and operation require a lot of time. In addition, errors occur during such verification. Unlike humans, machines don't make mistakes. If a fault occurs, the system will inform the supervisor about it, and fewer materials, time, and budget will go to waste.
RPA robots can operate not only in production halls but also in warehouses, replacing employees as well as the machines and tools they operate. They automate not only the production itself but also storage and transport, and their systems collect data and generate reports that enable monitoring and improving the work at the enterprise.
4. Ensuring cybersecurity
Training employees on the threats and good practices in the field of cybersecurity isn't a priority for some entrepreneurs, and such an approach weakens the company's security. One of the most common techniques used by hackers is phishing – stealing confidential data (e.g., when trying to log in). Therefore, awareness of the risks should be regularly raised among employees.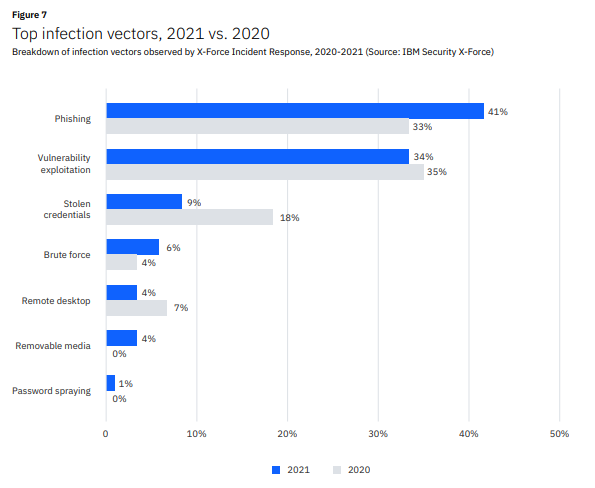 Source: Manufacturing Industry Outlook 2022 report by Deloitte
Manufacturing came before financial services as the most attacked industry in 2021. The vulnerability of enterprises in this economic sector to cyberattacks results primarily from the frequent use of OT services consisting in monitoring the condition of devices and the efficiency of industrial processes using appropriate systems. Last year, 61% of incidents at the organizations using OT services took place in the manufacturing sector, and 36% of them were caused by ransomware (software that encrypts files on a local and network drive until the criminals' demands are fulfilled).
According to the Manufacturing Industry Outlook 2022 report (Deloitte), the vast majority of representatives of manufacturing companies (85%) expect their organizations to invest more in preventing cybercrime in 2022. More than half of the respondents (56%) anticipate spending more money on threat detection. A significant number of the interviewees plan to allocate more funds to developing strategies to react to attacks.
Today, manufacturing companies use a lot of devices that generate data and systems that collect and process information. Their sheer number increases the organization's vulnerability to cyberattacks. It's very difficult to properly secure many systems that constantly exchange data (IoT, RPA). Hiring an adequate number of employees with the right qualifications and experience can generate a lot of costs and isn't easy. The solution to this problem may be the increasingly popular outsourcing of cybersecurity services. It consists in delegating the task of protecting the company's systems to a third-party organization specialized in handling cybersecurity.
5. Sustainable investing
Consumers like green companies, i.e., those that aren't only profit-oriented but also have social goals, such as reducing the harmful impact of factories on the environment, supporting less developed regions, or protecting animals. Manufacturing companies can engage in the above-mentioned initiatives in many ways: by using recycled materials, saving water or energy, as well as by funding social initiatives.
According to the Gartner research, by 2024, 75% of the world's 20 leading companies manufacturing consumer goods will engage in ecosystem cooperation aimed at economic growth and sustainable development. Cooperation between enterprises and various social organizations, as well as sustainable investment, are the latest trends in the manufacturing industry.
In fact, the involvement in shaping the situation in the world isn't only media-oriented. Cooperation with foundations, organizations and enterprises as part of social campaigns gives the company the opportunity to develop – through the exchange of experience, data, production technology (and other technologies), and building mutual trust.
6. Preventing delays with predictive maintenance
Data shows that predictive maintenance can reduce production downtime by 30% to 50%, extend machine life by 20% to 40%, and reduce costs by more than 30%. It's important to remember that it's cheaper to take care of the good condition of devices than to stop production and waste money on repairs.
Predictive maintenance is a machine learning (ML) technique that reduces downtime due to hardware issues and keeps machines up and running for longer. Systems powered by AI and ML continuously monitor machine performance and alert employees when maintenance or repair is required. Thanks to this, they can be performed when they're actually needed. When using unimaginable amounts of data, algorithms can estimate when a defect might occur. Thanks to real-time analytics, they can "see" when productivity is declining, or early symptoms of defects that negatively affect production efficiency are detected.
Predictive maintenance is the most effective machine management strategy for a company, as it allows for optimizing costs and operations. According to a Deloitte report, the implementation of machine maintenance using predictive analytics can increase the efficiency of a manufacturing company by up to 25%. By using predictive analytics to assess the condition of equipment, enterprises reduce repair expenses by replacing parts when truly necessary and reducing the costs associated with production downtime in the event of a failure. The systems for monitoring the condition of devices collect and process data in real time, thanks to which the staff quickly receives information when a risk arises and recommends the actions to be taken. When choosing this solution, it's also possible to better manage work in the production hall, identifying in advance the processes that most often cause defects or interruptions.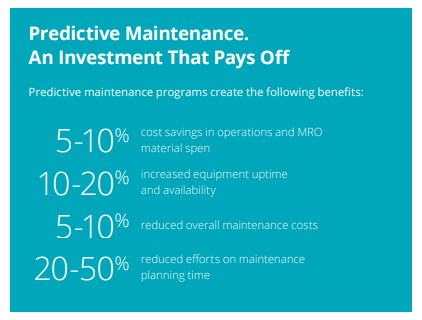 Source: Predictive Maintenance report by Deloitte
7. Developing services in the EaaS (Equipment-as-a-Service) model
Equipment-as-a-Service is a type of B2B service that may revolutionize the manufacturing market. It consists in selling a service rendered with the help of a given product or production results instead of the product (machine) itself. Thanks to the widespread use of device sharing in the EaaS model, enterprises will be able to expand their portfolio or increase production, and manufacturers will increase their profits. As predicted by the analysts from Gartner, even though today, such a market practically doesn't exist, by 2023, 20% of industrial equipment manufacturers will offer EaaS together with functionalities typical of IoT devices.
Offering an attractive service may require entering into cooperation with other companies. This way, it's possible to design comprehensive offers to make the company stand out from the competition. It's good to consider using IoT and AI-based analytics to better understand the needs of the manufacturing industry and create services tailored to user expectations, as well as to improve their satisfaction with using them.
The key to success using the EaaS model is to provide clients with a high-quality experience. Therefore, the service provider should create the possibility of personalizing the service to meet the client's needs. They'll be able then to configure the service package in such a way that meets their expectations. To do this, it'll be necessary to automate processes and provide business clients with a modern platform that allows them to purchase and implement services quickly and easily.
8. Implementing ecommerce functionalities on company websites
8% of European manufacturers sell their products via ecommerce web pages. They can be used to offer various services and products, both physical and digital, as well as to conduct sales in the EaaS model. Regardless of the type of offer, providing clients with an intuitive, aesthetically pleasing online store is very important. Manufacturers create online shops to supply other manufacturing companies with raw materials, production materials, finished products, and services.
There are many advantages of creating an ecommerce website for a manufacturing company. By using the functionalities characteristic of online stores companies:
automate service and speed up the purchasing process,
gain access to a wider range of potential clients,
gain access to solutions that make sales more effective (order personalization tools, recommendation systems, loyalty programs, etc.),
expand their offer because the online store allows for selling both physical and digital products (training, ebooks, manuals) and services (maintenance, etc.), which opens up many interesting opportunities for companies.
Thanks to the introduction of ecommerce solutions on their websites, companies gain another sales channel for their products. However, it's worth taking care not only of interesting functionalities but also of a well-thought-out and modern design of manufacturing websites.
With the right e-commerce platform, a company can offer its clients various payment and delivery methods, create loyalty programs, and easily manage prices. Development of the ecommerce functionalities in the manufacturing sector is a particularly noteworthy trend, as its implementation isn't as expensive as introducing solutions based on artificial intelligence in production, and at the same time, it can significantly increase the profits of a given enterprise. Conducting sales via an online store is now becoming a standard for (individual and business) customer service in many industries.
Manufacturing industry trends - summary
Introducing the latest trends in manufacturing allows companies to overcome numerous challenges. The biggest of them today include efficient supply chain management, protecting systems against cyberattacks, as well as implementing ecommerce functionalities on company websites. The solutions using IoT, artificial intelligence, machine learning, and automation can be applied to various processes in a manufacturing company (warehousing, production, transport, marketing, and sales) to increase the enterprise's overall efficiency.
We can design and build a high-quality manufacturing website with ecommerce functionalities, thanks to which you'll gain an important channel for conducting sales and communicating with clients.