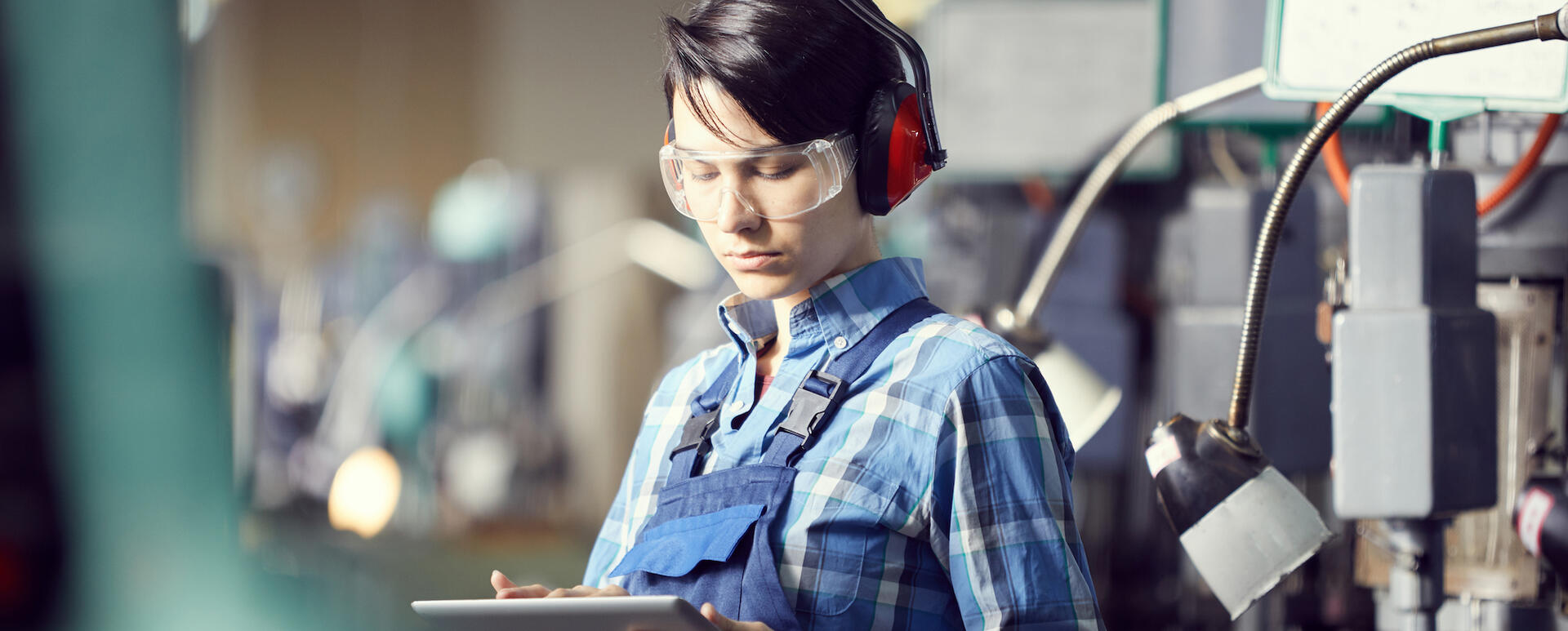 Why Is It Worth Starting Ecommerce for the Manufacturing Industry?
The rapid growth of ecommerce in recent years has changed the face of business. Industrial companies must adapt to a new reality in which negotiations and transactions are primarily conducted online. Ecommerce for manufacturing sector can increase brand recognition, as well as improve their sales performance and allow them to reduce costs. Find out why else you should consider building an ecommerce industrial website for your company. 
Ecommerce for manufacturing
Currently, much of the industry's competition is still not taking advantage of online sales opportunities. This is partly because decisions in large companies are often made slowly. Many people (shareholders or company management professionals, depending on the company size) are involved in the decision-making process. 
How you talk about change and implementation of new solutions and the time it takes also depends on the company's culture. Nonetheless, the PwC COO Manufacturing Survey report (from 2021) shows that some industrial companies are determined and want up to 60% of their sales to come from an ecommerce website, even if they haven't used this tool in business to date.  
As many as 66% of respondents agree that implementing digital marketing and digital sales solutions within one or two years is a priority, while 44% of respondents were of the opinion that new solutions should be implemented within six months (of the survey). However, industrial entrepreneurs don't doubt that conducting ecommerce activities will not be easy. As many as 40% of respondents consider it the most significant business challenge in the next two years. 
According to The Manufacturing & E-Commerce Benchmark Report, as many as 98% of industrial companies have implemented or intend to implement an ecommerce strategy. Industrial companies will likely mix sales methods, allowing customers to find and buy products online from an online store or by ordering by email and phone. Purchasing through the website makes sense when the buyer cares about time. At the same time, contacting an advisor and negotiating terms and conditions is invaluable when the order is large (or unusual), and the customer hopes for a customized quote. In this case, building an intuitive and efficient industrial website is necessary. 
Key benefits of having an ecommerce for manufacturing
Industrial entrepreneurs are aware that implementing digital solutions can positively impact business performance. Listed below are other important reasons to consider an ecommerce solution for manufacturing.
1. Access to a new group of customers
For many customers of industrial companies, time and convenience are of the essence, which is why searching for an offer that meets their needs online is so attractive. The same is valid for personalizing and purchasing a service or product without taking an extended break from work. You can access this group of customers by offering them a convenient tool to learn about your offer, customize their order to meet their expectations, and purchase without leaving their home or office. 
By creating an online store for an industrial company, the entrepreneur can target people from all over the world, so there is no need to limit himself to local sales (within one region or country). What's more, customers of online stores practically serve themselves - they don't need help choosing an offer, and it takes much less time to complete a transaction. On the other hand, it's up to the company to complete and deliver the order per the regulations and standards of online sales. 
2. Service automation
Traditional customer service requires employing a host of consultants and having them perform time-consuming and repetitive tasks (writing down orders, entering them into the system, issuing invoices, etc.). Creating an ecommerce for the industry can significantly ease the burden on the sales team.
It should be noted that in the industrial space, one part of the customers has precise requirements and needs (in which case the help of an advisor is essential), while the other regularly orders similar products and can manage on their own. The introduction of ecommerce functionality will therefore automate a large part of the transaction. In addition, many existing customers who have previously purchased with the help of an advisor will decide to save time and take advantage of the new ecommerce solution for manufacturing available on the sales web page. 
The right ecommerce platform for manufacturing will equip you with modern tools for reporting, automatic invoice generation, and warehouse and delivery management. It's also worth integrating marketing automation software to manage sales and advertising campaigns more efficiently. 
3. Increased business efficiency
The use of ecommerce for the manufacturing sector allows data and systems centralization. The sales process is automated, reducing the likelihood of accidentally duplicating information or orders. As a result, databases are better, errors occur less, and business analysis results are more reliable. 
Suppose a company adopts a good ecommerce platform and correctly selects integrations and tools. In that case, it will waste less time finding itself in the chaos resulting from manual data entry into the system. While a sizable portion of customers will select and order products from the assortment themselves through the ecommerce website, the company's team can focus on developing and introducing new products without delays.
4. More effective sales
Companies in the manufacturing and industrial sectors have a very high demand for materials, spare parts, and tools. Their real challenge is to produce goods tailored to customers' requirements. They manufacture products from various raw materials and in many versions so that every buyer can find the assortment they're looking for on the online store's website. However, browsing through the extensive range takes work for the customer. What can you do to make it easier for them to purchase?
You can aid shoppers by using mechanisms on your ecommerce website such as cross-selling (offering the customer additional products or services to complement their order), up-selling (offering the customer more expensive substitutes), and recommendations. Even the best customer advisor can't analyze as much user data as recommendation systems, which can use complex algorithms to match additional offers to customer needs brilliantly. 
By implementing these functionalities, entrepreneurs increase the likelihood of boosting the shopping cart value. Winning and keeping customers is possible if you meet their needs better than the competition. And it's not just about the quality of products, but also about the convenience of buying. 
5. Better brand visibility
An efficient website with interesting ecommerce functionalities is an excellent advertisement for a brand. The thoughtful website design for an industrial company demonstrates its modernity and innovation. In addition, you can use the web page to introduce your potential customers to your company's vision and values. This will help them better understand the organization and perhaps be more likely to purchase. 
In addition, by using SEO tools built into the ecommerce platform, it's possible to increase the website's online visibility, which affects brand recognition among customers and potential partners. It's also worth starting a blog with expert content. Regularly published materials will help position the web page and emphasize the professional qualities of the website. 
6. High flexibility and scalability
Growth is the goal of every company. With a practical ecommerce for industry, achieving greater business flexibility is easier.
First, introducing new products won't require designing and printing new catalogs. A company can simply add a product to its offer with an online store. Moreover, you can use some special tools to make the offer more consistent across multiple sales channels (in the case of an omnichannel strategy).
With the convenience of an ecommerce platform, it's easier to expand your business to foreign markets or quickly expand your available assortment. All you need to do is to create a country-specific channel on your website. Admittedly, this involves translating or creating content from scratch for the new web page version, as well as matching currencies and adding payment methods appropriate for the country. However, this doesn't require opening a branch of the company abroad.
There is also the fact that it will simply be easier to sell because by having an ecommerce website, you can make your products available to customers in other countries without hiring salespeople there. It will cost you less to run your business, as it will be possible to reduce the number of customer advisors, and selling through an online store can be done 24 hours a day and seven days a week.
Ecommerce for the industry - which functionalities are worth implementing?
The basic functionality is a product catalog, which allows you to present your offer to customers. Its advantage in an online store is the ability to add a virtually unlimited number of products and the freedom to modify their descriptions and photos (this cannot be done so easily with paper catalogs, you have to print new ones). Products should be divided into categories (by product type, brand, or purpose) so customers can more easily find the items they seek.
Giving customers advanced product search capabilities on a manufacturing website is also a good idea. The search engine can be equipped with filters (e.g., size, purpose, brand, material), enabling searching for goods that best fit the customer's needs. Visual search, which is the search for similar items based on photographs, can come in handy for unusual products. Comparative features of products available in the store also help make a choice.
You should also consider adding extra functionality that makes buying more accessible, improves the experience, and positively surprises users. Such an example is a sales chatbot. It not only replaces the hotline but can also "take on" the role of a salesperson and help the customer find the right product, guide them through the buying process and recommend additional products. 
Cross-selling and up-selling are the methods mentioned above that can increase the average value of the shopping cart. The former suggests purchasing more products related to those selected (or viewed) while up-selling involves presenting more expensive (by implication, also higher quality) substitutes. 
Customer loyalty can also be increased by adding the possibility of personalizing the offer, i.e., freely customizing the product and its parameters to their individual needs without an advisor, remotely using a tool built into the website. Loyalty programs also motivate customers (purchase bonuses) and distributors (distributors get points or discounts for selling under certain conditions) to buy from one supplier.
Another exciting feature that customers are sure to appreciate is the dealer locator. This map lets you set the appropriate filters and quickly find a dealer in your area. It comes in handy, for example, when a customer finds a product in an online store but wants to see it live or buy it in a stationary store.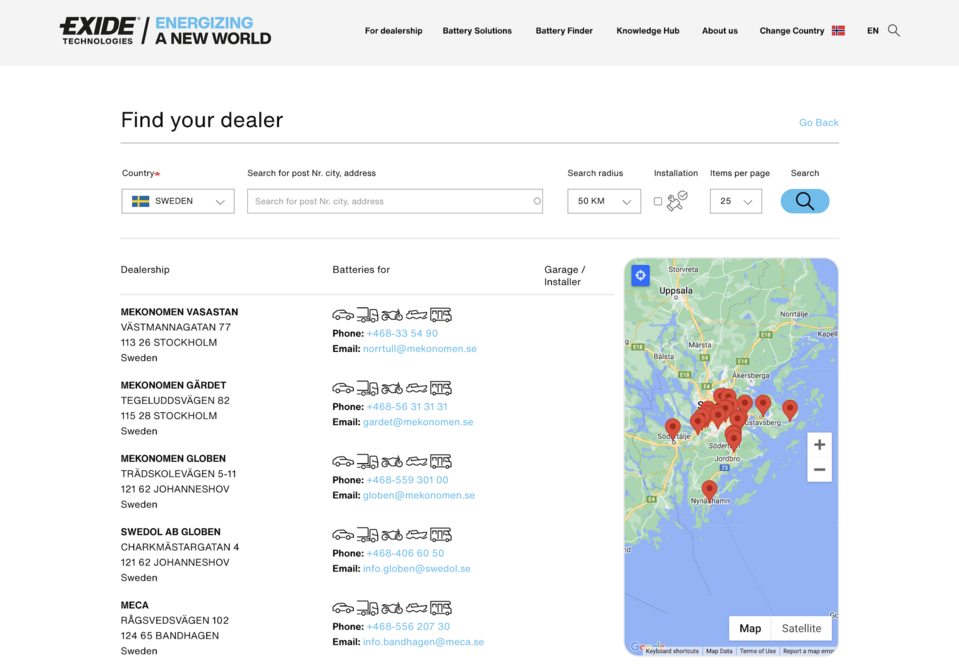 Example of a dealer locator made by Droptica for Exide Group
(source: exidegroup.com)
A variety of unusual ideas for functionality can prove to be worth implementing, as they will make it easier for customers to make purchases or make the company more efficient. Developing unique solutions is a way to stand out from the competition.  
What tools do you need to create an ecommerce website?
Before a company launches its online store, it should equip itself with the right tools. You can find many similar systems and solutions at first glance, but they offer different functionalities and billing models. It's best first to create a list of tasks that the company wants to carry out with the tool's help and then, on this basis, choose the appropriate solutions. This way, you don't overpay for unnecessary functionality. What options come into play?
Ecommerce platform
Choosing the right platform is essential, as it determines what functionality and integrations will be possible. Entrepreneurs should consider what they want to offer customers and then select a platform based on that (not forgetting to look at potential costs). 
One of the solutions for building online stores is Drupal Commerce. It's a convenient CMS allowing users to manage content on even the most complex web pages easily. Industrial companies choosing to build their ecommerce website on Drupal can count on a lot of freedom in the well of payment methods they want to offer their customers. They can use an installment payment system, set up recurring payments, pre-payments, etc. Drupal also allows easy management of discounts and special offer creation, increasing proposals' attractiveness. It also integrates with many software, such as vendor systems or marketing automation tools.
Another option is to create an ecommerce with Sylius. This is an easy-to-use, intuitive platform for building online stores. It allows you to create an advanced search engine with multiple filters. An attractive feature is the ability to manage reviews. Customers will be able to rate products, and their reviews will increase the store's credibility and testify to the high quality of the products. Using Sylius, the company also can define loyalty programs, making it easier to build relations with customers. 
PIM systems for product information management
A PIM (Product Information Management) system allows the collection of ecommerce product data from multiple sources within a single database. It also makes it possible to manage them and the customer experience across different marketing and sales channels from one place. This allows you to keep the information consistent and up to date. Tools of this type (e.g., Pimcore or Akeneo) make working with product information much easier and more automated. With a PIM system, starting and running multi-channel (omnichannel) sales is more accessible, as it helps make the offerings consistent across channels. It can also be integrated with an ecommerce website.
Marketing automation software
Marketing automation tools make it easier to manage advertising campaigns in various communication channels through which companies acquire new customers. This type of software enables you to build better databases. It also uses technologies such as artificial intelligence (AI) or machine learning (ML) to analyze data, making it possible to segment users and better tailor messages (on a website, in mailings, or social media ads) to the needs and expectations of a given target group.
Examples of ecommerce for manufacturing companies
More and more companies in the manufacturing and industrial sectors are creating ecommerce websites to increase their profits. A company can stand out from its competition by giving customers a polished web page with interesting functionalities. See the suggested examples of what an ecommerce for the industry can look like. 
Grainger
Grainger is an online industrial goods store that uses a cross-selling mechanism. After adding a product to the shopping cart in the window, the user sees product suggestions that they may also like. These are most likely generated from the choices of previous customers interested in the same item. 
Source: grainger.com
When you enter a specific group of products on the left, you'll find a panel that makes it easy to filter a collection of products by multiple characteristics. In each subdirectory, options specific to the corresponding product type (power method, brand, performance, etc.) appear. This ecommerce website also allows you to compare items. The data is presented in a table, making it easy to compare the features of selected items. 
The website also allows you to quickly order (bulk list button in the main menu) using product codes. This speeds up the purchasing process for companies constantly needing specific offers. Logged-in users can create lists of products they are interested in so they can return to them easily in the future and don't have to search for them in product catalogs.
For industrial customers, it's helpful to know the weight of the order, which is displayed under the add to cart button. The customer can also easily choose a delivery or personal pick-up option. 
A+ Group
A+ Group is a company that produces fasteners and straps for companies that manufacture various products (e.g., helmets, stabilizers, bags, badges, etc.).
The website allows users to filter products in quite a detailed way (by type or industry, among others), making it easy to place an order quickly. Selected products can be personalized on the product page before being added to the cart (size, number of pieces per package).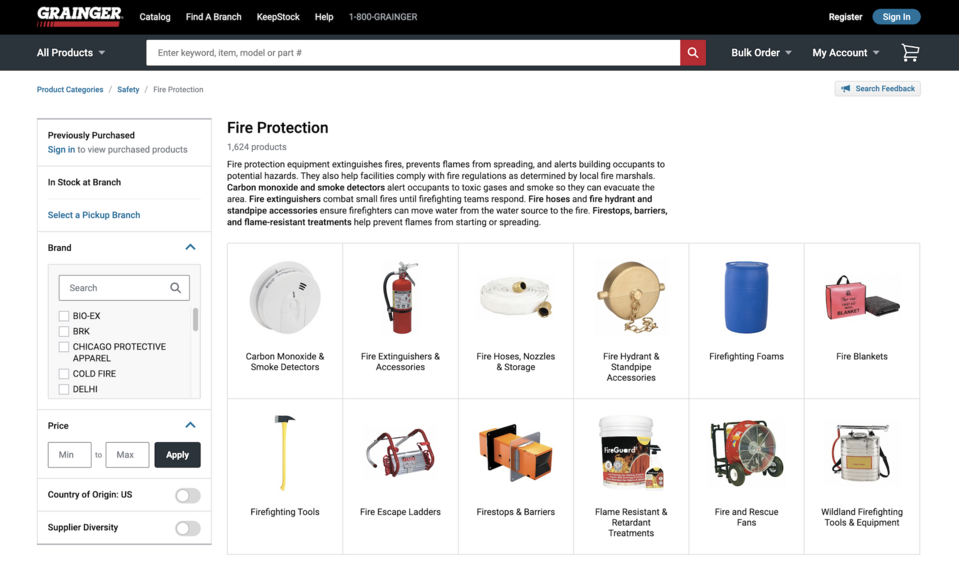 Source: aplusproducts.net
This ecommerce uses a complementary sales mechanism. On the sub-page of each product, there is a section at the bottom with recommendations to the customer of similar products that could complement the purchase. In this way, the company gains the opportunity to increase the value of the shopping cart and interest the buyer in its entire assortment. 
On the left side, the user sees a striking gift icon. When clicked, it opens a window informing about a promotion on the first order for customers who decide to join the newsletter. In this way, the brand further motivates visitors to make a purchase.
Ecommerce for manufacturing - summary
An ecommerce for the industry can positively impact a company's sales performance, allow it to reduce costs (through automation), and expand its business. Modern ecommerce solution for manufacturing includes chatbots, recommendations, order self-personalization tools, loyalty programs, and advanced order search and filtering capabilities. Implementing innovative options increases the efficiency of an online store and helps build a professional image in the industry. 
As part of our manufacturing website design and development services, we can build you an original ecommerce web page with attractive functionalities to increase your sales.