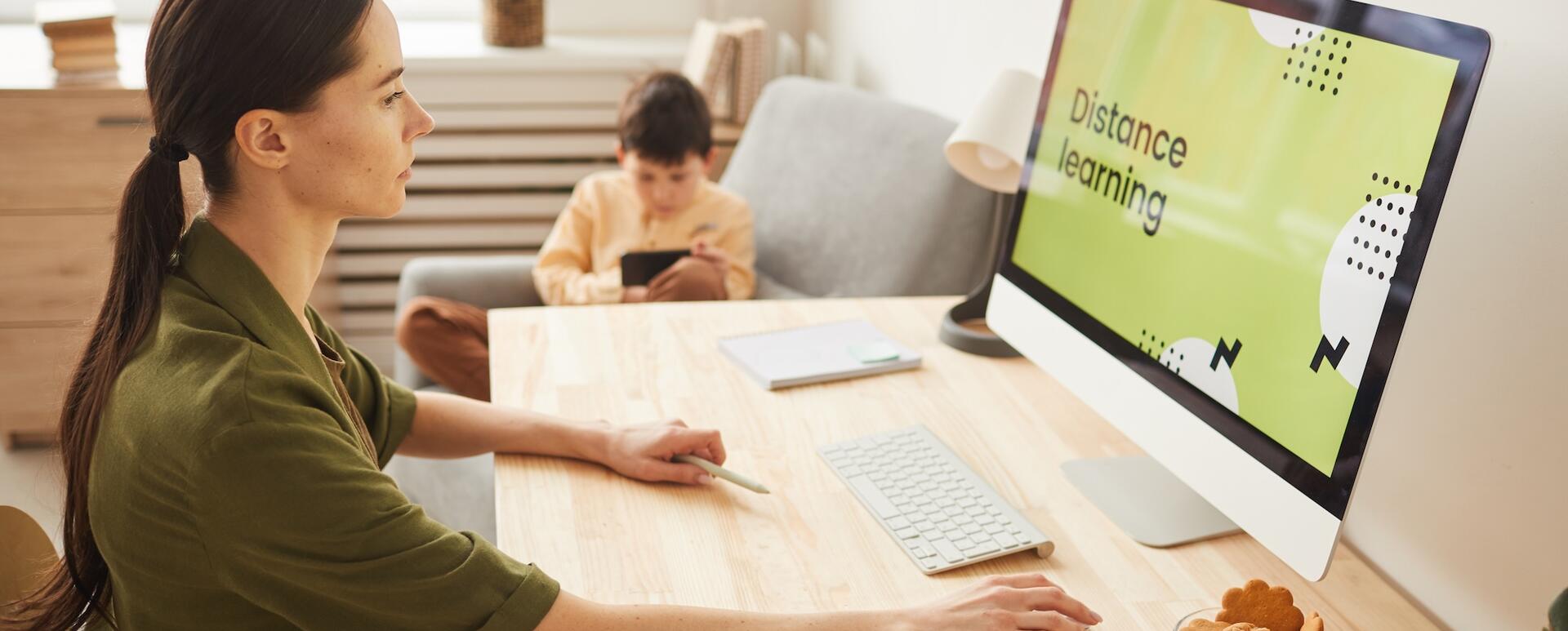 What are the Different Types of Websites? A List with Suitable Examples
Websites can perform various functions for a business. When deciding to create a web page for a company, it's worth considering what the purpose of its existence should be. Learn about the different kinds of websites and what tasks they will help you accomplish.
Does every company need a website?
Having a website is a base method of making your presence known in the modern business world. Customers expect to be able to find fundamental information about a company (address, phone number, range of services) online. It's primarily the company website that attracts new customers looking for services and products on the Internet. 
There are certain key website elements that all business web pages have. Their various types differ in additional functionalities that allow a company to achieve specific goals efficiently. They can help improve an organization's operations in many ways. They are:
a source of knowledge for employees and partners themselves (e.g., in the form of a knowledge base), 
an auxiliary tool for recruiting, 
a virtual flyer with information about the offer and advertising,
customer support method (e.g., using a contact form, FAQ section, blog guide).
1. Brochure website
Company websites are very diverse. This is due to the needs of customers in a particular industry and the goals that organizations want to achieve with the web page. The simplest type of company website is an online business card. 
A business card can be built by almost anyone – even someone without technical knowledge and skills. You can use intuitive website builders for this. However, more complex corporate websites require professional tools, such as Drupal.
Online business card
Small or medium-sized companies that don't need specific functionalities on their web page often invest in business cards. This type of website is something like an elaborate brand flyer placed on the Internet, which you can modify continuously. 
Such a website has a representative and – somewhat less frequently – informative function.  You can expand it all the time with new subpages.
Typical elements of a business card include:
company logo – it allows the customer to identify the website of a particular organization,
explanation of the offer – a concise presentation of what the company can do for the customer,
the "about us" page – most often it contains a description of the company's history, values, and employees, and helps to get to know the brand better and see its human face,
contact page – address and contact information or a form to send a message should appear on it,
CTA – is an incentive to perform an action that the company cares about (such as signing up for a newsletter).
Example – MAX
MAX's online business card is a simple website. However, this doesn't mean that it's boring.
Video has been used in the homepage's background and the hero section on the home page, bringing the web page to life and creating interest in the viewer. The website includes short descriptions of offers, a data page, and a blog.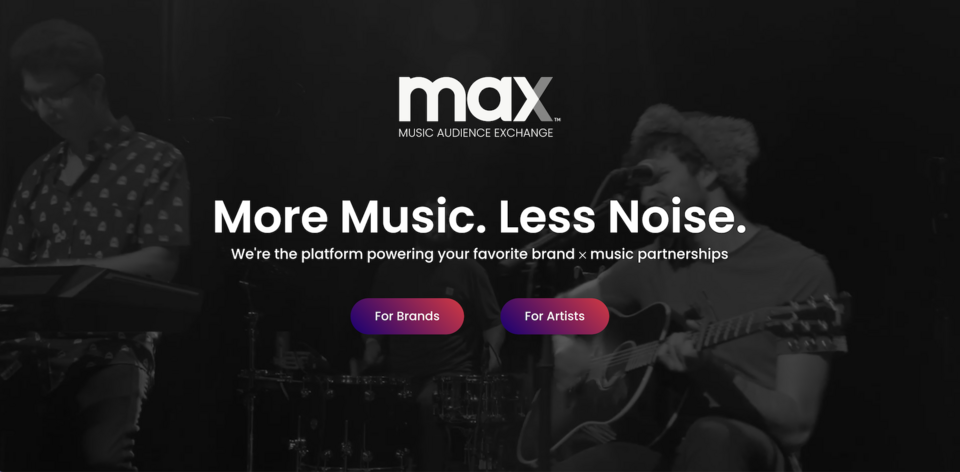 Source: Max.live
The eye is attracted by colorful CTAs, graphics presented on a bright background, and clearly separated sections. Concise content makes the website quick to browse and easy to find the information you're looking for. 
2. Corporate website
A corporate website is a much more elaborate type of website. Due to its size and complex structure, it can play an intricate role – not only providing information but also supporting the organization in various processes. 
It can, among other things:
have a promotional and sales function, 
support external communication (via chatbots, live chats, and a blog), 
accelerate the building of customer databases, 
improve the process of recruiting and acquiring business partners. 
See interesting examples of corporate websites.
Common elements on this type of website include:
offer subpages and landing pages – inform about the company's areas of activity and its offerings and are also used for advertising activities,
FAQ section – reduces the time required for users to obtain the most essential information about the company and its offerings,
customer references – provide proof of satisfaction of previous customers,
portfolio – helps to show the implementation of a service or the benefits of using a product.
Example – EWE
The corporate website for energy company EWE has some interesting elements.
The banners on the slide allow you to present a wide range of services (standard and special). Each of them has a unique call-to-action button. In turn, a section with links to other subpages (news, customer panel, FAQ, downloads) speeds up browsing the web page.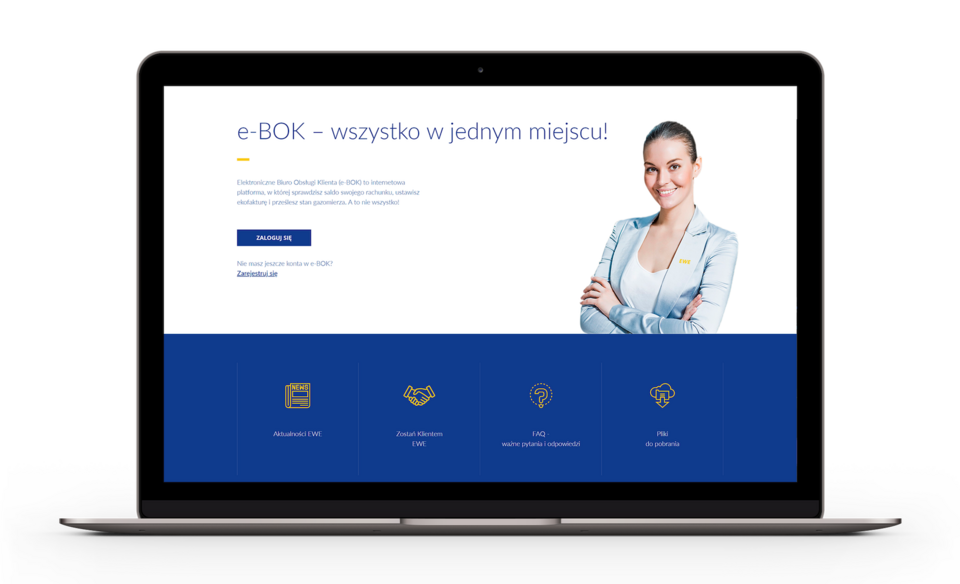 An important goal pursued by this website is customer support. The ability to log in to the customer service desk enables you to get help quickly.
It's also an exciting idea to design a recruitment subpage. It makes it easier to inform candidates about current recruitment processes and solicit applications. 
3 . Online portfolio
This type of website allows experts to showcase their projects online and attract the attention of potential customers. It's a collection of project documentation that the company wants to boast about – usually the most interesting or best-completed ones. 
The purpose of such websites is:
showing the results of the work of a particular company/person, 
boasting about the high quality of services, 
encouraging customers to make inquiries, 
brand promotion.
The elements that distinguish an online portfolio are:
information about the contractor – short, relevant excerpts from the resume, 
galleries with high-quality photos or videos – showing project realizations, 
infographics depicting the process – a person/company can present its work process to a potential customer in a simple way, 
statistical data (increase in effectiveness, profit, etc.) – e.g., numbers showing an increase in profits or productivity of the client's company after using the services, 
references from customers – confirmation of the effectiveness of the actual service.
Example – Studio Schurk
The Schurk Studio website is dedicated to presenting the implementation of graphic and video services.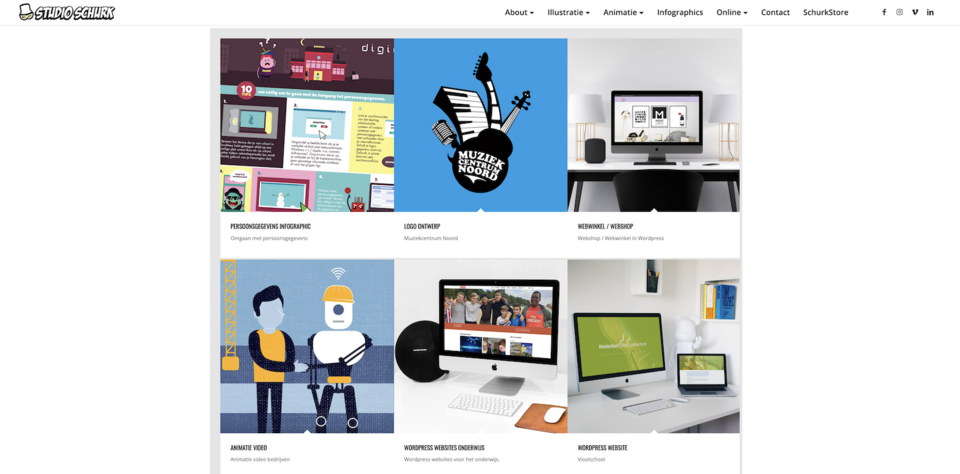 Source: studioschurk.nl
The portfolio is divided by project types – the designs shown on this website are placed in thematic categories, which makes it easier for the user to find the content of interest.
Project galleries in each subcategory allow potential customers to quickly preview several projects without going to their subpages.
It's worth noting that presenting the company's capabilities isn't limited to showing individual projects. The developers also display their virtuosity on the homepage, presenting exciting animations.
4. Ecommerce website
Online stores are equipped with numerous functionalities to sell online and promote the products offered. The primary purpose of the existence of such a web page is to sell goods (both tangible and intangible) and services. An ecommerce website is often used as a source of information about return and complaint policies).
Here are the distinguishing elements of ecommerce websites: 
product categories – make it easier to navigate the store and organize the assortment,
search engines and filters – they're very helpful when the customer is looking for products with specific characteristics (color, brand, size, type) or particular models, 
the option to create and personalize an account – gives users access to purchase history, loyalty programs, and makes it easier to possibly request a return or claim, 
payment methods – allow you to make secure payments by methods such as quick transfer, credit card, BLIK, etc.,
customer testimonials – they increase the credibility of the online store and encourage purchases.
The capabilities of such websites depend on the chosen technologies. You can get access to valuable solutions by selecting the right ecommerce platform.
Example – Mom O'clock 
Mom O'Clock is an online marketplace with accessories for children and parents.
Expanded product categories accessible from the menu allow for convenient browsing. A single menu click is all that you need to preview detailed categories and subcategories. You can quickly navigate to the desired type of products regardless of where on the website you're currently.
The ability to filter results within categories is also helpful. Once inside a category, the user can filter the listings that best suit their preferences.
5. Online forum
The forum is a type of website that allows you to create discussion threads and invite other users to exchange experiences and views. 
The purpose of such a web page may be to build an active community around a brand or its product (such as a game or software). Another common reason for creating discussion forums is the need to provide technical support to customers. In a forum created by a particular company, users can ask other users questions or exchange advice, and receive answers from employees. This is cheaper than creating a customer support center. 
Elements specific to this type of website are:
thematic categories – allow you to discover new threads, 
content creation tools for users – editors are used to type queries and responses and format them,  
search engine – speeds up finding specific topics.
Example - Quora 
Quora is an information and discussion service whose users can create posts about any topic and participate in discussions with others.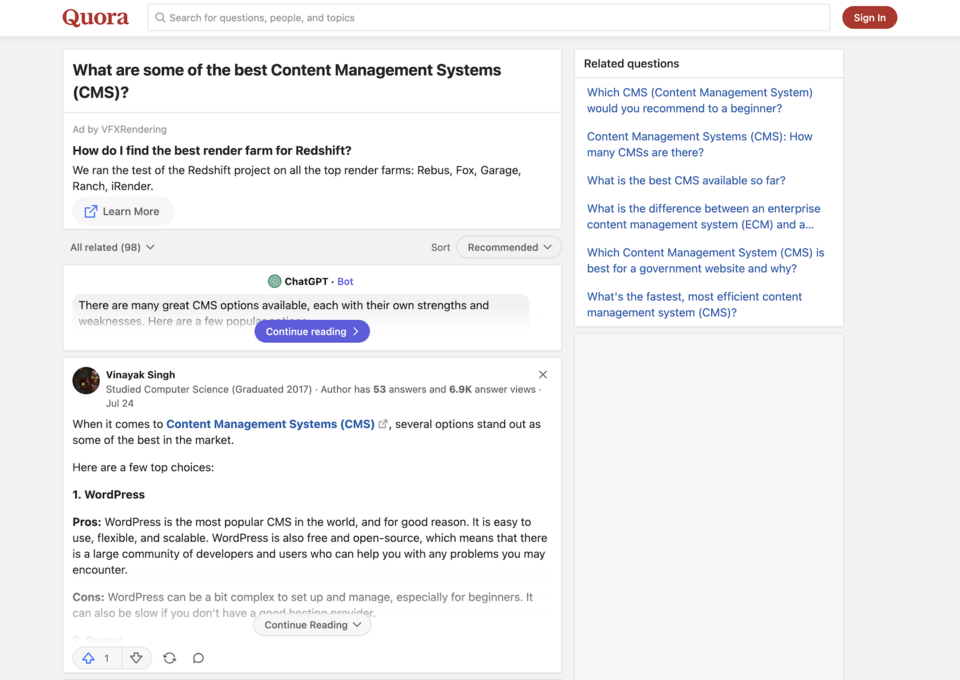 Source: quora.com
By its design, Quora is a bit like social media. The centerpiece is a board with posts that may appeal to the reader. Content is tailored to the user's interests and activities.
It's possible to create new topics and circles or mini-societies that people using this forum can build around themselves. Logged-in users also have the ability to add topics and circles to their watch list. 
6. Blog
A blog is used to publish shorter and longer texts, sometimes accompanied by other types of content, such as videos, infographics, reports or documents. These types of websites serve many functions:
are one of the channels of communication with the customer (one-way or two-way – depending on whether the company allows publishing comments under posts),
can be used to educate audiences, inform them about various issues or advertise products and services,
allow for more efficient positioning of the company's website.
The distinguishing elements of blogs are: 
article categories – enables you to quickly and conveniently explore the website, 
search engine – you can use it to find specific topics, 
recommendations of similar content – recommending texts related to the article you're reading makes it easier for readers to discover other publications, 
comment section – allows readers to express opinions, discuss among themselves, and even communicate directly with the brand/author,
content rating tool – useful for popularity ranking (e.g., awarding stars) and encouraging the reader to read more popular articles, 
CTA to subscribe – urges you to sign up for a newsletter, for example.
Example – Creative Bloq
Creative Bloq is a blog on design and art.
The posts are tagged for easy website discovery. When a user clicks on a keyword, they'll see what other content is in the same topic group. Discovering articles is also made easier with recommendation sections.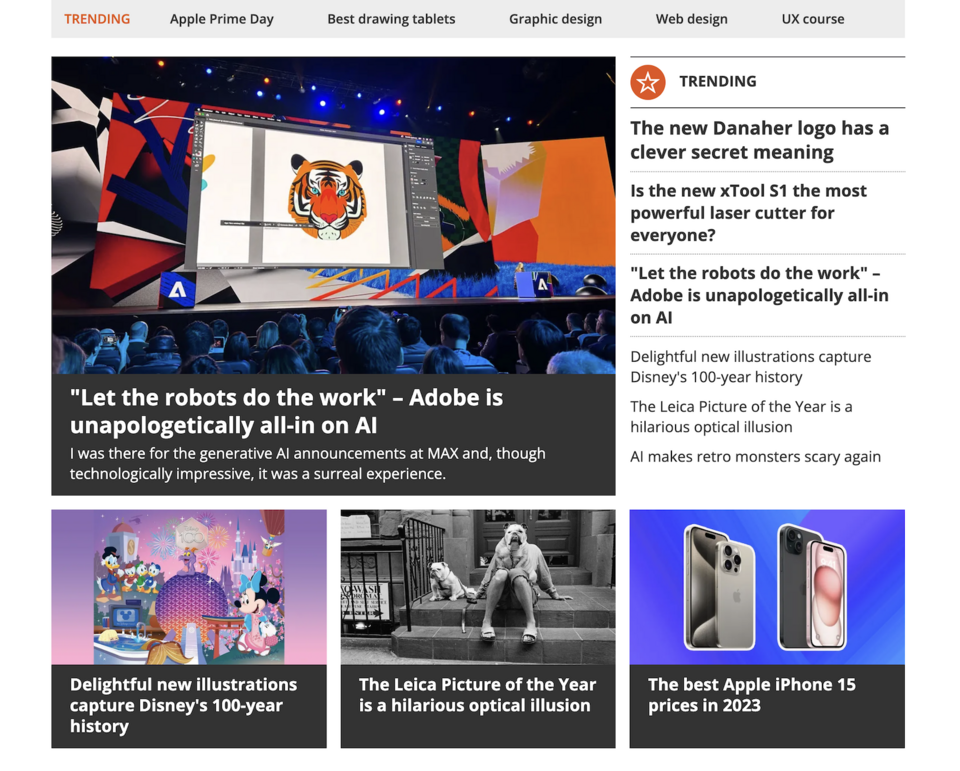 Source: creativebloq.com
Dividing content into categories helps readers quickly get to the posts they are interested in. The same is true of the search engine – it allows you to find articles based on key phrases. 
A subscription section for a newsletter is a typical element of a blog. Thanks to the form for subscribing to the recipients' database, readers can receive regular information about the blog posts published to their email inbox.
7. E-learning platform
E-learning platforms are educational websites that allow authors to create or add online courses, educational materials, tests and videos and make money from them. Users of such web pages can use them for free or for a fee.
The purpose of building such websites is to transfer knowledge. They're distinguished by such elements as: 
tools for creating content, games, and tests – they're used by developers to prepare exciting training courses,
webinar recording and webcasting functionalities – give you the ability to conduct lectures and live meetings with participants, 
participant achievement reporting solutions – allow students to check their achievements and teachers to find out how popular their courses are,
built-in forum – it's a virtual meeting place for students and teachers to exchange information, share materials and give each other tips. 
Example – Alison
Alison.com is a website where users can earn money by creating courses or educate themselves by participating in them.
You can find on it:
categories – dividing courses by topics makes it easier to find relevant training courses,
course search engine – it's helpful, especially when an Internet user is looking for a specific class
paths for different types of users – UX designers have developed ways for three types of Internet users who want to: increase skills, change careers or find jobs, earn money on Alison,
recommendations of popular courses – show users interesting training courses they might be interested in,
additional functionalities – CV creation or personality test.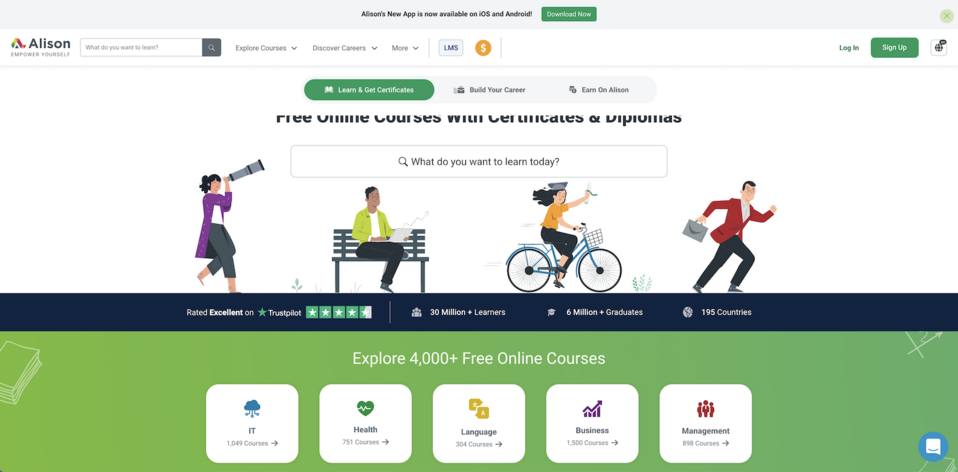 Source: alison.com 
8. Landing page
A landing page is a type of independent website that is created for marketing campaigns. At the same time, a company may have another homepage relating to all of its offerings.
You can find many types of landing pages online. They're created to meet one specific goal (usually within a limited time), such as:
sell the product in question, 
gain a sufficient number of newsletter signups, 
promote a product that is about to be released, etc. 
Elements typical of this type of website are:
contact form, CTA button – these elements are used for conversion, 
expressive hero section – attracts the user's interest and encourages them to continue browsing the content.
Example – ExpressVPN 
An interesting example is the landing page of ExpressVPN, a company that offers secure Internet connection solutions.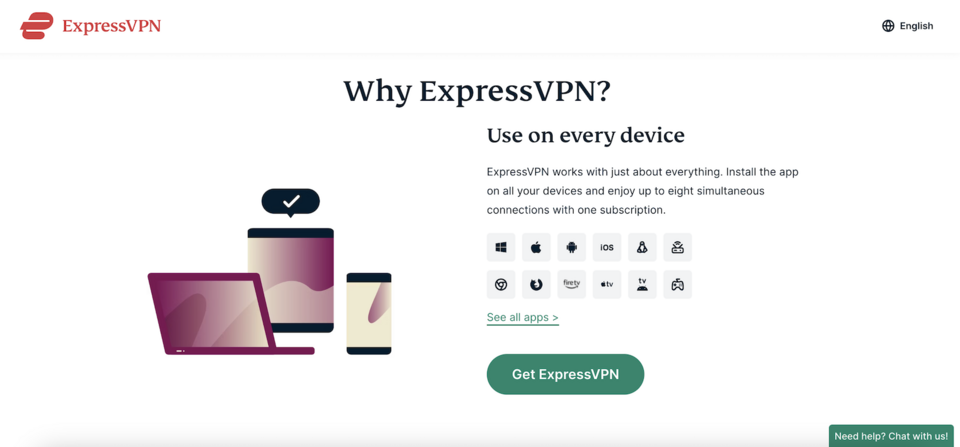 Source: expressvpn.com
Among the distinctive elements of this landing page is a compelling hero section with a CTA. From the first seconds on the page, the user learns why Express VPN is worth using. Thanks to the button located there, the user can quickly move to action.
Sections with customer testimonials, tweets, and press mentions enhance the credibility of this entrepreneur. A helpful feature is also live chat, allowing Internet users to quickly contact a company employee. 
9. Nonprofit website
Such web pages are used by non-profit organizations. The purpose of their existence is to inform users about the organization's values, role, and activities.
A website can also be used to collect donations or perform some kind of social service, such as providing support to a specific group of people.
The elements that distinguish the service of a non-profit organization are: 
social proof – confirms the credibility of the organization and its cooperation with other entities,
mission-enabling functionality – tools for providing advice, requesting support from Internet users, etc.
Example – Crisis Text Line 
Crisis Text Line is a website through which volunteers provide support to Internet users during difficult times or in crisis. Users are greeted by a pop-up that encourages immediate contact in case of need. Website visitors have three options for communication – text message, chat and WhatsApp.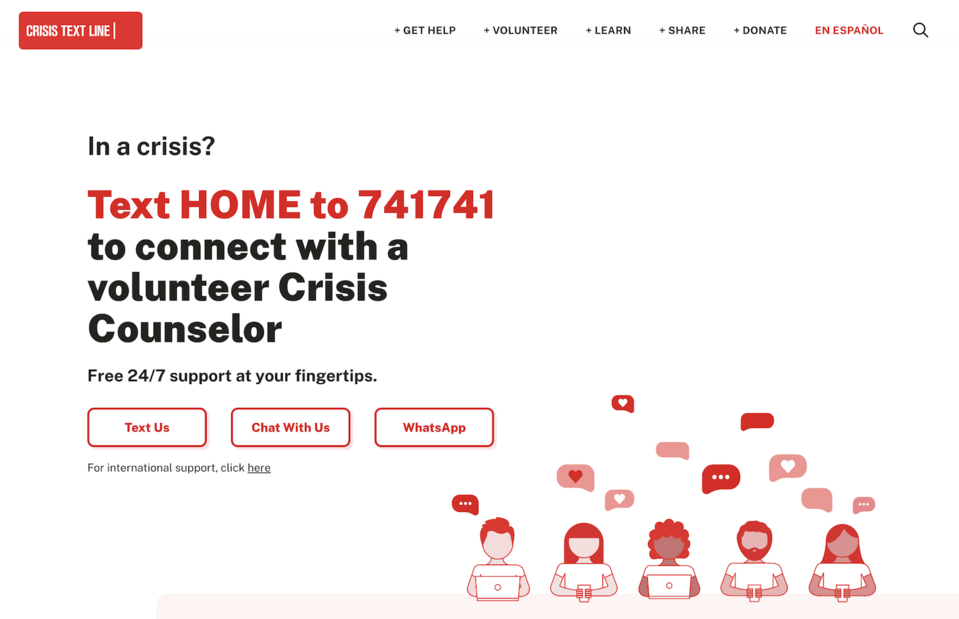 Source: crisistextline.org
A simple animation shows how the website works. This makes it so that a user who needs help doesn't have to think long about how to use its functionality.
Three buttons to get involved (funding, promoting the website, volunteering) as a benefactor allow you to follow one of the designated paths provided for visitors to this web page. 
10. Personal website
This type of website is dedicated not to a company, but to a single personality. It can be the website of someone famous – such as a movie star, musician, politician, journalist or industry specialist.
Personal websites are maintained for:
building a certain image, 
increasing a person's credibility and building trust in their statements,
promoting achievements or products (e.g., book, course, etc.).
Characteristic elements that you can find on such websites are:
blog – where the author and owner of the website can share their thoughts with readers, 
subpage "about me" – revealing detailed information, 
gallery – containing photos or videos depicting that person, 
press mentions – articles about the website owner, which can increase its credibility,
portfolio – a description of selected projects carried out by a given specialist. 
Example – Rubens Cantuni
Rubens Cantuni's website is an online resume.
The web page contains interesting and entertaining animations referring to the author's profession (designer). Using simple graphics and slogans, the author created a concise description of the professional experience.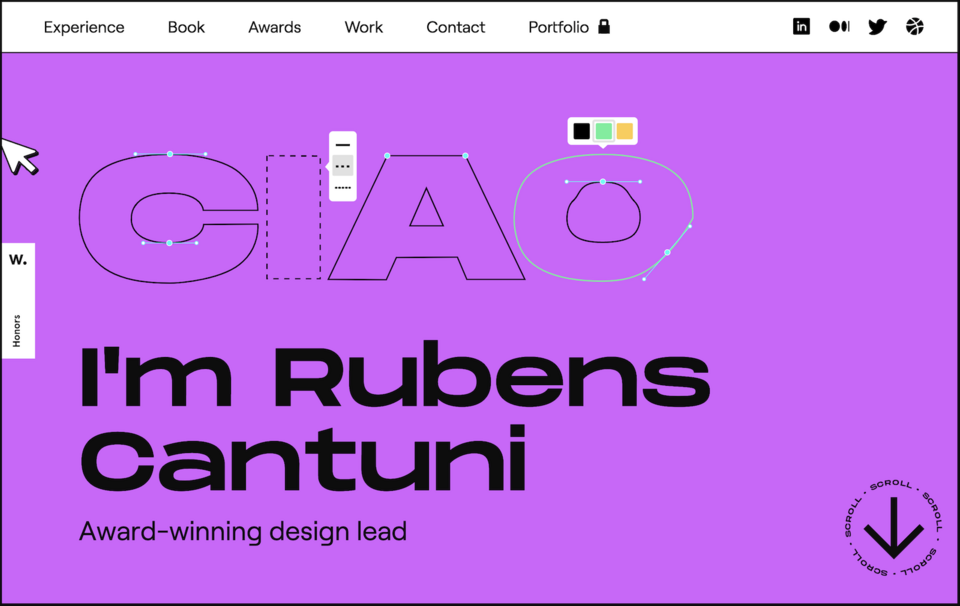 Source: rubens.design
Note the redirection to Amazon's page to purchase the author's book. The personal website thus indirectly helps sell the product. There is also a CTA to communicate for companies that want to work with a specialist. 
A simple but unusual animated contact form and other interactive elements make it an absolute pleasure for users to explore more elements on this website. 
11. Booking website
Such websites are used to book rooms and apartments, pay for tickets to events and transportation, etc. Their owners earn commissions for making reservations or charge businesses for the opportunity to promote their offerings on the portal. 
Typical elements of such websites include:
reservation system – this tool allows you to make a reservation and pay for it online, 
recommendation systems – suggest offers that a user may be interested in based on their history of previous purchases or browsing, 
loyalty programs – motivate the purchase of goods and services by allowing customers to take advantage of special offers or discounts,
categories, search engine, filters – allow you to search for specific offers in a short time,
review tools – users can share their opinions about the service with others, which increases the credibility of the platform and helps buyers make smart choices of service providers. 
An alternative solution for restaurants, hotels, opera houses, and other businesses is integrating a reservation system, such as Tablein, with their website. 
Example – Slowhop 
Slowhop is a service for booking apartments, campers, and vacation homes. 
The website is distinguished, first of all, by its original character, just like the offers published there. It features excellent-quality photos and exciting descriptions of the facilities. The direct style of communication is also enjoyable.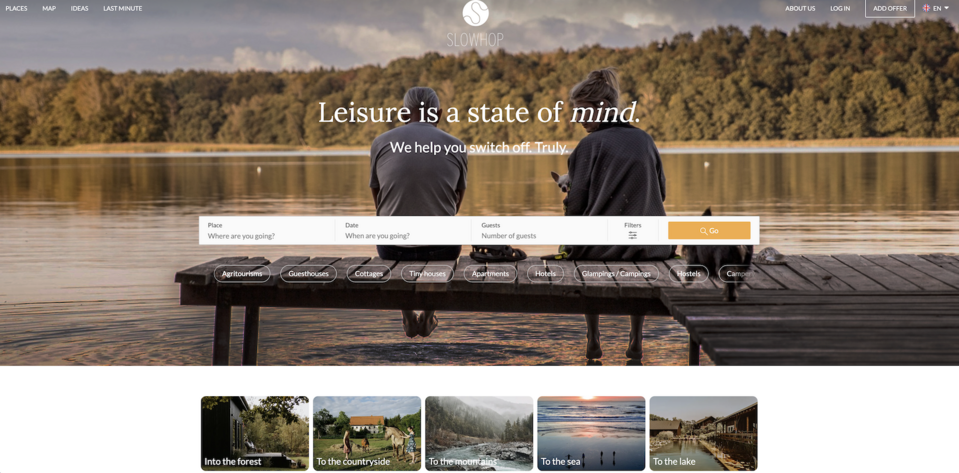 Source: slowhop.com
A typical solution found on such websites is a search engine with numerous filters. Such an element also appears on the Slowhop website. Users can also send an inquiry to the premises owner and add their offer by clicking the button.
A map with labeled places worldwide that cooperate with Slowhop allows users to quickly see which countries have facilities available. Logged-in users also have the ability to add listings to their favorites list.
Different types of websites – summary
Types of websites are divided primarily by the purposes they serve. Each kind has some distinctive elements, for example, online stores have search engines, filters, and product categories, and online portfolios usually have a company/developer description, gallery, and project presentation. 
Building a website can be handled on your own, using online wizards. However, it's safer to trust the experts in this matter, especially if you want to create a complex website with modern features. Learn more about our corporate website development services.